Churros Recipe + Video
This post may contain affiliate links, meaning that I may receive a commission at no cost to you if you use a link provided. All opinions shared are my own. You can review my full disclosure policy here.
This churros recipe is super easy to make with a simple churro dough that is piped into oil and fried, then coated in cinnamon-sugar. You can enjoy these crisp, yet soft homemade churros anytime!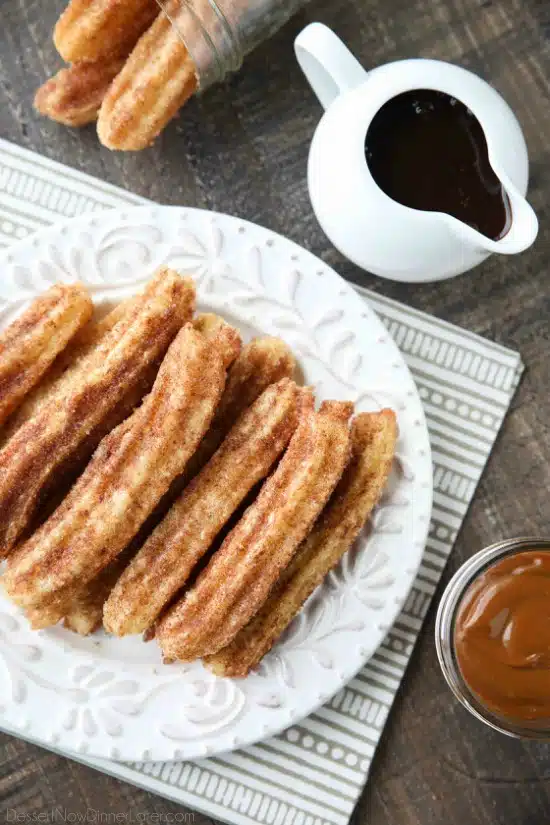 Ever since we went to Disneyland (in February) I've been craving churros like nobody's business. We had traditional cinnamon-sugar churros and rose-gold churros that tasted like strawberries. So good! Today, I'm sticking with traditional churros, because you can't beat a classic!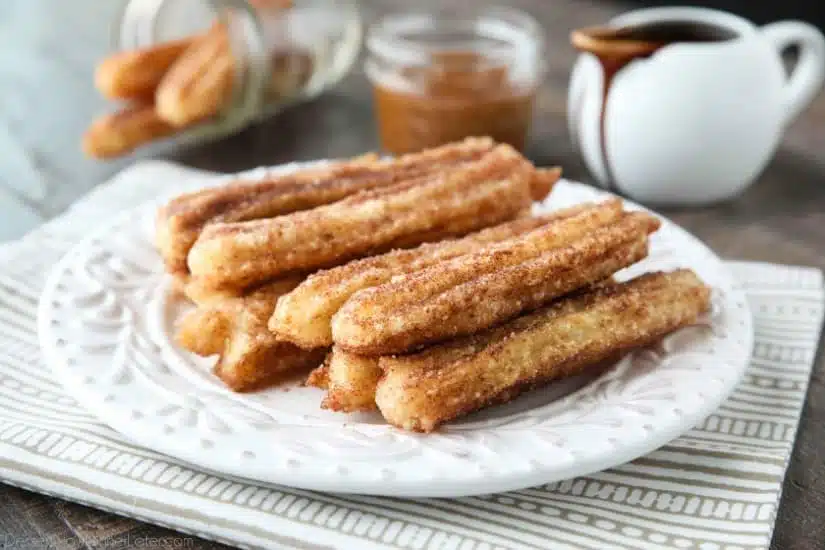 What's in this Churros Recipe?
Churros are basically made from choux pastry dough (flour, butter, water, salt and eggs — typically used for eclairs and cream puffs) that's been deep fried and coated in cinnamon-sugar. Although churros originated in Spain, I can't help but love the stuffed Mexican churros. (Hello Cinco de Mayo!)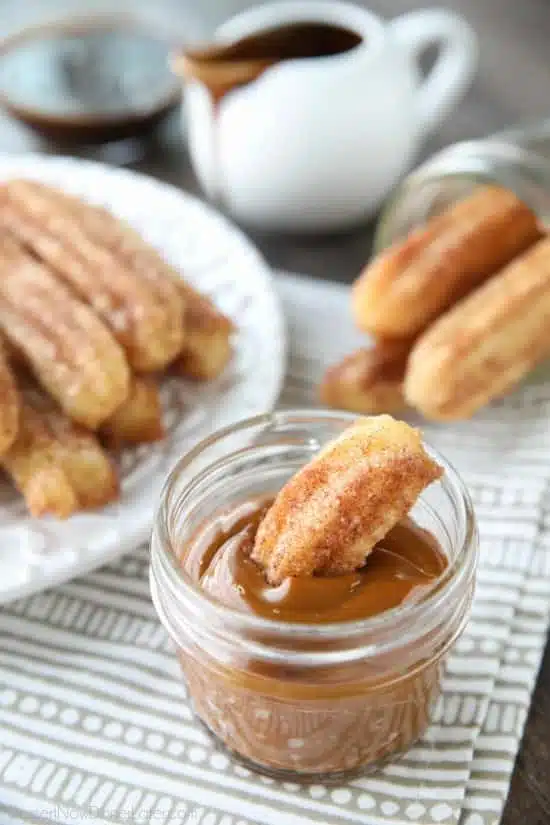 This churros recipe isn't stuffed, but you bet that I put some dulce de leche and chocolate sauce on the side to dip them in! Yum! If I had known just how easy homemade churros were to make, I would have made them much sooner! I guess all it took was a craving to make some of my own. Enjoy my friends!
More Cinco De Mayo Recipes:
*Recipe altered and updated 3/29/20. After some feedback about the centers of the churros not being fully cooked, I have altered the recipe with more flour and an extra egg, which created a lighter, fluffier dough and allowed the centers to be fully cooked, but still soft.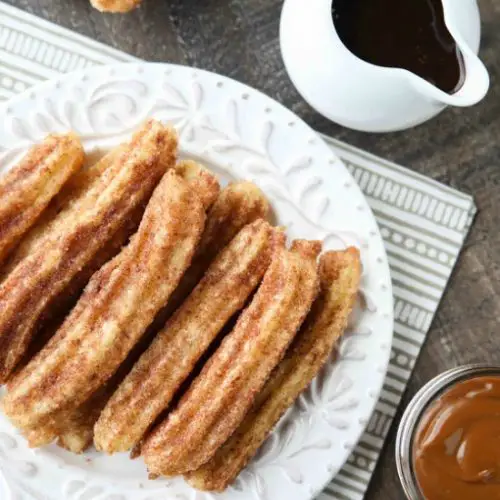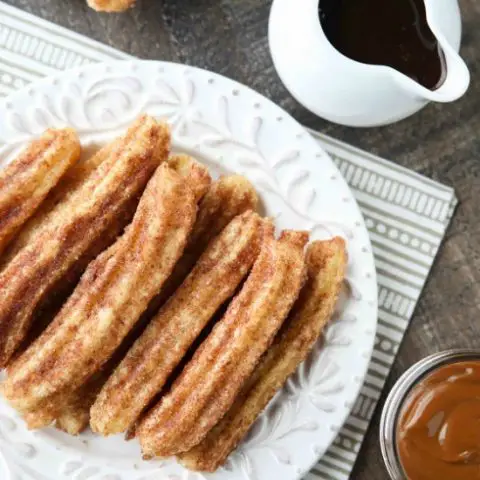 Churros Recipe
Prep Time: 20 minutes
Cook Time: 15 minutes
Total Time: 35 minutes
Yield: 30 (5-inch) churros
This churros recipe is super easy to make with a simple churro dough that is piped into oil and fried, then coated in cinnamon-sugar. You can enjoy these crisp, yet soft homemade churros anytime!
Ingredients
Churro Dough:
1 cup water
6 Tbsp butter, cut into Tablespoons
1 Tbsp granulated sugar
1/8 tsp salt
1 1/4 cups all-purpose flour (stir, spoon & level)
2 large eggs
Oil, for frying
Cinnamon-Sugar
1/2 cup granulated sugar
1 Tbsp ground cinnamon
Instructions
Place water, butter, sugar, and salt into a medium saucepan. Bring to a boil.
Add flour and mix vigorously until dough balls up, and everything is well blended. Remove from heat.
Place dough into the bowl of a stand mixer fitted with a paddle attachment. Mix on low until steam disappears.
Add eggs one at a time while the machine is on. Turn speed up to medium, and mix until fully incorporated before repeating with second egg.
Scoop dough into a piping bag fitted with a star piping tip. (I used a Wilton 2D tip. Make sure the tip is slightly rounded -- helps prevent churros from splitting.) Combine cinnamon and sugar on a large plate and set aside.
Heat oil in a large frying pan or stock pot to 350-375 degrees Fahrenheit. To test the oil for frying, drop a tiny piece of dough into the oil. Once it browns, you are ready to pipe the churros in.
Pipe the dough directly into the hot oil to desired length (about 5-inches) and cut with a fork, knife, or scissors. Straighten churros with the cutting utensil if needed. Do not pipe too many churros at once. (So they cook evenly.)
Cook churros about 2 minutes (1 minute on each side) or until golden brown.
Remove churros and place on a paper towel to absorb excess oil. While still warm, roll churros in cinnamon-sugar mixture. Serve with dulce de leche or chocolate sauce, if desired.
Notes
Can mix completely by hand. Allow dough to cool slightly before adding the egg, so it doesn't scramble. Stir vigorously once adding the eggs, until it binds together.
If churros brown too fast, the oil is too hot, if they take a long time to brown, the oil is too cold. Aim for 350-375 degrees Fahrenheit.
*Recipe altered from Happy Foods Tube
Recommended Products
As an Amazon Associate and member of other affiliate programs, I earn from qualifying purchases.
Nutrition Information:
Yield: 15
Serving Size: 1
Amount Per Serving:
Calories: 127
Total Fat: 6g
Saturated Fat: 3g
Trans Fat: 0g
Unsaturated Fat: 3g
Cholesterol: 37mg
Sodium: 66mg
Carbohydrates: 16g
Fiber: 1g
Sugar: 8g
Protein: 2g
This data was provided and calculated by Nutritionix, and is an estimation only.