Salted Caramel Cookies
This post may contain affiliate links, meaning that I may receive a commission at no cost to you if you use a link provided. All opinions shared are my own. You can review my full disclosure policy here.
Salted Caramel Cookies are soft, chewy, and full of caramel, with just the right amount of salt. This sweet and salty dessert is one recipe you'll make again and again!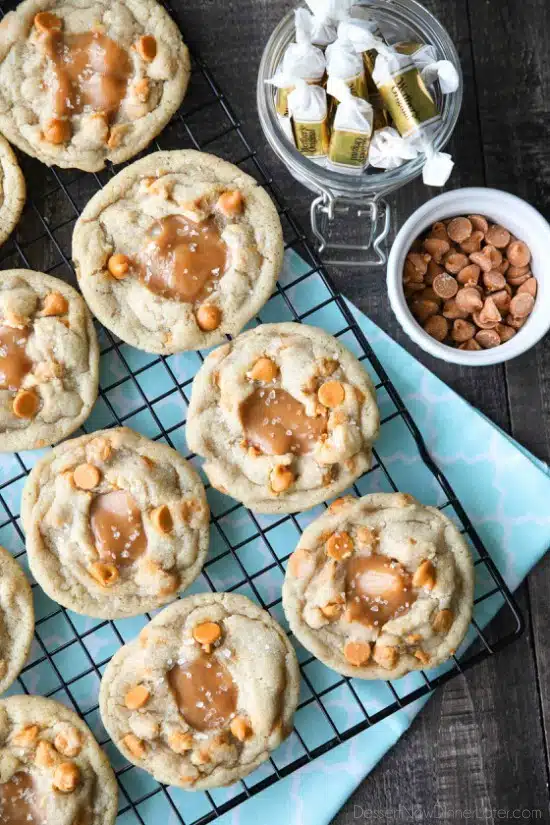 Move over chocolate chip cookies, there's a new guy in town! Meet — Salted Caramel Cookies!
There is a recent trend where I live, of bakeries that sell warm, fresh cookies until all hours of the night. (Well, midnight to 2 A.M.) I do live in a college town, so they are definitely marketing to the students who are up late studying each night. Who can resist a warm cookie though? Not me!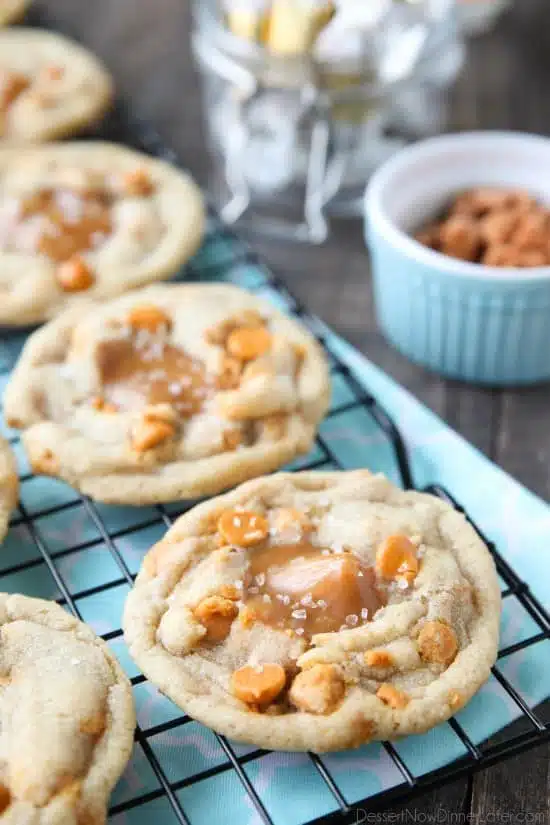 These salted caramel cookies are inspired by one of those warm cookie shops called, "Baked." It's my absolute favorite! But I simply can't go spending $10 on four cookies every week, so I decided to recreate the recipe at home and am so happy with the results!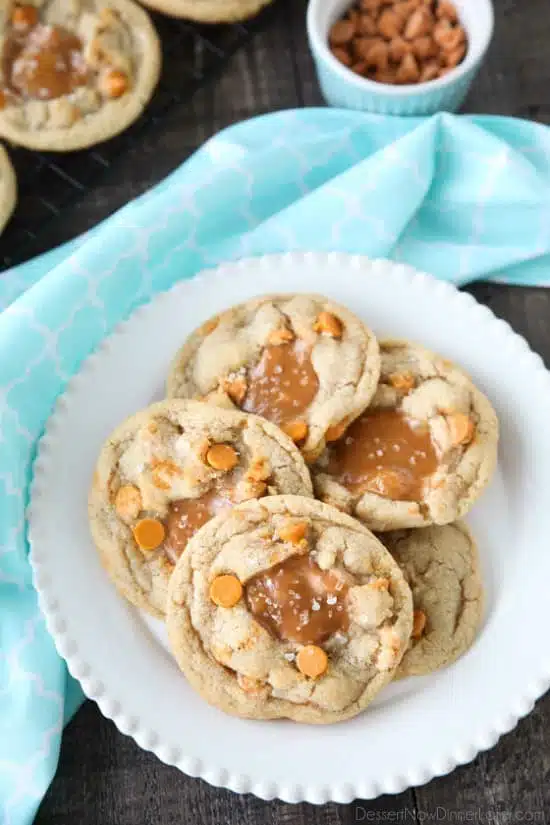 I've used my favorite chocolate chip cookie dough base, and substituted salted caramel baking chips that I've found under the Kroger or Hershey's brands.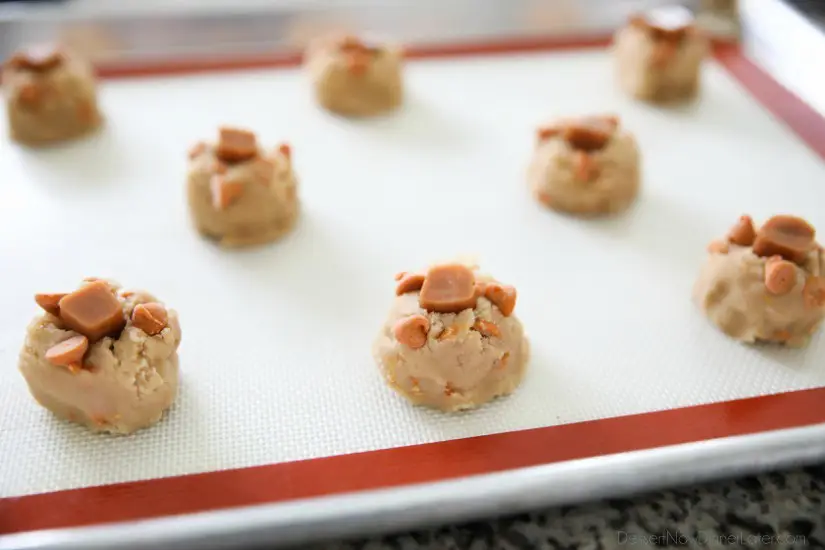 Then I stuffed the center with Werther's Soft Caramels and topped them off with some coarse sea salt. Absolute perfection! I don't even miss the chocolate in this cookie, and that's saying a lot because I LOVE chocolate.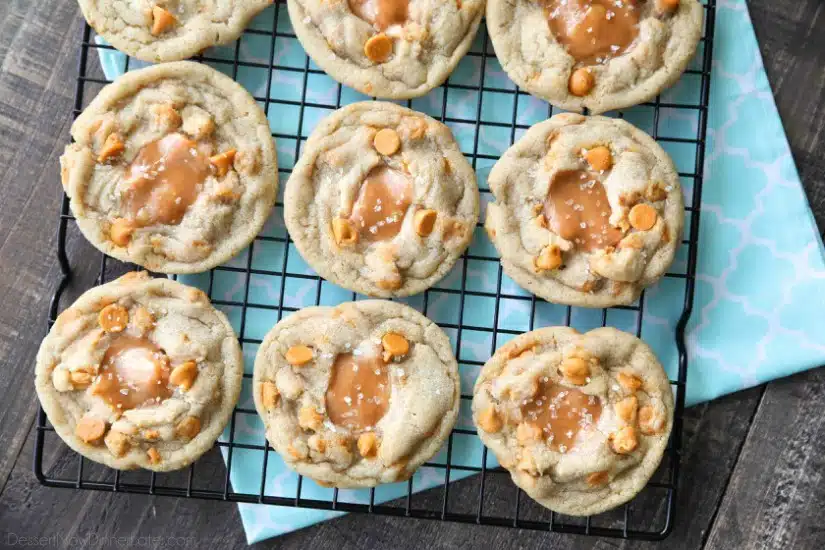 A few neighbors that we shared these salted caramel cookies with went absolutely crazy for them! They wouldn't stop talking about how delicious they are!
They really are that good, and almost as simple as chocolate chip cookies. The only extra work is unwrapping caramels and cutting them in half. No biggie! Totally worth it for these salted caramel cookies! Just to warn you, they are addicting!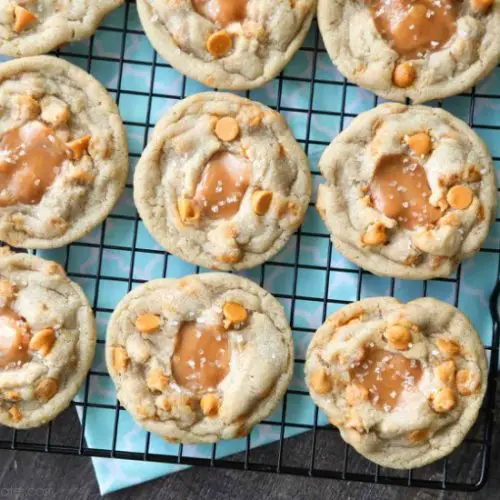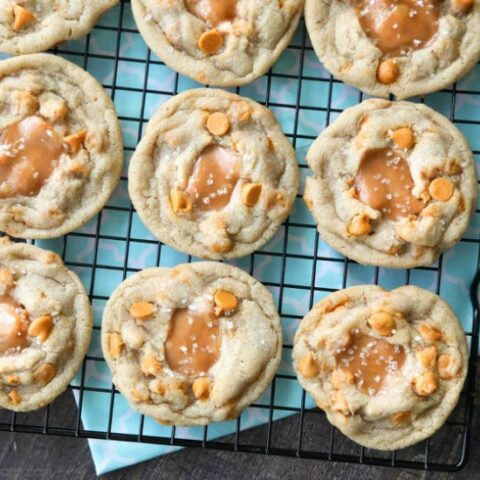 Salted Caramel Cookies
Ingredients
1 cup (2 sticks) butter
3/4 cup granulated sugar
1 cup brown sugar
1 large or XL egg
1 Tbsp vanilla extract
3 cups all-purpose flour
1 tsp salt
1 tsp baking soda
10-12 oz salted caramel baking chips (Kroger or Hershey's brand)
4.51 oz bag Werther's Soft Caramels (18 rectangle caramels)
coarse sea salt or kosher salt
Instructions
Preheat oven to 350 degrees Fahrenheit.
In the bowl of a stand mixer fitted with the paddle attachment, combine the butter and sugars. Cream until light and fluffy. Add the egg and vanilla. Mix well and scrape the bowl with a spatula.
In a separate bowl, stir together the flour, salt, and baking soda. Add dry ingredients to the butter mixture until just combined, about 1 minute.
Add the salted caramel baking chips (save some of each to top cookies with, if desired). Mix gently on low speed until just combined, about 30 seconds. *If dough is crumbly, add 1 Tbsp of milk and mix gently until dough comes together.
Line a baking sheet with a silicone baking mat, parchment paper, or spray with cooking spray. Scoop cookie dough balls and place onto prepared baking sheet about 2-inches apart. (12 small cookies per tray or 8 large cookies per tray.)
Unwrap caramels and cut each caramel in half. Press half of a caramel into the center of each cookie dough ball until it's level with the cookie dough. (Top with some of the saved salted caramel baking chips, if you set some aside.)
Bake at 350 degrees Fahrenheit for 8-10 minutes depending on size, until edges are just barely starting to brown. Immediately sprinkle the top of the hot cookies with coarse salt. Allow to cool for 1 minute on tray, then transfer to a wire rack to cool completely. Store in an airtight container at room temperature up to 1 week.
Notes
*May use Werther's Chewy Caramels, but the cookies are tougher to chew. Warm cookies for 10 seconds in the microwave before eating if using the chewy caramels.
Nutrition Information:
Yield: 36
Amount Per Serving:
Unsaturated Fat: 0g
FAQ'S
Can you melt Werther's?
Werther's Original Soft Caramels are great for baking. You can cut them up and use them in bars, or add cream and melt it for dipping.
How do you make caramels from scratch?
Soft Homemade Caramels are made with butter, corn syrup, sugar, heavy cream and vanilla. Stir continuously over medium heat until it reduces by about half and starts to thicken.