Spiced Pumpkin Loaf with Cinnamon Brown Sugar Glaze
This post may contain affiliate links, meaning that I may receive a commission at no cost to you if you use a link provided. All opinions shared are my own. You can review my full disclosure policy here.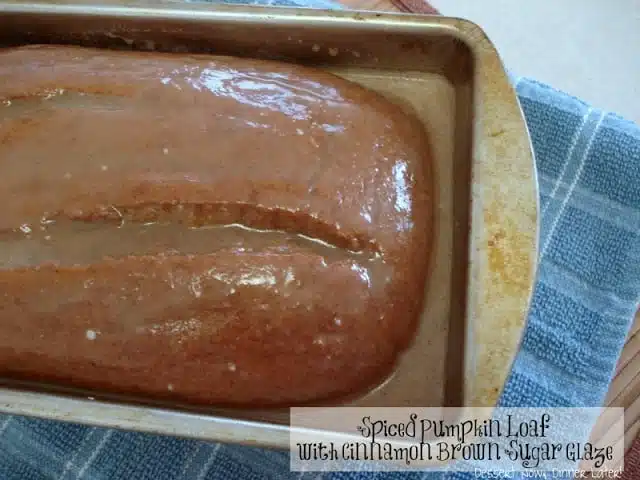 Sometimes you have leftover pumpkin sitting in your fridge from all those fall pumpkin recipes. No pumpkin must be wasted! This is a quick bread that is simple & fast to throw together & bake in the oven warming your house & creating a yummy spiced aroma to fill your kitchen.
It uses only 1 cup of pumpkin so if you need a recipe that doesn't call for 1 can of pumpkin, this will help you out. I also really like the glaze atop this pumpkin loaf. It really brings together the pumpkin with the spices. I totally eat this like it's a slice of cake using my fork & savor every bite. It's so yummy!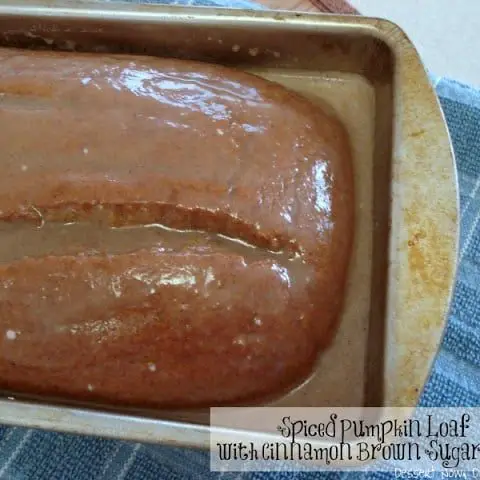 Spiced Pumpkin Loaf with Cinnamon Brown Sugar Glaze
Ingredients
Loaf:
1 3/4 cup flour
1/2 tsp salt
1 tsp baking soda
1/2 tsp baking powder
1 Tbsp Pumpkin Pie Spice
4 Tbsp butter (NOT margarine)
1/4 cup canola oil
1 cup sugar
1 cup pumpkin puree
2 eggs
2/3 cup water
Cinnamon Brown Sugar Glaze:
1 Tbsp butter
1/4 cup brown sugar
2 Tbsp milk
1/2 cup powdered sugar
Dashes Cinnamon
Instructions
Combine flour, salt, baking soda, baking powder, & pumpkin pie spice in a bowl.
In a stand mixer, beat butter, oil, & sugar until light & fluffy. Scrape bowl Add pumpkin puree & 2 eggs. Blend until combined.
Slowly add flour mixture. Scrape bowl. Add ⅔ cup water until just incorporated.
Grease a 9-inch bread pan lined with parchment on the bottom, & pour mixture inside. Bake at 350*F for roughly 1 hour until done in the center. Allow to cool in pan on a rack.
Prepare glaze by melting butter, brown sugar & milk in a bowl in the microwave for 30 seconds (cover bowl, in case it splatters.) Once butter is melted, whisk until sugar dissolves. Add ½ cup powered sugar & cinnamon to taste & allow to cool to room temperature. Pour glaze over pumpkin loaf once it has cooled down a bit.
Remove bread from pan once the glaze has solidified & the bread is completely cool. Peel off parchment paper from the bottom. Slice & serve.