Lemon Sticky Rolls
This post may contain affiliate links, meaning that I may receive a commission at no cost to you if you use a link provided. All opinions shared are my own. You can review my full disclosure policy here.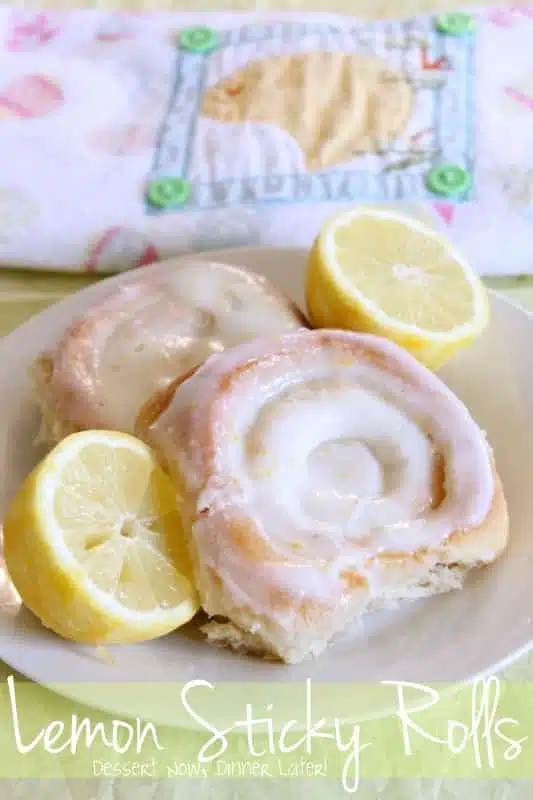 If you have been a follower for a while, you know how I swoon over citrus treats. I have a known lime addiction, but really any citrusy sweet has my name written all over it.
I was thinking about Spring & Easter & decided that this would make the perfect Easter breakfast! The soft bread, with the tang of the citrus & the cool creamy glaze make these a perfect breakfast roll.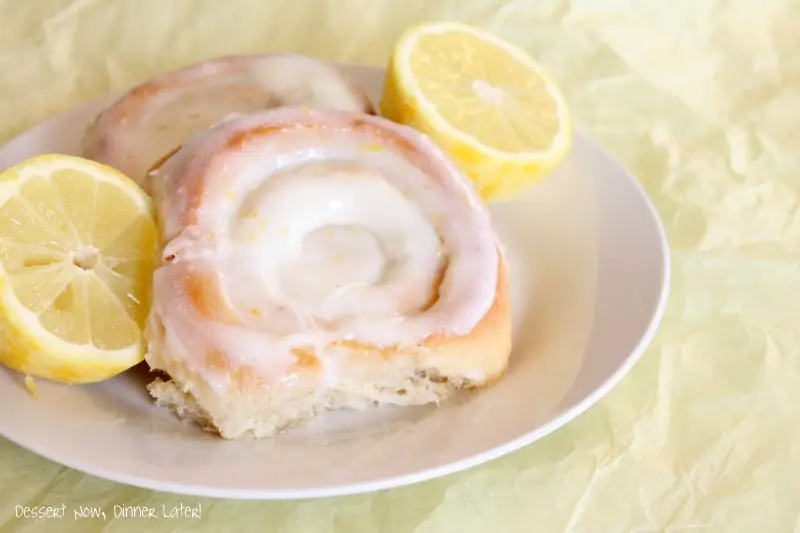 Like most cinnamon rolls they are a little time consuming, but so worth the wait! You may also prepare & shape them the day before, cover them in saran wrap & save them in the fridge overnight. Just allow them to raise for an hour at room temperature before baking them. You are going to love these!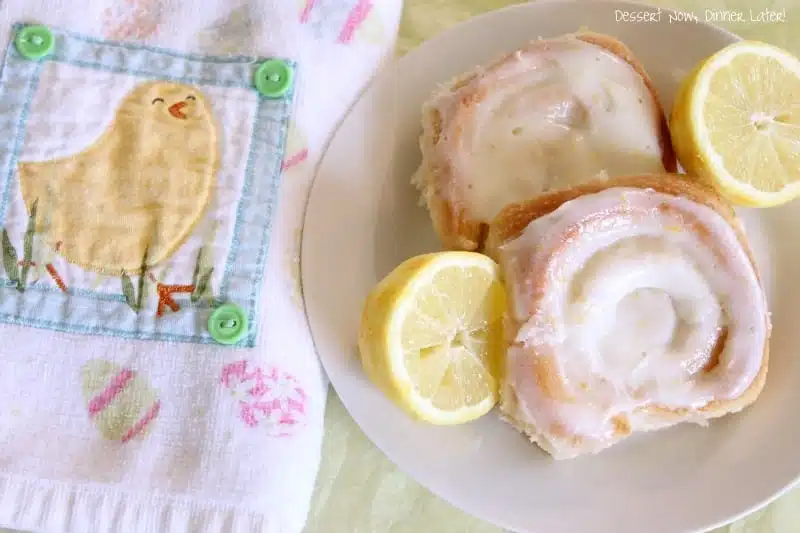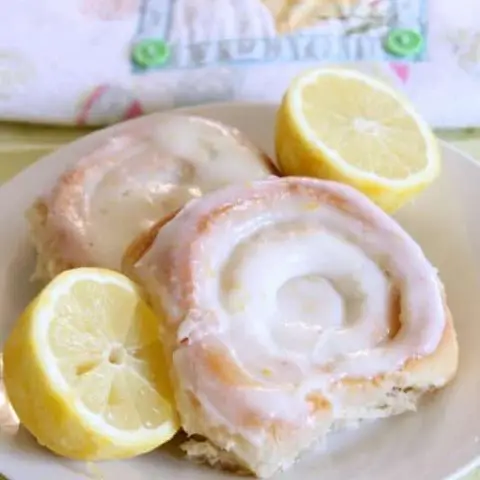 Lemon Sticky Rolls
Ingredients
Lemons, for dough, filling, and glaze:
3 large lemons, at room temperature
Dough:
3/4 cup milk
2 1/2 tsp yeast (or 1 envelope)
1/2 cup unsalted butter, softened plus 3 Tbsp unsalted butter for roll assembly
1/4 cup sugar
2 tsp vanilla
4 1/2 cups all-purpose flour
1/2 tsp salt
1/2 tsp nutmeg
1/2 Tbsp lemon zest
2 large eggs
Sticky Filling:
3 Tbsp butter, softened
1 cup sugar
1/4 tsp nutmeg
1/2 tsp powdered ginger
1/2 Tbsp lemon zest
1/4 cup lemon juice
Lemon Cream Cheese Glaze:
4 oz cream cheese (I use Neufchatel)
1 cup powdered sugar
1/2 Tbsp lemon zest
up to 1/4 cup lemon juice (I only used 2 Tbsp for a thicker glaze)
Instructions
Warm milk in the microwave for about 35-45 seconds until warm but not hot on your wrist. Add yeast, stir, & let the mixture rest until foamy; about 5 minutes.
Meanwhile, in the bowl of a stand mixer add the butter, sugar, vanilla, 1 cup of the flour, salt, nutmeg, & lemon zest. Use the paddle attachment & mix until crumbly. Add the yeast/milk mixture & eggs. Mix until combined. Add enough of the remaining flour to make a soft yet sticky dough. (I used only 4 cups of flour total.)
Switch to the dough hook & knead for 5 minutes, or until the dough is elastic & pliable. Lightly grease the top of the dough with vegetable/canola oil, & turn the dough over so it's coated in oil. Cover the bowl with plastic wrap or a towel & let rise until nearly doubled; about 1 hour.
While dough is rising combine the sugar, nutmeg, ginger, & lemon zest in a bowl so the zest has a chance to flavor the sugar. Once the dough has risen, add just enough lemon juice to the sugar mixture form a thick clumpy mixture like wet sand (I used the whole ¼ cup.)
Lightly grease a jelly-roll pan with baking spray. On a floured surface, pat the dough out into a large yet thick rectangle; about 10"x15".
Spread the dough evenly with 3 Tbsp of very soft unsalted butter. Then spread the lemon/sugar mixture over the top. Roll the dough up tightly, starting from the top, long end. Stretch & pull the dough taut as you roll, to keep the lemon-sugar firm inside.
Cut rolls using floss or string about 1" thick. Place on the prepared baking sheet with ends inward to help keep from unrolling once they raise. Cover the rolls with a towel (I like to use a LIGHTLY damp towel) & let raise for another hour or until puffy & nearly doubled.
Heat oven to 350*F. Place risen rolls in the oven & bake for 20-25 minutes or until a thermometer inserted into a center roll reads 190*F. (You may also press the center to see if it springs back to determine the doneness; if it springs back, it's done.)
While rolls are baking prepare the glaze. Using a hand mixer, beat cream cheese until light & fluffy in a medium sized bowl. Add the powdered sugar, zest & half the lemon juice (2 Tbsp.) Blend until smooth & creamy. If you want a thinner glaze add the remaining 2 Tbsp lemon juice. Top warm rolls with glaze. Serve while still warm.
Recipe re-written & adjusted from The Kitchn