Berry Banana Bread with Cream Cheese Icing
This post may contain affiliate links, meaning that I may receive a commission at no cost to you if you use a link provided. All opinions shared are my own. You can review my full disclosure policy here.
This super-soft and moist banana bread is exploding with a double-delight of juicy berries and perfectly covered in a tangy cream cheese icing.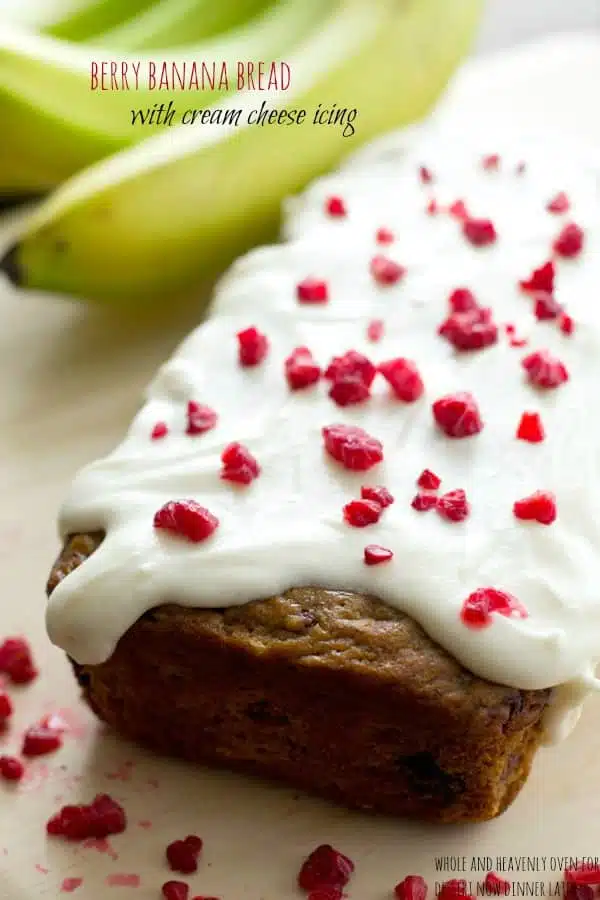 Hey there, folks! Sarah here again from Whole and Heavenly Oven. Happy 3rd weekend of 2015!!
I know with the holidays over, all of us are looking for healthier options, particularly in the breakfast department. Sooo I'm more than happy to do my part by contributing pretty much the best AND healthiest banana bread on the planet today.
Yes, there's icing. Yes, there's calories, BUT there's also a ton of berry goodness and lots of banana flavors to balance everything out. And well, banana bread just needs a good 'ol covering of icing. Always. Amiright?
So you are more than welcome to eat-and-not-share the entire two loaves. Because if you'll recall above ↑ This is complete and total health food.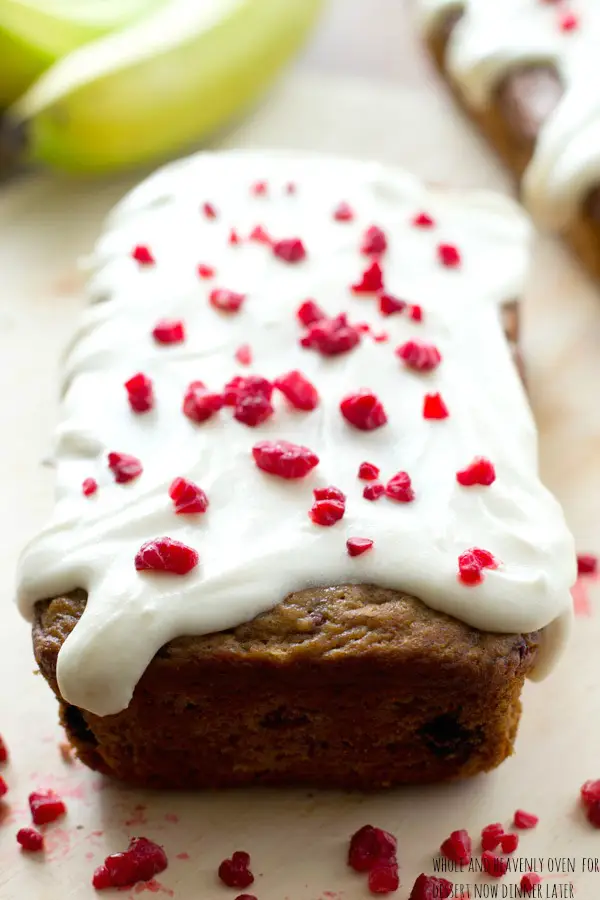 And you're gonna want to, trust me. Eat all the frosted-to-death berry banana bread that is…
Well, unless you end up eating all the cream cheese icing straight outta the bowl…which sadly I am GUILTY of on several occasions.
Let's talk about the base for this banana bread. We're gonna be using my VERY trusty and not-at-all rusty banana bread recipe that many people have gone so far as to call "perfect." Seriously the moistest, softest banana bread you'll EVER have.
Heck, I even titled it the "perfect" banana bread. And perfect it is, except today we're making it even MORE perfect by throwing all the berries into the batter and covering it with ALL the cream cheese icing.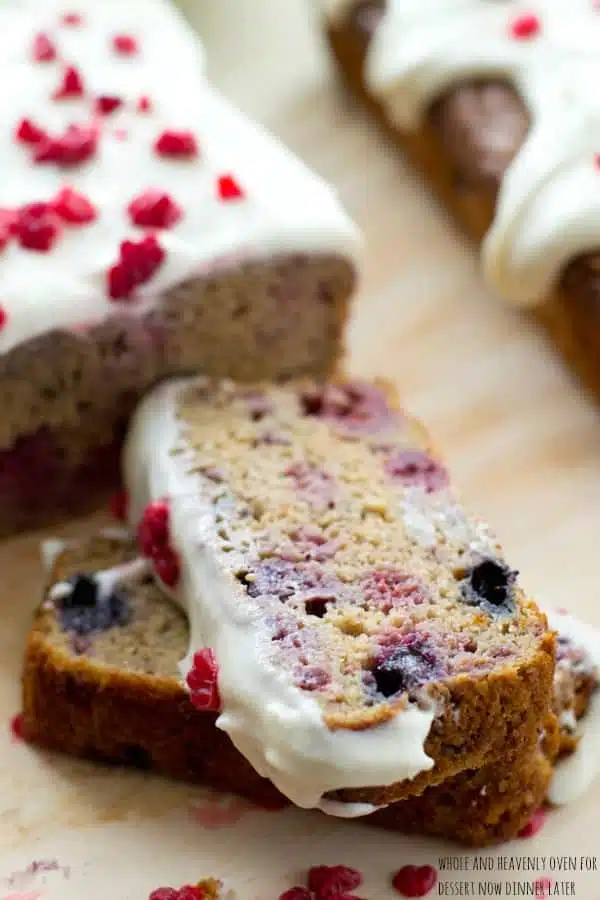 And oh my gosh, guys. Each slice is literally exploding with juicy berries, filled with tons of banana flavor, and covered to perfection with icing. Yeah, you're gonna want to cut yourself an extra-large slice. 😉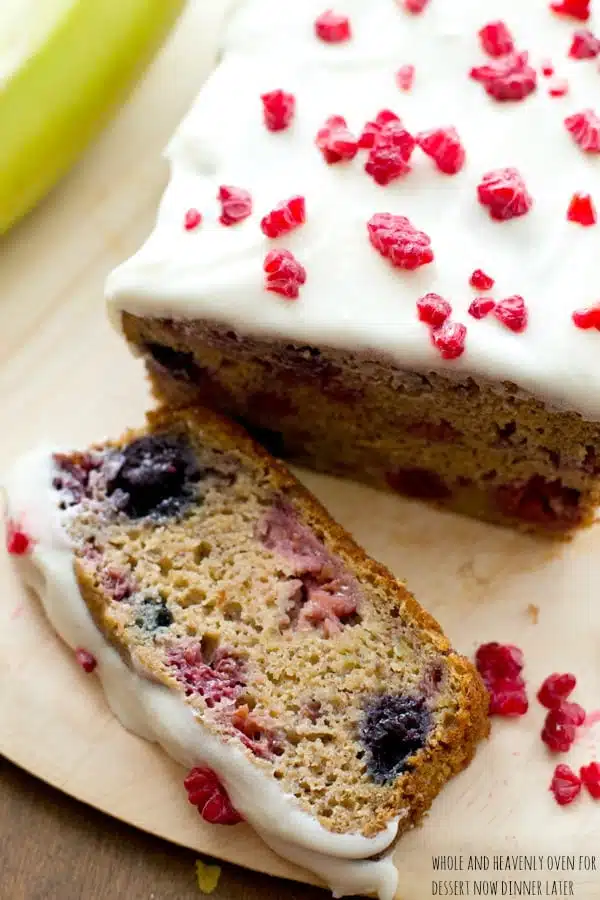 The banana bread batter itself is SO quick to whip up and before you know it, you'll have those loaves in the oven and you'll be ready to tackle that icing business.
Yeaaah, about that…
This icing, guys. You won't even believe how amazing it is. Completely grab-a-spoon-and-go-to-town kinda awesome. Tangy, sweet, super-smooth, and absolutely dreamy. ♥
You'll only need 4 ingredients too! Cream cheese, powdered sugar, vanilla, and half-and-half cream. Easy-peasy!
Whip 'er all up. And by then your loaves should be outta the oven and cooled, so next comes my favorite step. (not counting the actual stuff-yer-face part, of course)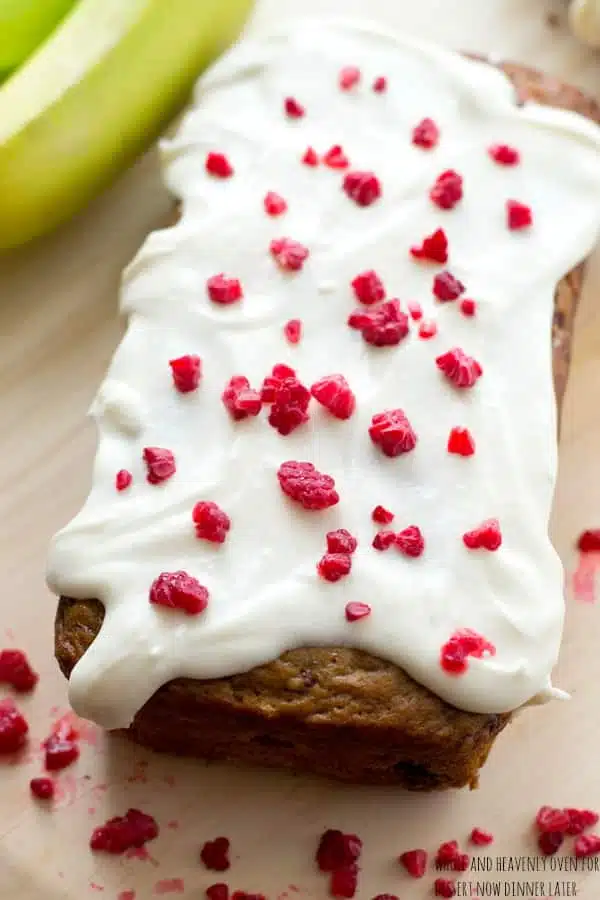 Slather on that icing like there's no tomorrow. Then lick the icing bowl like a boss. Hey, it's not just for the kiddos!
Last but not least, cut yourself a big 'ol slice and enjoy the fruits (berries?) of your banana bread labor.
Would you judge me if I told you that my breakfast for the past 4 days straight have consisted of this banana bread? Yiiiiiiikes…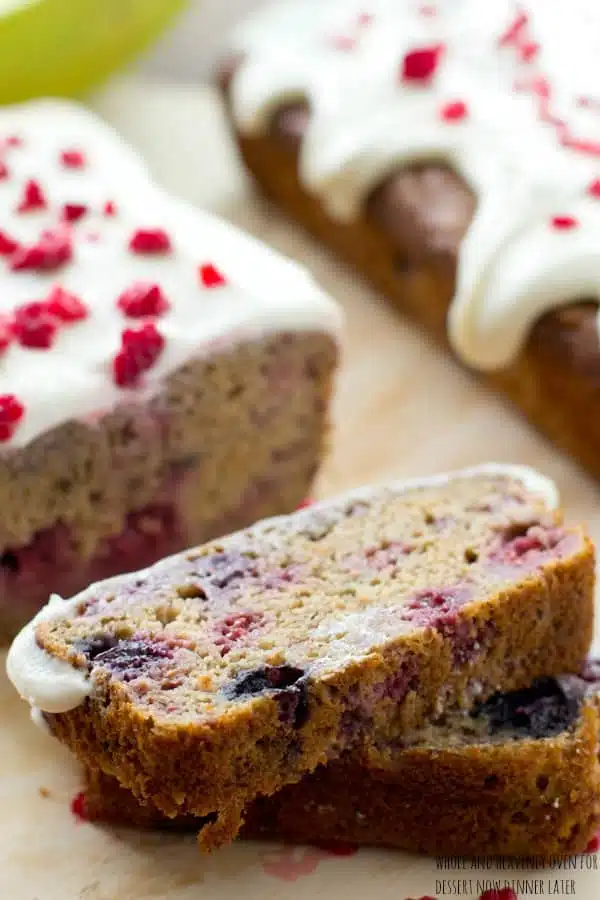 Totally balanced, my friends, totally balanced. 😉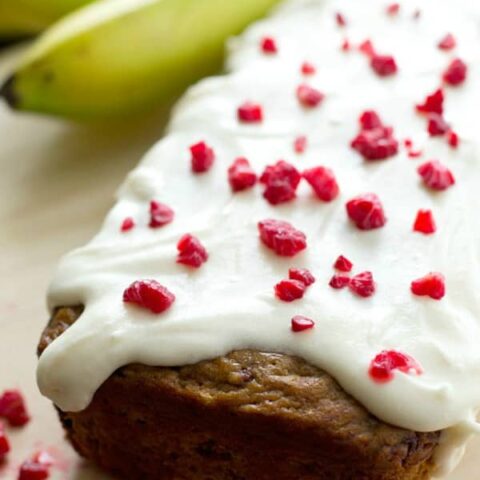 Berry Banana Bread with Cream Cheese Icing
This super-soft and moist banana bread is exploding with a double-delight of juicy berries and perfectly covered in a tangy cream cheese icing.
Ingredients
BREAD:
1/2 cup butter, softened
3/4 cup coconut sugar, or brown sugar
4 large bananas, mashed (about 2 cups)
2 large eggs
1/3 cup buttermilk
1 teaspoon vanilla extract
2 cups white whole wheat flour
1 teaspoon baking soda
1 teaspoon baking powder
1 cup fresh blueberries (if using frozen, do not thaw)
1 cup fresh raspberries (if using frozen, do not thaw)
ICING:
2 oz cream cheese, softened
1 cup powdered sugar
1 teaspoon vanilla extract
2-3 Tablespoons half-and-half cream
Instructions
Preheat oven to 350 degrees Fahrenheit. Lightly grease two 9-inch loaf pans. Set aside.
Make the bread: In a large bowl with a handheld electric mixer, beat butter and sugar until creamy. Add mashed banana, eggs, buttermilk, and vanilla, and beat on medium speed until smooth.
In a separate large bowl, combine flour, baking soda, and baking power. Gently fold flour mixture into liquid mixture until just combined. Fold in berries.
Scrape batter into prepared pans and smooth tops. Bake banana bread for 55 to 60 minutes or until a toothpick inserted in the middle comes out clean. Cool banana bread in pan 30 minutes, then transfer to a wire cooling rack to cool completely.
Make the icing: Place softened cream cheese and sugar in a medium bowl. Beat on medium speed with a mixer until creamed. Beat in vanilla and cream by the Tablespoon until desired icing-consistency is reached.
Spread icing over cooled banana bread, slice and serve.
Nutrition Information:
Amount Per Serving:
Unsaturated Fat: 0g
Hungry for more banana bread? Lucky for you, I'm kinda obsessed. 😉
Chocolate Banana Brownie Bread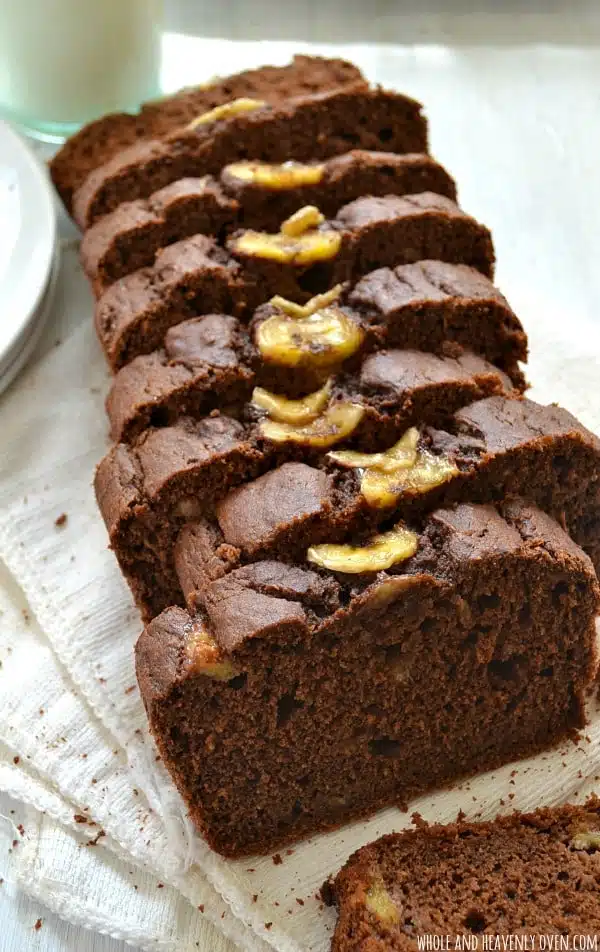 Peanut Butter-Swirl Banana Bread