Cheesecake Nutella Twists
This post may contain affiliate links, meaning that I may receive a commission at no cost to you if you use a link provided. All opinions shared are my own. You can review my full disclosure policy here.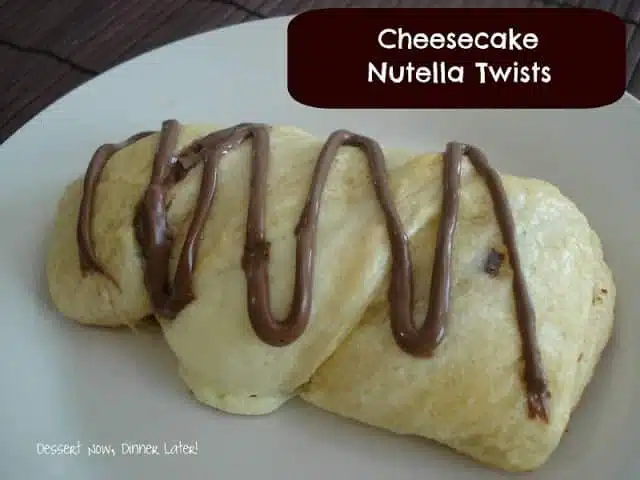 I think I have mentioned before, that I usually don't do very many big breakfasts. I save those for holidays, or when we have company over for sake of saving my calories (you may not think I watch what I eat, based on what I put on this blog, but you are wrong.)  
Well, we had my in-laws come visit us from California & we like to go all out when we cook for them. We made these for breakfast one of the days they were here & oh my gosh they are out of this world! I was on cloud nine eating these puffy pastries.
Obviously anything with Nutella is just amazing, & I am pretty sure most people who have tried Nutella know that it's one of the world's seven wonders (& if you haven't tried Nutella you are freaking psycho & need to head the the store now & buy some…it's by the peanut butter.)  I tried not to think of all the calories when I ate these, but even so, they are worth every bite! Creamy, chocolatey, crispy crust. Mmmmm!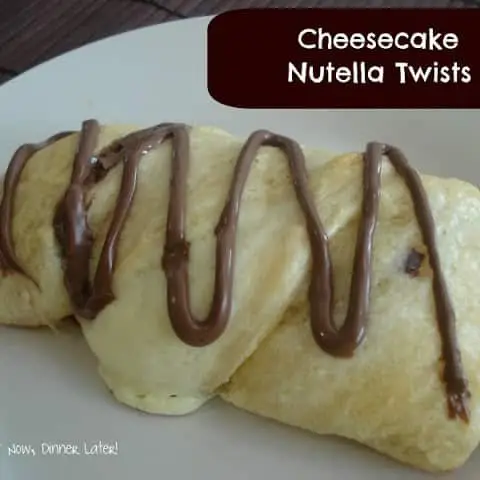 Cheesecake Nutella Twists
Ingredients
2 cans refrigerated reduced fat crescent rolls
8 oz pkg neufchatel cream cheese
1 egg
1/4 cup sugar
1 cup Nutella
Instructions
In a mixing bowl, beat the cream cheese, sugar & egg, until smooth & creamy. Set aside.
Unroll the crescent rolls & separate into triangles. Press two triangles together to form a rectangle. (Next time I am using my mini rolling pin & really rolling the triangles together so the seams stay closed.)
Spoon a large tablespoon of Nutella down the right side of the center. Spoon a large tablespoon of cheesecake filling down the left side of the center. Fold the edges of the rolls over the filling. Press seams together at the middle & the ends. Flip roll over so that the seam is underneath. Repeat with all rolls.
Gently twist the rolls. Press together any seams that come undone. (To be honest, my rolls, were far from perfect! I had filling oozing out all over the place & I was getting frustrated trying to pinch the seams, but it really didn't make a huge difference once everything was cooked. They didn't look horrible, & they tasted amazing anyway.)
Bake at 375*F for 10-11 minutes. Let cool on a wire rack, or don't let them cool & eat them warm & gooey from the oven. Refrigerate leftovers.
*Optional: in a zip-top bag, spoon a Tbsp or two of Nutella; cut off a corner & squeeze a zig-zag of chocolatey goodness over the tops to make your breakfast pastries look fancy. You can never have enough Nutella 🙂
Recipe lightly adapted from BruCrew Life