BBQ Meatball Sliders
This post may contain affiliate links, meaning that I may receive a commission at no cost to you if you use a link provided. All opinions shared are my own. You can review my full disclosure policy here.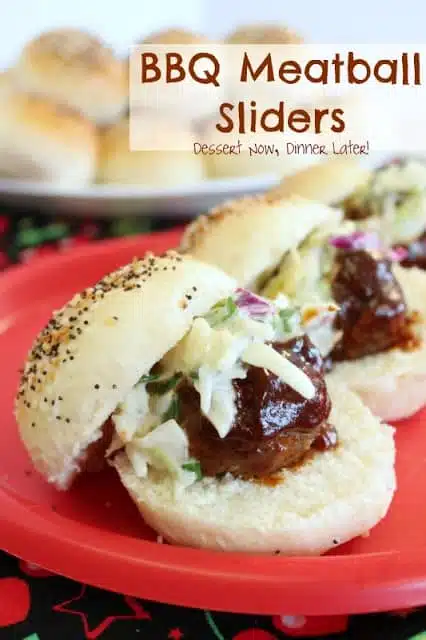 It's Surprise Recipe Swap time again! I sure love a surprise! I look forward to the 20th every month so I can see who had my blog & what recipe they chose.
This month I got to be inspired from Meghan at The Tasty Fork for today's recipe: BBQ Meatball Sliders!
I love a good meatball, I love BBQ sauce, & I crazy love coleslaw! Meghan's idea of putting the three on a bun & making a sandwich is superb! I stuck with her coleslaw recipe since it is similar to my own, but I had to go with the base of my favorite meatball recipe & I am using my all-time favorite Kansas City BBQ Sauce made by Bullseye. Plus, I decided to make my own slider buns for this post. Meghan uses Hawaiian Rolls, which I am sure, are just as awesome as my Everything Slider Buns!
Doesn't this recipe just make you crave Summer? Get to cooking it & let me know what you think!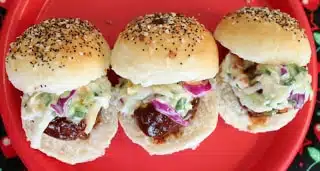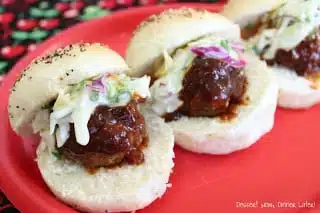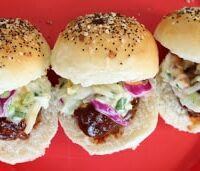 BBQ Meatball Sliders
Ingredients
For the Meatballs:
1 lb ground beef (I like 85/15)
1/2 cup onion, minced
1/2 cup panko bread crumbs
1 tsp dried parsley
1 tsp salt
1/4 tsp pepper
1 medium egg
3 Tbsp skim milk
3/4 cup Favorite BBQ Sauce
For the Coleslaw:
3 cups shredded cabbage mix
4 scallions, sliced
3 Tbsp mayonnaise
1 Tbsp apple cider vinegar
1/8 tsp celery seed
1/2 Tbsp sugar
1/4 tsp each Salt & Pepper
Additional Ingredients:
Cooking Spray
12 dinner rolls or slider buns
Instructions
FOR THE COLESLAW (Prepare first): Toss the cabbage and scallions with the mayonnaise, cider vinegar, celery seed & sugar; season with salt and pepper. Allow to macerate & break down in the fridge while you make the meatballs.
FOR THE MEATBALLS: Combine all ingredients, except the BBQ sauce in a large bowl. Line a baking sheet with foil & spray with cooking spray. Form meatballs (about 2 Tbsp each) & place onto prepared baking sheet (makes about 12-14 meatballs.) Bake at 400*F for 15-16 minutes, or until no longer pink. Heat BBQ sauce in a large saucepan, add baked meatballs & gently fold/toss in the sauce. Remove from heat when it boils/sizzles.
TO ASSEMBLE: Place a saucy meatball on the slider bun and top with fresh coleslaw.
Nutrition Information:
Yield: 12
Amount Per Serving:
Unsaturated Fat: 0g
Recipe inspired & adapted from The Tasty Fork