Slow Cooker Mongolian Beef & Pineapple
This post may contain affiliate links, meaning that I may receive a commission at no cost to you if you use a link provided. All opinions shared are my own. You can review my full disclosure policy here.
This Slow Cooker Mongolian Beef & Pineapple is a little spicy, a little sweet, full of authentic Asian flavors, and is so easy to make!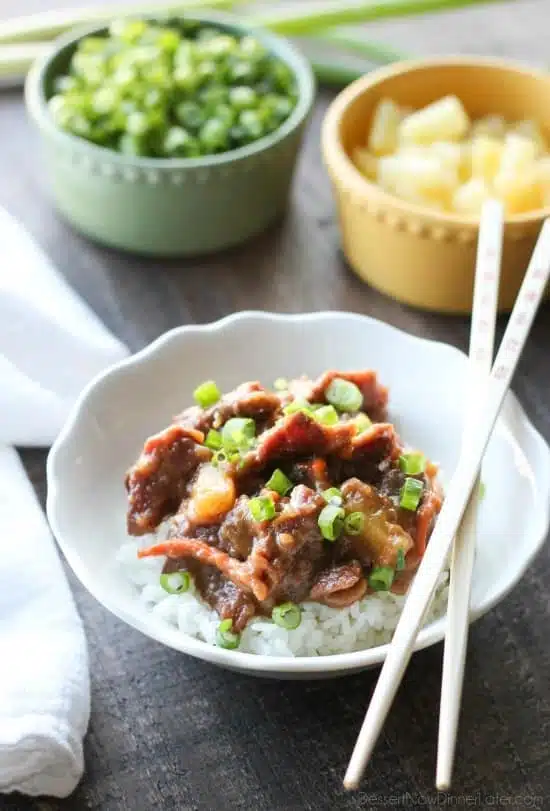 Yesterday the first bit of snow for the winter hit us and it has me all wanting to wear sweat pants, drink hot cocoa, and use my slow cooker. So I made this super easy and flavorful Slow Cooker Mongolian Beef & Pineapple.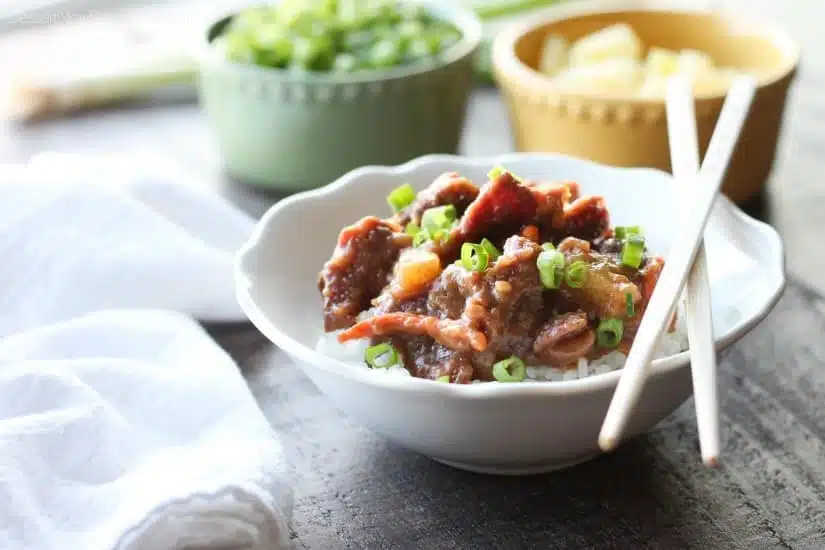 The recipe comes from my good friend Kelly's new cookbook The Asian Slow Cooker. Kelly used to contribute for me here on Dessert Now Dinner Later, and she has just taken off with her own blog, Life Made Sweeter. Publishing her very own cookbook is such an accomplishment, and I'm here to tell you it's a good one too!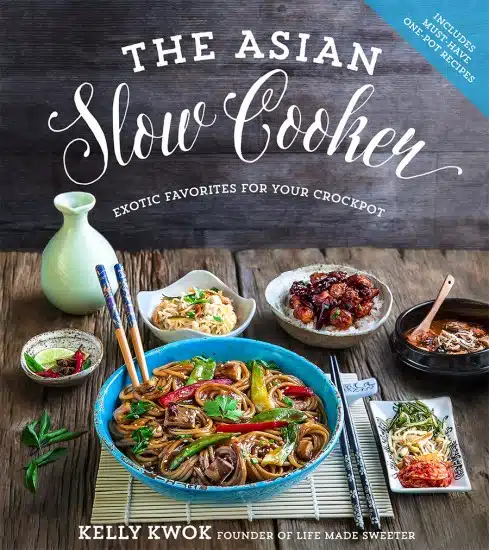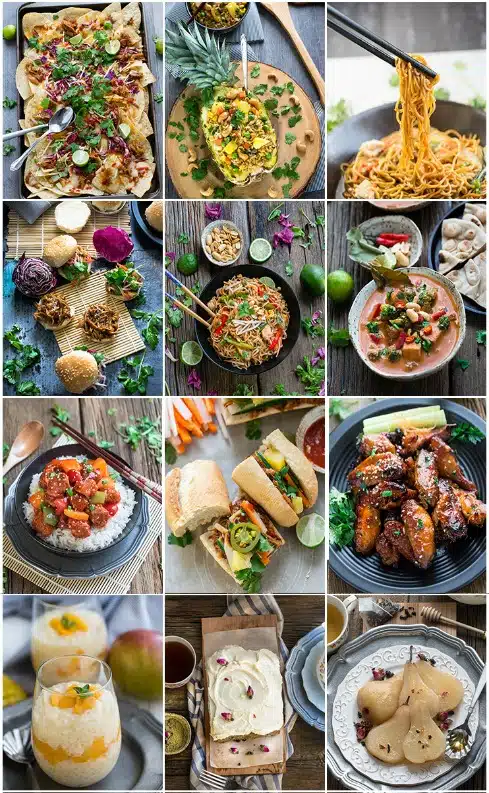 If you've ever craved good Asian food, but wished there was an easy way to make it at home, there is! Kelly's cookbook proves that you can make a lot of really good authentic Asian cuisine — and in your slow cooker, to boot! I just love it! The beautiful photography really makes you hungry too! (You've been warned.)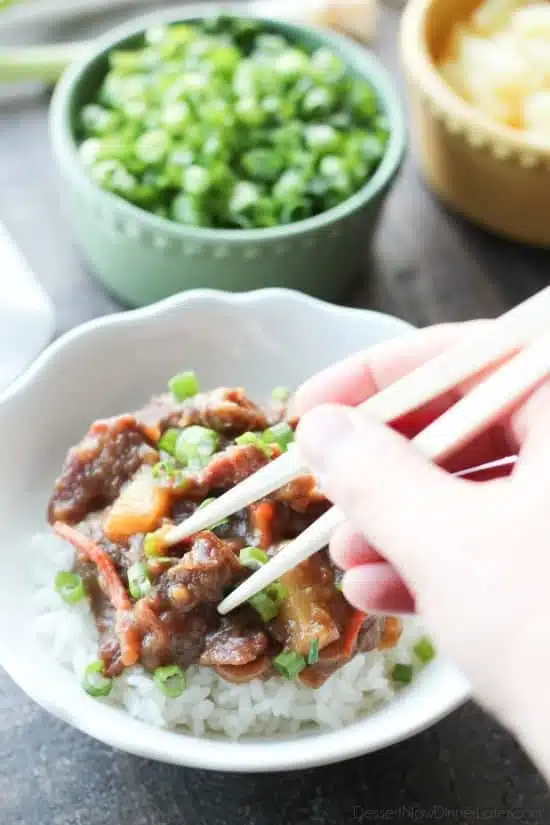 This Mongolian Beef & Pineapple recipe was one I was super excited about! I rarely make anything for dinner that's not made with ground beef or chicken, so this slow cooked flank steak was a real treat for us. It is so tasty! I will definitely be making it again to switch up the menu around here.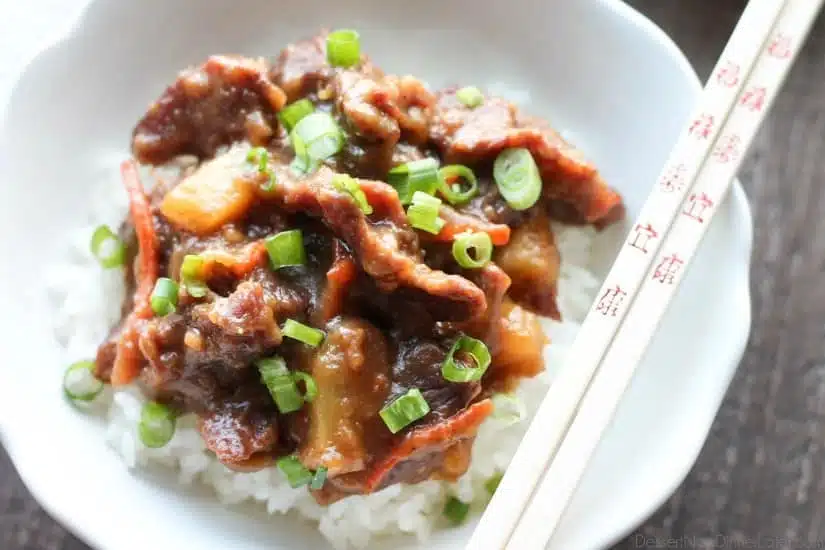 The flavors are rich and satisfying in this Slow Cooker Mongolian Beef & Pineapple. A little bit of heat, a little bit of sweet, lots of savory, and the meat is so tender. I hope you get the chance to try it! Pick up Kelly's cookbook from Amazon, Barnes & Noble, Indigo, Books-a-Million, Indie Bound, and wherever books are sold. Along with today's recipe is a GIVEAWAY! Check it out below the recipe card!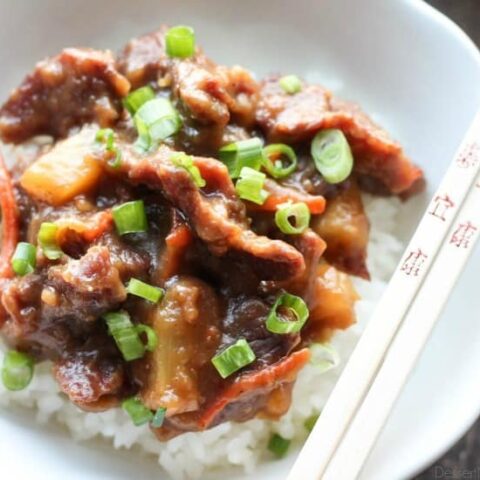 Slow Cooker Mongolian Beef & Pineapple
Ingredients
1/3 cup cornstarch
1 tsp baking soda, optional
1/4 tsp salt
1/4 tsp black pepper
2 tsp cooking oil
1 1/2 lb flank steak, cut across the grain into thin strips
1/2 cup low sodium soy sauce
2/3 cup low sodium beef broth
1/3 cup brown sugar, packed
2 Tbsp hoisin sauce
1 Tbsp Thai sweet red chili sauce
1/4 to 1/2 tsp red pepper chili flakes (to desired spice level)
2 cloves garlic, minced
1 tsp fresh ginger, minced
1/2 cup matchstick carrots
1 cup pineapple chunks/tidbits
1/4 cup + pineapple juice (reserved from canned pineapple)
cooked rice, for serving
2 green onions, sliced thinly, for garnish (optional)
Sesame seeds, for garnish (optional)
Instructions
In a large zip-top bag, toss together the cornstarch, baking soda, salt, and black pepper. Add the beef to the bag and give it a little shake until well coated.
In a large skillet, heat the oil over medium-high heat. Sear the beef for about 1 to 2 minutes on both sides and add to the slow cooker.
In a medium bowl, whisk together the soy sauce, beef broth, brown sugar, hoisin sauce, Thai sweet red chili sauce, red pepper chili flakes, garlic, and ginger until dissolved and pour over the beef. Cover with the lid and cook on low for 3 to 4 hours.
About 30 minutes prior to serving, add the carrots, pineapple chunks/tidbits, and pineapple juice. Add extra juice to thin the sauce, if desired.
Cover with the lid, then turn the heat to high and cook an additional 30 minutes. Serve over cooked rice and garnish with green onions and sesame seeds, if desired.
Notes
*Recipe lightly altered from The Asian Slow Cooker by Kelly Kwok
Nutrition Information:
Yield: 4
Amount Per Serving:
Unsaturated Fat: 0g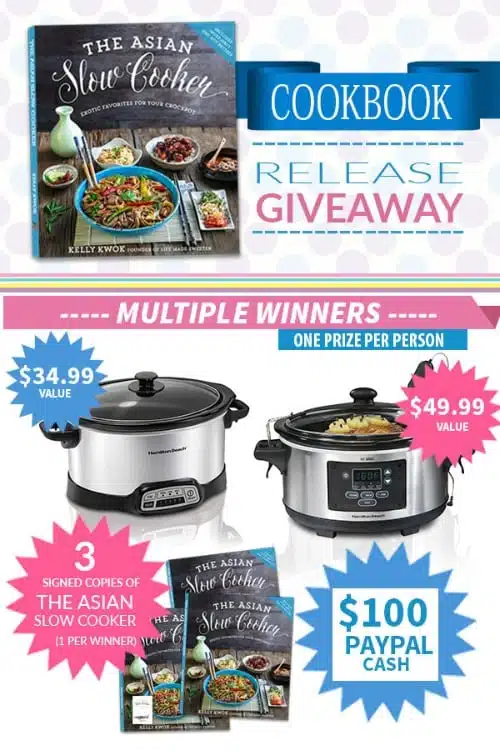 There will be multiple winners – one prize per winner. Here's what's included:
1 x Hamilton Beach 6 Quart Slow Cooker (retail $349 US) (1 winner) 1 x Hamilton Beach 5 Quart Slow Cooker (retail $99 US) (1 winner) 1 x $100 PayPal (1 winner) 3 x signed The Asian Slow Cooker cookbook (3 separate winners)
This giveaway runs November 15th – 30th, 2016. Good luck!