Chinese Almond Cookies
This post may contain affiliate links, meaning that I may receive a commission at no cost to you if you use a link provided. All opinions shared are my own. You can review my full disclosure policy here.
Chinese Almond Cookies are simple, crisp, buttery, and full of almond flavor. Save this recipe for Chinese New Year!  
*This is a sponsored post on behalf of Mom It Forward Blogger Network and P.F. Chang's Home Menu. Thank you for supporting the brands that make Dessert Now Dinner Later possible.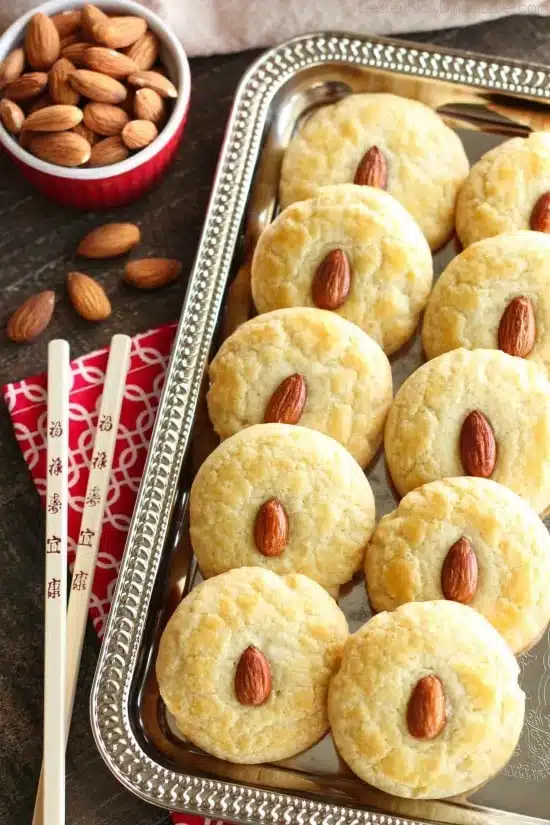 Our dinner menu has been pretty consistent lately. Everything quick and nothing too fancy: pizza, tacos, spaghetti, etc. The kids seem fine with it, but I've decided to try something new and adventurous called "Wok Wednesdays", where we throw some Asian food into the mix and satisfy our mid-week take-out craving all while staying at home.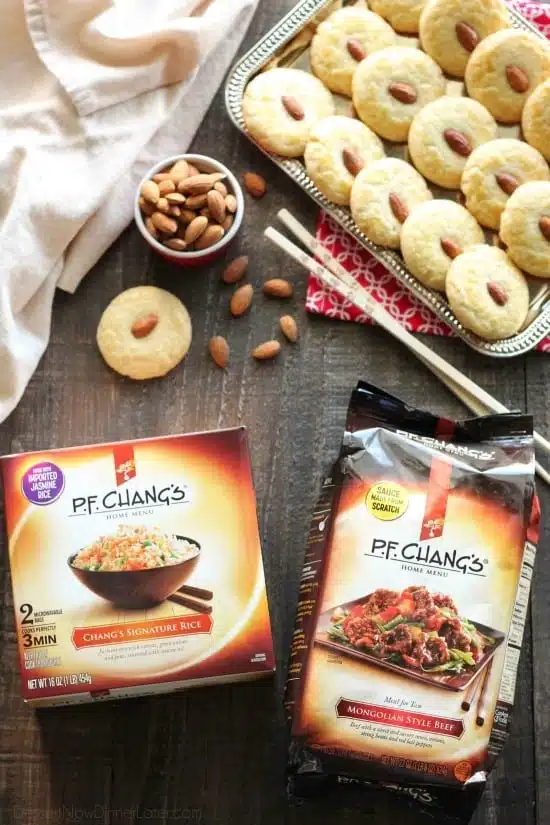 At first my kids seemed skeptical about trying something new, but after I whipped up some P.F. Chang's Mongolian Style Beef and Signature Rice and they took their first bite, they changed their minds really quickly. I did buy chopsticks for them to eat with, which is always fun, but the food itself tastes wonderfully authentic with bold vibrant flavors. The bonus for me, is that it comes together real quick, so I can feed my busy family fast!
Throw in some P.F. Chang's Signature Chicken or Pork Dumplings for an appetizer, make my Chinese Almond Cookies for dessert, and you have a complete meal! I'm actually really excited about this new "Wok Wednesdays" tradition. P.F. Chang's Home Menu® is just as easy to fix as our typical weekday dinners, but adds a little mid-week zest with crisp, vibrant veggies, bold sauces, and enticing aromas of restaurant-quality Asian food made in the comfort of my own home.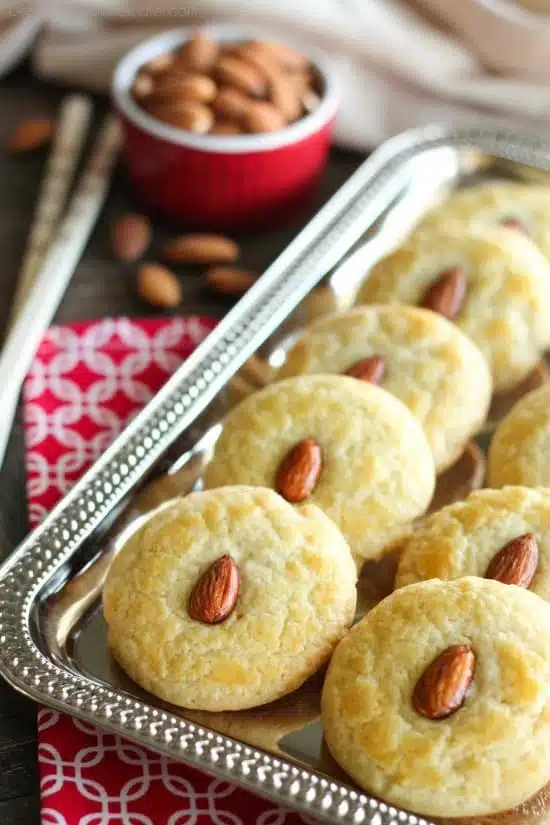 Of course no meal is complete without a little treat at the end. Instead of the typical fortune cookie dessert, we wanted to take it up a notch and make these Chinese Almond Cookies, typically made for Chinese New Year. They are crisp, yet melt-in-your-mouth buttery cookies, with a subtle, yet distinct almond flavor. My son took leftovers in his school lunch and thought they were the best cookies ever. #momwin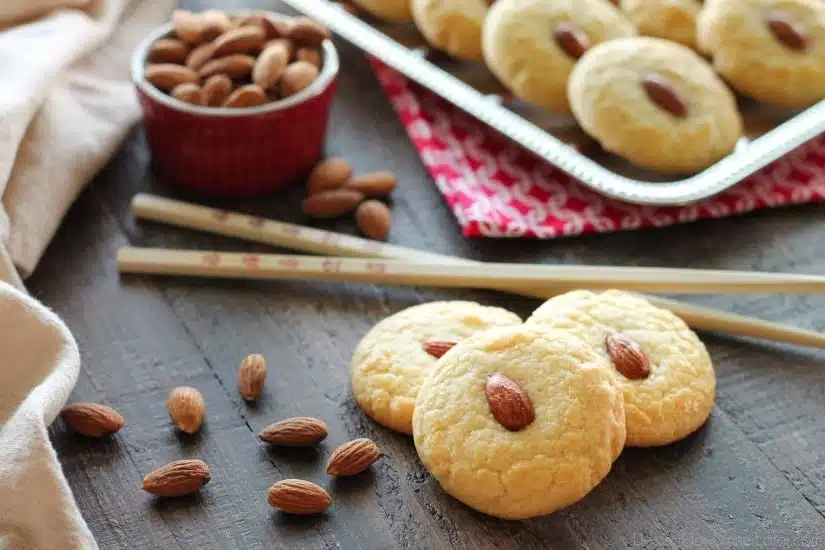 The recipe for these Chinese Almond Cookies is so simple, making it the perfect ending after a bold and vibrant Asian meal. They really do melt in your mouth and have a hint of sweet, nutty almonds.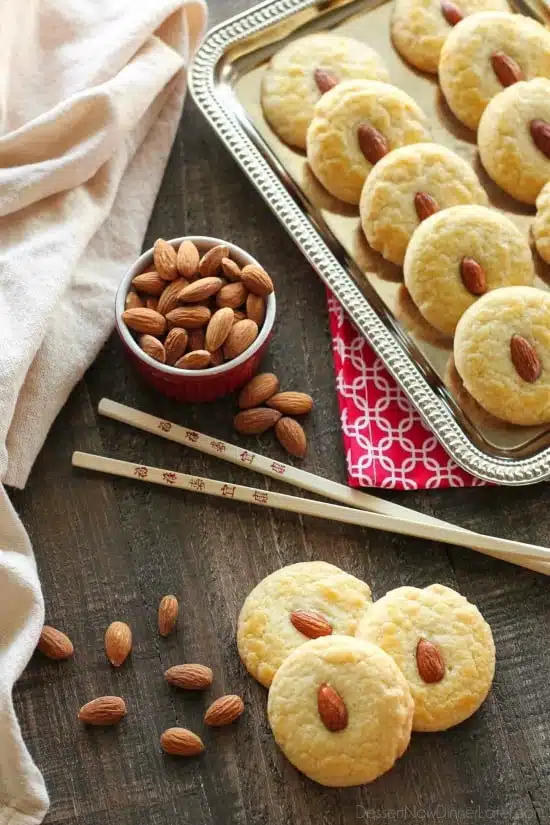 If you want to start a Wok Wednesday tradition at your house and need some more recipe inspiration, check out P.F. Chang's Pinterest Hub for more ideas and pairings. Enjoy these cookies my friends!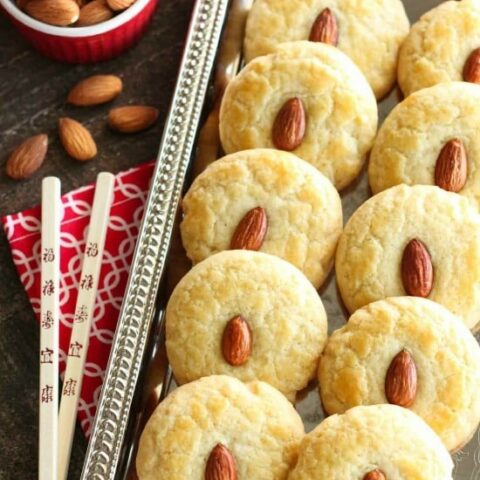 Chinese Almond Cookies
Ingredients
1/2 cup unsalted butter, room temperature
1/2 cup granulated sugar
1 large egg, divided
1/2 tsp almond extract
1 1/2 cups all-purpose flour
1/2 tsp baking soda
1/4 tsp salt
whole natural almonds
Instructions
Line baking trays with parchment paper or silicone baking mats. Preheat oven to 325 degrees Fahrenheit.
Beat egg in a small bowl. Set aside.
Cream butter and sugar in a large bowl until light and fluffy. Beat in all but 1 Tbsp of the beaten egg. Set the saved portion aside. Add the almond extract to the butter mixture. Mix to combine.
Combine the flour, baking soda and salt in a separate bowl. Add to butter mixture and mix to combine.
Scoop the cookie dough and round into balls (about 1½ Tbsp each). Place on prepared baking sheets, 2-inches apart. Flatten to ½-inch thick with the bottom of a drinking glass.
Gently press a single almond halfway into the center of each cookie dough ball. Add ½ tsp water to the saved beaten egg and whisk together. Brush the tops of the cookies with the egg mixture.
Bake 14 to 16 minutes or until lightly golden brown. Cool for 2 minutes before transferring to a wire rack to cool completely. Store leftovers in an airtight container up to 5 days.
Nutrition Information:
Yield: 20
Amount Per Serving:
Unsaturated Fat: 0g