Chocolate Snickerdoodles + Video
This post may contain affiliate links, meaning that I may receive a commission at no cost to you if you use a link provided. All opinions shared are my own. You can review my full disclosure policy here.
Chocolate Snickerdoodles – soft and chewy chocolate cookies are coated in cinnamon-sugar and baked to perfection.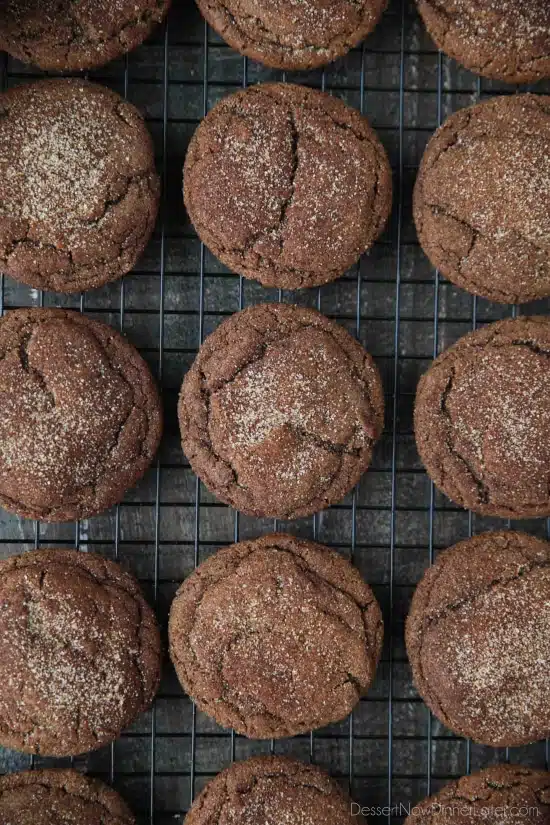 Classic snickerdoodles are delicious because they are slightly crisp on the outside, soft and buttery on the inside, with plenty of cinnamon-sugar. These chocolate snickerdoodles are all of that, with the addition of cocoa powder.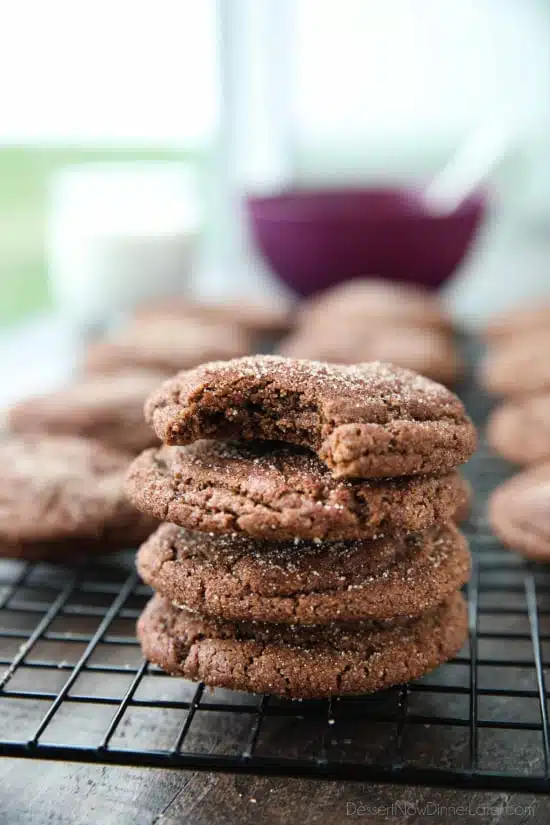 Cinnamon and chocolate might seem like an odd combination if you've never tried it, but it goes really well together. Cinnamon simply adds a warm, sweet aroma and taste. Mexican chocolate traditionally has cinnamon in it (as well as other spices like nutmeg, chiles, or allspice) which is why I didn't hesitate to use it for these chocolate snickerdoodles.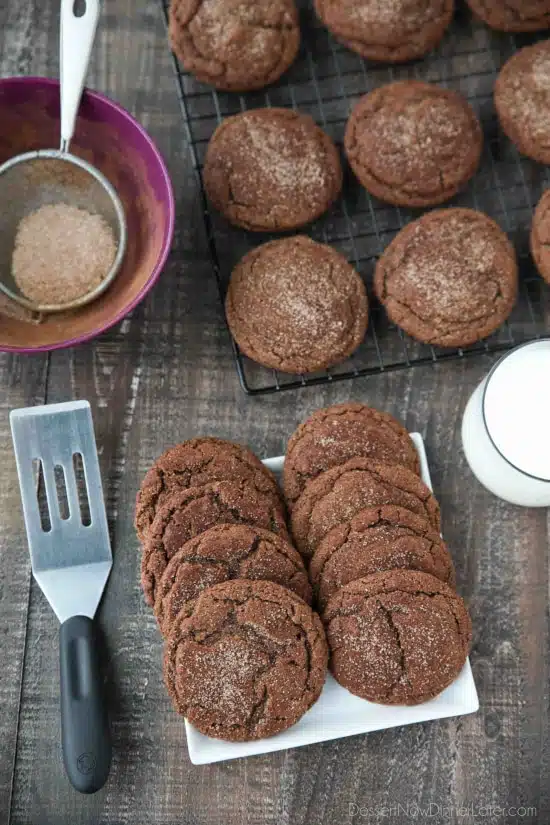 To Chill or Not to Chill the Dough?
Chilling cookie dough can be annoying, but for these chocolate snickerdoodles, it can work either way. The results will be somewhat different though.
No chilling will create a better crackle on top as shown on the left side of this plate of cookies. They will be slightly flatter, and more crisp on the edges, while still being tender in the center.
Chilling the dough (for 10 minutes in the freezer) will result in more thick, puffy, and soft cookie, but with less cracks as you can see with the cookie plated on the right. Of course, either way you bake it, they will taste the same. The only difference is the texture.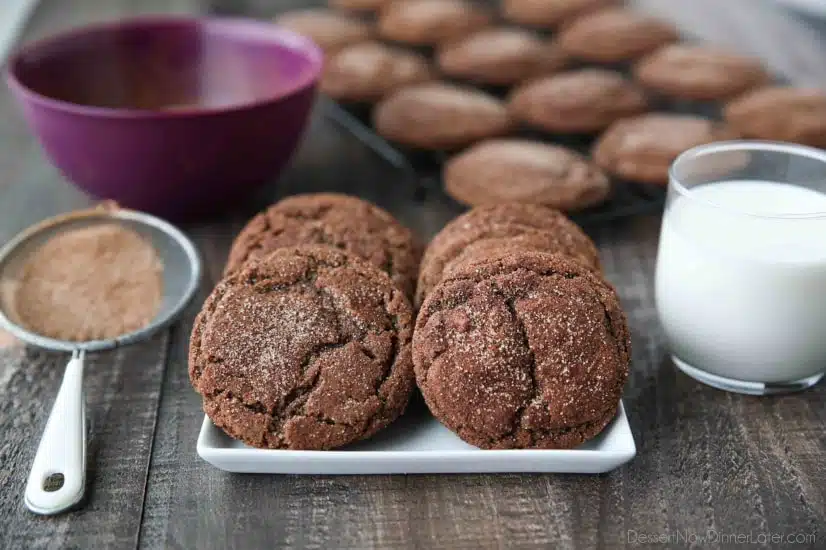 Chocolate Snickerdoodles
Chocolate snickerdoodle cookie dough doesn't stick to the cinnamon-sugar coating as well as a traditional snickerdoodle cookie. To compensate for this, I like to sprinkle extra cinnamon-sugar on top of the cookies after baking, while they are still hot. Like you would coat churros or salt fries. It sticks better that way and gives it a little extra flavor.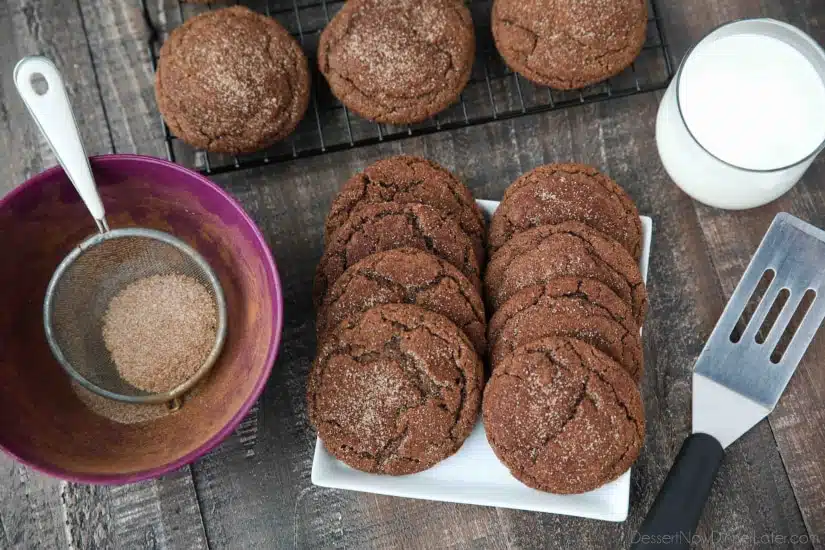 If you're a fan of classic snickerdoodles, give these chocolate snickerdoodle cookies a try! They're quite delicious and easy to make!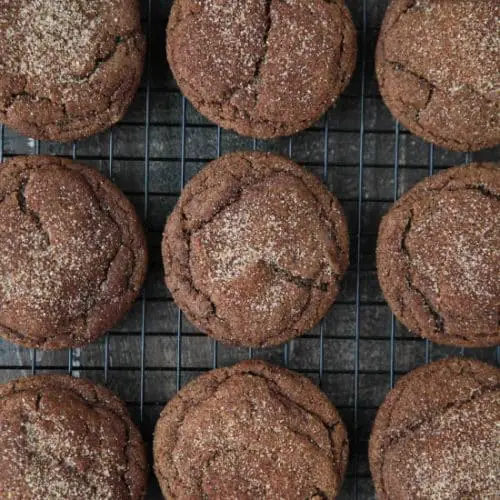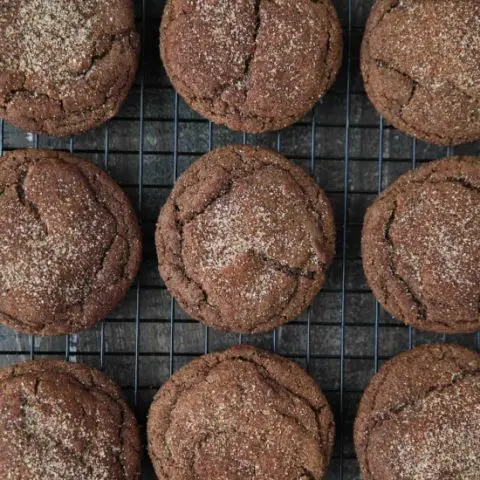 Chocolate Snickerdoodles
Prep Time: 10 minutes
Cook Time: 10 minutes
Total Time: 20 minutes
Yield: 26 cookies (approximately)
Soft and chewy chocolate cookies are coated in cinnamon-sugar and baked to perfection.
Ingredients
Cookie Dough:
1 cup (2 sticks) butter, room temperature (salted or unsalted)
1 cup granulated sugar
1/2 cup brown sugar, packed
2 large eggs
1 tsp vanilla extract
2 3/4 cups all-purpose flour (stir, spoon, & level)
1/2 cup unsweetened cocoa powder
1 1/2 tsp cream of tartar
1 tsp baking soda
1/2 tsp baking powder
1/2 tsp salt
For Coating:
1/4 cup granulated sugar
1 Tbsp ground cinnamon
Instructions
Preheat oven to 350 degrees Fahrenheit. Line baking sheets with parchment paper or silicone mats.
In the bowl of a stand mixer with the paddle attachment, cream the butter and sugars. Add eggs and vanilla. Scrape bowl. Mix well.
In a separate large bowl, whisk together the flour, cocoa powder, cream of tartar, baking soda, baking powder, and salt.
Add dry ingredients to the wet ingredients while mixing on low speed. Mix until just incorporated.
Scoop dough and round into balls (about 2 Tbsp each). Mix together the sugar and cinnamon in a bowl. Roll cookie dough balls in cinnamon-sugar and place on a prepared cookie sheet at least 2-inches apart.
(Optional) CHILL dough on tray in the freezer for 10 minutes (or refrigerator for 30+ minutes) before baking for a softer and thicker cookie.
OR ... Bake immediately for a flatter cookie that is crisp on the outside and tender in the center, with more cracks on top.
BAKE at 350˚F for 9-11 minutes, or until edges are set and the middle is still soft and slightly shiny.
Immediately sprinkle extra cinnamon-sugar on top of the baked cookies while still hot, so it sticks. Let cookies rest on tray for 2 minutes before transferring to a rack to cool completely. Store leftovers in an airtight container.
*Recipe altered from Sugar Spun Run