Strawberry Sugar Cookie Bars
This post may contain affiliate links, meaning that I may receive a commission at no cost to you if you use a link provided. All opinions shared are my own. You can review my full disclosure policy here.
Strawberry Sugar Cookie Bars – soft, moist sugar cookie bars are topped with a natural strawberry frosting. Super easy to make and serves a crowd!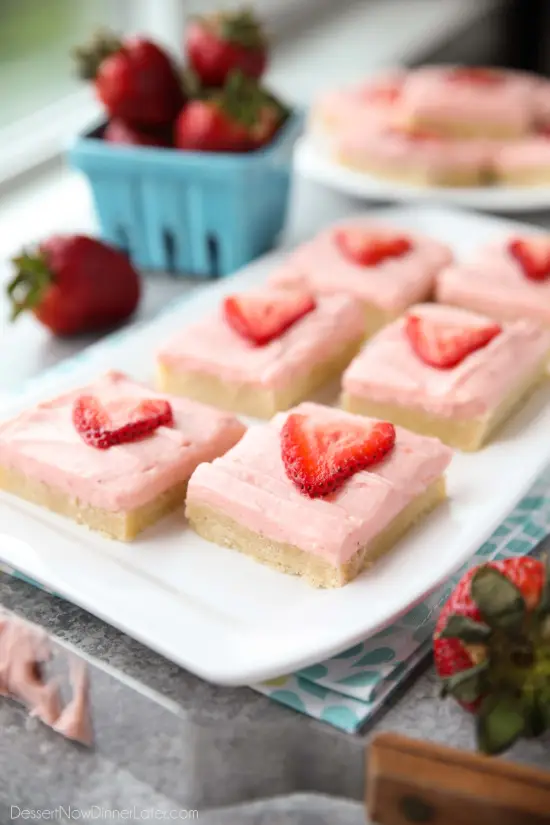 Peak strawberry season is from April-June and it's making me crave all the strawberry desserts. So I've put together my favorite sugar cookie recipe baked into a bar and topped it with some delicious strawberry frosting.
Strawberry Frosting
Real fruit strawberry frosting can be tricky to achieve. The varying water content in fresh strawberries can make for a very wet frosting that most often times doesn't hold it's shape.
I've been wanting to try this Strawberry Frosting with freeze dried strawberries, but every time I try and find them at the store, they are all out. (1st world problems.)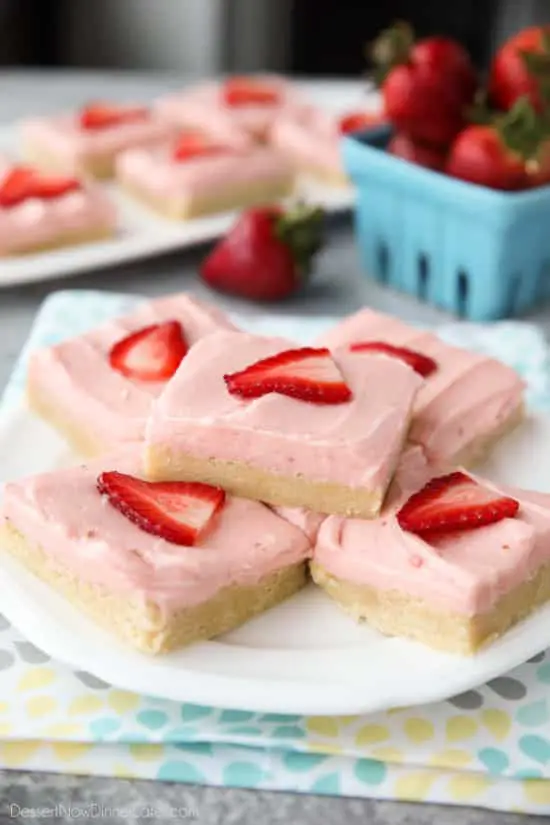 I do have a favorite strawberry frosting that uses natural strawberry preserves, which is what I used for these strawberry sugar cookie bars.
You can easily find natural strawberry preserves in any grocery store. Check the label for the least amount of ingredients. Smucker's has a Natural Strawberry Fruit Spread with just: Strawberries, Sugar, Fruit Pectin, Citric Acid. This is what I use.
If you're really wanting to use fresh fruit, this homemade Low-Sugar Strawberry Freezer Jam would work great too. The key is for the strawberry preserves/jam/spread to be smooth (no big chunks) and thick.
I've used this strawberry frosting on my Favorite Strawberry Cake and some Strawberry Lime Cupcakes, so it's pipeable too, which is hard to achieve with fresh pureed fruit. This is my go-to strawberry frosting recipe and it tastes great on these sugar cookie bars.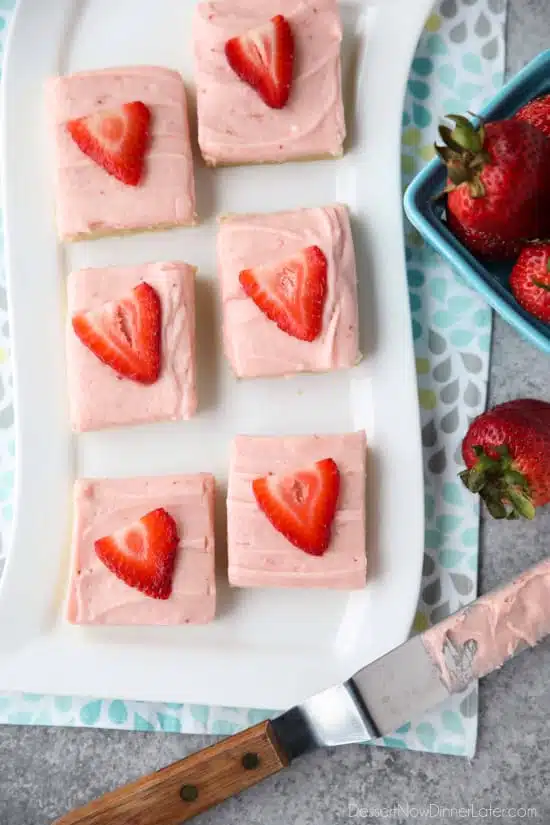 Strawberry Sugar Cookie Bars
Sugar cookies can be a lot of work. Plus a lot of time for chilling, rolling, cutting, baking, and frosting each individual cookie. It can be quite the project! Making sugar cookies into bars is quick and easy. Resulting in a thick, soft, moist, and chewy sugar cookie bar dessert.
I used my favorite sugar cookie recipe for the bars. The ingredients may seem unconventional. There is powdered sugar and oil in the dough, but it creates a super tender and moist cookie. There is nothing cakey or dry about these sugar cookie bars.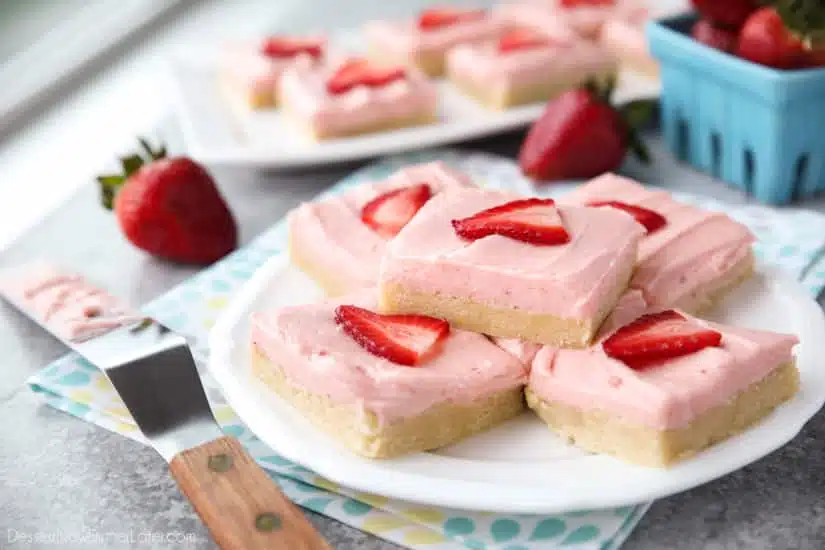 These Strawberry Sugar Cookie Bars are so delicious and fruity! They're perfect for spring, summer, picnics, potlucks, or parties. This recipe makes 12-24 bars depending on how you cut them. They'll be sure to get gobbled up at your next gathering!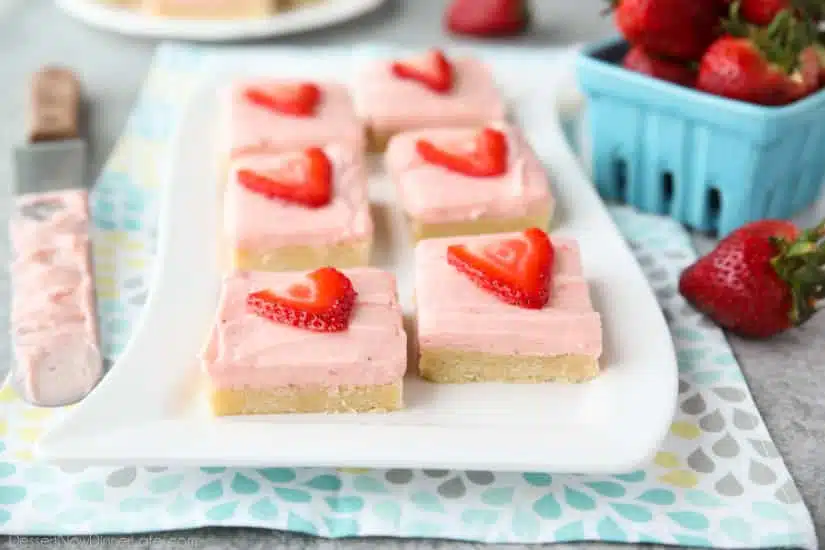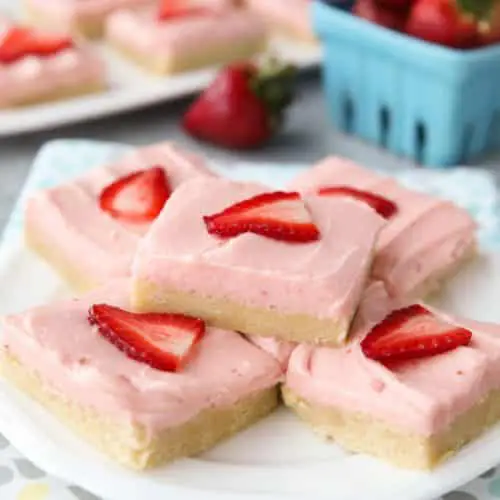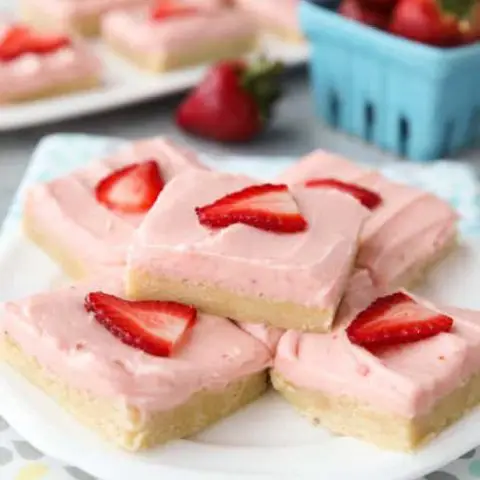 Strawberry Sugar Cookie Bars
Prep Time: 15 minutes
Cook Time: 16 minutes
Total Time: 31 minutes
Yield: 12 -24 bars
Soft, moist sugar cookie bars are topped with a natural strawberry frosting. 
Ingredients
Cookie Dough:
1/2 cup (1 stick) butter, room temperature (salted or unsalted)
3/4 cup granulated sugar
1/3 cup powdered sugar
1/3 cup oil (vegetable/canola)
1 Tbsp water
1 large egg
1 tsp vanilla
2 3/4 cups all-purpose flour (stir, spoon, & level)
1/4 tsp baking soda
1/4 tsp cream of tartar
1/2 tsp salt
Strawberry Frosting:
3/4 cup butter, room temperature (salted or unsalted)
3/4 cup natural strawberry preserves
2 1/2 - 3 cups powdered sugar
Instructions
Preheat oven to 350 degrees Fahrenheit. Line a 9x13-inch baking dish with parchment paper and lightly grease any exposed sides of the pan with cooking spray. (Parchment paper lifts the bars out of the pan for easy frosting, cutting, and serving.)
In a stand mixer with the paddle attachment, cream the butter with the sugars until smooth. Add the oil, water, egg, and vanilla. Mix well.
In a separate bowl, combine the flour, baking soda, cream of tartar and salt. Add all at once to wet ingredients, and mix until everything comes together. It should be slightly crumbly.
Empty cookie dough into the prepared pan and press flat.
Bake at 350˚F for 16-20 minutes, until the edges turn slightly golden and the cookie dough no longer looks wet in the center. (Do not overbake.) Remove pan from oven and place on a cooling rack.
TO MAKE FROSTING: In a large bowl with an electric hand mixer, beat the butter until smooth and creamy. Add the strawberry preserves and 1 cup of powdered sugar. Blend well. Add the remaining powdered sugar to desired consistency, mixing well.
Once the bars have cooled, lift up the parchment paper and remove the entire thing from the pan. Spread the frosting evenly over the top. Cut and serve.
Notes
*These bars taste best when refrigerated and eaten cold.