Pumpkin Buttercream Filled Macarons with Pumpkin Spice Dark Chocolate Ganache
This post may contain affiliate links, meaning that I may receive a commission at no cost to you if you use a link provided. All opinions shared are my own. You can review my full disclosure policy here.
Pumpkin Pie Spice infused macarons are filled with Pumpkin Spice Dark Chocolate Ganache and Pumpkin Buttercream Frosting giving these triple the pumpkin!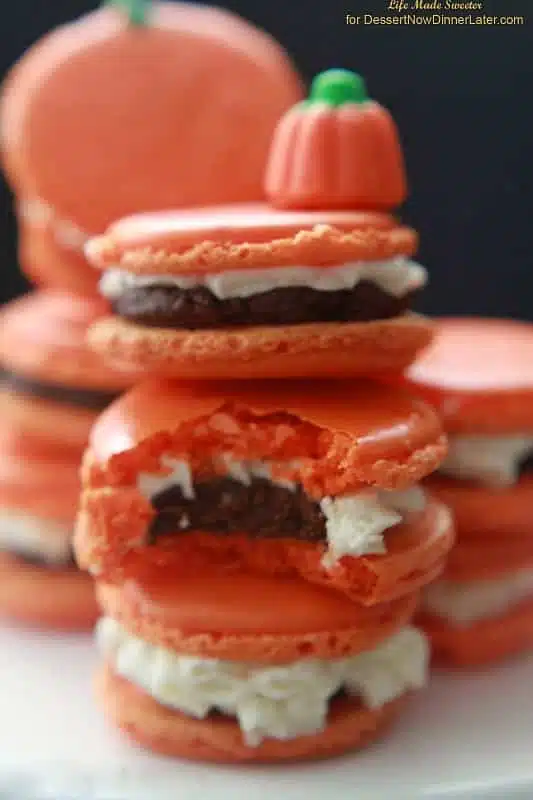 Hi friends! It's Kelly from Life Made Sweeter again, and I'm back today to share another fun fall recipe with you all!
Have you guys ever made French Macarons at home? Oh my gosh, they are seriously one of my favorite desserts to bring along to any special occasion.
I know they can seem intimidating or tricky to make but I can assure you that they are not hard at all. Only some advance planning by aging the egg whites and sifting the dry ingredients — oh and maybe a food scale would be super useful too and then you're good to go! 🙂
If this is your first time making macarons, be sure to read all the instructions carefully before beginning and maybe even checking out Bravetart's rules to ensure success.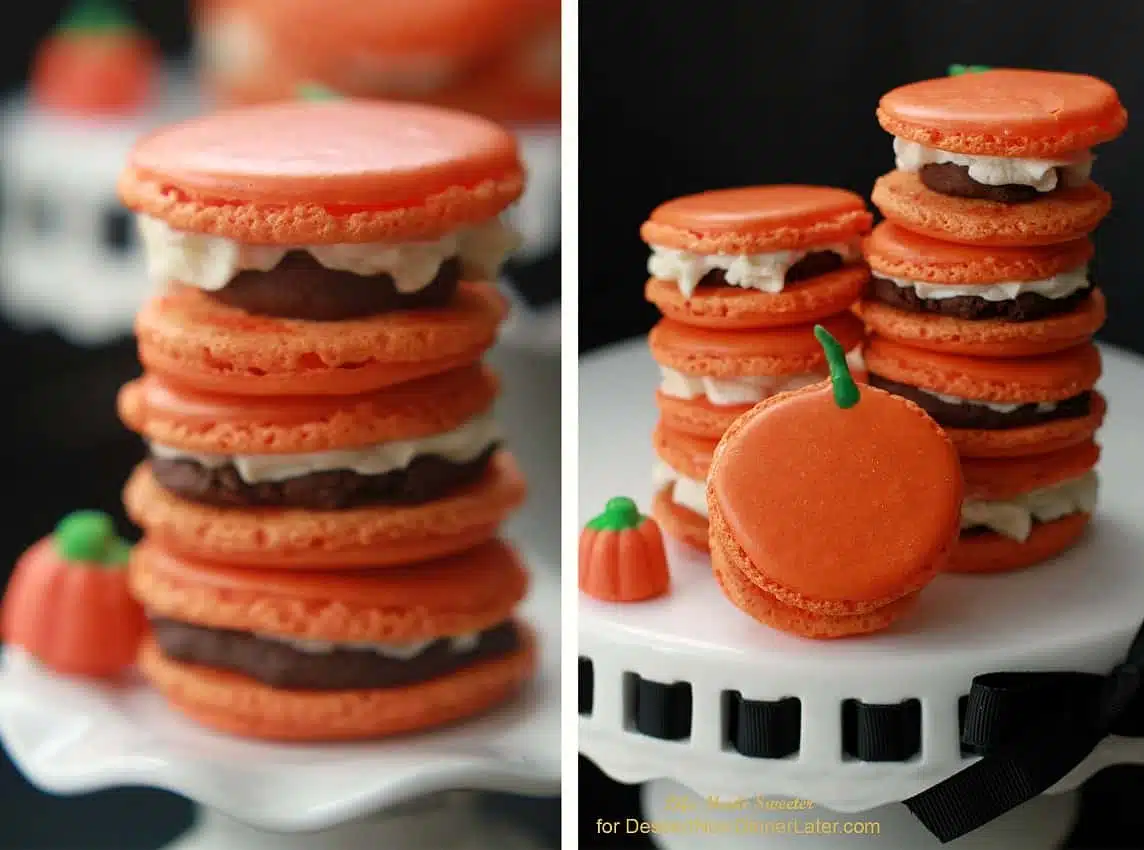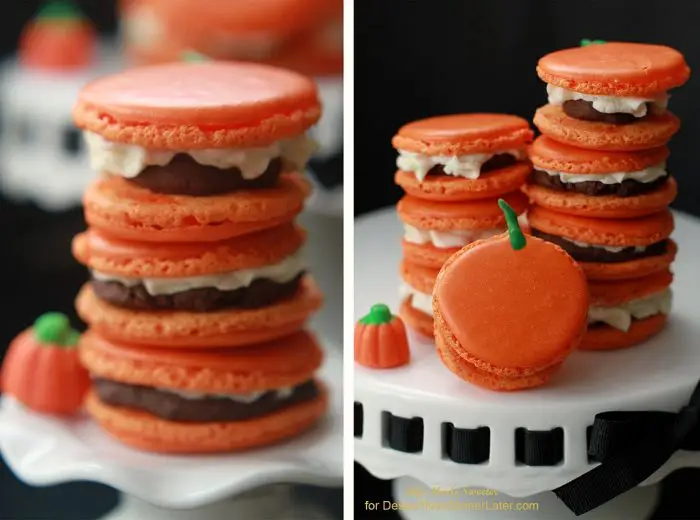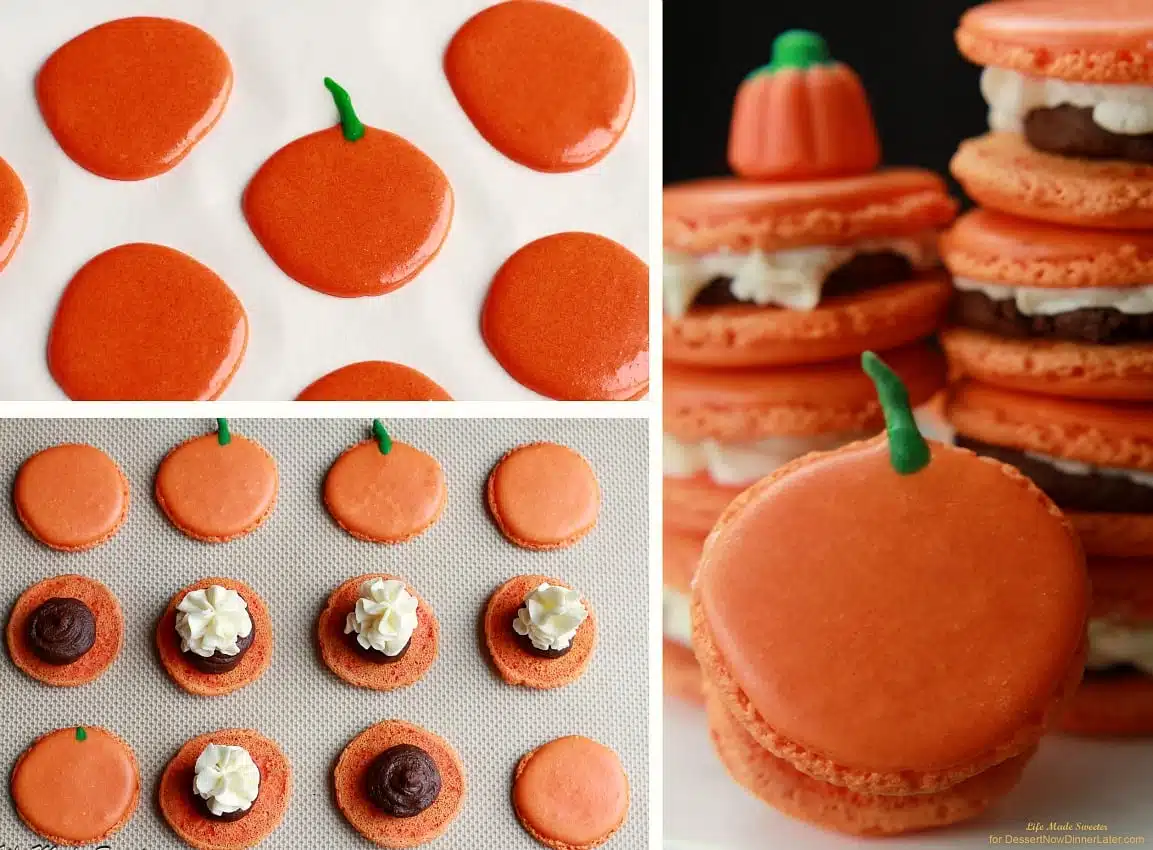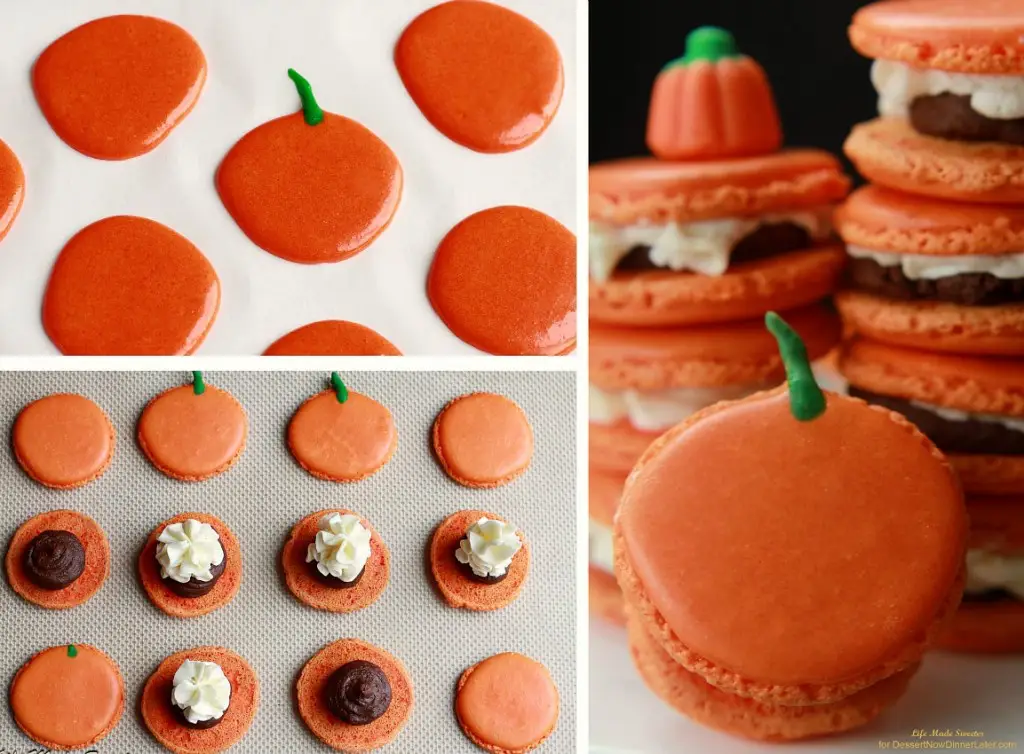 Since Halloween is at the end of the month, I thought it would be fun to make a few festive looking macarons. Aren't these pumpkin shape ones adorable? You could dress them up even more by drawing on spooky Jack-o-Lantern faces with an edible marker if you'd like. Bring these to your Halloween or Thanksgiving party and you'll be sure to get the crowd talking 🙂 These cookies are full off fall flavors since the cookie shell batter and the filling are infused with pumpkin pie spice. The best part of macarons is that you can choose to fill them with whatever you like.
I decided to add two different fillings for an extra special treat. A spoonful of pumpkin spice dark chocolate ganache and some pumpkin buttercream frosting that I made with pumpkin puree and pumpkin pie spice.
It's a triple pumpkin party for your taste buds and are sure to impress any one you decide to share these delectable fall treats with!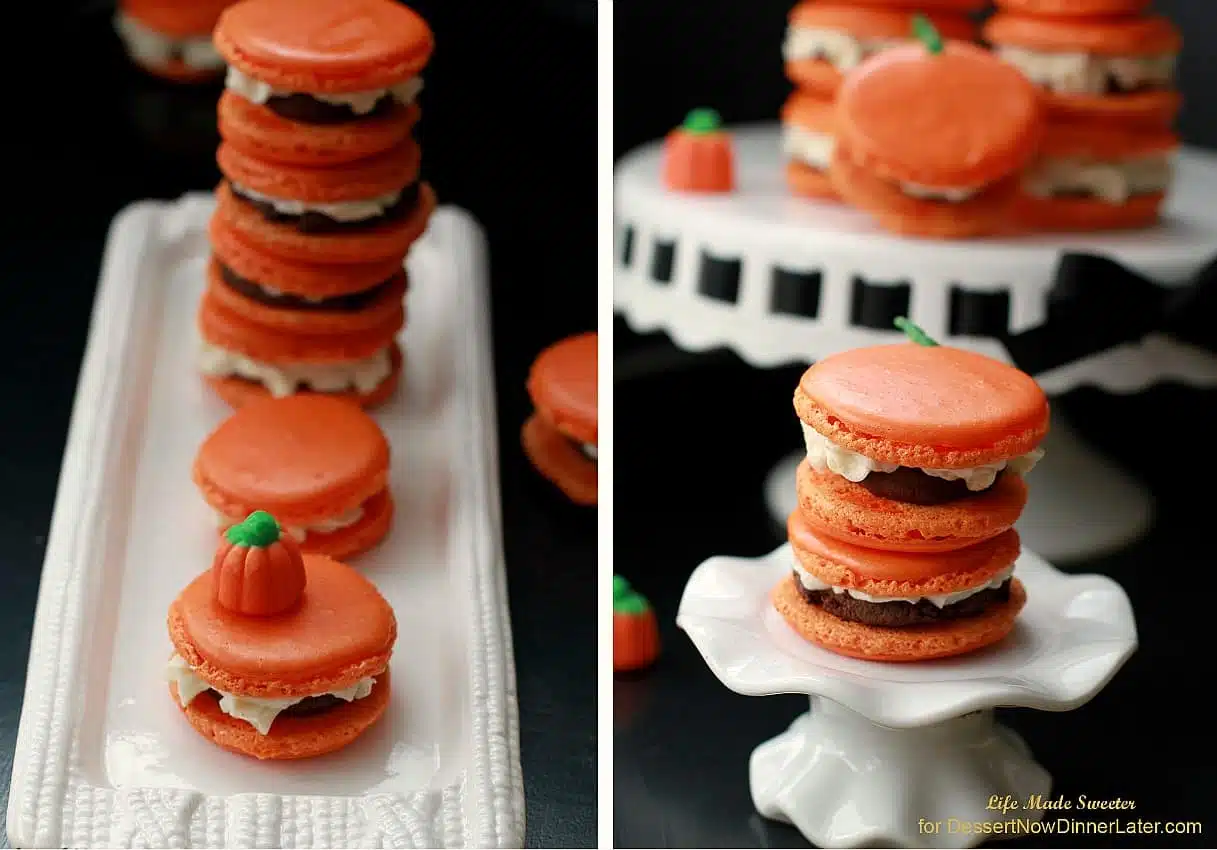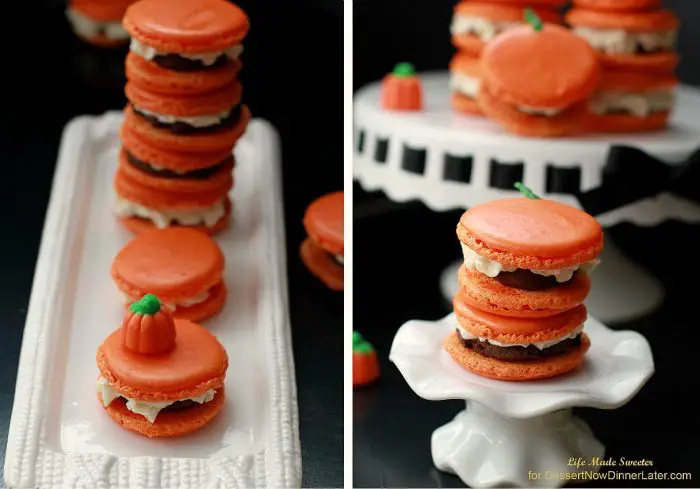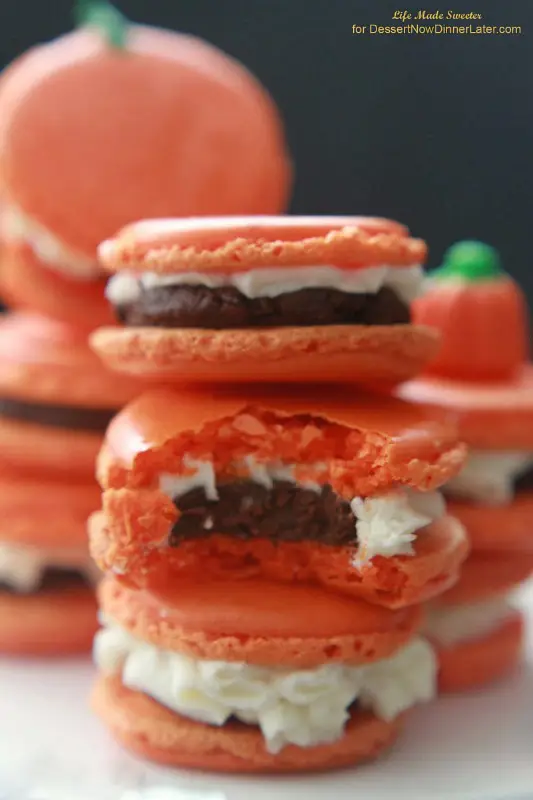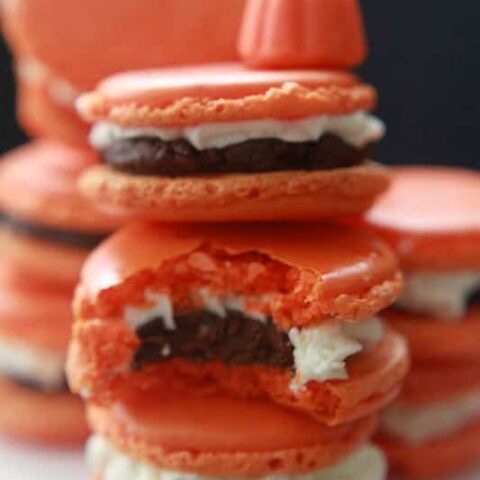 Pumpkin Buttercream Filled Macarons with Pumpkin Spice Dark Chocolate Ganache
Ingredients
For the Macarons
1 cup plus 2 Tbsp almond flour (149 g)
2 cups plus 2 tsp powdered sugar (210 g)
2 1/2 tsp pumpkin pie spice
4 egg whites (136 g aged for 2-3 days, room temperature (MUST BE ROOM TEMPERATURE))
1/4 cup plus 2 Tbsp superfine or granulated white sugar (81 g)
1/2 tsp vanilla extract
pinch of salt
2 drops of orange food coloring (I used Americolor Soft Gel in Orange)
1 drop of green food coloring (I used Americolor soft Gel in Leaf Green)
For the pumpkin spice ganache
1/3 cup (2 oz) dark chocolate chips or bittersweet chocolate, finely chopped
1 tsp pumpkin pie spice
1/4 cup heavy whipping cream
For the Pumpkin Buttercream Frosting:
1/2 cup unsalted butter, softened to room temperature
1 and 1/2 to 2 cups powdered sugar
1 Tbsp pumpkin puree (not pumpkin pie filling, room temperature)
1 Tbsp pumpkin pie spice
salt to taste (about 1/8 tsp)
1 Tbsp heavy cream
Instructions
For the Macarons: Up to 5 days before making macarons, separate the egg whites, cover and store in the refrigerator. The morning of making macarons, set them out on the counter to come to room temperature.
Line two large baking sheets with parchment paper or a silicone mat - if using a template, slide underneath parchment paper before piping. Set aside.
Sift almond flour into a large bowl. Sift the powdered sugar, salt and pumpkin spice into the same bowl. Set aside.
With a stand mixer or hand mixer using the whisk attachment - whisk egg whites at medium speed until the egg whites begin to foam. Slowly sprinkle in superfine sugar. Slowly increase speed to medium-high and beat until a firm meringue forms with stiff glossy peaks.
Beat in the vanilla extract.
For the green tip on the pumpkin: (Skip this step if you don't need the green stems.) Scoop out ½ cup of batter into a small mixing bowl. Pour 1 drop of green food coloring or until you reach the color you are trying to achieve. Using a rubber spatula, gently fold in 2 tablespoons of the almond flour mixture into the egg whites until just combined and no more almond flour residue is present. Transfer green batter to a ziplock bag and cut a tiny hole in the corner for piping. Set aside.
For the orange macaron shell batter: Add 2 drops of orange food coloring or until you reach the color you are trying to achieve into the rest of the batter in the stand mixer.
Using a rubber spatula, gently fold the remaining almond flour mixture into the egg whites. Only fold the batter in one direction by sliding the spatula into the center of the batter, then lifting it up and letting the batter fall back onto itself. It generally takes about 40 to 45 strokes to work the batter, but this number isn't as important as how the batter looks. The batter is ready to pipe when it has a smooth, shiny surface and flows like lava in one large ribbon off the spatula.
An easy way to tell if the batter is done, use a rubber spatula to lift and drop the batter onto itself - if the ribbon gradually disappears into the batter within 30 seconds, it is ready. If not, keep folding a bit longer.
Transfer mixture to a pastry bag with a plain round tip. (I used the No. 12 Wilton tip).
Pipe rounds onto prepared baking sheets following the templates if using them, leaving space between the macarons to allow batter to spread. If you want to pipe macarons into a pumpkin shape, pipe wide ovals.
Pipe green stem onto the orange macaron shells.
Once all macarons have been piped, pick up baking sheet with both hands and tap it firmly on counter several times. This will remove any air bubbles.
Let macarons sit out on counter for about an hour, depending on humidity levels. The macarons are ready to bake when tops are no longer sticky to touch. Gently slide or remove paper templates from underneath before baking.
While you are waiting, preheat oven to 300 degrees Fahrenheit. When macarons are dry to the touch, lower the oven temperature to 295 F and bake *both trays at same time (*if your oven has room, otherwise bake one at a time) for 12 to 14 minutes, rotating trays once. Let macarons cool completely on parchment paper before removing.
For the Pumpkin Spice Ganache: Place chopped chocolate and pumpkin pie spice into a heat-proof bowl.
Bring cream to a boil in a saucepan and pour over the chocolate and pumpkin spice mix. Let it sit for a minute.
Stir until you have the mixture is well combined. Allow to cool and thicken before filling macarons.
For the Pumpkin Buttercream Frosting: In the bowl of an electric stand mixer or with your hand mixer, cream butter on medium high speed for about 3 to 4 minutes. Add powdered sugar, pumpkin puree, pumpkin pie spice and salt. Mix until combined, scraping down the sides as needed. Add heavy cream as needed until desired consistency reached.
Increase speed to medium, and beat until smooth and well combined for another 2 minutes. Scrape down the sides and bottom of the bowl as needed.
To Assemble: Match same-sized macaron shells. Spoon or pipe a small teaspoon of ganache onto each of the upside-down cookies. Spoon or pipe a half teaspoon of buttercream frosting over ganache.
Sandwich the filling with another macaron shell. Repeat for all other macarons.
Nutrition Information:
Yield: 45
Amount Per Serving:
Unsaturated Fat: 0g
Macaron Recipe altered from BraveTart
You may also enjoy a few of these fall recipes from Life Made Sweeter:
Apple Streusel Cream Cheese Mini Bundt Cakes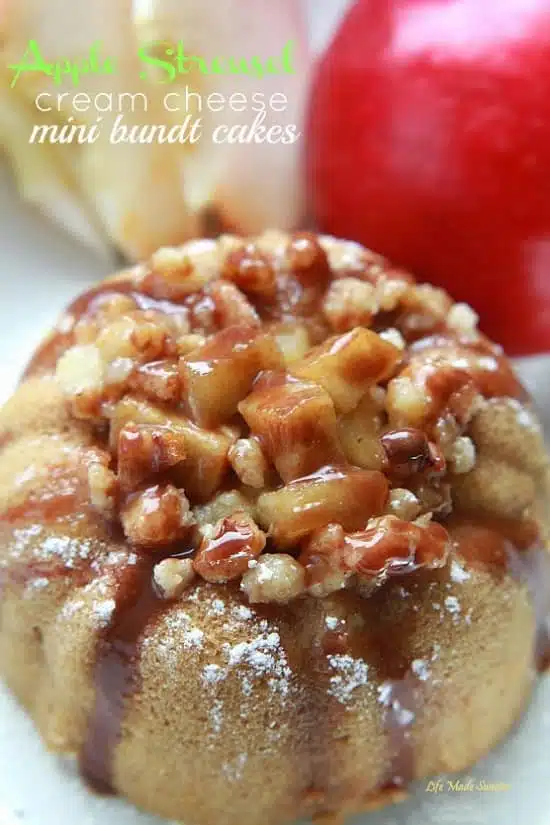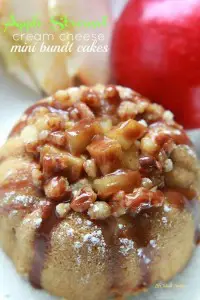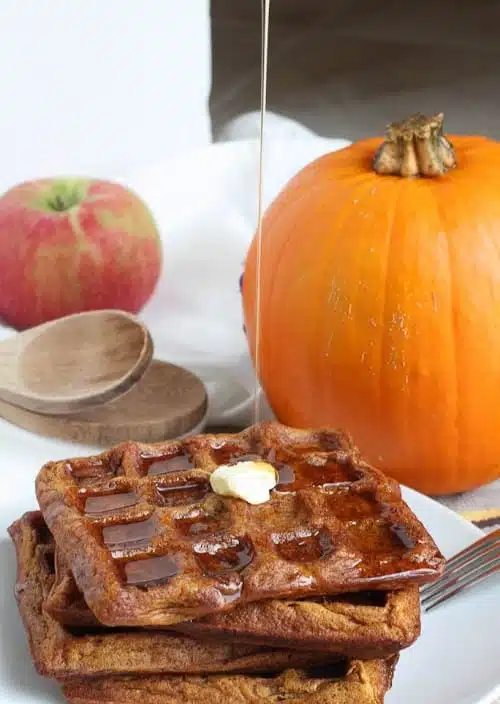 You can stay connected with Kelly here:
Facebook | Twitter | Pinterest | Google+ | Instagram | Bloglovin