Pumpkin Chocolate Chip Pastries
This post may contain affiliate links, meaning that I may receive a commission at no cost to you if you use a link provided. All opinions shared are my own. You can review my full disclosure policy here.
Pumpkin Chocolate Chip Pastries are made with frozen puff pastry dough, a spiced pumpkin cream cheese, and mini chocolate chips! They are especially delicious warm from the oven with a powdered sugar glaze!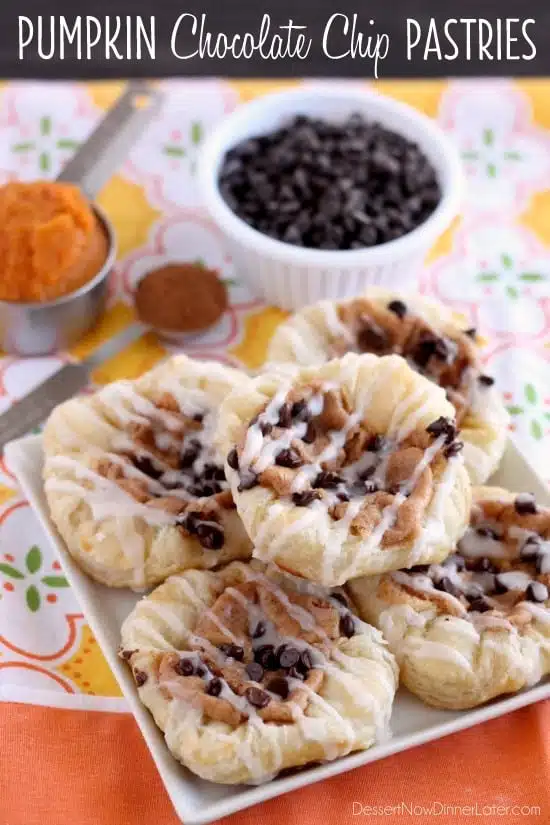 I know I've mentioned this a few times, but I used to work in a bakery before I quit my job to be a stay-at-home mom.
One of my duties at the last "real" job I had, was to make the pastries for all of the eateries and catering orders at Utah State University. It's a lot different making danishes/pastries on a commercial scale compared to at-home quantities. But it was fun to make these at home, and my husband told me that he missed having these Pumpkin Chocolate Chip Pastries…it's been almost 5 years since I quit my bakery job, but he remembers sampling all the good stuff!
When I would make the pastries at the bakery, I would use a HUGE slab of danish dough, and a sheeter to roll it out.
The Pepperidge Farm box of puff pastry that I bought at the store had two square sheets, that make 9 small-medium sized pastries each. It was nice to have it ready to go though. You have to let it thaw at room temperature for 40 minutes, unfold it and then you can cut your large square into 9 smaller squares with a bench scrape or pizza cutter.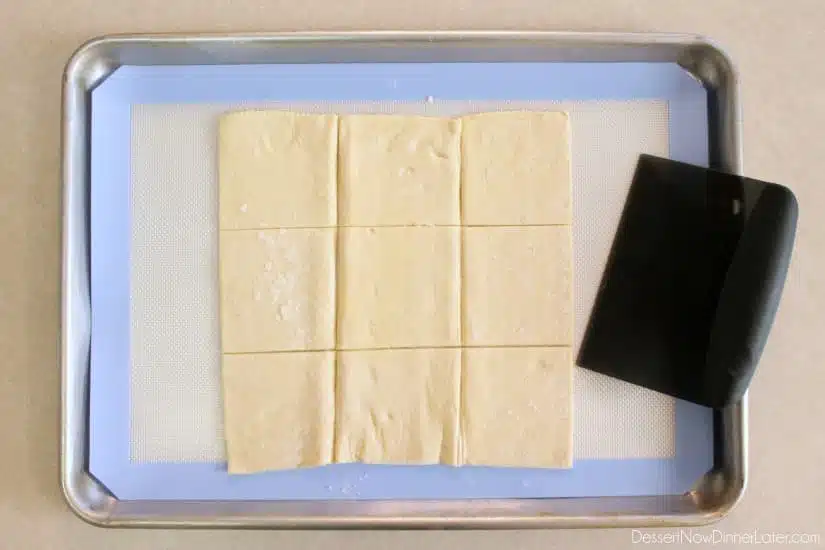 Next, you fold the corners in towards the center and brush the edges with egg wash (just a whisked egg). Don't egg wash the centers or your filling will slide right off. The egg wash helps brown the edges as they bake.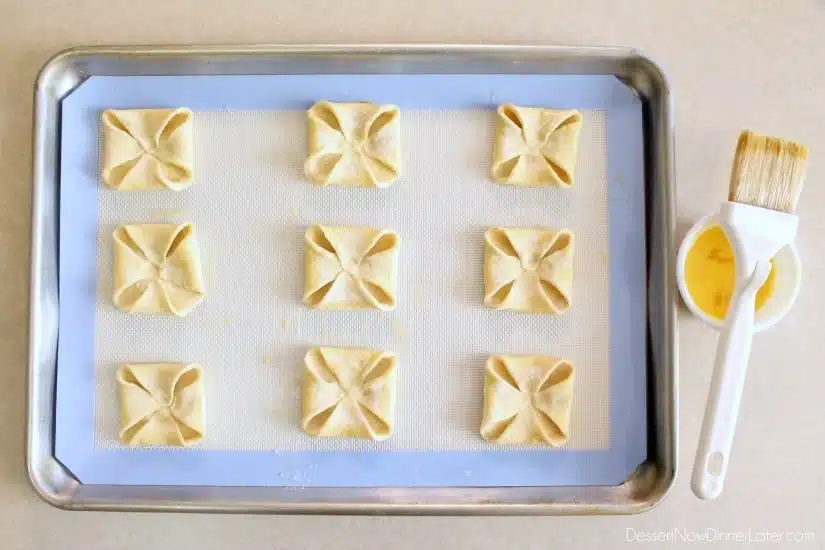 I love the spiced pumpkin cream cheese for these pastries and mini chocolate chips because pumpkin and chocolate are fabulous together! You only need a heaping teaspoon of filling and a few chocolate chips in the center of each pastry.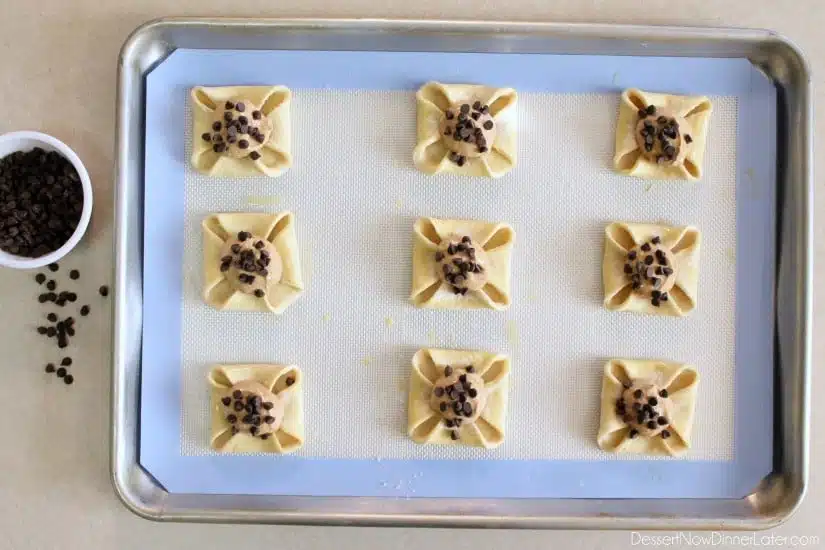 Then you bake the pastries until the edges and bottoms are golden brown and you can drizzle them with a powdered sugar glaze! YUM!
These would be great for Thanksgiving breakfast this week!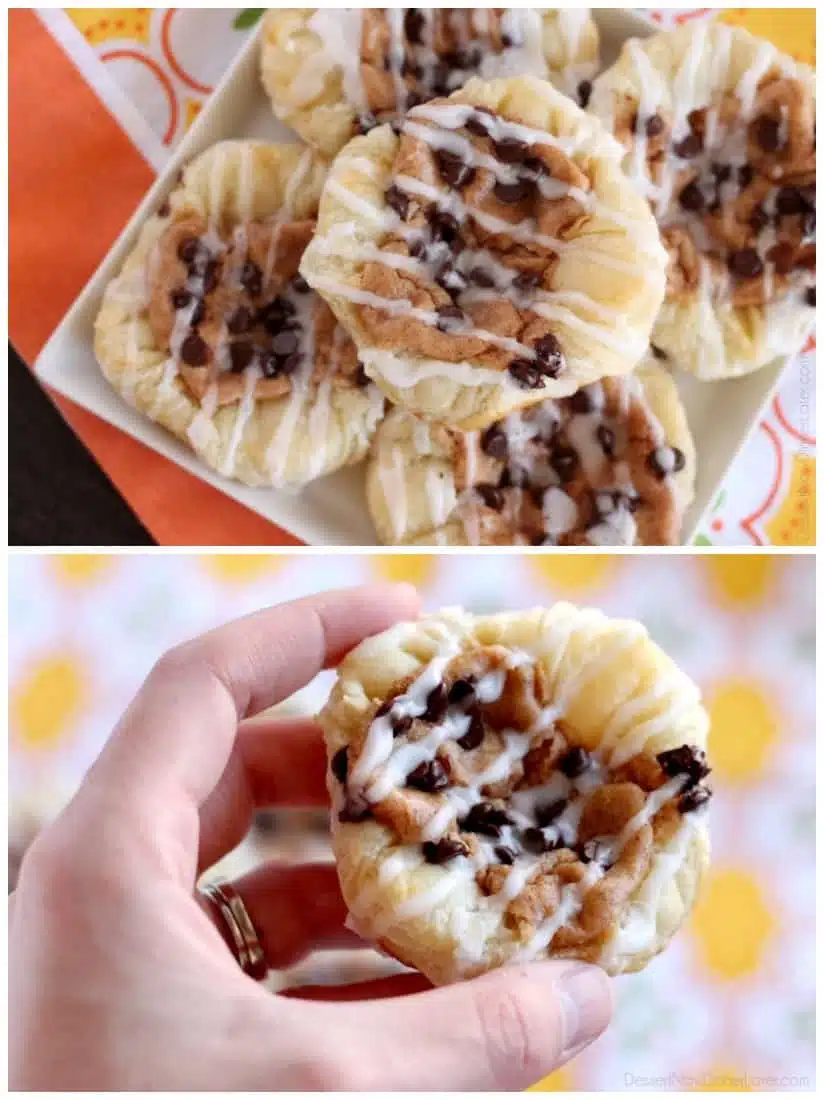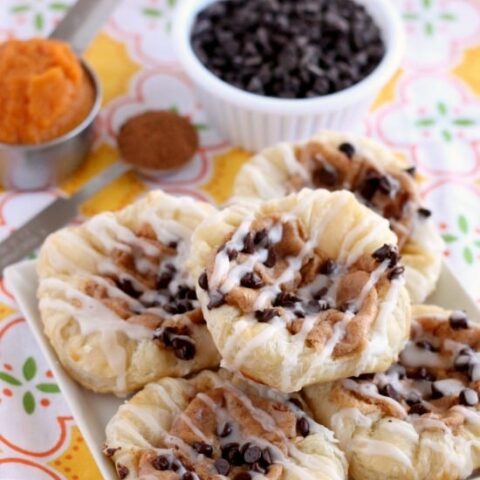 Pumpkin Chocolate Chip Pastries
Ingredients
1 box (2pk) Pepperidge Farm Frozen Puff Pastry Sheets
4 oz cream cheese
1/4 cup sugar
2 Tbsp pumpkin puree (not pumpkin pie filling)
1 egg, whisked
1 1/2 tsp pumpkin pie spice
Mini Chocolate Chips
1 1/2 cups powdered sugar
2 Tbsp water
Instructions
Remove the puff pastry sheets from the box and thaw at room temperature for 40 minutes, or per directions on the box. The dough will unfold easily once it's thawed.
With a hand held mixer and a bowl, beat the cream cheese and sugar until all lumps are gone. Mix in the pumpkin puree and pie spice. Set aside.
Once the puff pastry is thawed, unfold it onto a silicone mat or parchment lined baking sheet. (It will be a large square. I used two baking sheets for the two sheets of puff pastry.) Using a bench scrape or pizza cutter, cut each pastry sheet into 9 squares.
Fold the corners of each square in toward the centers. Brush the whisked egg onto the edges of the pastries. Avoid the centers or the filling will slide off while baking.
Spoon half of a Tablespoon (or heaping teaspoon) of the pumpkin cream cheese into the center of each pastry. Sprinkle the tops with mini chocolate chips.
Bake at 400 degrees Fahrenheit for 15 minutes or until the bottom and edges are browned (baking one tray at a time). Allow pastries to cool slightly.
Mix powdered sugar with water. You want it thick and white, but still pourable. A little water goes a long ways. With a spoon, drizzle the glaze back and forth over the pastries. Allow glaze to set and enjoy!
Nutrition Information:
Yield: 18
Amount Per Serving:
Unsaturated Fat: 0g