Waffles Recipe + Video
This post may contain affiliate links, meaning that I may receive a commission at no cost to you if you use a link provided. All opinions shared are my own. You can review my full disclosure policy here.
This buttermilk waffles recipe is our absolute favorite! Creating fluffy waffles that are incredibly light, crispy, and super easy to make! You'll be happy to wake up and have these waffles for breakfast or brunch.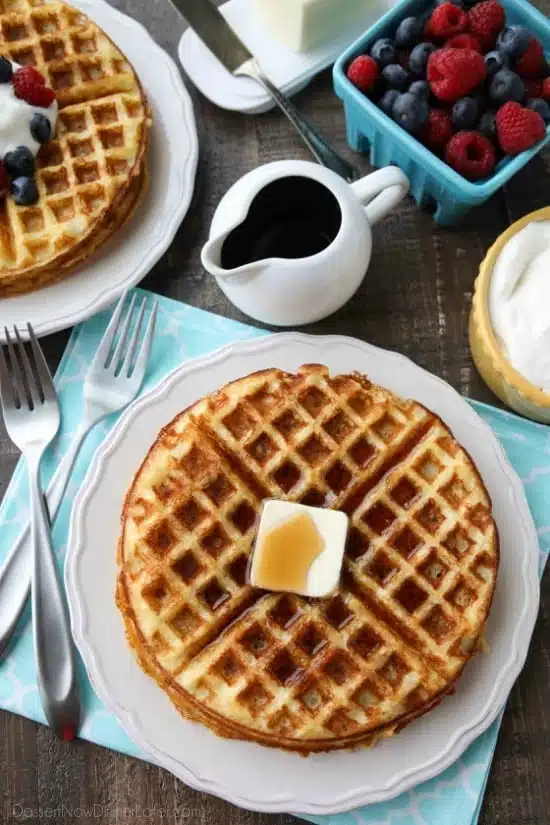 I've never been a fan of waffles until I tried this recipe. It just seemed like all the waffles I had tried before tasted bland and dense. These waffles are incredibly light, fluffy, and crisp! They taste like buttermilk and are freaking addicting with my blonde butter syrup.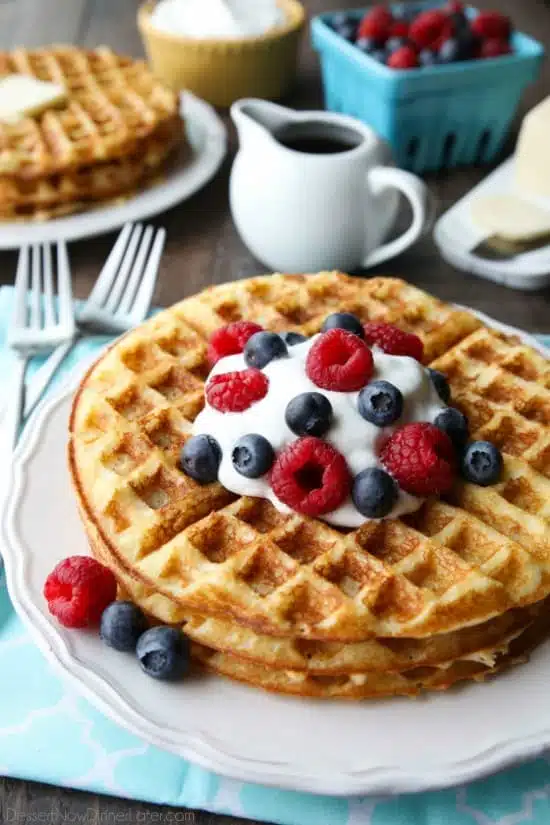 We first tried this waffles recipe at Christmas time. We were at my in-laws and they wanted to test out their new waffle maker. (It's a Breville, and I'm super jealous! I may have to splurge and get the same one for myself!)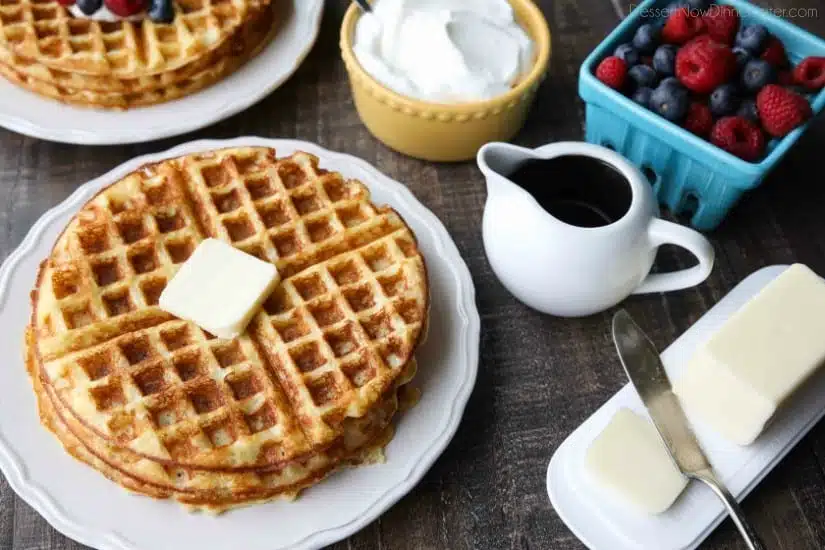 Anyway, my in-laws had recently made a trip out to Boston to visit my brother-in-law and his wife. They had stayed at a cute little bed and breakfast that they said had "the most amazing waffles!" So they asked the cook for the recipe and brought it home with them. When they made these waffles for us, I was hooked!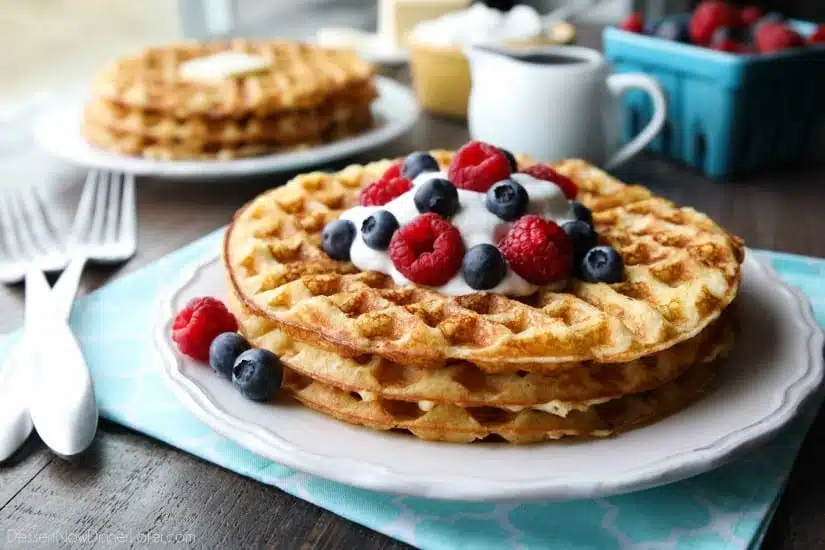 My in-laws' waffle maker is deeper than mine, but the waffles were still super light and crispy! I had to have that recipe for myself! When we got back from Christmas break, we made this waffles recipe at home with our little Cuisinart waffle maker, and although they aren't as thick and deep as the ones my in-laws made us, they were still ridiculously delicious!
We've made this waffles recipe several times since, and we have learned that you MUST use buttermilk. At least when we tried whole milk it made the batter thinner, and the waffles turned out more dense somehow. Must be how the acid in the buttermilk reacts to the leavening agents (baking powder and baking soda) to make it puff up and thicken.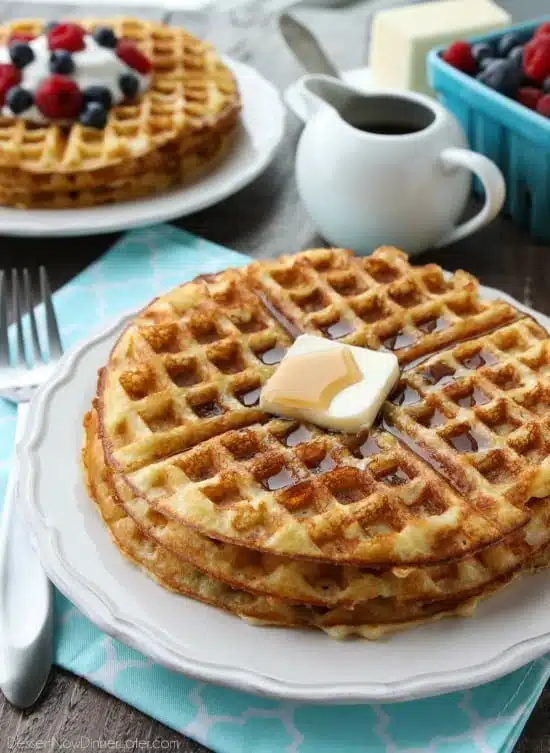 I can't recommend this waffles recipe enough! They will be gone in a flash, but if you happen to have leftovers, they crisp up in the toaster wonderfully! Enjoy my friends!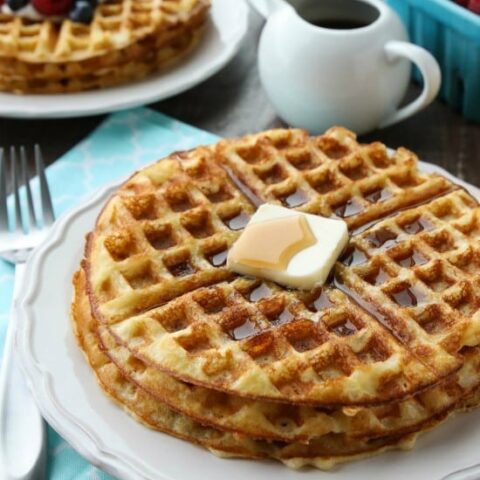 Buttermilk Waffles Recipe
Prep Time: 5 minutes
Cook Time: 4 minutes
Total Time: 9 minutes
Yield: 5 large/thick waffles or 8 thin waffles (depends on your waffle maker)
Ingredients
1 1/2 cups all purpose flour
1 tsp baking powder
1 tsp baking soda
1/2 tsp salt
1 Tbsp sugar
2 large eggs
2 cups buttermilk*
1/2 cup canola/vegetable oil
Instructions
Put all dry ingredients in a bowl and mix.
Add eggs, buttermilk, and oil. Mix together briefly. Do not over mix -- should still look lumpy. (If you over mix, you will develop the gluten and the waffles will lose their lightness.)
Cook 4 minutes per waffle. Store any leftovers in an airtight container in the refrigerator. Use toaster to heat and crisp up leftover waffles.
Notes
*MUST use buttermilk. (Milk + vinegar or lemon juice will not work.) The acid from the buttermilk reacts to the baking powder and baking soda making the batter puff up and thicken. Regular milk will result in a thinner batter, and denser waffles.
Recommended Products
As an Amazon Associate and member of other affiliate programs, I earn from qualifying purchases.
Nutrition Information:
Yield: 5
Amount Per Serving:
Unsaturated Fat: 0g