Vegetable Chowder
This post may contain affiliate links, meaning that I may receive a commission at no cost to you if you use a link provided. All opinions shared are my own. You can review my full disclosure policy here.
This Vegetable Chowder (also called Broccoli Cheese Potato Soup) is smooth, creamy, cheesy, and full of tender cooked vegetables. It's comfort food to keep you warm and full!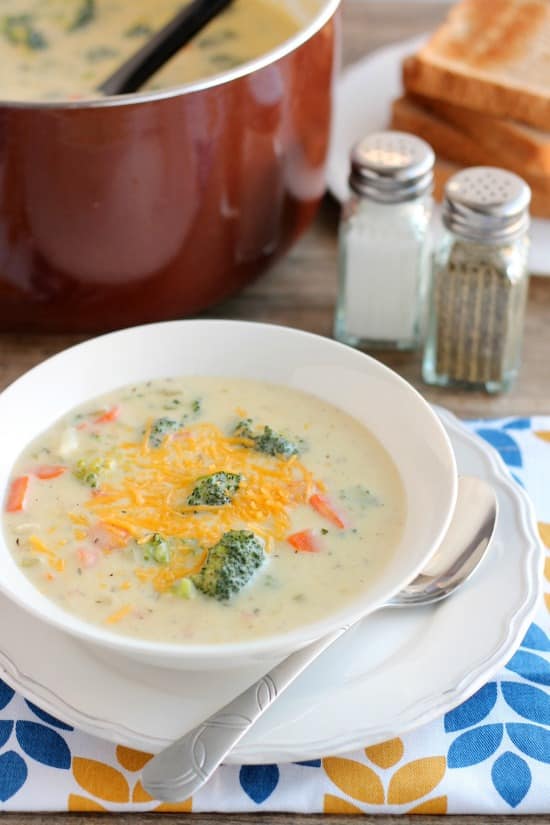 You guys! This soup! It's enjoy the leftovers for days good! I'm not a leftover eater, especially when it has any kind of meat in it, but this is vegetable chowder, no meat, and it is just as good the second, or third day, reheated and enjoyed for lunch or dinner.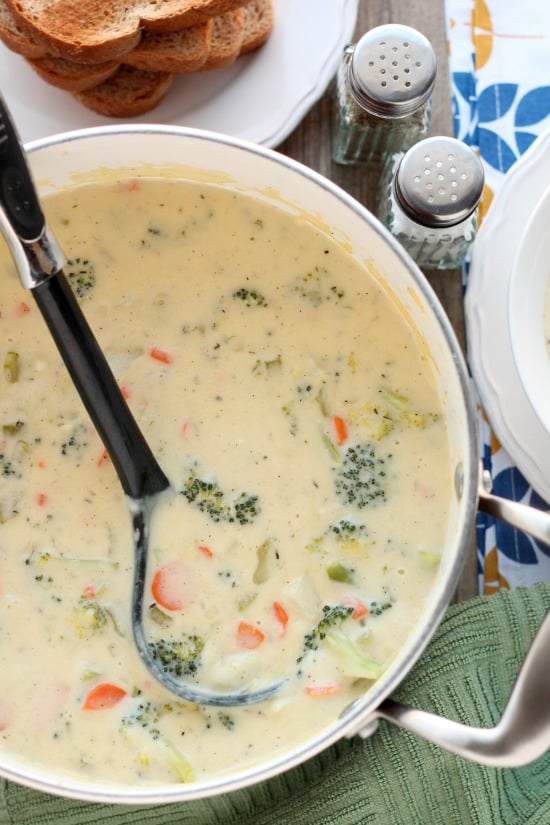 Now, I only had leftovers because my husband was at work the night I made this and my children hate cooked vegetables, so they opted not to eat it, but I wasn't complaining! I'm seriously considering making it again this week just so I have a hot lunch for a few days. 😉
The most time consuming part of this dish is chopping up all the veggies, but after that it's a cinch! The broth is so creamy, and cheesy, with tender cooked vegetables and simple seasonings. Put this on your menu ASAP!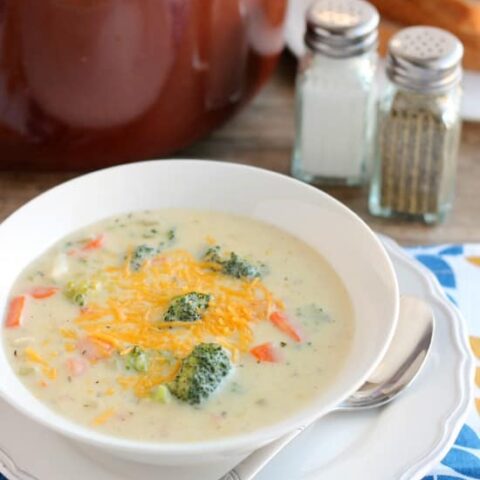 Vegetable Chowder
Ingredients
4 Tbsp butter
1 1/3 cups diced carrots (about 3 carrots)
1 cup diced celery (2 stalks)
1 cup diced onion (1 small or 1/2 large onion)
2 cloves garlic, minced (about 1 tsp)
6 Tbsp all purpose flour
3 cups low-sodium chicken or vegetable broth
3 cups milk (I used 1 %)
3 1/2 cups russet potatoes peeled and cut into 1/2" cubes (2 to 3 medium potatoes)
1 tsp dried thyme
salt and pepper, to taste (You can also use a little Nature's Seasons from Morton, or garlic salt is great too!)
3 cups broccoli florets, cut small (from about 2 heads of broccoli; only do 1 broccoli crown if you don't like a lot of broccoli)
1 cup half & half
2 cups shredded sharp cheddar cheese (8oz)
1/3 cup finely shredded parmesan cheese (1oz)
Instructions
In a large stock pot, melt butter and add the carrots, celery, onion, and garlic. Saute for 5 mintues or until vegetables are tender.
Add the flour and stir until the butter and liquid from the vegetables soaks it all up, then cook for 1 minute.
Slowly pour in the broth and milk, stirring as you pour. Add the potatoes and seasonings, to taste. Keep in mind that the cheese added later will add saltiness as well. Bring mixture to a boil and cook 15 minutes, stirring every 5 minutes, until the potatoes are fork tender.
Add the broccoli and cook an additional 5 minutes or until tender. Then add the half & half and shredded cheeses. Stir until melted. Remove from heat and serve warm.
Nutrition Information:
Yield: 6
Amount Per Serving:
Unsaturated Fat: 0g