Peanut Butter Wonder Bars
This post may contain affiliate links, meaning that I may receive a commission at no cost to you if you use a link provided. All opinions shared are my own. You can review my full disclosure policy here.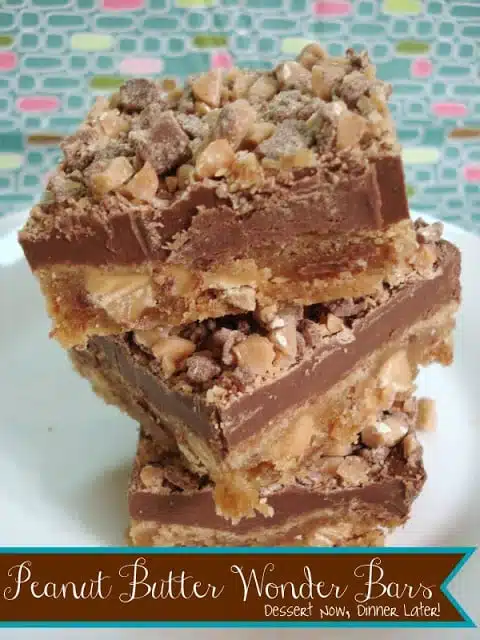 These bars came about as an inspiration from a couple different recipes. So I am calling them my own & they are amazing! They are so rich & delicious one piece will satisfy for days (or maybe a couple hours.) They've got a little of everything that one bite makes you wonder what all is in them, hence the name. Anyway, if you are a chocolate-peanut butter fan then you need to put these on your make soon list because they are delish!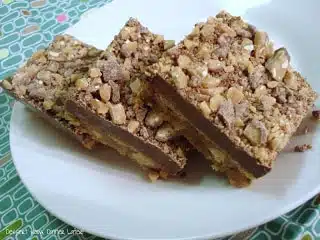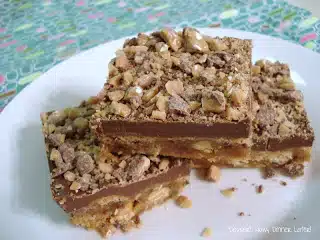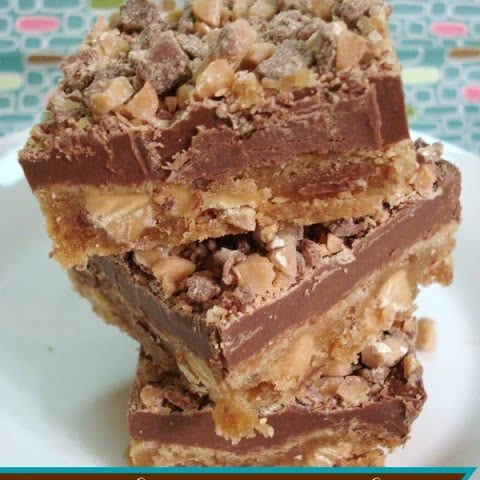 Peanut Butter Wonder Bars
Ingredients
1/2 cup butter, unsalted
1/2 cup sugar
1/2 cup brown sugar
1/2 cup creamy peanut butter
1 large egg
1 tsp vanilla
2 tsp milk
1/2 tsp baking soda
1/2 tsp baking powder
1 1/4 cup flour
1 (8oz) bag Heath Milk Chocolate Toffee Bits, divided
1 (10oz) bag Reese's Peanut Butter Chips, divided
1 (12oz) bag Nestle Semi-Sweet Chocolate Chips
1/4 cup creamy peanut butter
Instructions
In a stand mixer, cream butter with sugars. Add ½ cup peanut butter, egg, vanilla & skim milk. Combine & scrape bowl.
Add baking soda, baking powder & flour all at once. Mix until just combined. Fold in HALF of the bag of Heath bits, & HALF of the bag of Reese's chips.
Spray a 13x9" baking dish. Add cookie dough & spread evenly.
Bake at 350*F for 18-24 minutes or until edges & top are browning (mine took 21 minutes.) Let cool completely about 1 hour.
In a large bowl combine chocolate chips & remaining peanut butter chips. Microwave for 2 minutes, stirring every 30 seconds, or until melted. Add ¼ cup peanut butter & stir until combined. Spread evenly over the top of the cooled cookie bars. Sprinkle immediately with remaining toffee bits & press down lightly. Let set in refrigerator for 30 minutes. Cut & serve.
Extra tip: If the edges of the cookie layer are a little higher than the center after it cools down go ahead & trim them. It will make your chocolate layer spread nice & flat. Just munch on the scraps 🙂