Skillet Brownie
This post may contain affiliate links, meaning that I may receive a commission at no cost to you if you use a link provided. All opinions shared are my own. You can review my full disclosure policy here.
This fudgy skillet brownie is made with a boxed mix for a quick dessert for two! Eat it warm from the oven topped with ice cream, chocolate chips, and fresh raspberries for an extra special treat!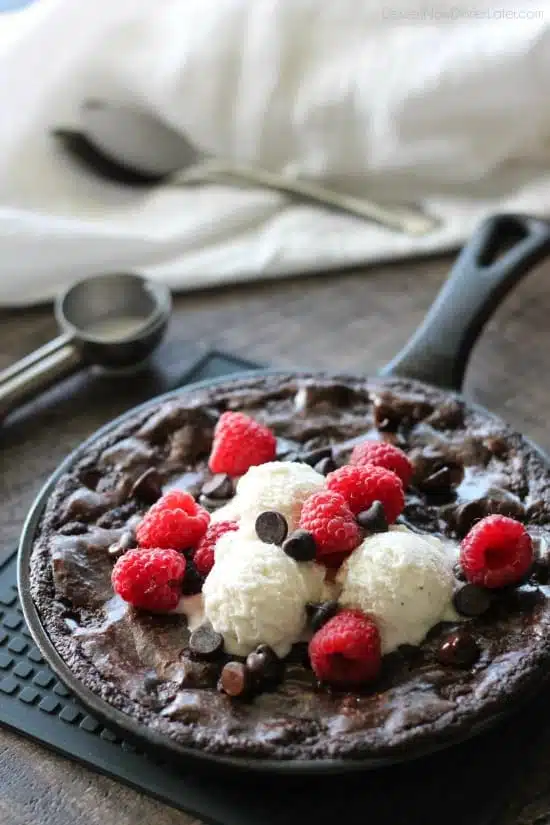 You know those days, when nothing sounds better than some chocolate. It's almost like a need. "I need chocolate — NOW!" I don't know about you, but chocolate is one of my best friends. It's gotten me through some tough break-ups, some stressful mommy moments, and the worst time of every month for all women.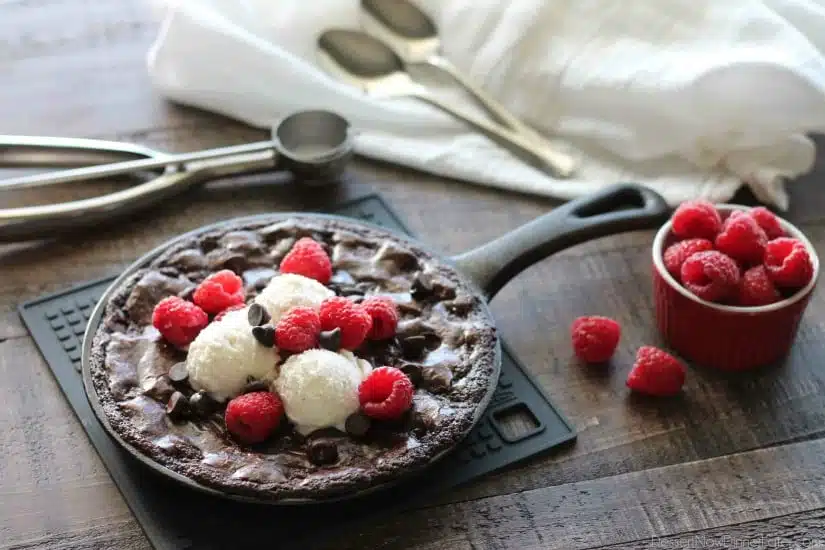 If there is one thing I know, I almost always have a box of brownie mix in my cupboard waiting for me if I need it. My favorite brownies are Duncan Hines Dark Chocolate Fudge Brownies. If you're not a dark chocolate fan, I still think you would love these. They aren't overly bitter, but quite sweet, and deeply chocolatey.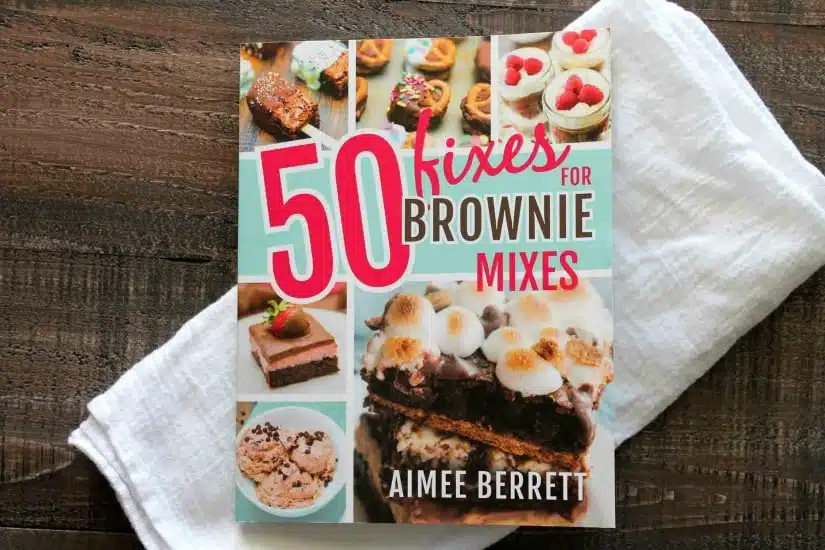 Speaking of brownies… My friend Aimee Berrett over at Like Mother Like Daughter made the BEST cookbook ever! 50 Fixes For Brownie Mixes! Brownies are pretty dang versatile and definitely easy to elevate, but Aimee did all of the test work for us in this new cookbook!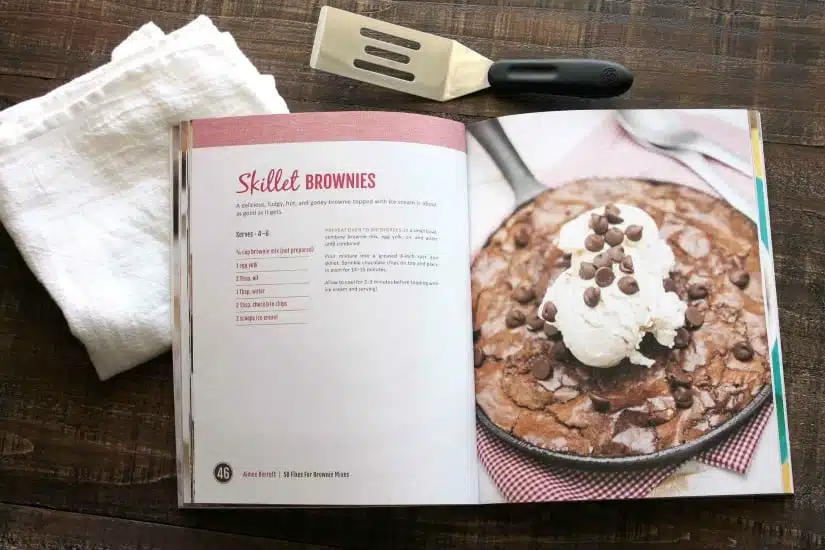 I chose to make the skillet brownies because it's a dessert for two, and that takes me back to when my husband and I would share skillet cookies at a favorite restaurant of ours while we were dating. I also like that this recipe doesn't use the whole box of brownie mix, so I can have this dessert night, after night, after night, until it's all gone. Mmm-mmm!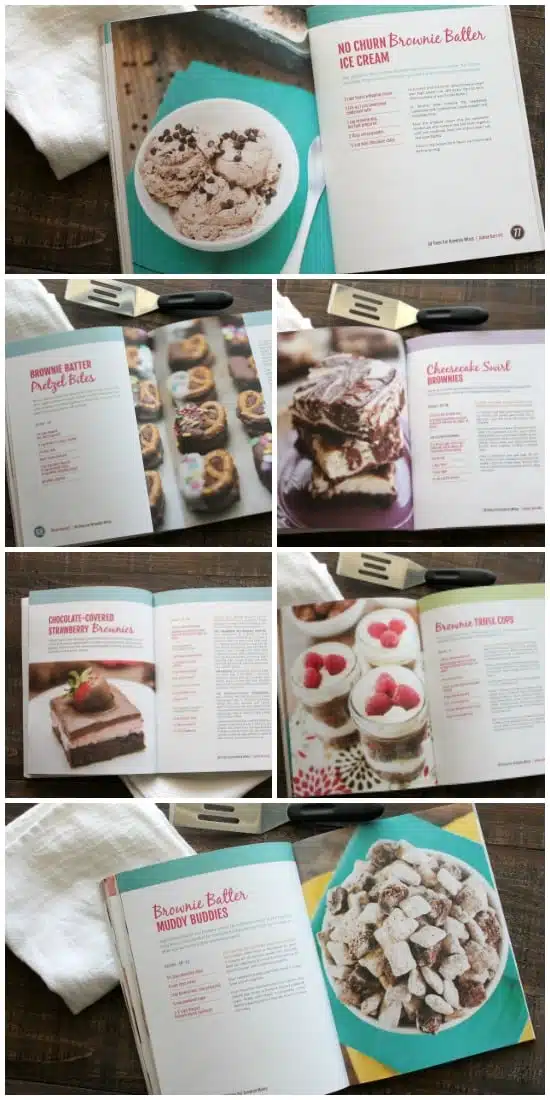 I'll tell you though, as I was flipping through this book, I had a really hard time deciding what to make first. If it wasn't for the fact that I'm trying to limit my sweets intake at the moment (as long as I don't eat skillet brownies every night for a week), I probably would have made 2 or 3 of these recipes by now. I mean look at all the pretty desserts — brownie batter ice cream, brownie batter pretzel bites, cheesecake swirl brownies, chocolate covered strawberry brownies, brownie trifle cups, brownie batter muddy buddies… that's just a few of the recipes that caught my eye!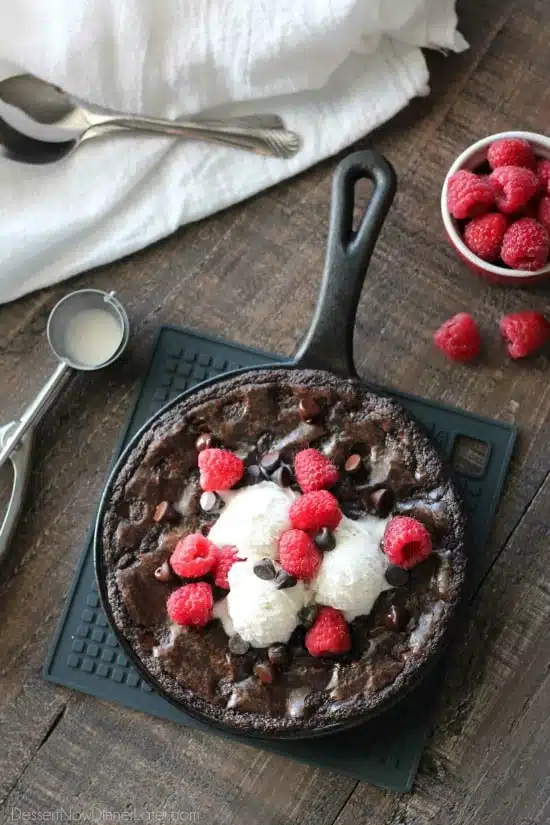 This skillet brownie though. It's heaven on a skillet! I used my favorite dark chocolate fudge brownie mix (Duncan Hines), added Guittard dark chocolate chips in the batter, and baked it until just set. Then I topped it with extra chocolate chips, vanilla bean ice cream, and fresh raspberries — making this dessert, out-of-this-world delicious!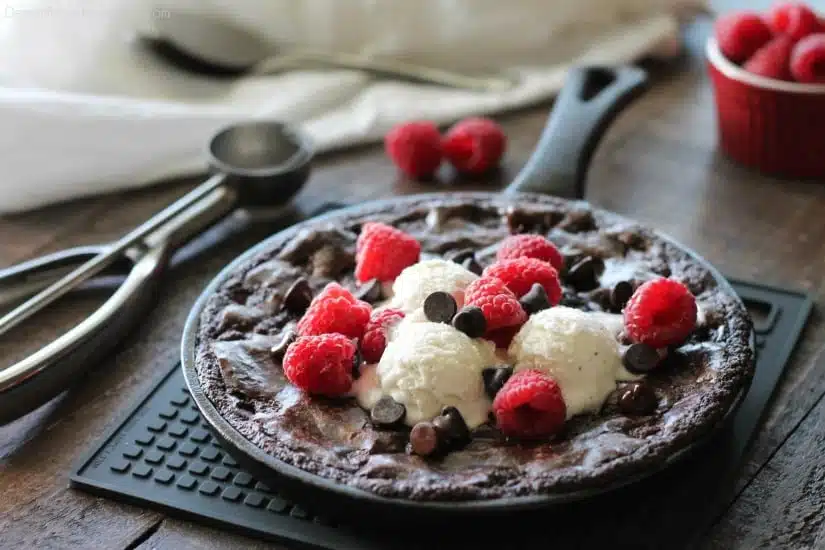 We might have made this skillet brownie twice in one day. And I'm pretty sure I had more than my fair share. 😉 I should probably confess that we are having it for dessert again tonight as well. I just can't stop! — Can't stop! Won't stop! It's that good! I hope you love it too!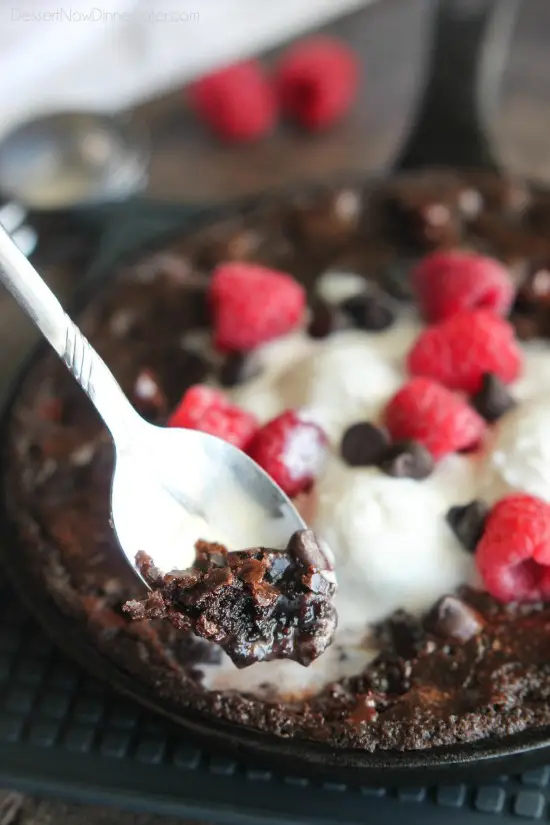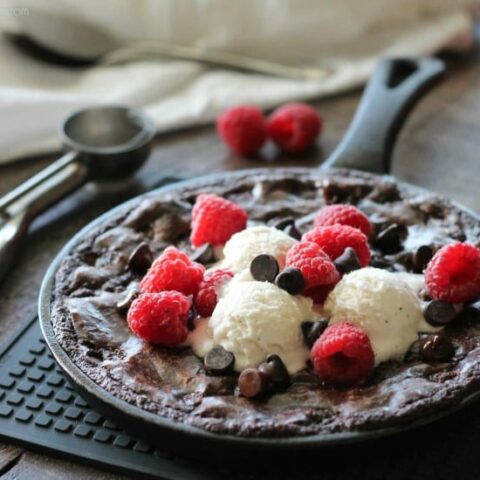 Skillet Brownie
Prep Time: 5 minutes
Cook Time: 14 minutes
Total Time: 19 minutes
Yield: 2 servings
This fudgy skillet brownie is made with a boxed mix for a quick dessert for two! Eat it warm from the oven topped with ice cream, chocolate chips, and fresh raspberries for an extra special treat!
Ingredients
3/4 cup brownie mix, dry (not prepared)
1 egg yolk
2 Tbsp oil
2 Tbsp water
2 Tbsp chocolate chips + extra for topping, if desired
vanilla bean ice cream
raspberries
Instructions
Preheat oven to 350 degrees.
In a small bowl, combine the brownie mix, egg yolk, oil, and water until just combined.
Pour mixture into a greased 8-inch cast iron skillet. (This also works in a 6-inch cast iron skillet.) Sprinkle with chocolate chips.
Bake for 14 to 15 minutes. Allow to cool for 2 to 3 minutes. Top with extra chocolate chips, ice cream, and raspberries.
Nutrition Information:
Yield: 2
Amount Per Serving:
Unsaturated Fat: 0g
If you are as much in awe of all the things you can do with a brownie mix as I am, be sure to check out what other bloggers are making and saying about Aimee's cookbook: 50 Fixes For Brownie Mixes. Click the image below to be taken to the blog tour page or head to Amazon to purchase a copy for yourself.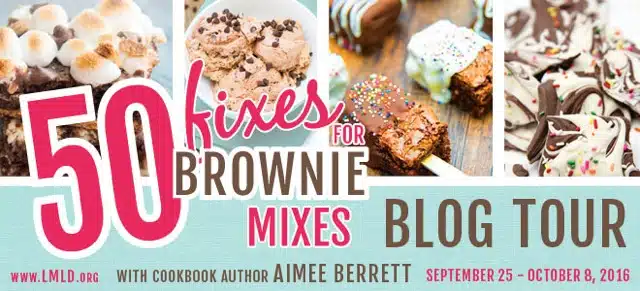 Now, onto more exciting news! GIVEAWAY TIME!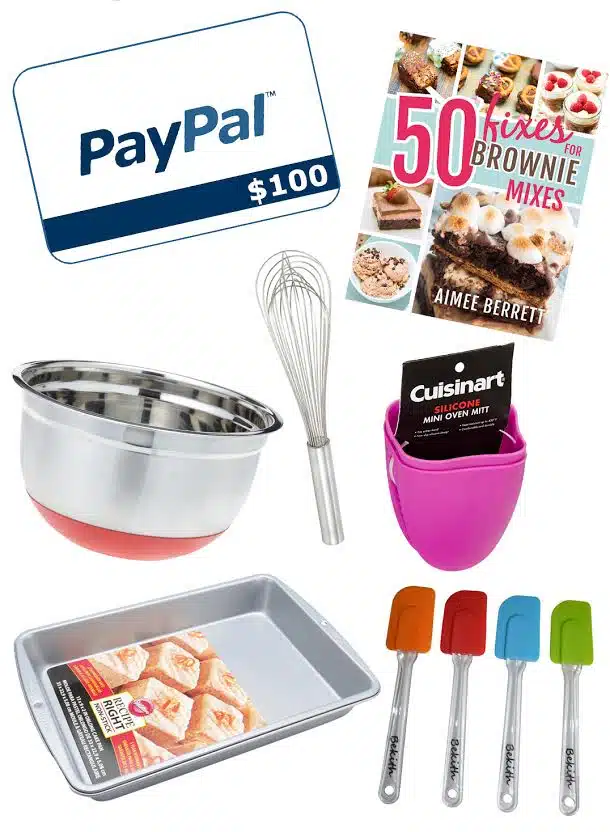 ONE lucky person will get to win all this fun stuff to make delicious brownies at home, and have a little cash in their pocket! TWO second place winners each get a copy of Aimee's cookbook. The giveaway will run from Sept 23rd to Oct 7th. Enter through the rafflecopter. Good luck!