Fudgy Brownies
This post may contain affiliate links, meaning that I may receive a commission at no cost to you if you use a link provided. All opinions shared are my own. You can review my full disclosure policy here.
Homemade fudgy brownies are cheap and easy to make in one bowl like you would with a boxed mix from the store! Super moist and fudgy, these brownies will get eaten fast!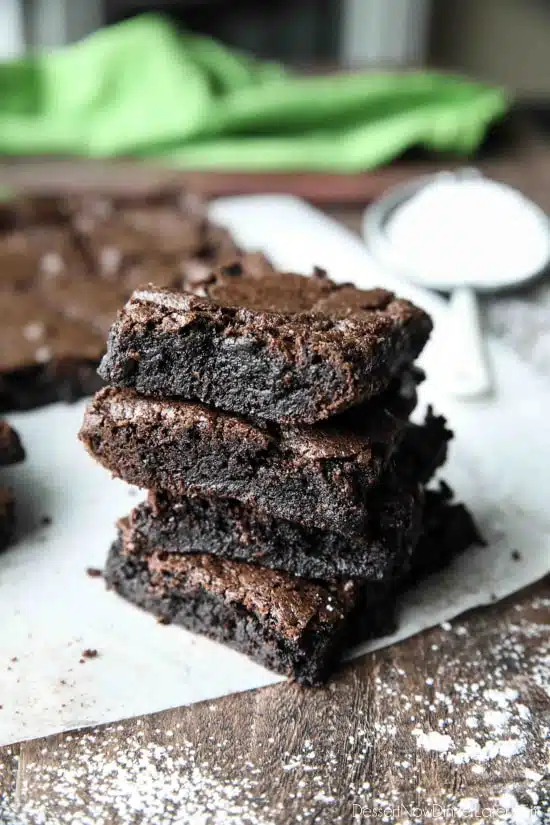 Even though I've been blogging for over 6 1/2 years now, I've somehow neglected some of the classics. So, today I'm bringing you classic fudgy brownies. No frills. No extras. Just that chocolatey deliciousness we all know and love!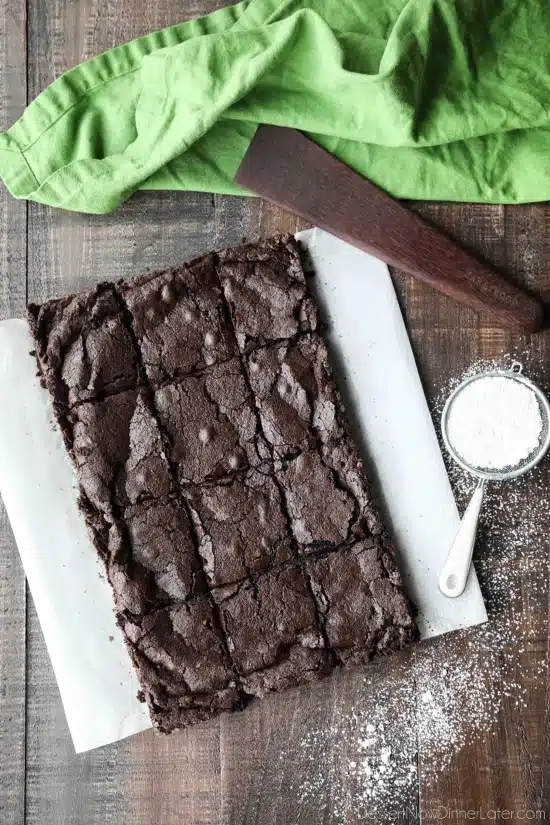 Fudgy Brownies
These fudgy brownies can be made in ONE BOWL like you would make with a boxed mix from the store. The brownie base is much like that from a box. Dry ingredients only. That means cocoa powder! No melting chocolate for this recipe, keeping it cheap and easy.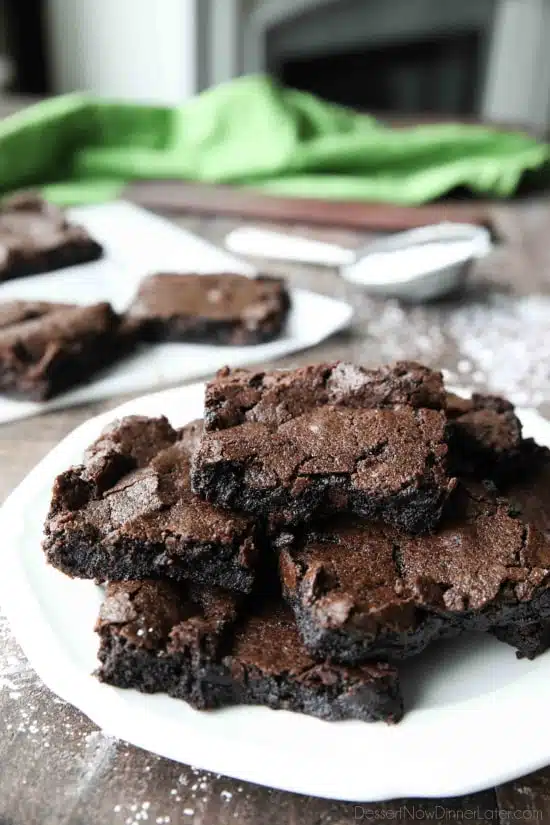 All you have to add is eggs, butter (or oil), water and vanilla. The end result is a slightly crisp, crackled top, and a super moist and fudgy center. These brownies are so far away from anything cake-y, which is how we like it!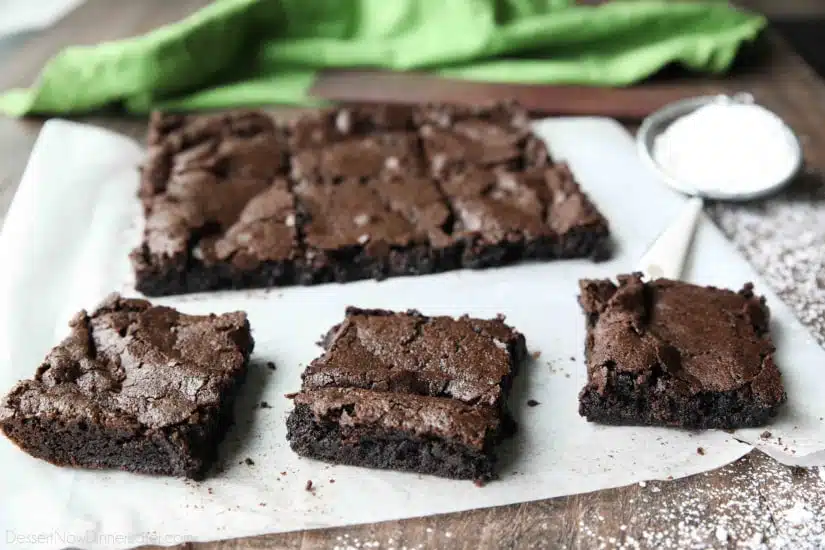 I'm embarrassed to admit it, but I do use boxed brownies a lot. They are fun and easy to dress up, like for these Mint Brownies, or these Buckeye Brownies, or this Skillet Brownie to name a few. Actually, the only other homemade recipe I have posted so far are these Frosted Fudge Brownies. Also delicious — especially if you love chocolate frosting!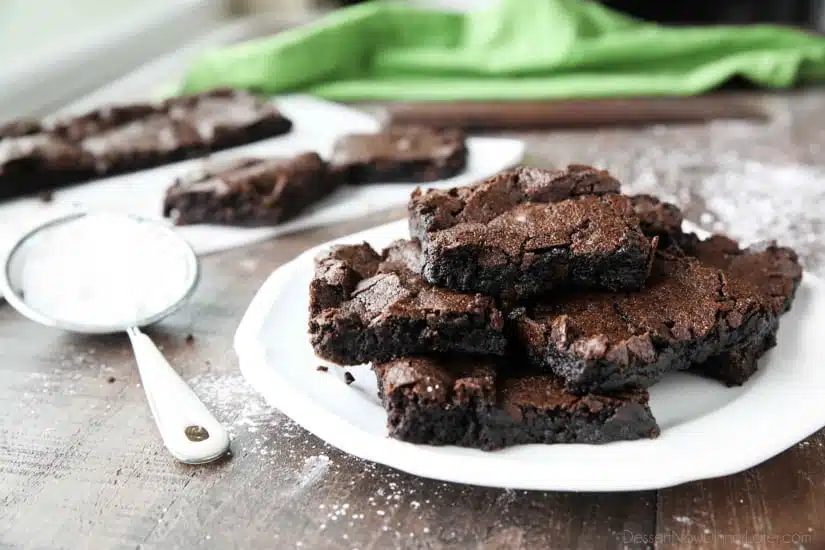 But I wanted something that was undeniably perfect, on its own that no extras were needed. You know, like chocolate chips, or frosting. That's all good, but these fudgy brownies are perfect straight from the pan. In fact, my almost 3 year old gobbled up almost the whole pan when I wasn't looking, haha. So I made them again. I don't think anybody complained.
If you did want a scoop of vanilla ice cream on top, that wouldn't bother me one bit, but either way, these fudgy brownies are to be enjoyed by the whole family!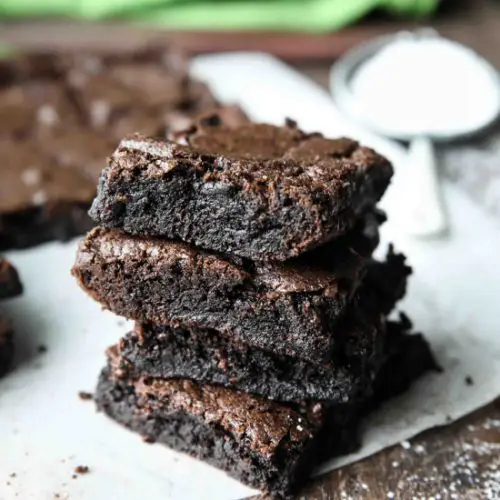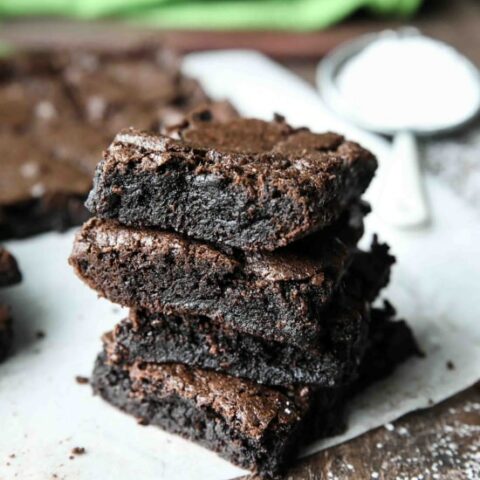 Fudgy Brownies
Prep Time: 10 minutes
Cook Time: 40 minutes
Total Time: 50 minutes
Yield: 12 brownies (13x9-inch pan)
Ingredients
2 cups granulated sugar
1 cup all-purpose flour
2/3 cup cocoa powder (I did half regular cocoa and half dark cocoa)
1/2 tsp baking powder
1/2 tsp salt
2 large eggs
1/2 cup (1 stick) butter, melted
1/4 cup water
1 1/2 tsp vanilla extract
Instructions
Preheat oven to 350 degrees Fahrenheit. Grease a 13x9-inch baking dish with cooking spray. (You may also line a baking dish with parchment paper to lift the brownies out of the pan easily.)
In a large bowl, whisk together the sugar, flour, cocoa powder, baking powder, and salt. (This could be made and stored in an airtight container or mason jar for up to 12 months!)
Add the eggs, butter, water and vanilla. Mix until flour just barely disappears. (Batter may be thick.) Spread into the prepared 13x9-inch baking dish.
Bake at 350 degrees Fahrenheit for 35-45 minutes for a glass pan OR 25-35 minutes for a metal pan. Bake until a toothpick comes out clean from the center. Easiest to cut and serve once slightly cooled or cooled completely.
Notes
*May use oil in place of butter. Crust may rise more on the edges and be a bit crispier. Brownies with oil will also take slightly longer to bake than brownies with butter.
*For an 8x8-inch or 9x9-inch pan, just cut the recipe in half.
*Recipe altered from Genius Kitchen.
Nutrition Information:
Yield: 12
Amount Per Serving:
Unsaturated Fat: 0g