Rainbow Krispie Treats
This post may contain affiliate links, meaning that I may receive a commission at no cost to you if you use a link provided. All opinions shared are my own. You can review my full disclosure policy here.
Fruity Pebbles, marshmallows, white chocolate, and confetti sprinkles, come together to make these Rainbow Krispie Treats! An easy St. Patrick's Day dessert!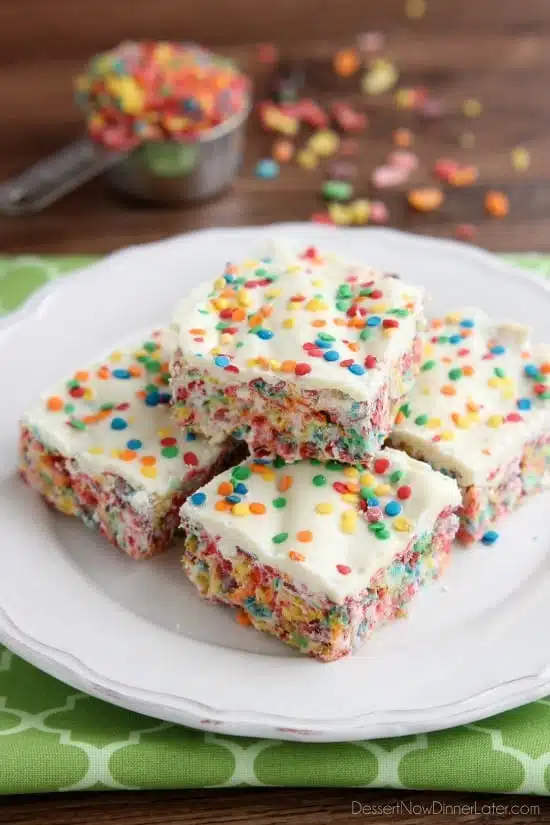 Today's post is for those of you who want a fun holiday treat, that is EASY! I tend to get excited and sometimes I go all out. These krispie treats are colorful enough for St. Patrick's Day, but don't take a lot of time to get bright rainbow colors. Plus kids and adults alike, LOVE them!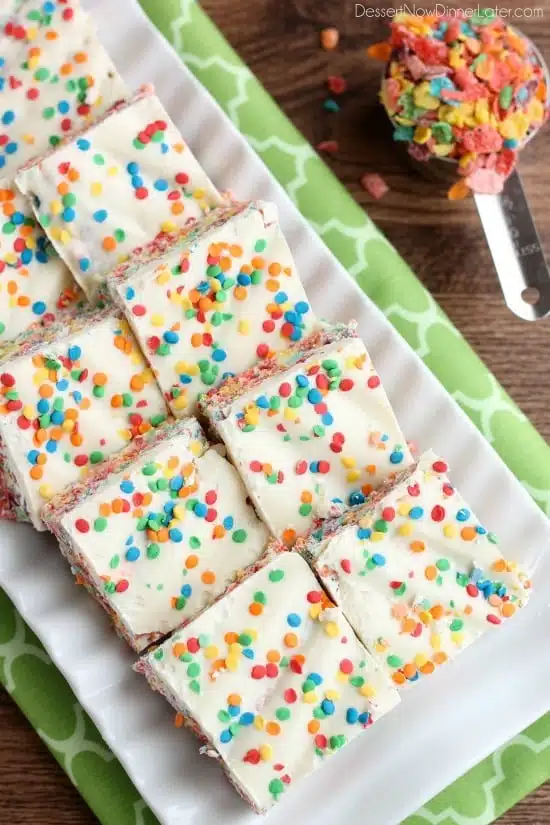 Swap out Fruity Pebbles in a standard rice krispie treats recipe (with extra marshmallows, of course) slather the top in melted white chocolate and rainbow confetti sprinkles, and voila! Rainbow Krispie Treats!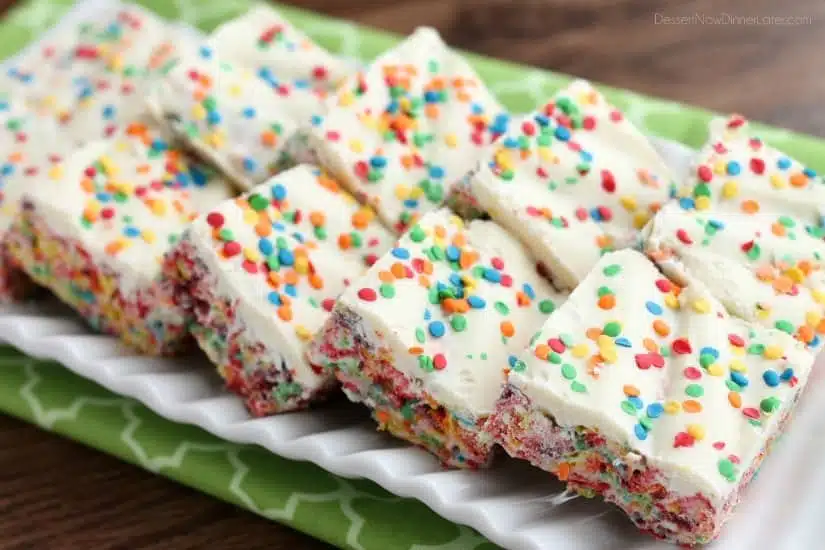 I dare you to only eat one! 😉  My husband says he loves these more than regular rice krispie treats!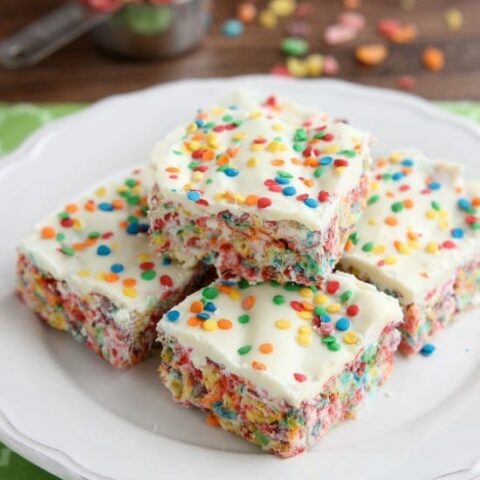 Rainbow Krispie Treats
Ingredients
4 Tbsp butter
1 1/4 to 1 1/2 (16oz) bags marshmallows (depending on how chewy you like your krispie treats)
6 cups Fruity Pebbles Cereal
1 (11 to 12oz) bag white chocolate chips
1 Tbsp coconut oil or shortening, for thinning
Rainbow Sequins/Celebration Confetti/Rainbow Sprinkles
Instructions
Grease a 13x9-inch baking dish with extra butter or baking spray.
In a large non-stick stock pot, melt 4 Tbsp of butter. Add the marshmallows and stir constantly until melted.
Remove melted marshmallows from heat. Add Fruity Pebbles Cereal and stir/fold until the melted marshmallows are evenly distributed amongst the cereal.
Pour the mixture into the greased baking dish. Flatten the krispies with the bottom of a measuring cup that has been buttered, so it doesn't stick, and doesn't burn your hands.
Melt the white chocolate chips with the coconut oil in a bowl in the microwave for short 30 second bursts, stirring in between each additional 30 seconds, until smooth.
Spread melted chocolate over the top of the rainbow krispie treats and immediately add the sprinkles.
Allow rainbow krispie treats and white chocolate to cool for a minimum of 1 hour before cutting and serving. Place dish in the refrigerator to speed things up.
Nutrition Information:
Yield: 24
Amount Per Serving:
Unsaturated Fat: 0g