Spider Cookies
This post may contain affiliate links, meaning that I may receive a commission at no cost to you if you use a link provided. All opinions shared are my own. You can review my full disclosure policy here.
Not all Halloween food has to be gross and gory! These super cute spider cookies are made with peanut butter cups, chocolate, candy eyes, and the BEST peanut butter cookie recipe you'll ever try!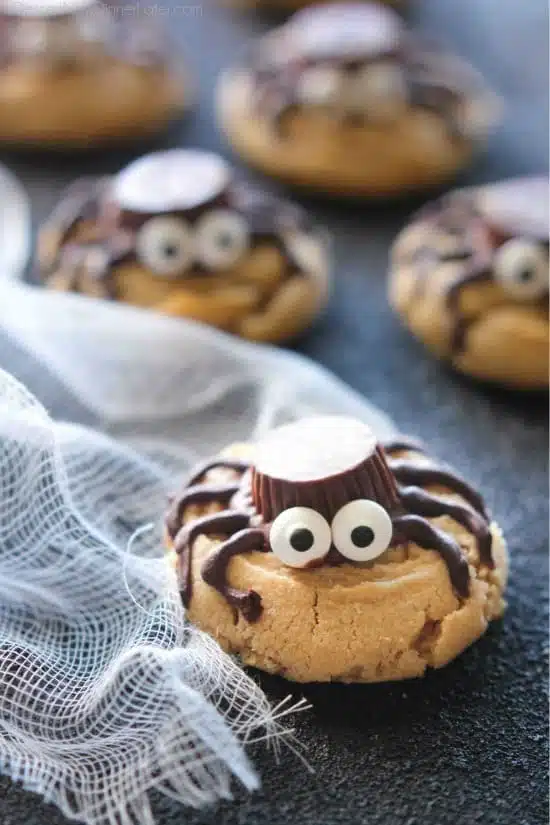 I love Halloween, but I love the cutesy stuff. Dressing up like princesses, doctors, Disney characters … you know, not anything dead, gory, or gross. So naturally, I don't like the Halloween food that looks like brains or worms and whatnot. These spider cookies fit the bill of cute Halloween grub, that's only semi-creepy.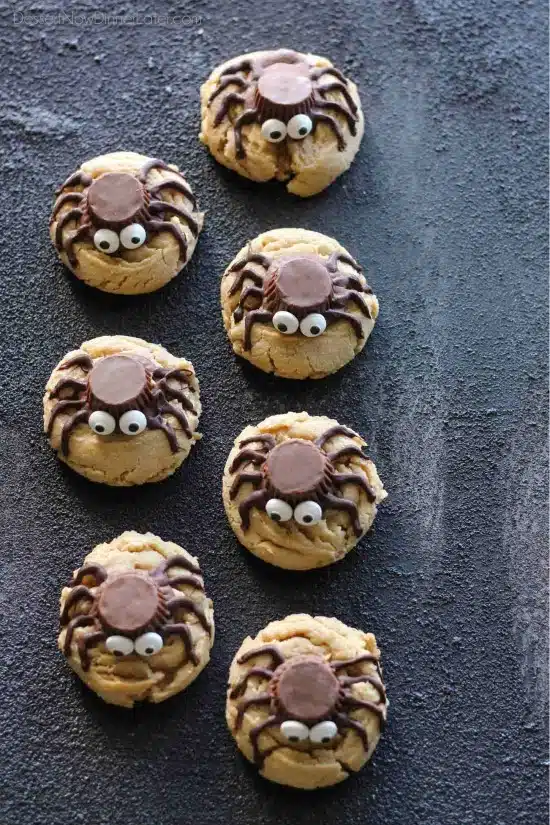 I actually hate spiders in real life. I even dislike them so much, that I make my kids kill them for me if we see one in the house. Occasionally I do suck them up in the vacuum cleaner, but I leave it running for a good 5 minutes to make sure it's dead before I turn it off. I don't need spiders climbing out and having babies in my house.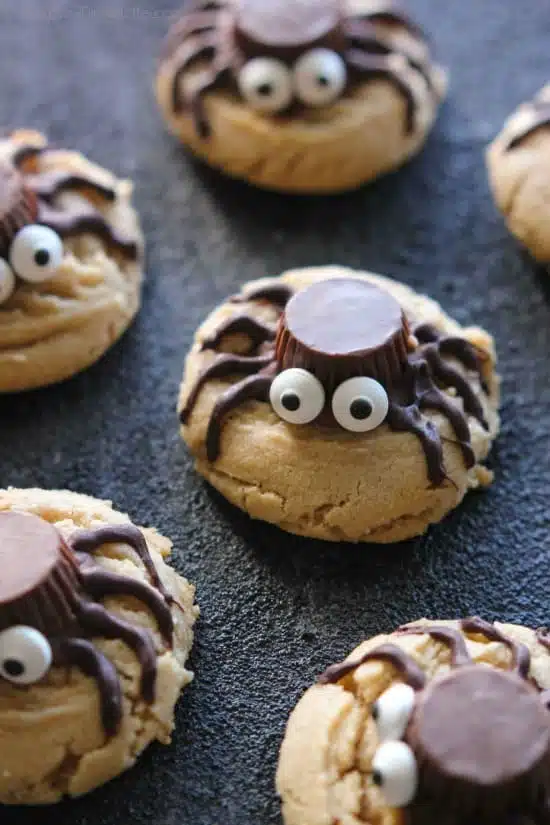 If you've ever made a "blossom" or "kiss" cookie, then you will love making these spider cookies. You use Reese's peanut butter cups for the body and put it on top of the peanut butter cookie while it's still warm. After it melts a little bit, you add the eyeballs and freeze the cookies before the peanut butter cups melt too much. Then you melt some chocolate chips and pipe the legs, put the cookies back in the freezer to set up, and you are done. Easy!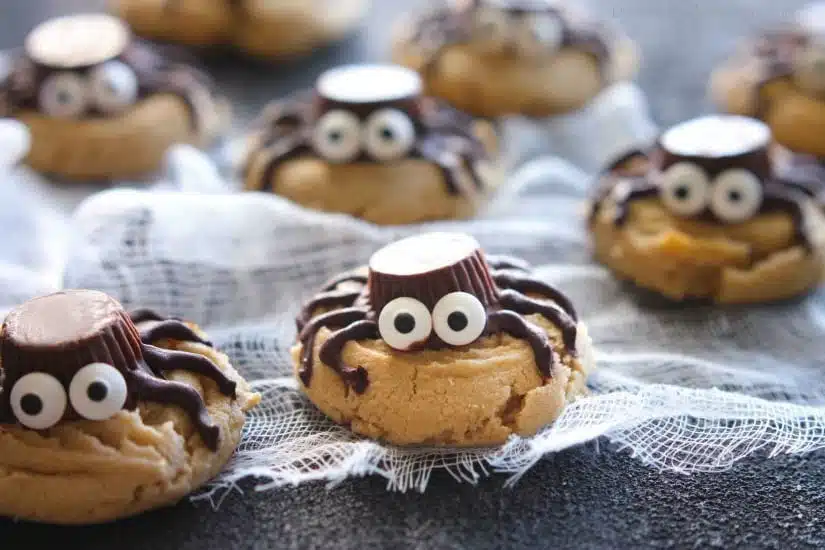 If you love peanut butter and chocolate as much as I do, then this Halloween dessert is a must make! Enjoy!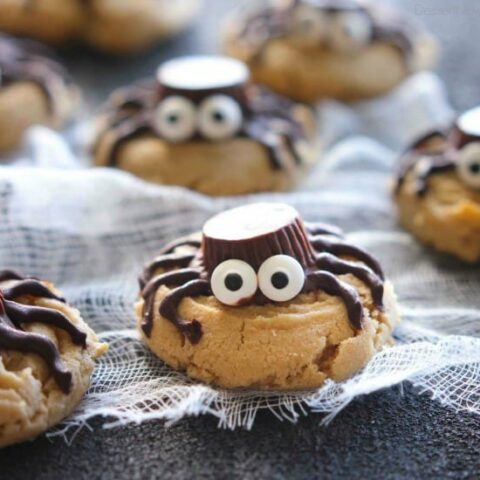 Spider Cookies
Prep Time: 20 minutes
Cook Time: 10 minutes
Total Time: 30 minutes
Yield: 30 cookies
These super cute spider cookies are made with peanut butter cups, chocolate, candy eyes, and the BEST peanut butter cookie recipe you'll ever try!
Ingredients
1/2 cup unsalted butter, softened
1/2 cup granulated sugar
1/2 cup brown sugar
1/2 cup creamy peanut butter
1 large egg
1 tsp vanilla
1 1/2 cups all-purpose flour
1 tsp baking soda
1/2 tsp salt
30 miniature Reese's peanut butter cups, unwrapped
1/2 cup chocolate chips (milk chocolate or semi-sweet)
1/4 tsp coconut oil or shortening, for thinning the chocolate
1 (0.88oz/25g) pkg Wilton Candy Eyeballs
Instructions
Cream the butter and sugars together in the bowl of a stand mixer using the paddle attachment. Add the peanut butter, egg, and vanilla. Mix well and scrape the bowl.
Combine the flour, baking soda, and salt. Add to the butter mixture all at once and mix until just incorporated.
Working in batches, scoop dough into balls and place onto silicone lined baking sheets about 2-inches apart -- up to 12 cookies per baking sheet (recipe makes 30 cookies in total). Bake at 350 degrees Fahrenheit for 10 minutes or until just set. Allow cookies to cool slightly on the tray for 2 minutes.
Lightly press one mini peanut butter cup in the center of each cookie while still warm. Allow to melt slightly. As soon as the peanut butter cups are soft enough, place two eyeballs on the side of each peanut butter cup. Repeat for all cookies on the tray then move the tray to the freezer to allow the chocolate to set.
Melt the chocolate chips and coconut oil (or shortening) in the microwave in short 10-20 second bursts until melted. Place melted chocolate inside a zip-top sandwich bag. Cut off a small piece of the corner and pipe 8 legs on each cookie in an "L" shape to create a bent leg look.
Return cookies to freezer to set the chocolate. Remove and store cookies covered with plastic wrap or in an airtight container up to 5 days.
Nutrition Information:
Yield: 30
Amount Per Serving:
Unsaturated Fat: 0g