Chocolate Cream Pie + Video
This post may contain affiliate links, meaning that I may receive a commission at no cost to you if you use a link provided. All opinions shared are my own. You can review my full disclosure policy here.
This easy Chocolate Cream Pie recipe can be made quick with store-bought ingredients (like pie crust, Jello pudding, and Cool Whip), or made completely from scratch. Sharing both recipes for this delicious bakery-style pie with creamy chocolate pudding topped with sweetened whipped cream inside of a flaky pastry crust.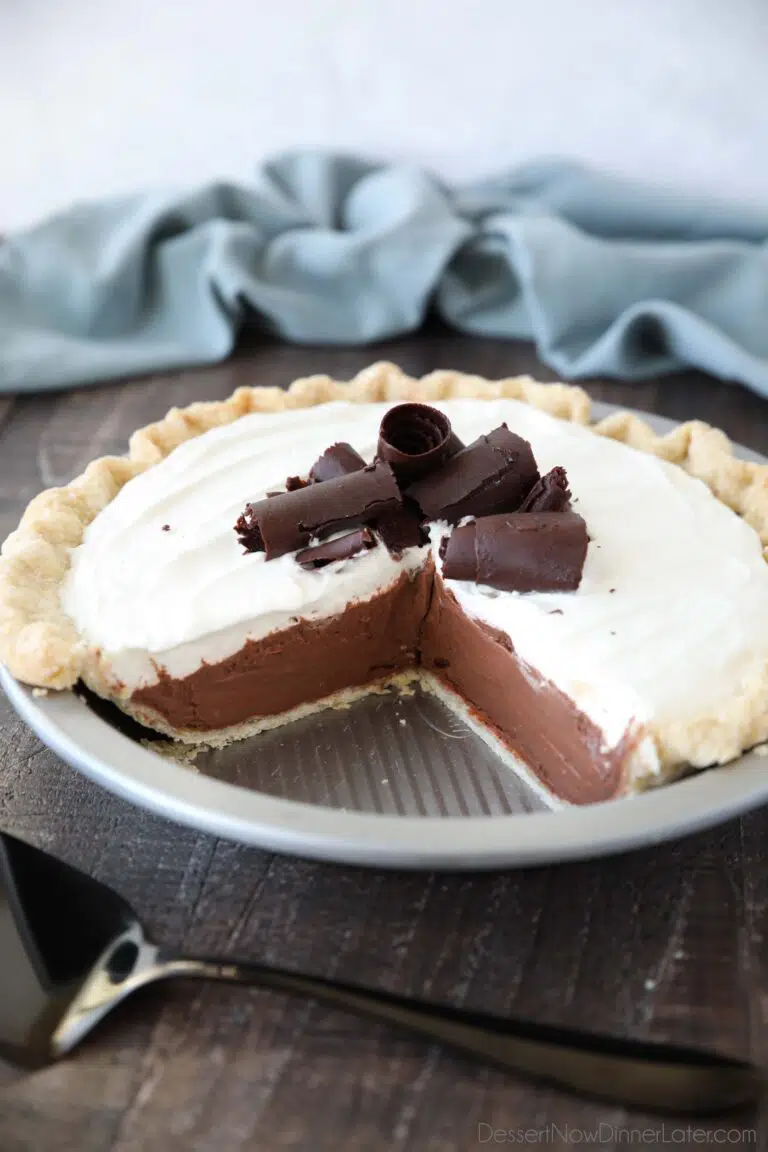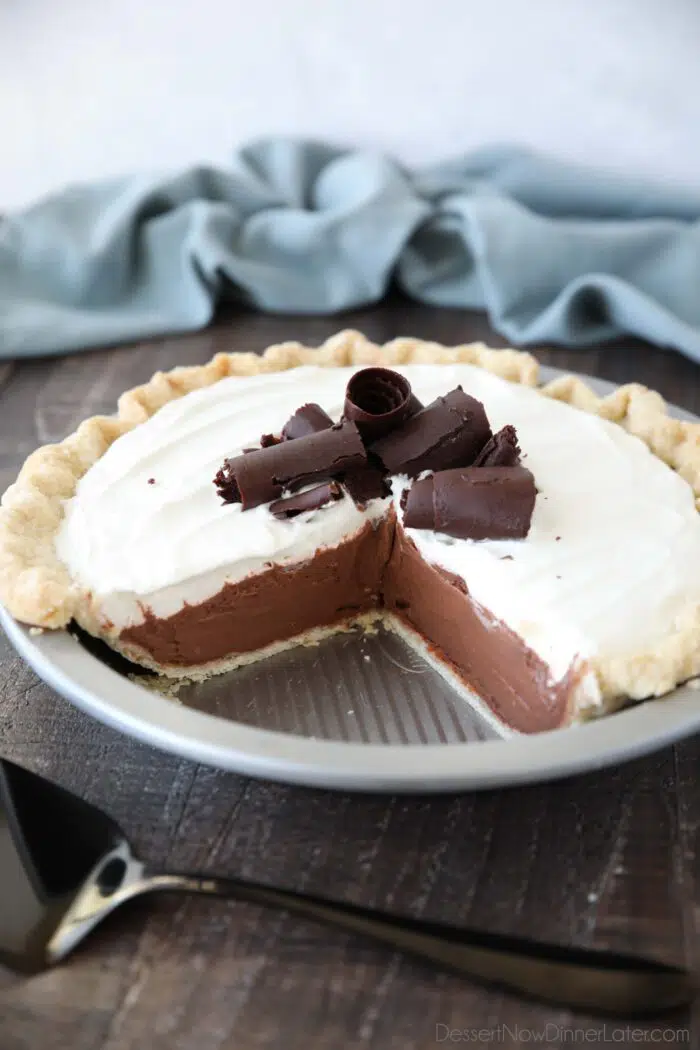 Easy as pie!
In one of the bakeries I worked in, we would make these chocolate cream pies. They were so fast and tasted great! It is seriously one of the quickest pies to throw together, especially if you buy pre-made ingredients.
This pie is a chocolate lover's dream and great for holidays, as it gets gobbled up real quick!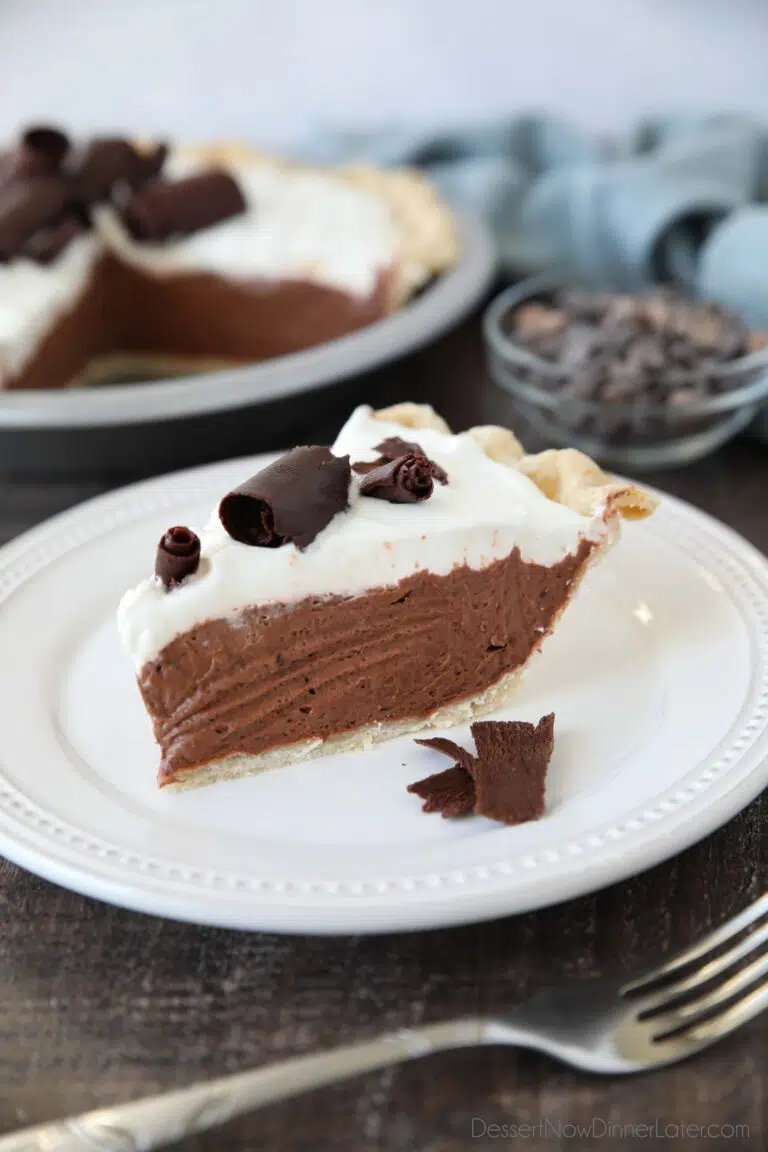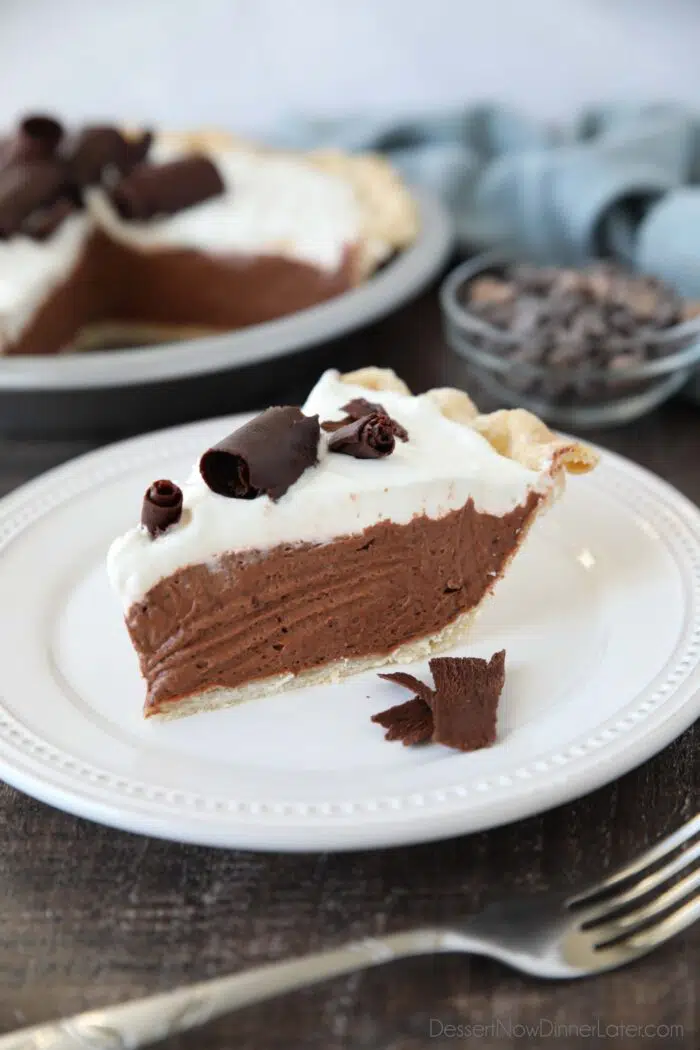 Chocolate Cream Pie vs. Chocolate Pudding Pie
Most will say that Chocolate Cream Pie and Chocolate Pudding Pie are the same thing, but there is a subtle difference between the two.
When we made chocolate cream pie in the bakery, we would mix whipped cream in with the pudding, and then layer extra whipped cream on top of the pie.
Adding whipped cream to the chocolate pudding makes a huge difference in the texture. Creating a lighter, creamier chocolate pie.
Most other recipes just make chocolate pudding for the filling and top the pie with whipped cream. While this is still delicious, it's not the same as a true Chocolate Cream Pie.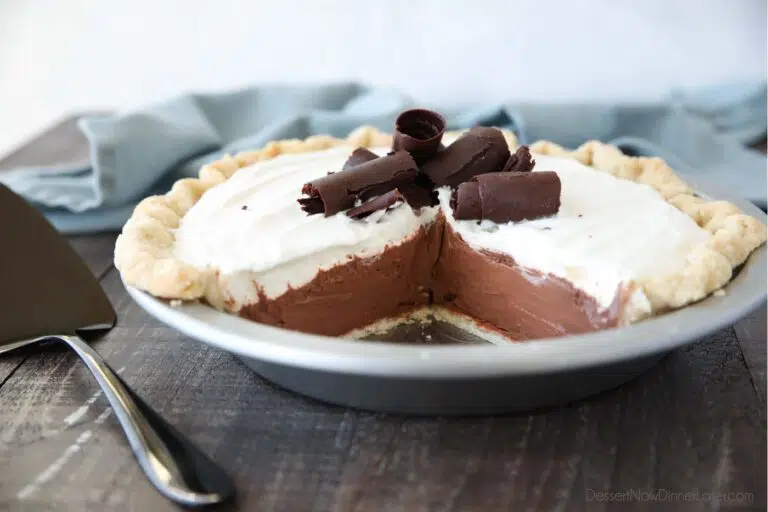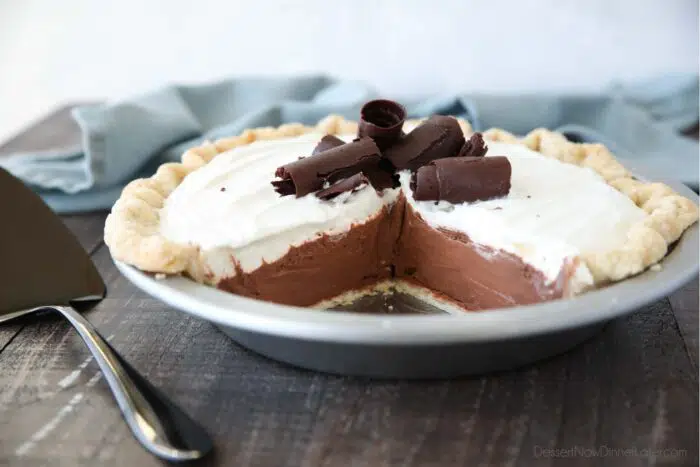 Chocolate Cream Pie — Two Ways
The ingredients for Chocolate Cream Pie can be all convenience, all homemade, or a combination of the two as you can see in my photo below.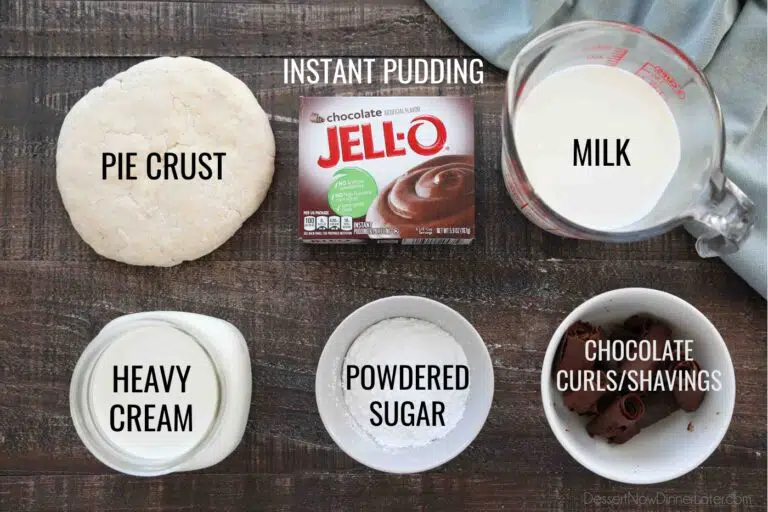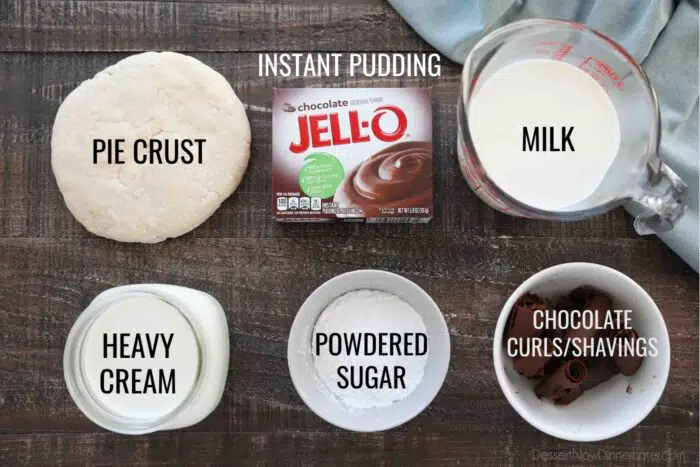 For this recipe you will need:
Pie Crust – Homemade OR store-bought. If buying pre-made, I would use a frozen pie crust and bake it according to the directions on the package. (Example: Frozen Great Value pie crust instructs to thaw the crust for 15 minutes, prick the crust thoroughly with a fork, and bake it at 400˚F for 10-12 minutes.)
Chocolate Pudding – I have an easy recipe for chocolate pudding using chocolate chips, but nothing beats the ease of Jello instant pudding in a box. If you go the box route, you will need milk to mix the pudding with. I use half the amount of the pudding directions, or a cup less than the pie filling directions. Since you will be folding it with whipped cream, you want it to be thick.
Sweetened Whipped Cream OR Cool Whip – Again, if you want to take the easy route, an 8-ounce container of Cool Whip (frozen whipped topping) is the fastest. If you want homemade sweetened whipped cream you will simply beat heavy cream with powdered sugar. Both work interchangeably in this recipe.
Chocolate Curls/Shavings – Topping the pie with extra chocolate is optional, but a nice addition. I wanted to be fancy and go for some chocolate curls. They are a bit temperamental, but a beautiful garnish. You can simply use a vegetable peeler and a bar of chocolate for easy shavings. Or you could even use mini chocolate chips.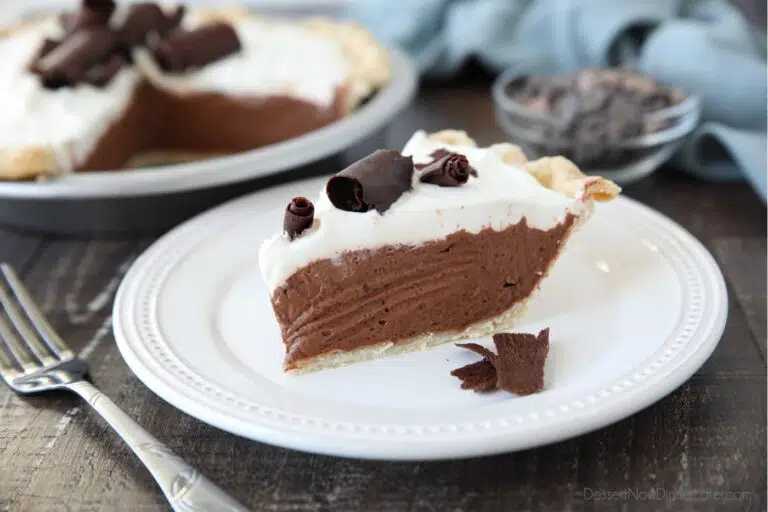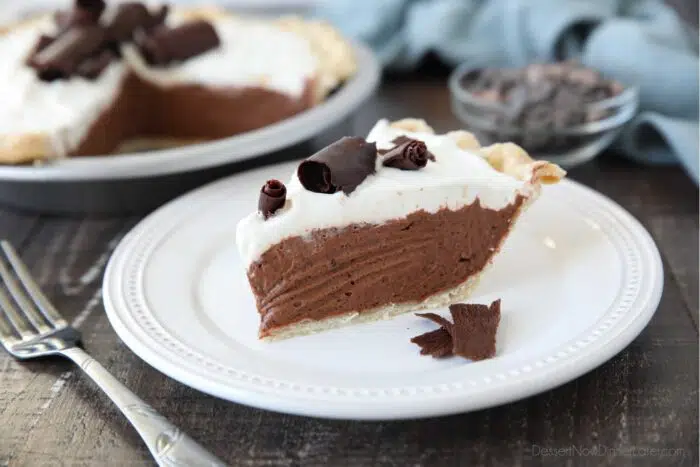 For the Pie Crust
For this chocolate cream pie, or any other cream, lemon, soft-filling pie, you will need to blind bake the crust. This means you are baking the empty crust all by itself. Simply follow the directions on the package of a store-bought crust.
For a homemade all-butter pastry crust you will need flour, salt, butter and cold water. (Full printable recipe card is at bottom of post.)
Make the pie dough and chill it. Then roll, fill, and crimp the crust in a 9-inch pie dish. Use a fork to prick the bottom and sides of the crust.
Place a piece of parchment inside the shell and fill it with raw, dry beans, about ½ pound. Beans work as a weight to hold the crust in place during baking. (Note: These beans are no longer good to cook and eat afterwards, but can be saved to use again for this same purpose.)
Bake at 350˚F for 20 minutes, remove the parchment and beans and bake 12-15 minutes more, until golden brown. Allow the crust to cool completely. (See step-by-step pie crust tutorial here.)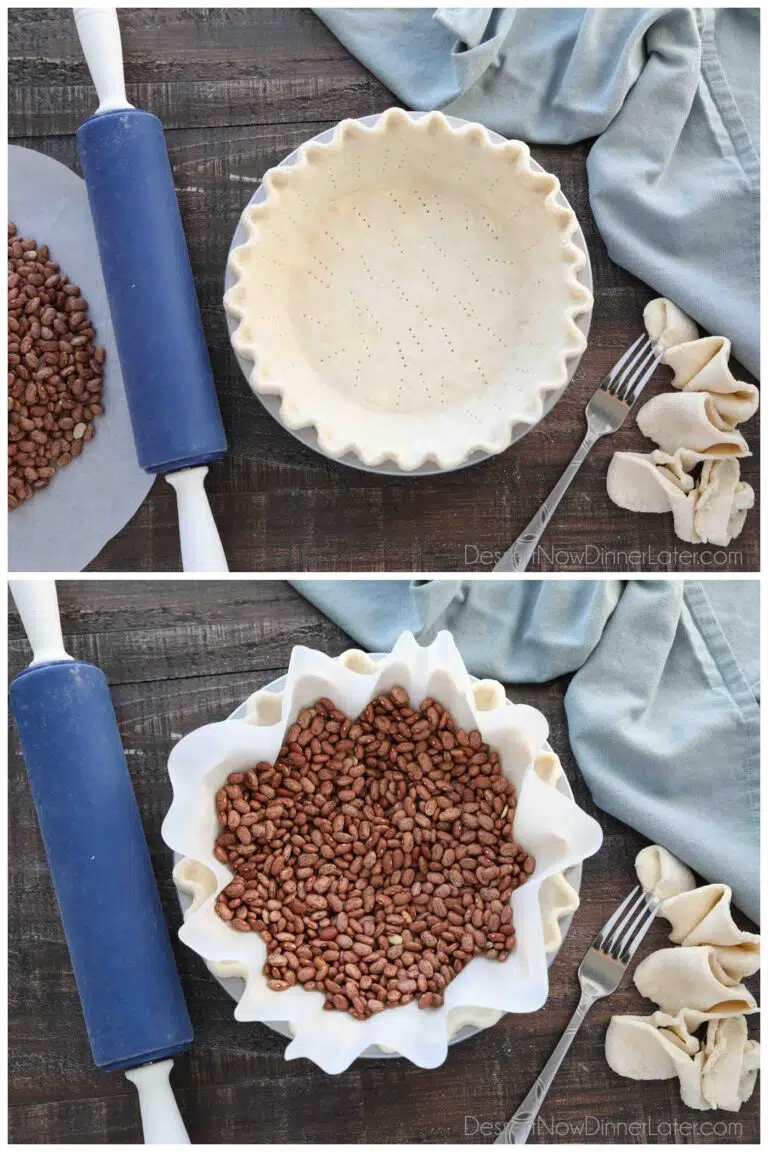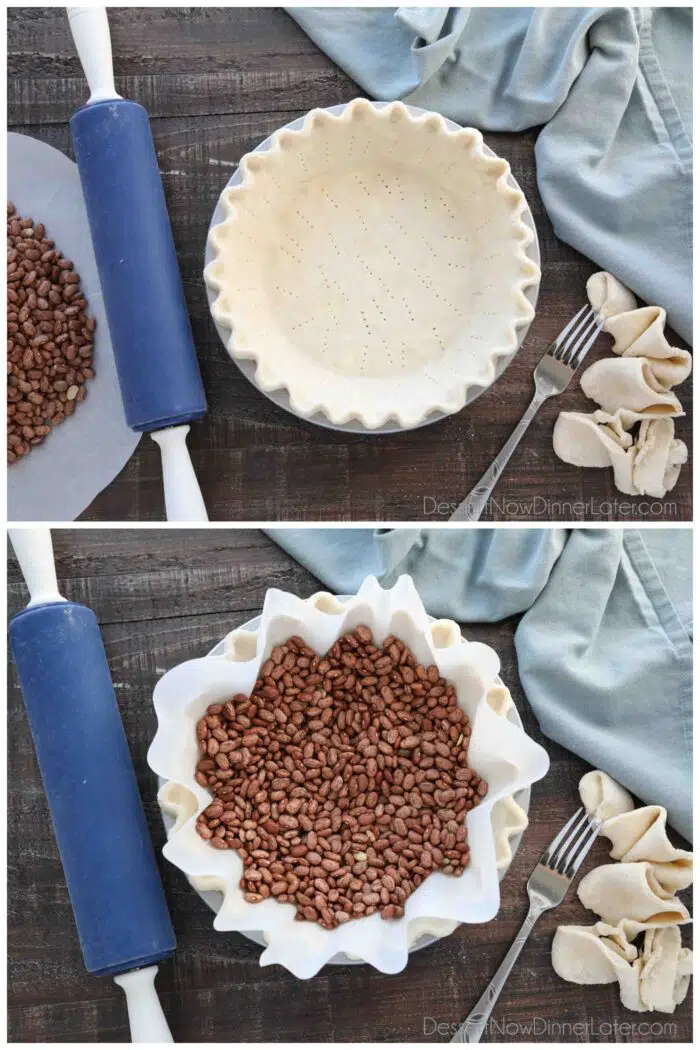 For the Filling
If making chocolate pudding from scratch, prepare it ahead of time so it has time to chill completely in the refrigerator.
Otherwise, mix a large box of instant chocolate Jello pudding with half the amount of milk as directed on the box. It will thicken quickly.
Whip heavy cream with powdered sugar to stiff peaks or use a thawed 8-ounce container of Cool Whip (frozen whipped topping).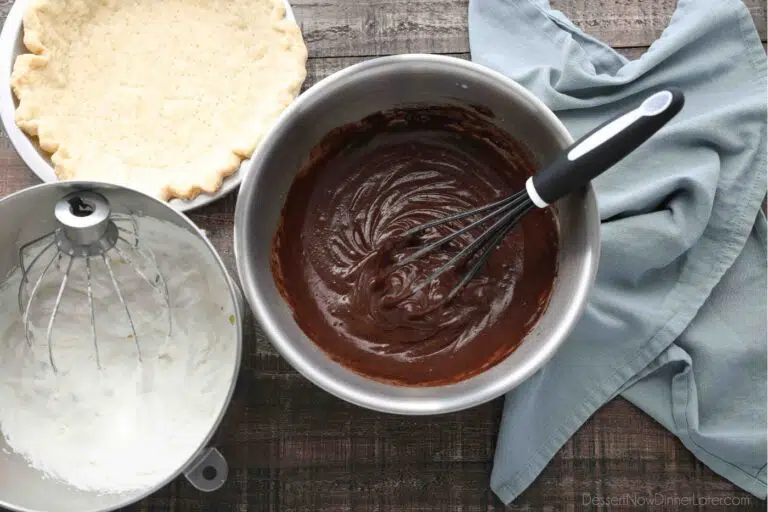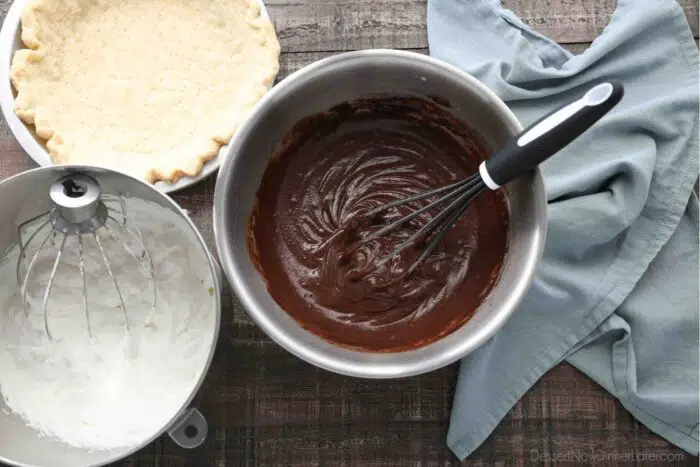 To Assemble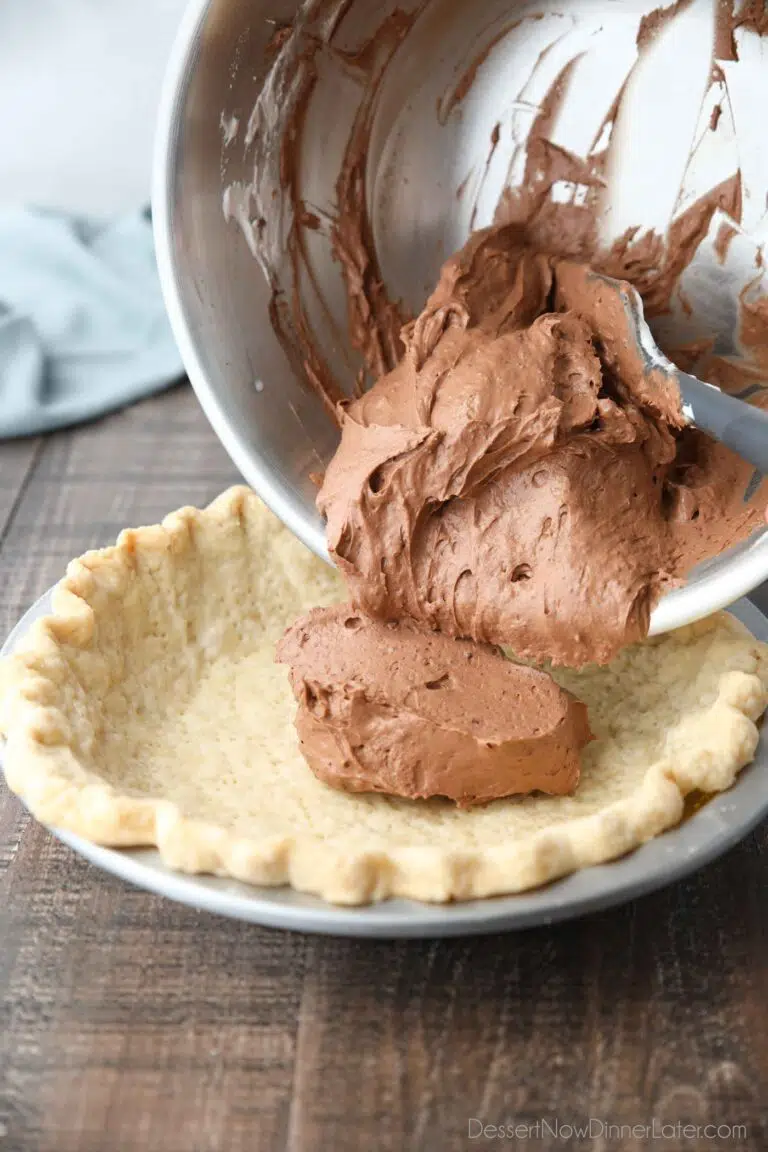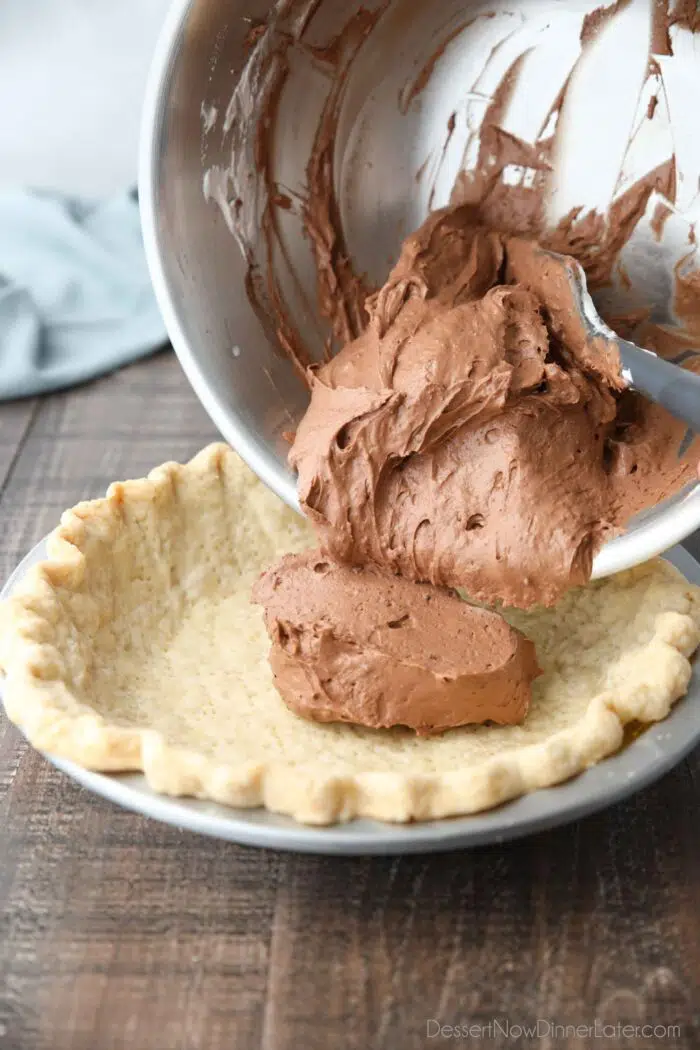 Mix half of the whipped cream with the pudding mixture. Empty the chocolate filling into the pre-baked pie crust and spread it evenly with a spatula.
Spread the remaining whipped cream over the chocolate pudding layer and top with chocolate curls, chocolate shavings, or mini chocolate chips.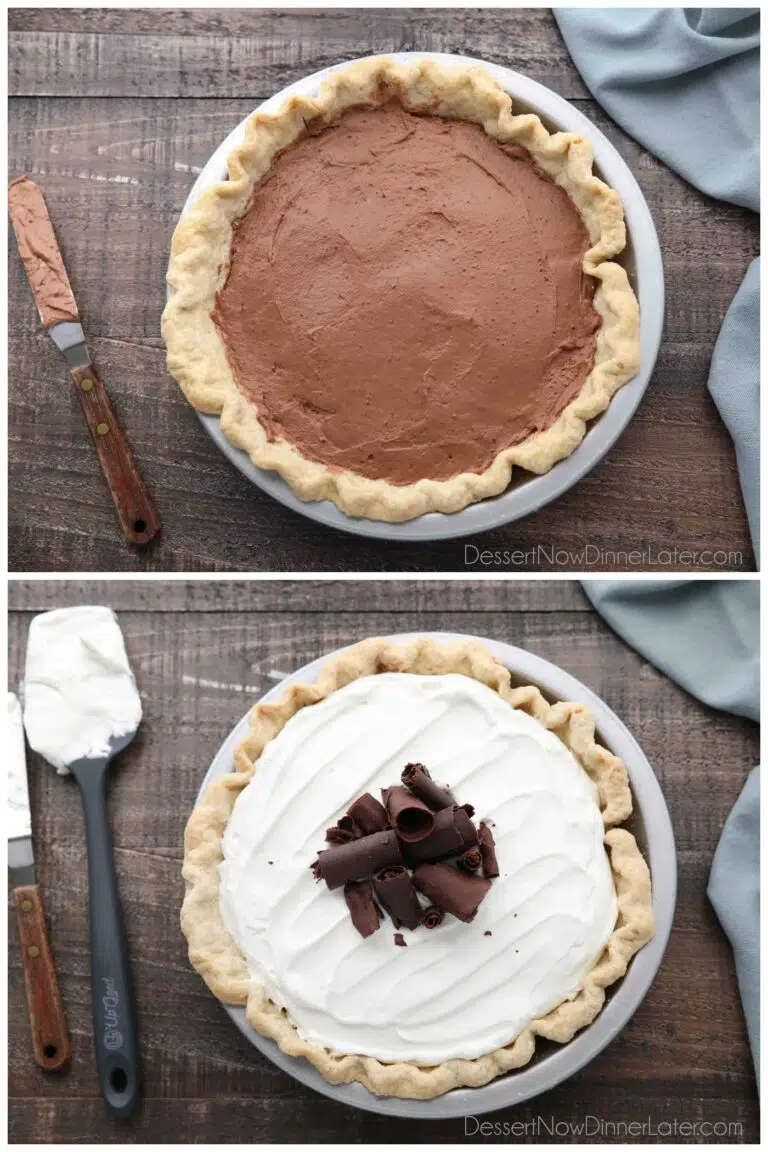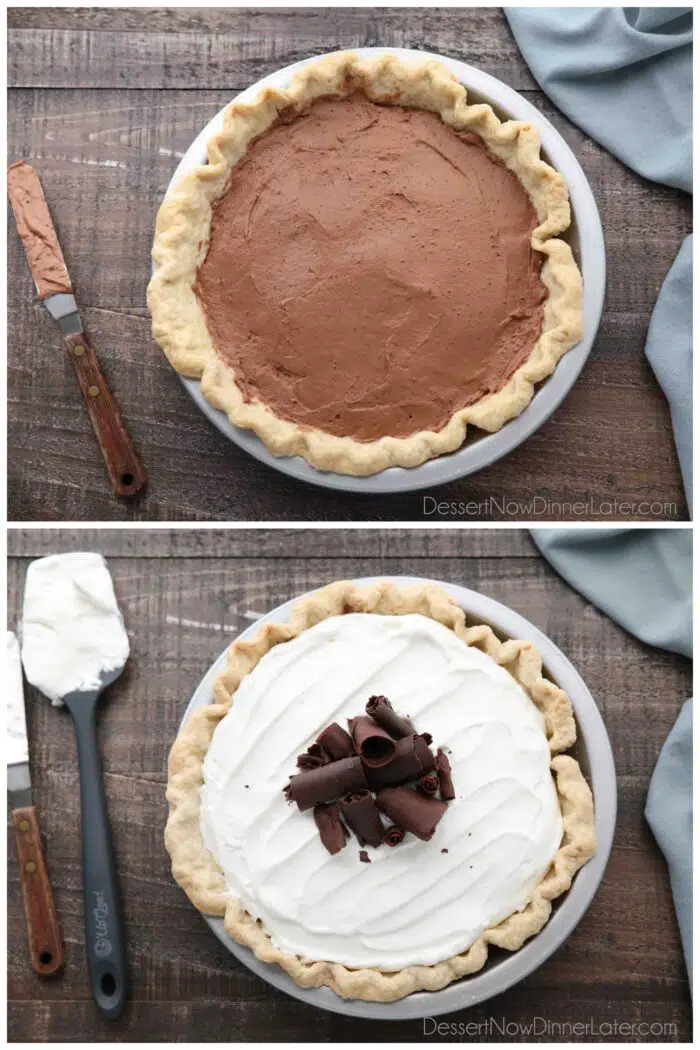 Serving and Storing
If you make this chocolate cream pie with instant pudding, it can be cut and served immediately after filling, if desired.
If made with homemade pudding, you may want to chill the pie for 4+ hours to help firm it up before slicing and serving.
Cover and refrigerate pie up to 5 days in the refrigerator. You can freeze this pie, without the chocolate shavings on top. I would press plastic wrap directly onto the whipped cream, then add a layer of foil over that, or place it in a freezer safe bag for a second layer of protection. Freeze up to 3 months. To eat after freezing, thaw pie in fridge overnight.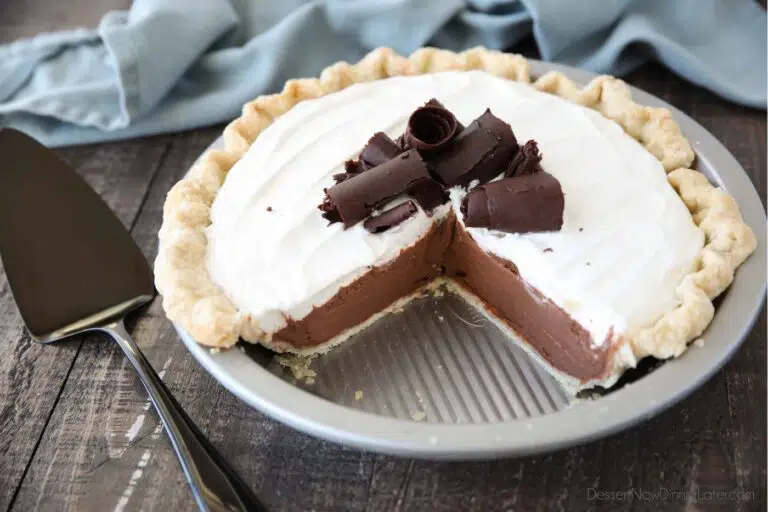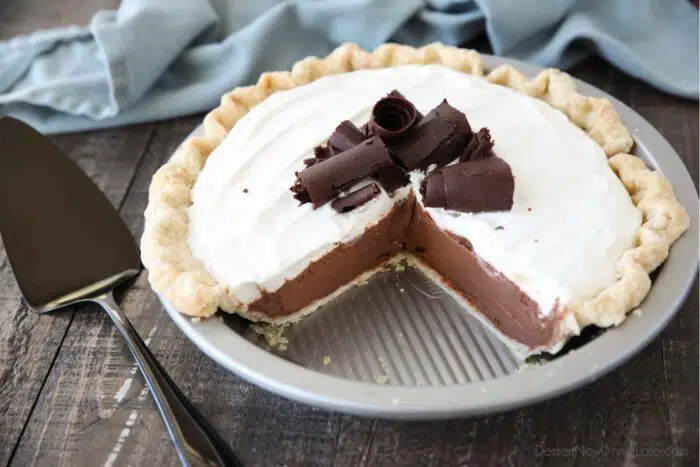 More Holiday Pies
If You Make This Recipe, Please Rate and Review it in the Comments Below. THANKS!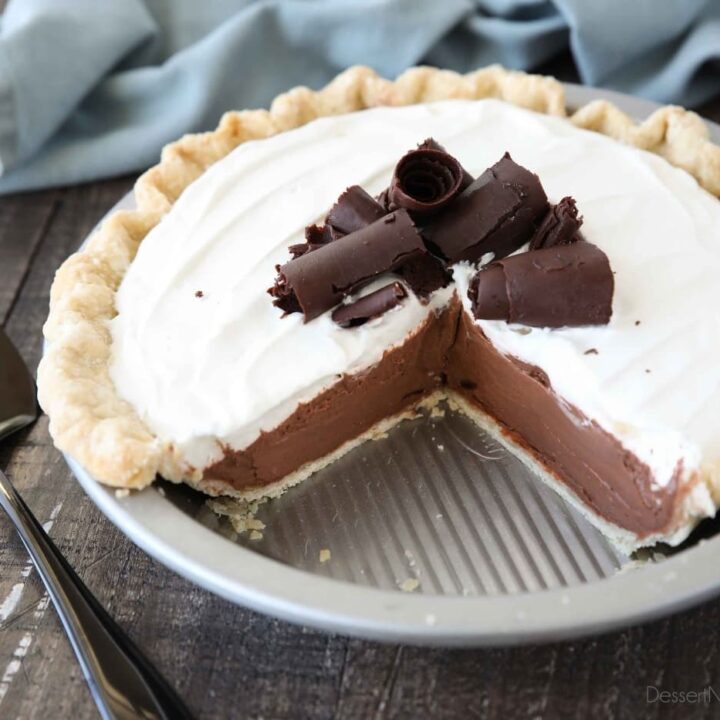 Chocolate Cream Pie
Prep Time: 10 minutes
Cook Time: 25 minutes
Total Time: 35 minutes
Yield: 8 Servings
Light and creamy chocolate pudding topped with sweetened whipped cream inside of a flaky pastry crust.
Ingredients
Pie Crust (or use 1 frozen pie crust)
1 1/4 cups all-purpose flour
1/2 tsp salt
1/2 cup (1 stick) unsalted butter
1/4 cup + ice cold water
Chocolate Pudding
1 (5.85oz) large box Instant Chocolate Pudding & Pie Mix
1 1/2 cups COLD milk
Whipped Cream (or use one 8oz tub Cool Whip)
1 1/2 cups heavy cream
6 Tbsp powdered sugar
Chocolate Bar for shavings or Mini Chocolate Chips
Instructions
Pie Crust:
Combine flour and salt in a large bowl. Cut in butter with a fork or pastry blender to small crumbs. Add water. Mix with hands until dough forms a ball, adding extra water 1 Tbsp at a time, if needed. Press dough into a flat disc, cover with plastic wrap and chill in freezer for 15 minutes or the refrigerator for 30 minutes.
Flour countertop and rolling pin. Unwrap pie crust. Roll from the center outwards and rotate the dough after a few rolls. Add extra flour underneath as necessary, so it doesn't stick to the counter. Continue rolling and rotating the crust until the dough is about ¼" thick, and nice and round.
Gently fold crust in half and lift into a 9-inch pie dish. Unfold crust and shape to pan. Cut off excess crust and crimp edges. Prick crust on bottom and sides with a fork. Place a round piece of parchment paper inside the crust and fill with raw, dry beans.
Bake crust at 350 degrees Fahrenheit for 20 minutes. Remove parchment paper and beans and bake for 12-15 minutes more or until golden brown. Cool completely.
Chocolate Pudding:
In a bowl, combine chocolate pudding mix and milk. Will thicken quickly. Set aside.

Whipped Cream:
In the bowl of a stand mixer with the whisk attachment beat the heavy cream and powdered sugar until stiff peaks form.

Assembly:
Fold half of the whipped cream into the chocolate pudding mixture. Empty chocolate filling into baked crust and spread evenly with a spatula.
Top with remaining whipped cream and decorate with chocolate shavings or mini chocolate chips.
You should be able to serve almost immediately. If you want to, you can refrigerate the chocolate cream pie for 30-60 minutes before serving, but the filling should be thick enough that it doesn't necessarily need that time to set up. Enjoy!
Notes
For frozen pie crust, bake empty shell according to directions on package.
For homemade chocolate pudding, refrigerate pie for 4+ hours after assembling.
For chocolate curls, follow this tutorial.
For Cool Whip: Thaw frozen whipped topping in the fridge overnight before use.
Recommended Products
As an Amazon Associate and member of other affiliate programs, I earn from qualifying purchases.
Nutrition Information:
Yield: 8
Serving Size: 1/8
Amount Per Serving:
Calories: 331
Total Fat: 20g
Saturated Fat: 12g
Trans Fat: 1g
Unsaturated Fat: 7g
Cholesterol: 57mg
Sodium: 268mg
Carbohydrates: 33g
Fiber: 1g
Sugar: 12g
Protein: 6g
This data was provided and calculated by Nutritionix, and is an estimation only.
*Originally published 9/7/12.