Strawberry Greek Yogurt Tart
This post may contain affiliate links, meaning that I may receive a commission at no cost to you if you use a link provided. All opinions shared are my own. You can review my full disclosure policy here.
This Strawberry Greek Yogurt Tart is a delicious and healthy Valentine's Day dessert! It's even healthy enough to eat for breakfast too!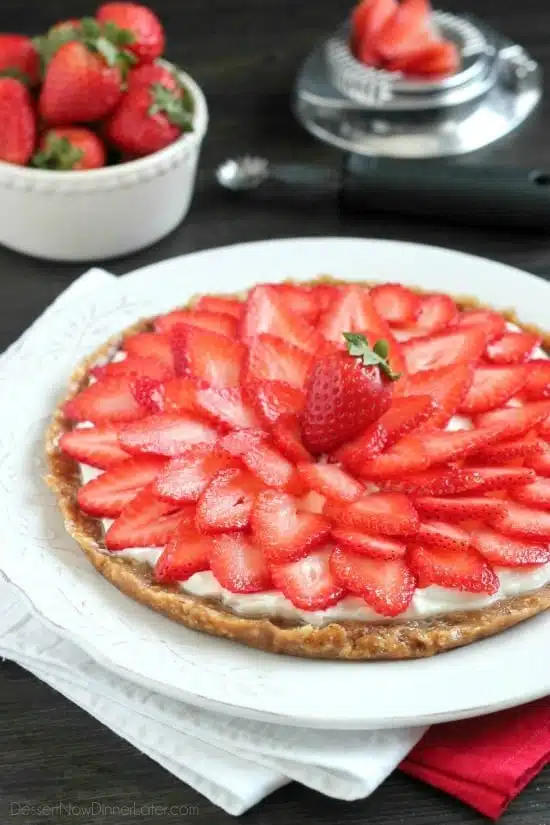 I love how a new year helps a big majority of us get back on track with our eating habits. I know I have started over with the new year, so there is no way I'm about to go and screw that up. You might be wondering though, how in the world this Strawberry Greek Yogurt Tart fits into the healthy food category, but stay with me! This dessert is deceiving! Yep! It's gorgeous on the eyes, but easy on the waistline. It's even healthy enough to eat for breakfast!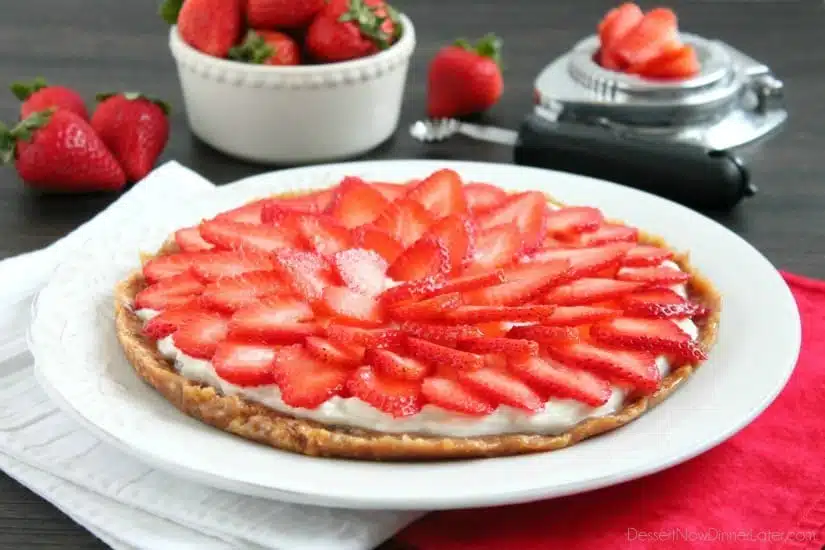 The crust, is two ingredients. Yes, two, and they are healthy whole foods to boot! Want to know what they are?! Cashews and dates. Yep! It's easy peasy to put together and surprisingly tasty, to non-health food eaters like me.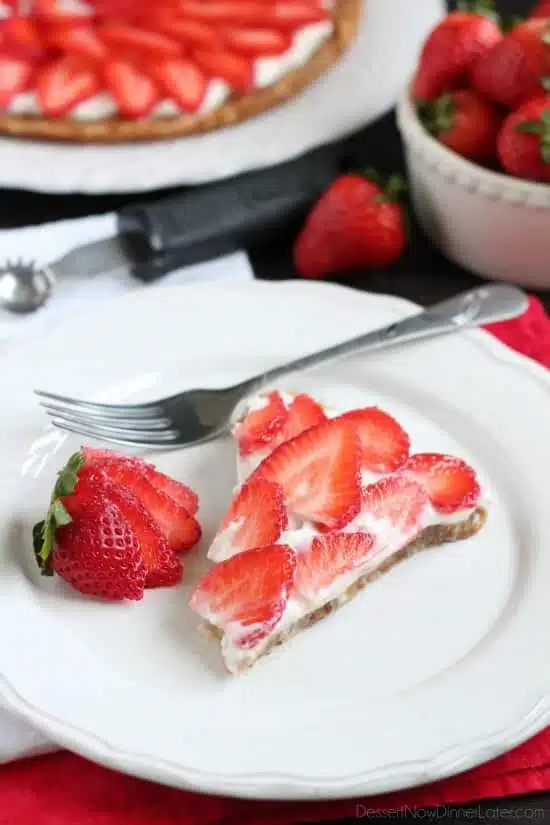 On top of that amazing two-ingredient crust is a layer of honey Greek yogurt. I used our favorite brand of full fat Greek Yogurt, The Greek Gods, because it doesn't release as much liquid (whey) as other nonfat Greek yogurts, which will help everything stay intact better for this no-bake breakfast dessert.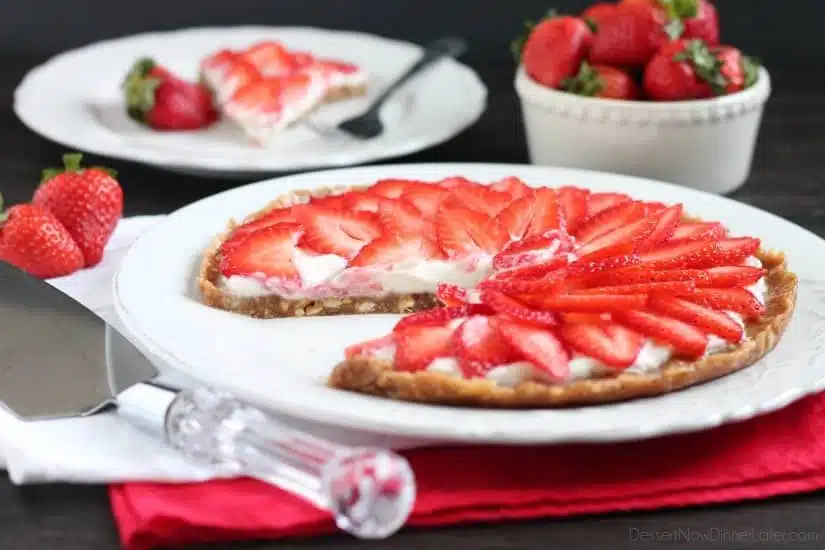 After that, all you need to do is assemble a pretty layer of sliced strawberries and you are ready to eat! My trick with the strawberries, for nice even slices, is to use an egg slicer to slice your strawberries. Make sure you use slightly firm, yet ripe strawberries. If they are too hard, they may break your egg slicer, and if they are too mushy they will turn into a mushed up mess.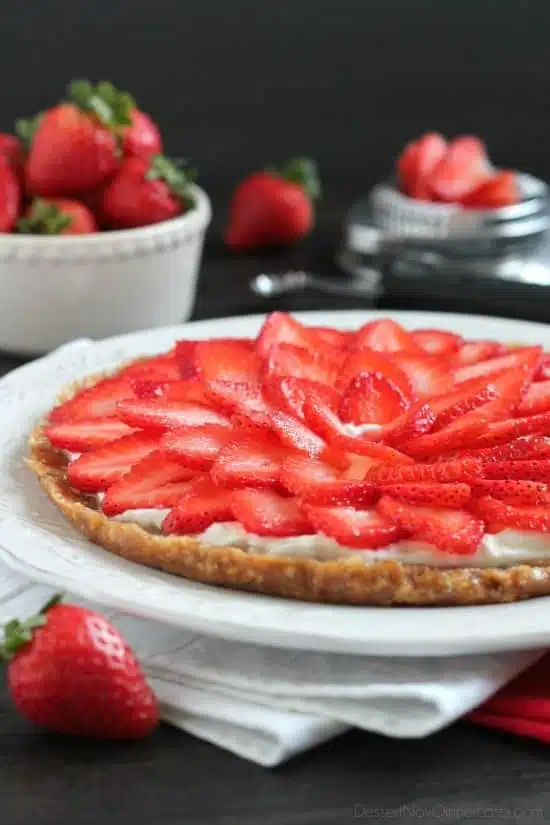 I like to layer the strawberries from the outside, in toward the middle for a "rose" or "flower" effect. It sure is gosh darn pretty! Which, makes this dessert a great one to share with your loved one for Valentine's Day, without going crazy on the sugar. We would like to keep our new year's resolutions after all, right? Right.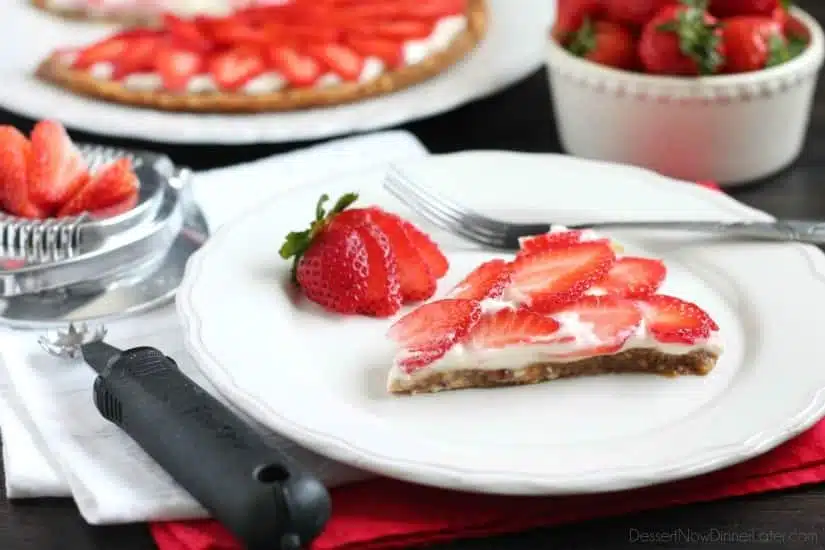 My kids could not get enough of this breakfast/dessert. We pretty much sat down and ate half of the tart in one sitting. Whoops! Haha. Thank goodness it's got better-for-you ingredients in it. This is my contributor post for Super Healthy Kids this month. Go check it out!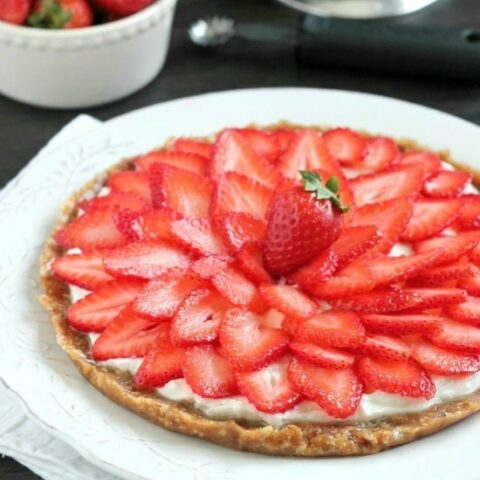 Strawberry Greek Yogurt Tart
This Strawberry Greek Yogurt Tart is a delicious and healthy Valentine's Day dessert! It's even healthy enough to eat for breakfast too!
Ingredients
1 1/2 cups cashews
15 dates
1 cup honey or vanilla Greek yogurt
1/2 lb strawberries, hulled and sliced
Instructions
Soak dates in warm water for 10 to 15 minutes or until softened. Drain and cut dates in half. Set aside.
Pulse cashews in a food processor until small pieces. Add dates and pulse/blend until mixture comes together, scraping as needed. Do not over-mix because the cashews will release their oils and make it really pasty and soft.
Line a 9-inch cake pan with parchment paper. (Tip: Spray some cooking spray on the bottom of the pan to hold the parchment paper in place.) Press the crust into the bottom of the pan as evenly as possible. Freeze for 1 hour. Remove the crust from the freezer and peel the crust off of the parchment paper. Set the crust on a large plate.
Spread Greek yogurt over the center of the crust and almost to the edges.
Rinse, hull and dry strawberries. Slice strawberries thinly with a knife or use an egg slicer for thin, even slices. Layer the strawberries from the edge of the tart in towards the middle, working your way around the circle. Slice and serve immediately for best results. Cover and refrigerate any leftovers.
Notes
Recipe lightly altered from
Sally's Baking Addiction
*Try substituting ⅔ cup of raisins or dried cranberries in place of the dates. (You'll still need to soak them in warm water first.)
Nutrition Information:
Amount Per Serving:
Unsaturated Fat: 0g
Recipe added 3/7/16. Also seen on Super Healthy Kids.