Garlic Cheese Sticks with Marinara
This post may contain affiliate links, meaning that I may receive a commission at no cost to you if you use a link provided. All opinions shared are my own. You can review my full disclosure policy here.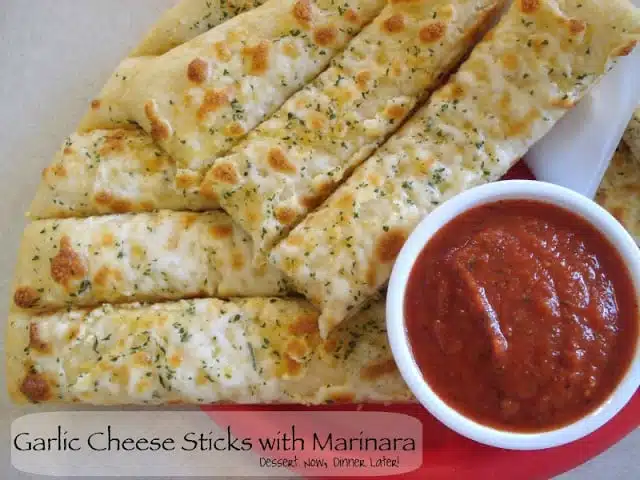 I am not a football kind of gal, but I know the Superbowl is coming up & a lot of people get together for that, so I thought I better share something to eat since I totally flaked out last year on some good party grub.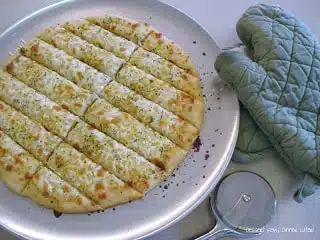 This is totally a man's type of snack. My husband even asked around his office what kind of recipe the men would like to make for the Superbowl. The census was in & these Garlic Cheese Sticks won! Now the homemade marinara is optional, because obviously if the wife is not fixing the snacks, & the husband is, we want something simple for him to do right? So opening up & heating a can of your favorite spaghetti sauce is acceptable, but I do have to say that the sauce is fairly quick & easy & freezes well too, so you might consider it.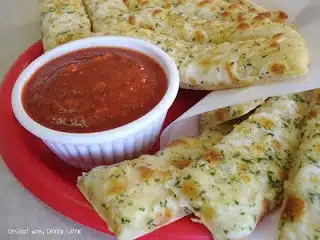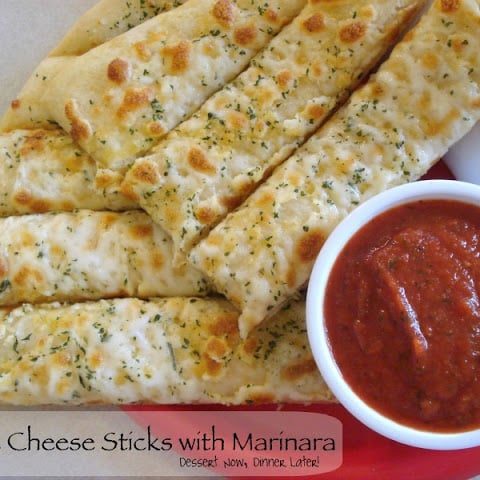 Garlic Cheese Sticks with Marinara
Ingredients
Garlic Cheese Sticks
3/4 cup warm water
1/2 Tbsp yeast
1 Tbsp sugar
1/2 tsp salt
1 1/2 cups flour, plus extra for dusting
2 Tbsp margarine, softened
3/4 tsp garlic powder
1/2 tsp kosher salt
1/2 tsp parsley
1 cup mozzarella
Marinara
1 Tbsp Extra Virgin Olive Oil
1/3 cup onion, finely chopped
3 cloves garlic, minced
1/2 cup chicken or vegetable broth
1 (28oz) can crushed tomatoes
1 (6oz) can tomato paste
1 tsp dried oregano
1 tsp dried basil
1 tsp kosher salt
1/4 tsp ground black pepper
1 Tbsp dried parsley
1 Tbsp sugar (to cut the acidity of the tomatoes)
Instructions
In a medium sized bowl, dissolve yeast & sugar into warm water. Let mixture sit 5 minutes until it bubbles up.
Add ½ tsp salt & 1½ cups flour. Using a spoon give 50 good stirs until the mixture balls up & doesn't stick to the bowl, sprinkling dough with extra flour as necessary. Take dough out of bowl. Spray the inside of the bowl & put the dough back in. Cover with a towel & let rise for 30 minutes or until double in size.
Meanwhile prepare the marinara: Heat oil in a large saucepan. Saute onion & garlic 1-2 minutes or until soft & fragrant. De-glaze pan with chicken broth. Add crushed tomatoes, tomato paste, oregano, basil, kosher salt, pepper, parsley & sugar. Stir & let simmer for 30 minutes.
Spray a pizza pan with pan-coating & turn the dough out onto the greased pan. Sprinkle the top with a dusting of flour & roll the dough out into a circle, like pizza crust about ¼" thin.
Spread the softened margarine on top of the dough. Sprinkle with garlic powder, kosher salt, & parsley. Then sprinkle with mozzarella cheese.
Bake at 425*F for 11-12 minutes. Remove from pan, cut in half & then in strips to form sticks to dip in your fresh marinara sauce. Enjoy!
*Freeze any leftover sauce for spaghetti later because it makes a lot!