Thai Turkey Burgers with Peanut Sauce
This post may contain affiliate links, meaning that I may receive a commission at no cost to you if you use a link provided. All opinions shared are my own. You can review my full disclosure policy here.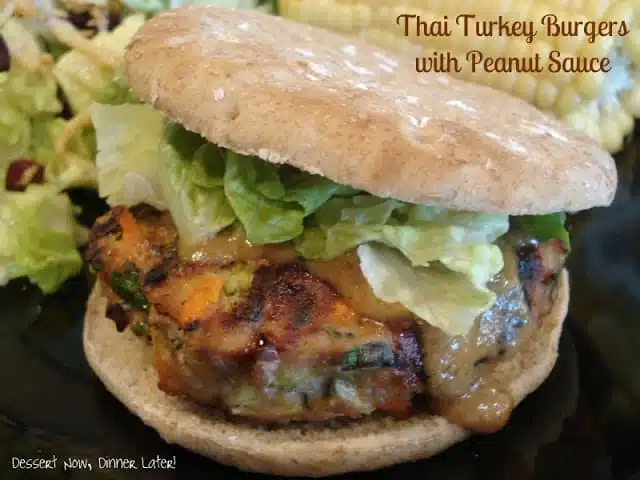 When I found this recipe I was drooling like crazy. It's not often that I find a healthy recipe that makes me jump from my seat ready to head to the store & buy everything I need to make the meal.
I am not a health nut, although I have lost 43lbs in the last 10 months even eating all the recipes I post here, but this recipe for sure had potential to be amazingly flavorful with the added bonus of being healthy.
These burgers did not disappoint at all! I am talking a hearty burger with amazing texture from the vegetables, nutty-smooth peanut sauce with a hint of spicy heat from the sriracha. These burgers are bold & filling. I didn't even miss the ground beef. They are that good!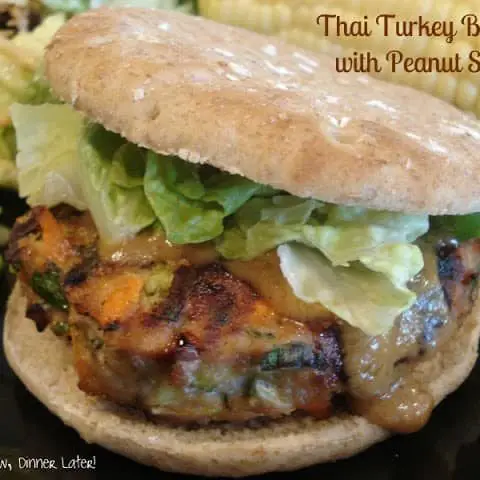 Thai Turkey Burgers with Peanut Sauce
Ingredients
For the Burgers:
1 lb lean ground turkey breast (I only used 3/4 lb, but I only made 3 patties)
1/2 cup shredded carrot
1/2 cup finely chopped broccoli
3 Tbsp chopped cilantro
2 green onions, sliced
1/2 tsp salt
1/4 tsp red pepper flakes
1/8 tsp ground black pepper
Sandwich Thins
Crisp lettuce, or spinach leaves
For the Peanut Sauce:
3 Tbsp smooth peanut butter
1 Tbsp rice vinegar
1 Tbsp reduced-sodium soy sauce
1 Tbsp water
1 clove garlic
1 tsp sesame oil
1/2 tsp hot chili sauce (sriracha)
1 tsp honey
1/4 tsp ground ginger
Instructions
Create peanut sauce by combining peanut butter, rice vinegar, soy sauce, water, garlic, sesame oil, sriracha, honey & ground ginger in a food processor or blender. Blend until very smooth. Reserve 2 Tbsp + 2 tsp & set aside.
Combine remaining peanut sauce with turkey, carrots, broccoli, cilantro, green onions, salt, red pepper flakes, & black pepper in a large bowl. Mix well & form into 4 patties (if using 1lb of turkey.)
Heat a large skillet over medium-high heat & spray with non-stick spray. Cook patties for 3-4 minutes on one side, then spray the top with more non-stick spray, flip & cook 3-4 minutes more or until burgers are no longer pink in the middle. (*May grill on an outdoor grill, but make sure that grill rack is heavily oiled.)
Place a burger patty on each bun & top with 2 teaspoons of the reserved peanut sauce. Add lettuce or baby spinach for crunch & serve.