Creamy Chicken and Corn Chowder (+10 More Scrumptious Soups!)
This post may contain affiliate links, meaning that I may receive a commission at no cost to you if you use a link provided. All opinions shared are my own. You can review my full disclosure policy here.
This Creamy Chicken and Corn Chowder is hearty and comforting with generous helpings of chicken, corn, bacon, green onions, potatoes and a slight kick of jalapeño.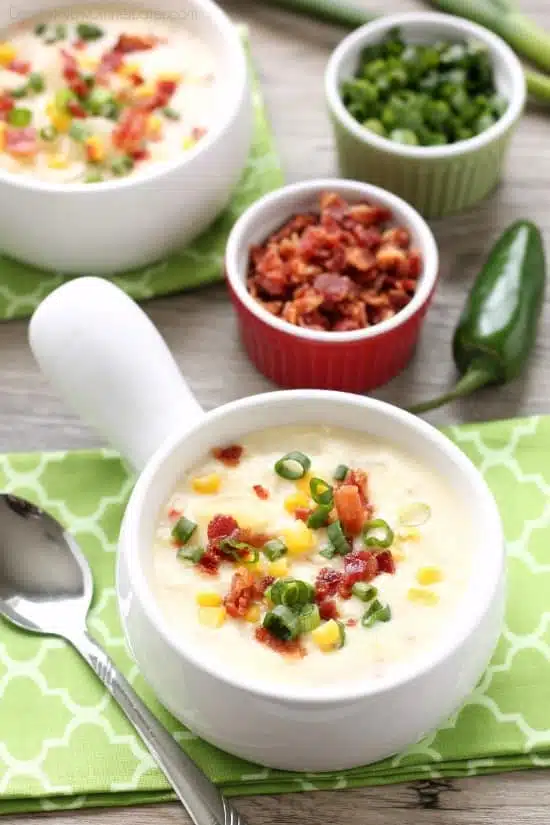 This month's food holiday spotlight is National Homemade Soup Day and we are making corn chowder! This is probably one of my favorite food holidays (celebrating soup)! Okay, let's be honest, any food holiday is my favorite, unless it's like seafood or mushrooms. Bleh! Now you know a little more about me, haha. Here's something else you may not know. When I was in high school, I went to an applied technology college (ATC) to test out the culinary program there before I decided if that was something I wanted to do or not.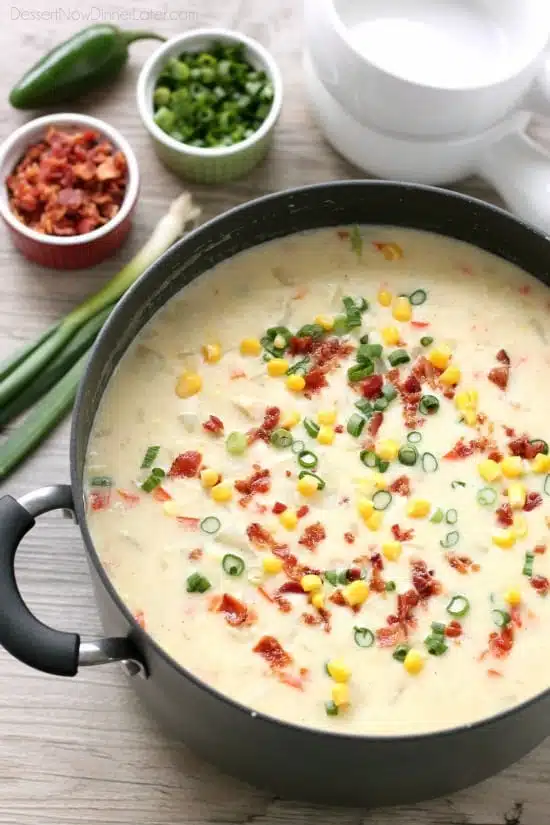 One of my daily tasks at the ATC was making soup for the cafeteria, so I got REALLY good at making soup. Plus, soup is one of my favorite things to eat. I don't make wimpy, brothy soups though. They need to have some heartiness to them. I want to be full after I eat my soup!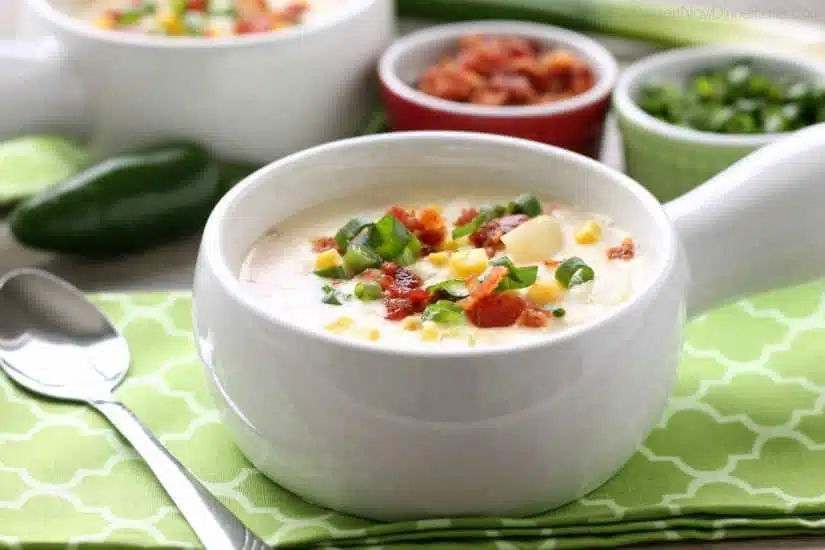 My education at the ATC was more like a job than a culinary program. We were the college cafeteria, but everything we learned was hands on, so it was still fun. Anyway, one of my favorite soups that I made at the ATC was this Chicken Mulligitawny Soup, which is a creamy chicken soup with apples and curry. It's so unique and has a sweet and savory theme going on. Yum!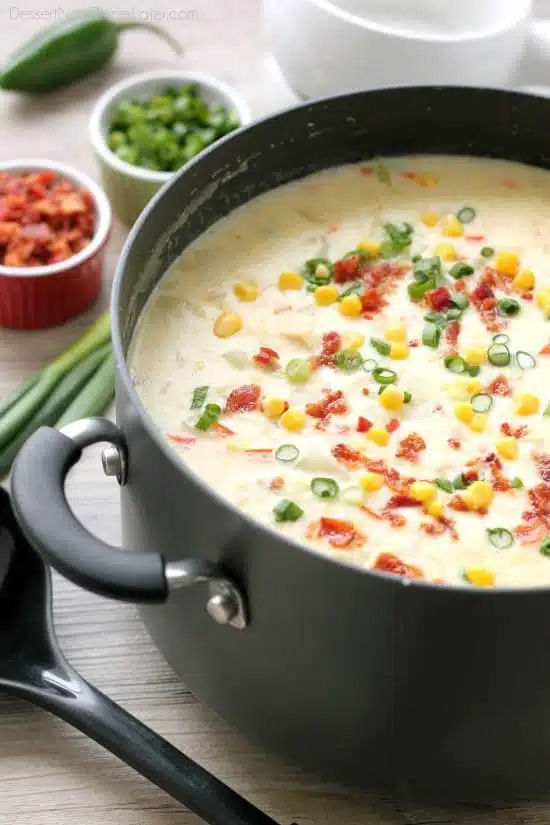 I hope you take the chance to check out all of the soups on my blog, but let's get to talking about today's recipe. Cream soups are my absolute favorite, and this corn chowder is comfort food to the max! It has chicken, bacon, potatoes, corn, and green onions. Oh! And a jalapeño pepper for a little kick after every bite. It's not too spicy, but you can certainly add more if you like it spicy though!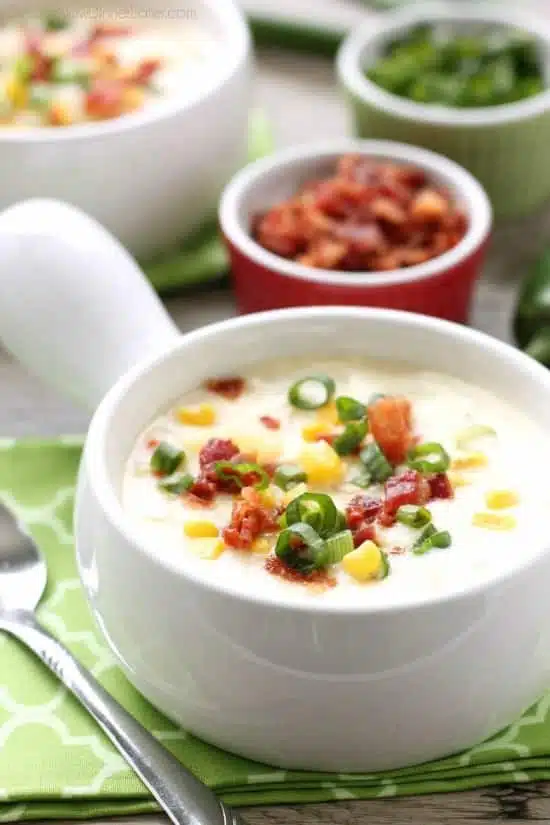 Can I just say anything with bacon has my name all over it. I use the bacon fat to cook my chicken in too. Hey! It's either that, oil, or butter. I pick bacon fat when I have it! My, oh my! You are going to love this! It makes a lot, so be hungry or share with friends. Enjoy, and be sure to check out the other 10 soup recipes below!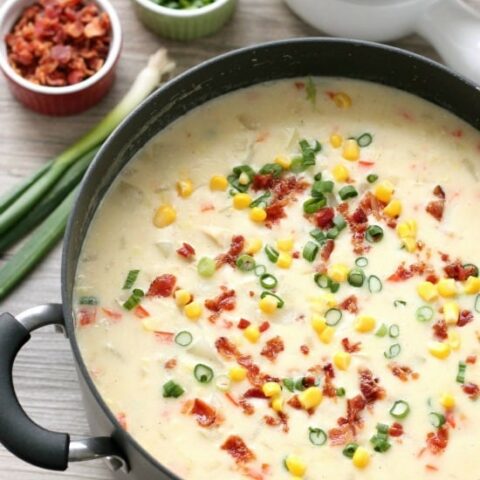 Creamy Chicken and Corn Chowder
This Creamy Chicken and Corn Chowder is hearty and comforting with generous helpings of chicken, corn, bacon, green onions, potatoes and a slight kick of jalapeño.
Ingredients
8 slices of bacon
1/4 cup bacon fat or butter
1 pound boneless skinless chicken breasts, cubed (about 2 or 3 breasts)
1 red bell pepper, diced
1 jalapeño pepper (remove seeds for less heat, or keep them for more heat)
1 yellow onion, diced
2 tsp minced garlic, about 4 cloves
1/2 cup flour
6 cups chicken broth
3 russet potatoes, peeled, and diced into 1-inch pieces
2 bay leaves
salt and pepper, to taste
1 (16oz) bag frozen corn
2 cups (1 pint) half & half
3 or 4 green onions, sliced
*cornstarch slurry, if needed (1 Tbsp cornstarch + 1 Tbsp COLD water)
Instructions
Cook bacon until crisp and save ¼ cup of the fat. Allow bacon to cool, the crumble or chop into small pieces.
Heat the bacon fat in a large stock pot (add butter if you don't have enough bacon fat, but you should have plenty). Add the cubed chicken breasts and cook until almost done. Add the peppers, onion, and garlic. Cook until vegetables are soft about 5 to 7 minutes.
Add the flour to the vegetables and cook for 2 minutes.
Slowly stir in the chicken broth. Add the potatoes and bay leaves. Season to taste with salt and pepper. Simmer for 10 minutes.
Stir in the corn and half & half. Simmer an additional 10 to 15 minutes until thick and creamy. If you want it slightly thicker, you can add a cornstarch slurry, if needed. Whisk 1 Tbsp of cornstarch with 1 Tbsp of COLD water, and then stir it into the boiling soup.
Add the crumbled bacon and sliced green onions. Check and fix seasonings, if needed. Serve hot. Enjoy!
Recommended Products
As an Amazon Associate and member of other affiliate programs, I earn from qualifying purchases.
Nutrition Information:
Yield: 16
Serving Size: 1 cup
Amount Per Serving:
Calories: 180
Total Fat: 7g
Saturated Fat: 3g
Trans Fat: 0g
Unsaturated Fat: 4g
Cholesterol: 37mg
Sodium: 501mg
Carbohydrates: 15g
Fiber: 2g
Sugar: 2g
Protein: 13g
This data was provided and calculated by Nutritionix, and is an estimation only.