Chicken Parmesan Meatballs with Noodles
This post may contain affiliate links, meaning that I may receive a commission at no cost to you if you use a link provided. All opinions shared are my own. You can review my full disclosure policy here.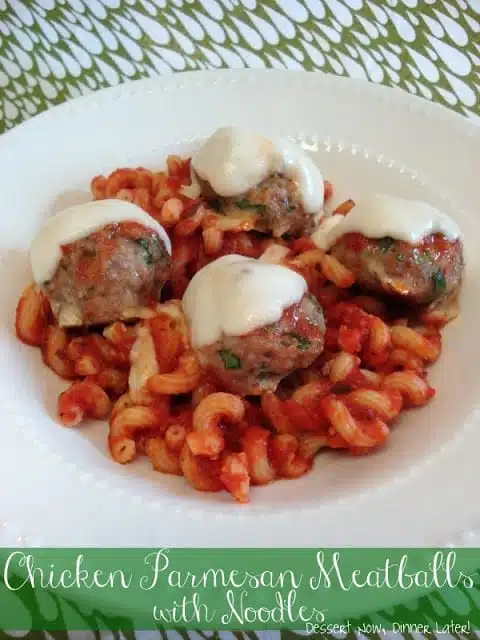 I have had this recipe idea on the backburner for a while now & I have finally gotten to it. What a meal! The meatballs tasted like Italian sausage thanks to the fennel & I am crazy about fresh mozzarella, so this was pretty much heaven in one bite! I was actually surprised with how quick it was to put together. It's like making spaghetti with just 15 extra minutes of prep/cook time. Basically a 30 minute meal! As long as you get all your ingredients together it flows so quickly. I will even share a few tips in the recipe for some time savers.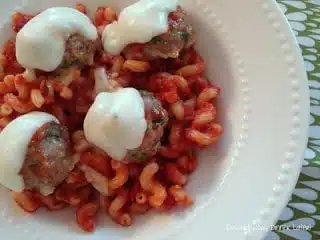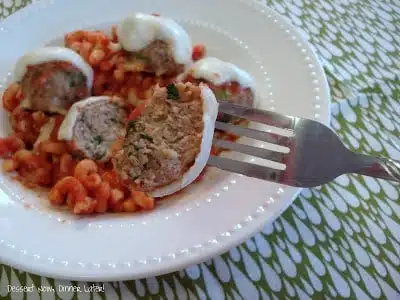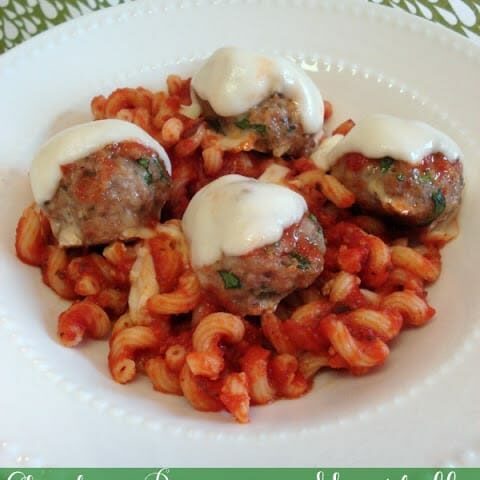 Chicken Parmesan Meatballs with Noodles
Prep Time: 10 minutes
Cook Time: 25 minutes
Total Time: 35 minutes
Yield: 20 meatballs
Ingredients
1 lb lean ground chicken or turkey
1/3 cup Progressive Italian Style Breadcrumbs
2 Tbsp onion, finely minced (I keep diced onion in the freezer for small quantities like this)
2 cloves garlic, finely minced (I also keep a container of peeled garlic cloves in the freezer; I combined the frozen onion & garlic for this recipe & used my Pampered Chef Food Chopper to finely mince them together.)
1/3 cup spinach leaves, chiffonade
1/3 cup shredded parmesan
1 tsp dried parsley
1 tsp fennel seeds
1 1/4 tsp kosher salt
1/2 tsp ground black pepper
1 medium egg, whisked
2 1/2 Tbsp extra virgin olive oil
1 (24oz) jar marinara sauce
6-12 oz fresh mozzarella (depending on desired amount of cheese)
2 cups fusilli pasta (about 6.5-7oz noodles)
Instructions
Pre-heat oven to 400*F, setting rack to the upper third part of the oven.
In a large bowl, gently mix together the ground chicken/turkey, breadcrumbs, onion, garlic, spinach, parmesan, parsley, fennel, salt, pepper, & egg.
Shape into 2 tablespoonful sized balls. I use a slightly heaping #50 cookie scoop. Place shaped balls a few inches apart from each other on a foil-lined baking sheet that has been lightly greased with cooking spray.
In a small bowl, mix 2 Tbsp of spaghetti sauce with 2½ Tbsp extra virgin olive oil. Brush the tops of the meatballs. Bake for 15 minutes.
Meanwhile boil some water for your pasta. Cook according to directions on package. (My fusilli pasta takes about 9 minutes.)
Remove meatballs from oven, spoon some extra sauce on top of each meatball & cover with a slice of fresh mozzarella. (I used a "pre-sliced" mozzarella, but it was kind of thick, so slice it thinner if you want it to be healthier.) Broil for another 2-5 minutes until cheese is bubbly & melted.
Drain pasta once it is finished cooking. Add remaining sauce from jar & stir. Serve the pasta with a few meatballs on top. Enjoy!
Nutrition Information:
Yield: 5 servings
Serving Size: 4 meatballs
Amount Per Serving:
Unsaturated Fat: 0g
Recipe adapted from Dinner A Love Story