Chicken Cordon Bleu Crescents
This post may contain affiliate links, meaning that I may receive a commission at no cost to you if you use a link provided. All opinions shared are my own. You can review my full disclosure policy here.
I am not sure if you noticed, but I am a fan of Chicken Cordon Bleu…I will take it in any form I can get it! This was another smashing cordon bleu success amongst my family. My kids are picky too, but they ate this with no problems at all. I don't know if it's because they could pick it up & eat it like a sandwich, or if they loved the honey dijon dipping sauce, but I don't care because they ate it all gone & that's all I care about!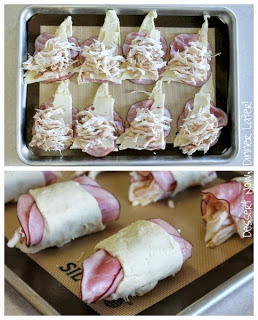 I enjoyed the ease of preparation along with crispy crust of the crescent dough that hugged the ham, chicken & swiss inside. This one's going in the dinner rotation! Enjoy! This is also a smart dish to use up your leftover turkey from Thanksgiving…you can call it Turkey Cordon Blue Crescents!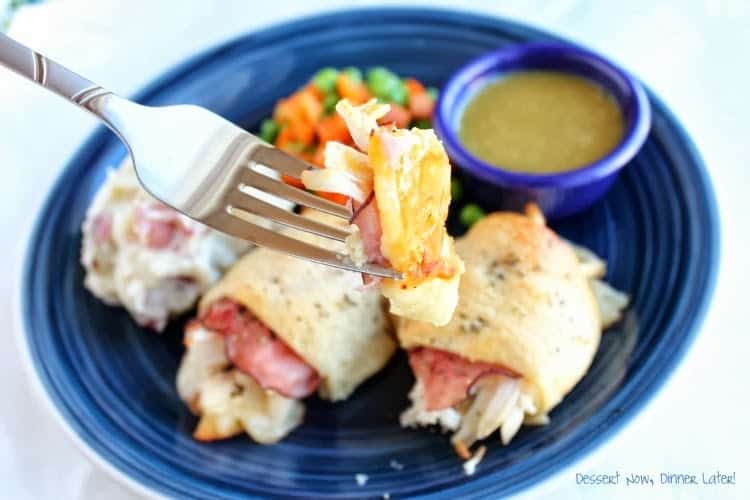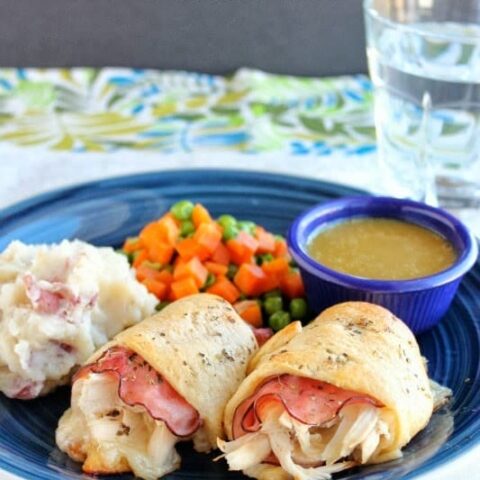 Chicken Cordon Bleu Crescents
Ingredients
1 can of light crescent rolls
16 slices of deli-thin black forest ham
8 slices of swiss cheese
1 1/2 to 2 cups shredded rotisserie chicken
Italian seasoning, to sprinkle on top
2 Tbsp honey
2 Tbsp dijon mustard
Instructions
Open the can of crescent rolls & line the 8 triangles evenly in two rows of four on a baking sheet with a silicone baking mat. You may use parchment paper or lightly grease the pan if you don't have a silicone mat.
Layer two slices of ham, 1 slice of cheese folded in half diagonally, then a ¼ cup (small helping) of shredded chicken on top. Starting at the fat end of the triangle, roll the crescent dough around all the fillings as tight as you can & continue rolling to the point of the triangle. Keep the point of the triangle underneath the roll so everything stays inside during baking. Sprinkle the tops with a little bit of Italian seasoning.
Bake at 375?F for 18-20 minutes or until lightly browned & the inside reaches 165?F. Brush with butter fresh out of the oven.
Mix honey & dijon mustard in a dish. Serve on the side, if desired.
Nutrition Information:
Yield: 8
Amount Per Serving:
Unsaturated Fat: 0g