Grilled Buffalo Chicken Pizza
This post may contain affiliate links, meaning that I may receive a commission at no cost to you if you use a link provided. All opinions shared are my own. You can review my full disclosure policy here.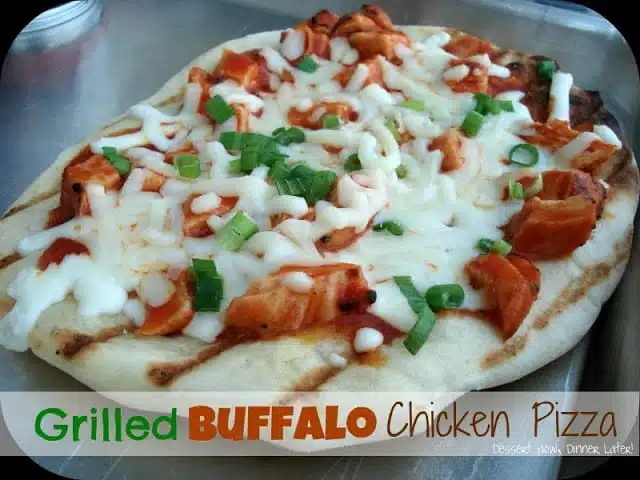 I guess I have been hiding in a bush or something because I hadn't really heard of grilling pizza until the beginning of this summer, & even then I hadn't met anyone who had actually done it. But then, I found this great tutorial from one of my favorite food blogs, Our Best Bites, & I knew I had to try it! It was easy & fool proof. Really!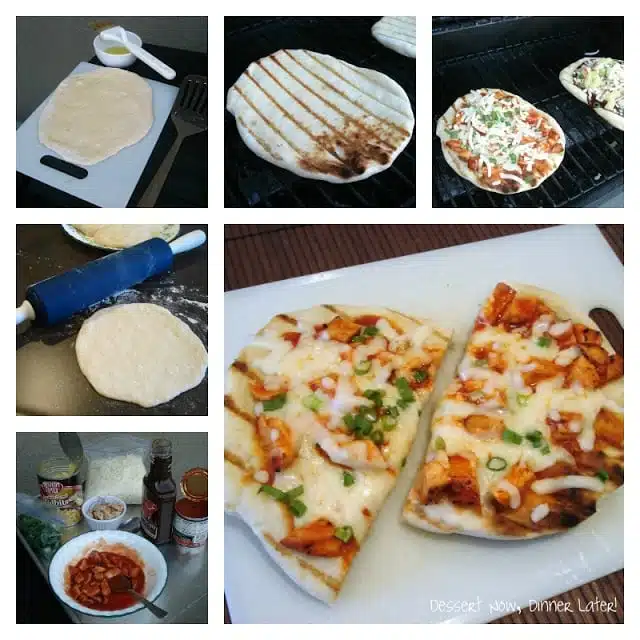 I was so worried I would have dough sliding through the grates & everything would stick, but the crust puffed up beautifully & it was so crispy & light, I am absolutely in love with grilled pizza! You can basically do any concoction that you like, but my husband loves buffalo chicken & I thought it would be fun to make that into pizza for him. School might be back in, but it's still grilling weather! Try grilled pizza tonight & find out how good it is for yourself.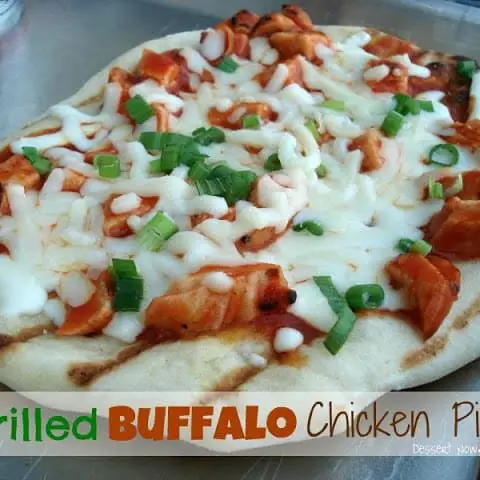 Grilled Buffalo Chicken Pizza
Ingredients
Crust:
1 recipe Easy Pizza Crust (link in instructions below)
Extra Virgin Olive Oil
Chicken:
Chicken Breasts (1 or 2)
Any seasoning for chicken; I used Mrs. Dash Southwest Chipotle
Toppings:
Shredded mozzarella cheese
Sliced green onions
Sauce:
6 Tbsp tomato sauce
4 1/2 Tbsp Frank's Buffalo Wing Sauce
1 Tbsp worcestershire sauce
Instructions
Prepare pizza crust. Allow to rest before dividing into 3 separate portions. Then allow to rest again before grilling. (I actually made this dough early in the day. Split it into thirds & then sprayed the tops with pan spray, covered it with plastic wrap & let it rest in the fridge until we were ready to grill.)
Prepare buffalo sauce by combining tomato sauce, wing sauce & worcestershire sauce in a large bowl. Set aside.
Preheat grill. Season chicken breasts with desired seasonings, & grill until no longer pink inside; if you cut them in half width wise (like butterflying them) it will take about 3-4 minutes on each side. Scrape grill clean. Dice up chicken, toss in bowl with buffalo sauce & place all other prepped ingredients on a tray so they're ready to go and easily accessible.
Roll out each piece of pizza dough on a floured surface to about ⅓ of an inch thick. Lightly brush with oil.
Make sure grill grates are clean, and lightly grease them. (Tip: An easy way to grease grill grates is to dip a few folded paper towels in vegetable oil and use a pair of tongs to hold them and lightly rub them along grill grates.) Place dough oil-side down on grill. Lower heat just a bit and close the lid. Cook for a 2-3 minutes, checking for the dough to look puffed, and golden brown on the bottom. Lightly brush top side of dough and flip.
Immediately top with the chicken & buffalo sauce mixture. Sprinkle cheese & green onions on top & quickly close the lid. (Turning off the heat now, is a good idea, if you don't have any more pizzas to make. If you do have more pizzas to grill, just make sure the heat is turned down.) Cook for a few more minutes until crust is cooked and toppings are melted and bubbly. If bottom crust is getting too done, place on top rack, or as stated before, turn off heat directly under pizza to let center of dough and toppings continue to cook. (If needed, you can always pop pizzas under the broiler to brown tops.) Enjoy!