Apple Cinnamon Pancakes (+ more pancake recipes)
This post may contain affiliate links, meaning that I may receive a commission at no cost to you if you use a link provided. All opinions shared are my own. You can review my full disclosure policy here.
Real apple pieces and a hearty helping of cinnamon turn regular pancakes into these simple, yet special Apple Cinnamon Pancakes.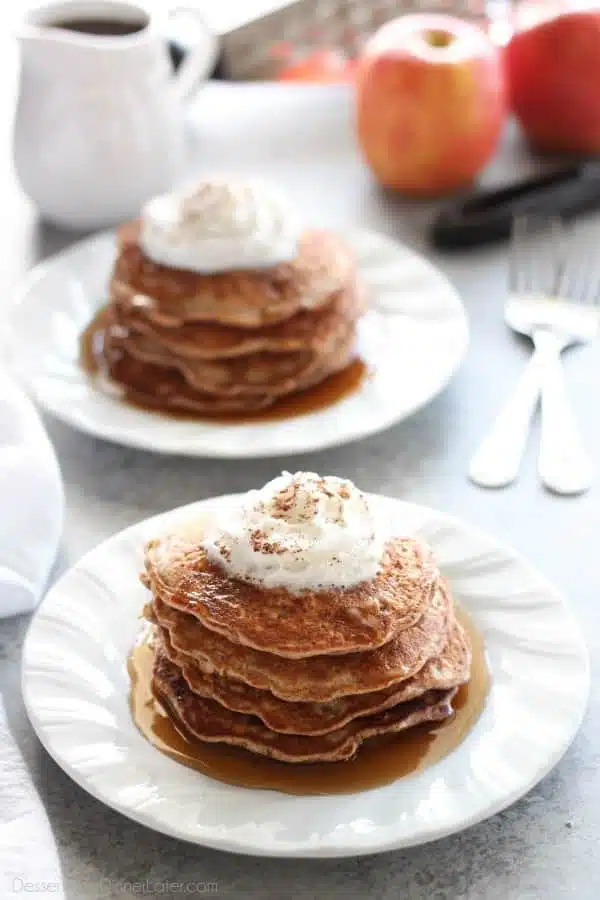 Sometimes I am a really nice mom and I make something new and exciting for my kids to eat for breakfast, like these apple cinnamon pancakes. I guess this was one of those days that I was feeling like being the "cool mom." Haha.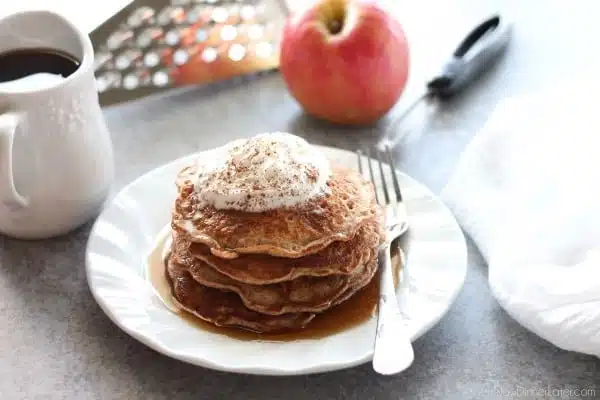 I was in a fruity pancake mood, and I immediately thought of "banana pancakes," but I've heard mixed reviews on those. You know the ones with just bananas and eggs? Yeah, so I decided to go the safe route and just do a simple pancake recipe with the addition of apples and cinnamon. Since I love fruit with my pancakes, I figured these apple cinnamon pancakes would be a tasty idea, and it worked out well.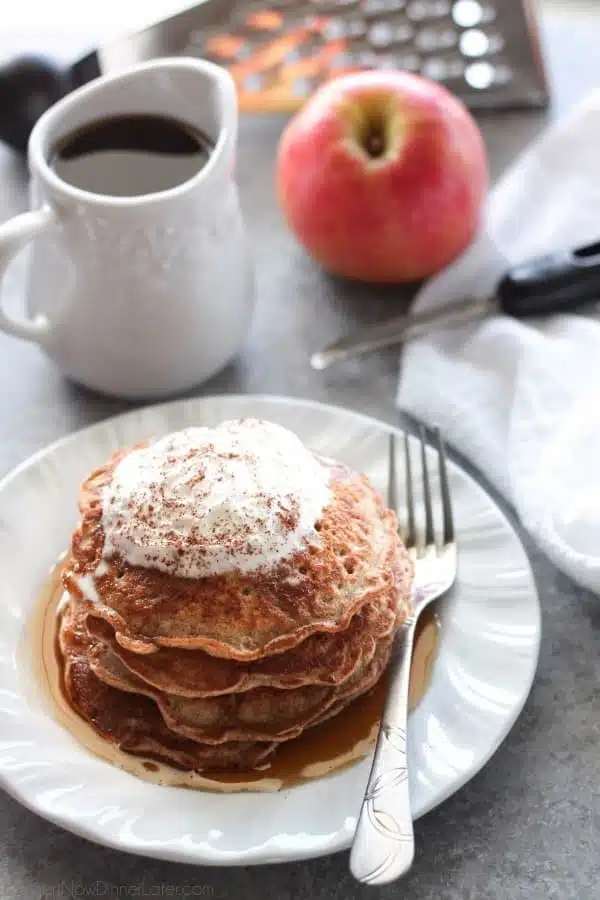 I wanted pieces of real fruit in my apple cinnamon pancakes, so I grated an apple and used apple juice instead of milk to help enhance the apple flavor. The pieces of shredded apple aren't so thick that it ruins the texture of the pancake, but they are distinct enough to know that they come from an apple. (I actually made this recipe twice. The first time, I followed this recipe and they didn't turn out to our liking, so I revised the recipe and came up with my own version, which we liked much better.)
If you didn't know, today is national pancake day. These apple cinnamon pancakes are a great way to celebrate! They are almost as quick to whip up as regular pancakes. If you want more pancake ideas, scroll through the recipes below. Enjoy!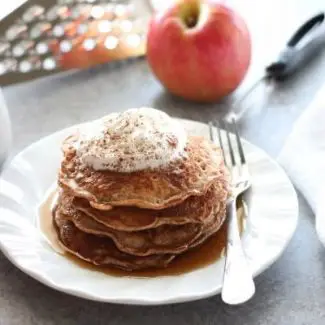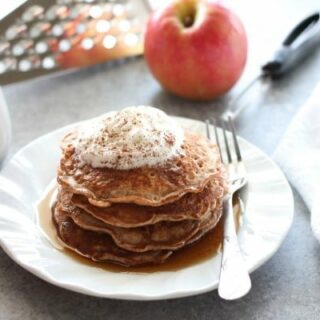 Apple Cinnamon Pancakes
Prep Time: 10 minutes
Cook Time: 5 minutes
Total Time: 15 minutes
Yield: 8 pancakes
Real apple pieces and a hearty helping of cinnamon turn regular pancakes into these simple, yet special Apple Cinnamon Pancakes.
Ingredients
1 cup all-purpose flour
2 Tbsp brown sugar, packed
1 1/2 tsp baking powder
2 tsp cinnamon
1/8 tsp nutmeg
1/2 tsp salt
1/2 cup peeled grated apple (about 1 medium apple)
1 cup apple juice
1 egg
1 Tbsp butter, melted
1 tsp vanilla
Instructions
Whisk the flour, brown sugar, baking powder, cinnamon, nutmeg and salt together in a large bowl.
Add the grated apple, apple juice, egg, butter and vanilla.
Heat a skillet or griddle to medium heat. Melt some butter or grease with cooking spray. Using a ¼-cup measure, scoop batter onto skillet or griddle. Spread/flatten the batter slightly.
Cook 2-3 minutes or until the top is bubbly, then flip the pancake over and cook until the bottom is golden brown, an additional 1-2 minutes.
Repeat with remaining batter. Makes 8 pancakes. Serve with syrup, whipped cream, or powdered sugar.
Nutrition Information:
Yield: 8
Amount Per Serving:
Unsaturated Fat: 0g
Want more Pancake Recipes??? Try these by clicking on the images below!