Cookies and Cream Popcorn
This post may contain affiliate links, meaning that I may receive a commission at no cost to you if you use a link provided. All opinions shared are my own. You can review my full disclosure policy here.
This Cookies and Cream Popcorn uses lightly salted air popped popcorn, melted white chocolate, and crushed Oreos for an addicting popcorn snack!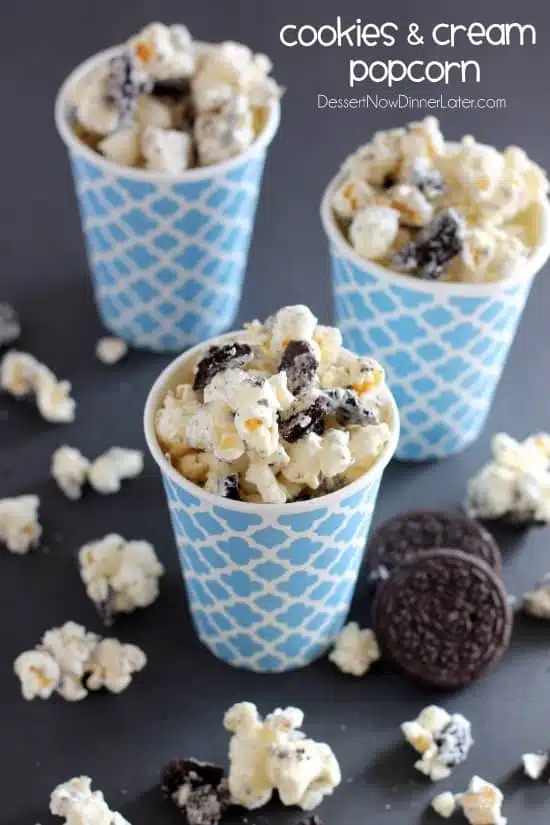 Who's obsessed with cookies and cream ANYTHING as much as I am?! Okay good! I will take Oreos any way I can get them and popcorn is one of my favorite snacks, so it only seemed right to combine the two!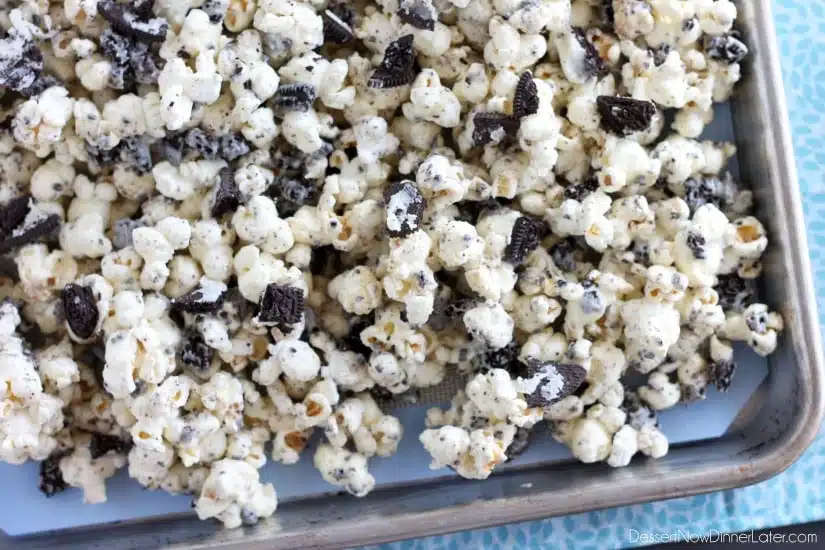 I used AIR POPPED popcorn, white chocolate chips, and of course Oreos to create this fun snack! EVERYONE who had a taste couldn't get enough! Make sure you have friends to help you eat it…ADDICTING!!!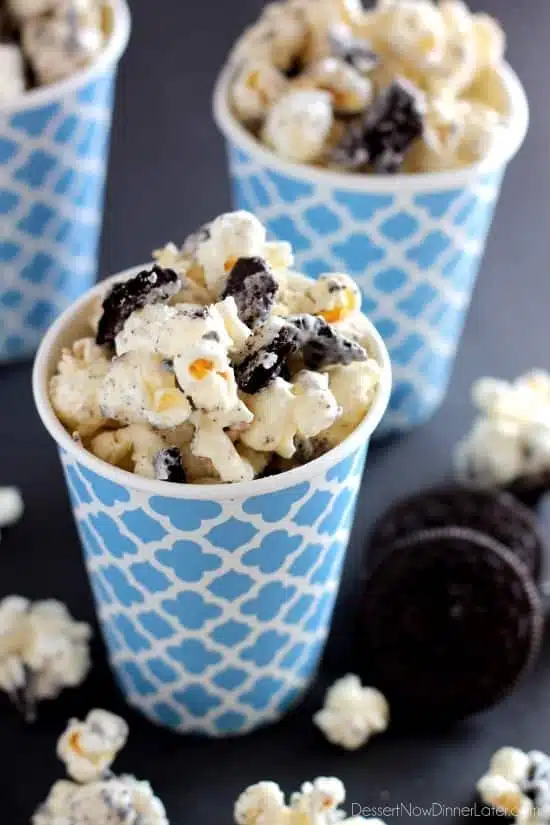 I also lightly salted the air popped corn, which balanced out the sweetness of the chocolate. Plus, I like salty-sweet things, so that's how I roll!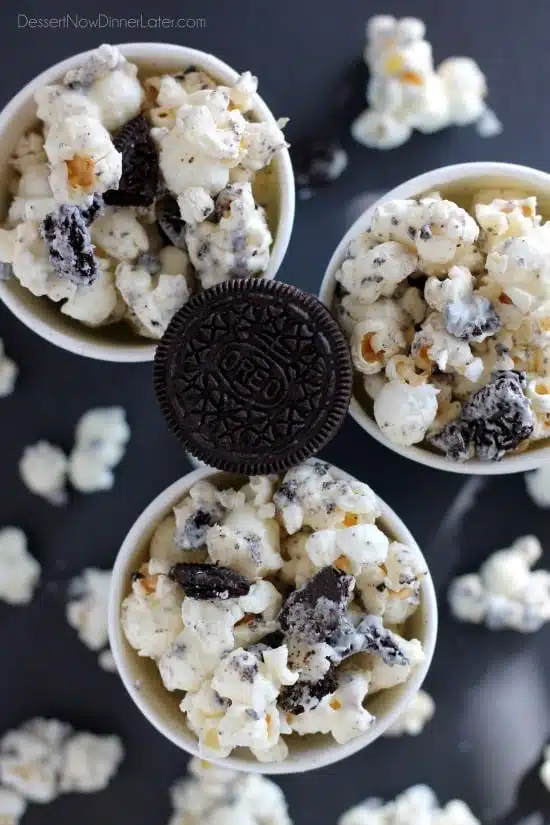 Now, you may be looking at this popcorn thinking, "I want more Oreos, it's mostly popcorn." Honey, I'm not going to judge you! I actually would have put more in, had my husband not been snacking on my stash of Oreos before I made this recipe. Good thing I love him so much! 😉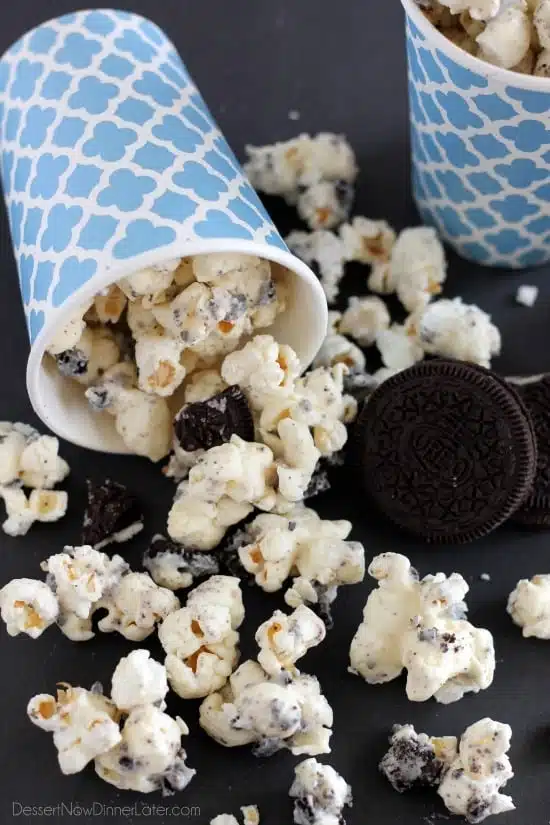 Are you ready for an easy snack that EVERYONE will love?! Make this!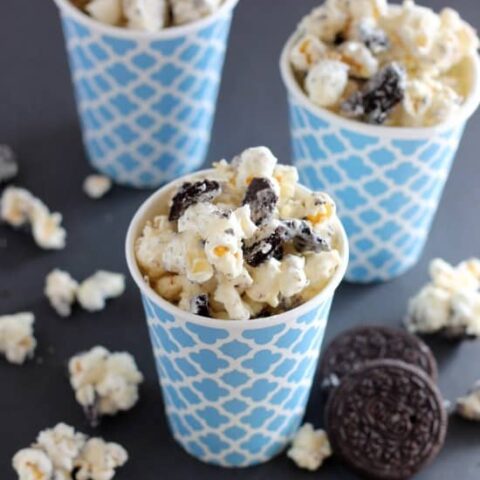 Cookies and Cream Popcorn
Ingredients
12 cups air popped popcorn (about 1/2 cup kernels, popped)
1 (11 to 12oz) bag white chocolate chips
2 tsp coconut oil or shortening, to thin chocolate
12 Oreos, crushed
Instructions
Pop the corn kernels, lightly salt, and remove un-popped kernels. Divide popcorn into 2 large bowls.
In another bowl, heat the white chocolate chips and coconut oil or shortening in the microwave for 30 seconds. Stir. Heat 30 seconds more. Stir until smooth and melted. Divide the melted white chocolate amongst both bowls of popcorn.
Divide crushed Oreos evenly amongst both bowls. I typically place my Oreos in a zip-top bag and crush them with a rolling pin, but make sure you do that before melting your chocolate so it will stick.
Fold the popcorn with a spatula until popcorn is covered evenly with the chocolate and Oreos. Spread onto a baking sheet with wax paper, a silicone baking mat, or parchment paper.
Refrigerate until chocolate hardens. Break apart and enjoy!
Nutrition Information:
Yield: 12
Amount Per Serving:
Unsaturated Fat: 0g