Blueberry Crumble Cake
This post may contain affiliate links, meaning that I may receive a commission at no cost to you if you use a link provided. All opinions shared are my own. You can review my full disclosure policy here.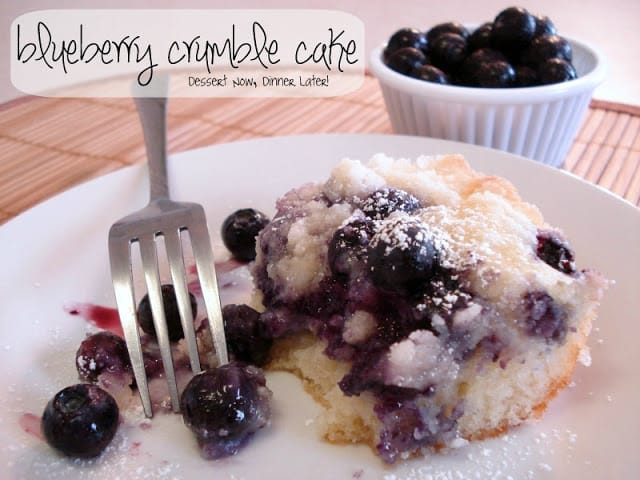 So once a month you will see this special header in my blog posts. I was invited to start a Surprise Recipe Swap with some of my blogging buddies & this is the first month for all of us! It was so exciting to get my email with the blog I will be baking/cooking from.
So this month my surprise blog is Bibi's Culinary Journey!!!
This gal has loads of recipes to choose from, it was so hard to pick one. She has some great Slovak recipes to try as well. So if you want to expand your culinary genre go take a peak & try some of the unique dishes she has to offer.
Since I have been going soup crazy & making other savory comfort foods, I decided it was time to bake something up. I haven't made anything sweet since last month's 12 days of Christmas Sweets & I am officially having sugar withdrawals.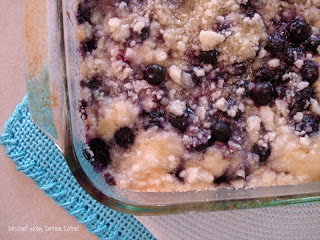 This recipe is fruity & sweet. I loved the crunchy streusel topping. The recipe made a lot of crumb topping, so if you are trying to save a few calories you might want to cut that part in half. But, if you are not trying to save calories, I can see this dish being perfect served warm with a scoop of ice cream too. Delicious! It would also be great for a summer party, & I am totally looking forward to summer already even though we have all of winter & spring to get through first. Anyway, try this cake & go visit Bibi & tell her Amber @ Dessert Now, Dinner Later! sent you!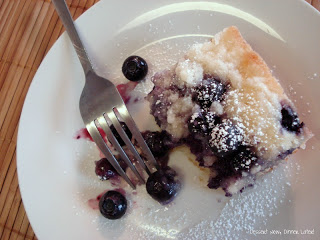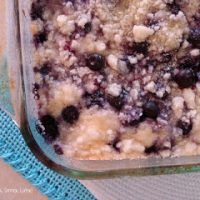 Blueberry Crumble Cake
Ingredients
Cake:
1/2 cup butter, softened
1 cup sugar (or Splenda or Equal)
2 eggs
1 tsp vanilla
2 cups flour
1/8 tsp salt
2 tsp baking powder
1 cup buttermilk (I used 1 cup milk + 1 tsp lemon juice; let sit 10 minutes before using.)
1/4 cup fine breadcrumbs (I used plain panko)
1 lbs fresh blueberries (I used 3 cups frozen)
Crumb Mixture:
1/2 cup butter, cold
1 cup sugar
1/2 cup flour
Instructions
Preheat oven to 375*F. Grease a 11x13" baking pan.
Prepare crumb mixture: In a bowl, cut up cold butter, sugar & flour. Set aside.
In a stand mixer, beat together butter & sugar until light.
Beat in eggs one at a time & add vanilla. Scrape bowl.
In a separate bowl, whisk together flour, salt & baking powder.
On medium speed, mix flour alternating with buttermilk into butter mixture.
Spread cake mix onto greased pan. Evenly coat with breadcrumbs & then top with washed blueberries.
Sprinkle the top with crumb mixture & bake for 20-35 minutes (less time if using fresh blueberries, more time if using frozen blueberries) or until the edges are brown & a toothpick comes out clean from the center. Allow cake to cool before you cut it.