Eclair Cake
This post may contain affiliate links, meaning that I may receive a commission at no cost to you if you use a link provided. All opinions shared are my own. You can review my full disclosure policy here.
A little while ago I shared a no-bake Eclair Ice Box Cake. Now, I am sharing the baked version, but this one is still just as delicious & uses simple ingredients as well. Obviously, this baked version is going to taste more like a real eclair because the "cake" is the pate choux, or the pastry dough of an eclair.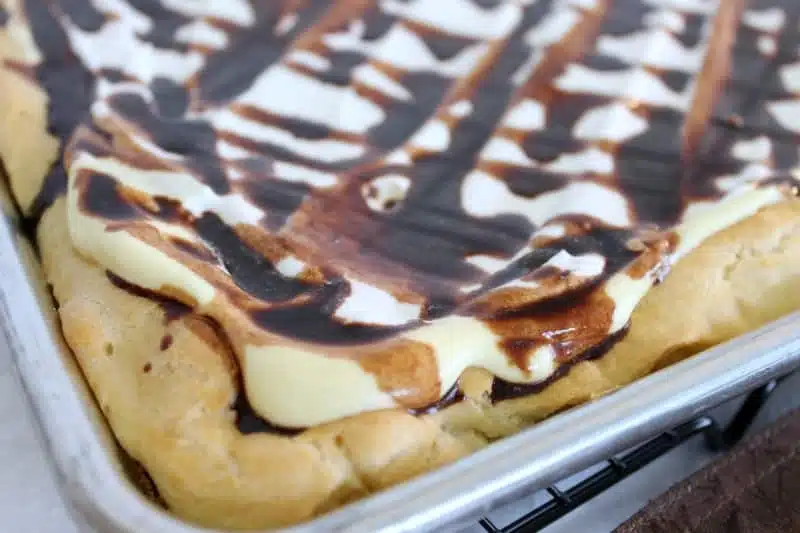 The simplicity of this cake is far better than piped eclairs, because you just spread the dough into the pan & bake it. Then layer the "pastry cream," or in this case pudding, on top. Easy! I think this cake would be fabulous with hot fudge drizzled on top in place of the chocolate sauce, but it might deflate the whipped cream a little bit…just a thought. Either way, this is a fabulous, slightly elegant dessert to serve for any gathering you can think of.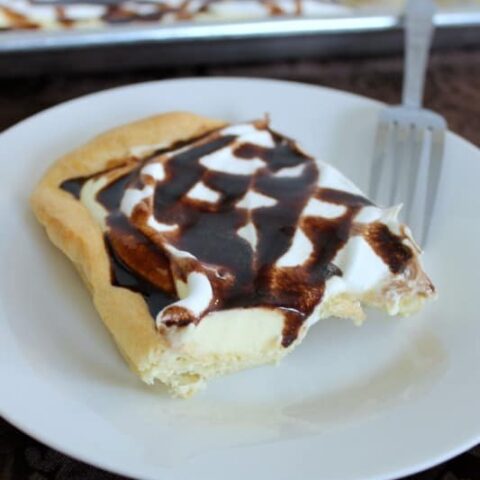 Eclair Cake
Ingredients
Pate Choux (crust):
1 cup water
1/2 cup butter, cut into tablespoons
1 Tbsp sugar
1/8 tsp salt
1/2 tsp vanilla
1 cup flour
4 large eggs
Topping:
1 (3.4oz) box French Vanilla instant pudding
1 1/2 cups cold milk
1 (8oz) tub whipped topping, divided
Chocolate Syrup
Instructions
Combine water, butter, sugar, salt & vanilla in a large saucepan. Heat until boiling & butter has melted.
Remove from heat & add flour, stir briskly with a spatula.
Using a hand mixer, quickly beat in eggs ONE at a time (so they don't scramble) beating well after each egg.
Spread dough into a lightly greased jelly roll pan. Bake at 400*F for 25 minutes. The cake should puff up (it will be bumpy & uneven) & be lightly browned & crisp to the touch.
While cake is cooling, whisk pudding & milk. Let sit in the fridge until it firms up, about 5 minutes. Fold in ⅔ of the tub of whipped topping. Spread across the cooled cake.
Spread remaining whipped topping over the pudding layer. Drizzle with chocolate syrup. Cut & serve.
Nutrition Information:
Yield: 24
Amount Per Serving:
Unsaturated Fat: 0g