Thai Chicken Lettuce Wraps
This post may contain affiliate links, meaning that I may receive a commission at no cost to you if you use a link provided. All opinions shared are my own. You can review my full disclosure policy here.
Happy New Year everybody! I know the holidays are full of indulgent foods & January is almost everyone's excuse to cleanse their diets & get back on track. So this month I will be having several guest bloggers sharing the best HEALTHY meals, snacks, drinks & even desserts! I am calling it "Healthy Food, Healthy You!" month!
I am so grateful for all of my friends who are helping share recipes because I am taking this month to get my blog switched over from blogger to wordpress. It's a tad stressful for someone technically challenged like myself, to do the switch all by myself in order to save some money, but it is what it is. Hopefully once the switch is made, my blog will look a lot nicer, be easier to navigate & run a little faster.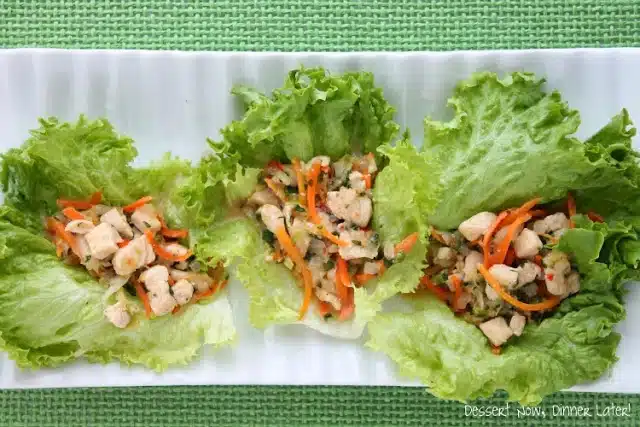 With that said, I am kicking off the month with these incredibly flavorful Thai Chicken Lettuce Wraps. The flavors are bold & delicious! This is one meal you won't be missing the carbs on! Enjoy!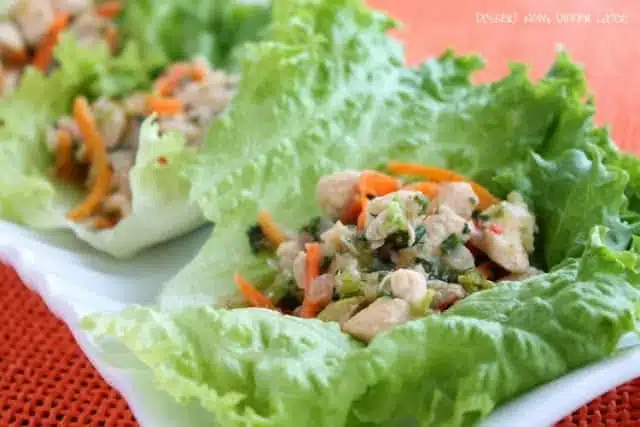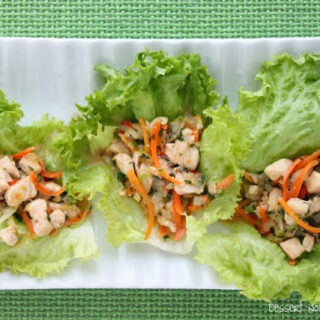 Thai Chicken Lettuce Wraps
Ingredients
1 Tbsp canola oil
2 chicken breasts, cut into small, 1/2-inch cubes
4 cloves garlic, minced (or I use 2 tsp of Gourmet Garden Chunky Garlic)
1/2 sweet onion, chopped
1/2 tsp salt
1/4 tsp pepper
1/2 cup shredded/matchstick carrots (about 5-6 baby carrots cut into matchsticks)
1/2 cup finely shredded cabbage or cole slaw mix
3-4 green onions, thinly sliced
1/4 cup cilantro, chopped
1/3 cup sweet chili sauce (found in the Asian section of the grocery store)
1 Tbsp smooth peanut butter
Lettuce Leaves (butter/bib lettuce works best, but you can use romaine or green leaf as well.)
Instructions
Heat a large skillet over medium heat & add canola oil. Throw in the cubed chicken, garlic, onions, salt & pepper. Let the mixture cook until the chicken is no longer pink & the onions are soft, about 6-8 minutes, stirring occasionally.
Add the carrots, cabbage & green onions cooking an additional 4-5 minutes, until vegetables are tender.
Add the cilantro, sweet chili sauce & peanut butter mixing thoroughly to combine until heated through. Serve on top of washed lettuce leaves.
Nutrition Information:
Yield: 2
Amount Per Serving:
Unsaturated Fat: 0g