Ginger Orange Smoothie
This post may contain affiliate links, meaning that I may receive a commission at no cost to you if you use a link provided. All opinions shared are my own. You can review my full disclosure policy here.
*I am so excited introduce you all to my friend Holly! She is here to share a healthy smoothie recipe with you today & she knows A LOT about healthy eating, so listen up! 🙂 ~Amber
Hey there Dessert Now, Dinner Later readers!! I'm Holly, and I blog over at Happy Food Healthy Life, where all foods are welcome. Some healthy. Some not so healthy. It's all about moderation, finding balance, and learning to love all foods without any guilt. When Amber asked me if I wanted to be a part of her Healthy Food, Healthy You theme this month, I had to jump on board. I have been a big fan of Amber's work for a long time and truly feel honored to be included in her space. After all those holiday treats, I know I'm ready to get on any health-related bandwagon I can find. So let's get to it.
Smoothies. Smoothies are totally my thing. Ever since I got my Blendtec a few years ago, I have been hooked. I have been whipping up fruity smoothies, green smoothies, dessert smoothies, vegetable juices, and anything else you could imagine. For me, smoothies can be an easy on-the-go meal replacement option, which is super important to me since I'm so busy as a working mom. When creating a smoothie for Healthy Food, Healthy You, I knew I wanted to create something super fresh, just like the new year we just entered. I also wanted to create something that would combat all the apparent illnesses that are going on around me. Colds, flu, sore throats, aches, and pains. They're everywhere, and I wanted to make something that would just nip it all in the bud and prevent me from getting one single drop of it! So I chose oranges, for a huge dose of immunity-boosting Vitamin C. Ginger to take away those aches, pains, and indigestion. And of course some carrots just for some overall goodness.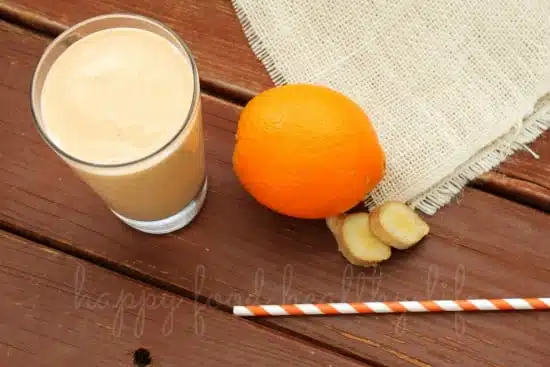 I always start my meal-replacement smoothies with the same base of oatmeal, a scoop of protein powder, chia seeds, flax seeds, Greek yogurt, and water and then add all the additional goodness to the base. Let's just say that with all these good-for-me smoothies I've been drinking, I have yet to get sick despite all the illnesses going on around me. Instead I'm feeling fresh, healthy, and ready to take on the world!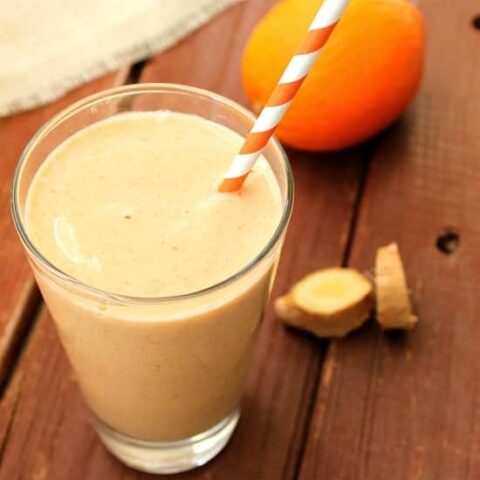 Ginger Orange Smoothie
Ingredients
1/3 cup old fashioned oats
1/3 cup fat free vanilla Greek Yogurt
1 Tablespoon chia seeds
1 teaspoon flax seeds
1 scoop vanilla Protein Powder
1 orange, peeled
1- inch piece of fresh ginger, peeled
1 medium carrot, peeled
1 cup water splash of orange juice
10-15 ice cubes
Instructions
Combine all ingredients in a blender, in the order listed above. Blend on high speed until completely combined. Serve immediately. If you are looking for some of my other favorite smoothies, here are a couple to try.
Nutrition Information:
Yield: 2
Amount Per Serving:
Unsaturated Fat: 0g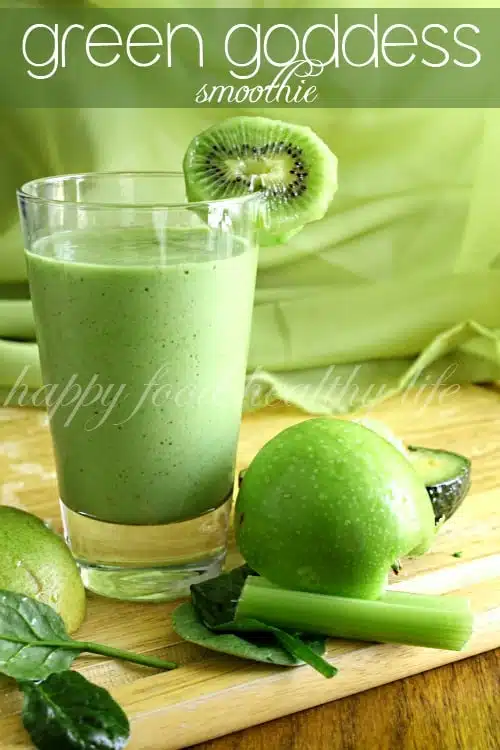 Peaches and Cream Green Smoothie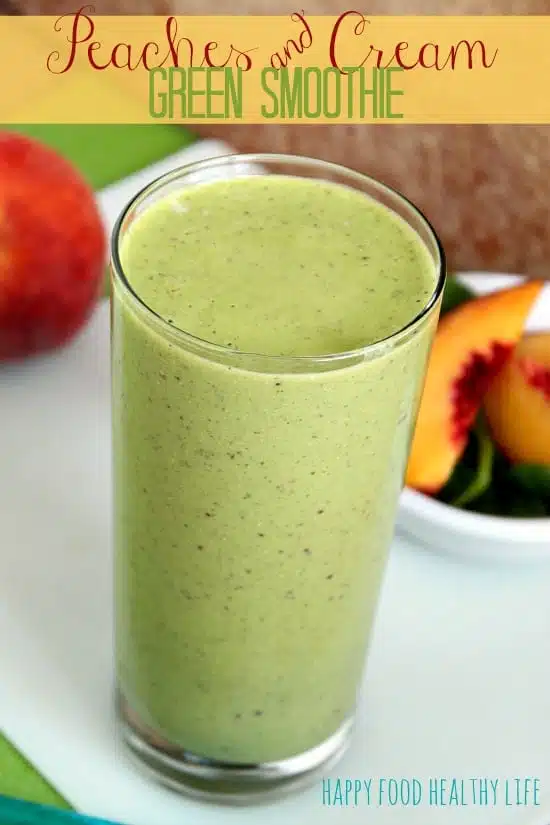 Also, to help you with any of your health and wellness goals, I have created a no-fail guide to help you reach them. If you have a goal to reach, this is for you!! (and it's FREE!) Click below for the details!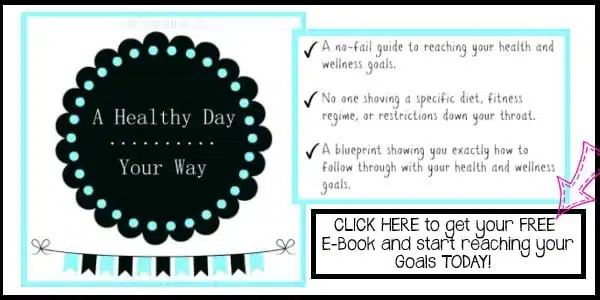 I'm Holly, and I'm a Mama to my 7 year old boy and wife to an Air Force Reservist. I'm a lover of wine and coffee, a practicing yogi, wannabe-runner, and a dreamer of big things for myself and my family. After suffering with disordered eating for over 13 years, I have made peace with food and have learned to love all of it. Once I found a love of food without the guilt, I found a strong desire to tell people that they too can love all foods without feeling down on themselves. Everyone can enjoy all foods and still live a balanced and even a healthy life! I believe it is my duty to inspire, motivate, and teach women how to love their bodies at whatever stage they are at in this journey of life. And that is where Happy Food, Healthy Life was born. I invite you to join me on a journey to your happiest and healthiest life yet… no diets allowed! See ya soon!