Chili Cheese Chip Dip
This post may contain affiliate links, meaning that I may receive a commission at no cost to you if you use a link provided. All opinions shared are my own. You can review my full disclosure policy here.
This Chili Cheese Dip is such a "duh" recipe, but it is one that my family & I have enjoyed for a few years now. We actually have it every New Year's Eve. And it kind of reminds me of Chili's Skillet Queso.
If you have never made this, you should try it for your next football game snack or party. Anything with "chili" is made for Fall & the crisp cool weather. Enjoy!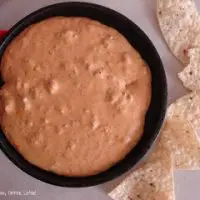 Chili Cheese Chip Dip
Ingredients
1 can NO BEANS Chili
1 (8oz) pkg cream cheese (I use Neufchatel/lower fat)
N'Orleans Cajun or equivalent spices: chili powder, cayenne, etc.
Corn Tortilla Chips
Instructions
Soften cream cheese in microwave, twice, for 30 seconds each time. Make sure you cover it, b/c it may splatter. Check the consistency with a spatula between the two 30-second intervals. It will mix well with the chili when it is very soft/spreadable. (Avoid lumps by doing this step.)
In a small saucepan, heat chili & softened cream cheese. Flavor with preferred spices until desired heat (be careful if adding salt because the tortilla chips have salt on them & you don't want it to be overly salty.) Cook on medium heat until bubbly & heated through.
Serve HOT with tortilla chips. (Stir often because a skin will develop on the top.)
*OPTIONAL: Keep warm in a crockpot or heat it completely in a crock pot on LOW for 1-2 hours. Do NOT skip softening the cream cheese in the microwave though, because it may leave chunks of cream cheese.