Junebugs' Birthdays & Marshmallow Fondant Recipe
This post may contain affiliate links, meaning that I may receive a commission at no cost to you if you use a link provided. All opinions shared are my own. You can review my full disclosure policy here.
Every once in a while, you might get a glance of cakes that I do. Most likely in June. My two children were born 2 years & 3 days apart. So the first part of June is pretty crazy for us with their two birthdays. This is the first year I have had to do this, but it worked out alright. A couple late nights & preparations during nap-times & I got it all done. It felt like forever since I had done any cakes (probably because it had been well over a year since I really did anything fancy) but, like riding a bike, everything you learned comes back to you & you figure it out.
When I first decided what cakes to do, I know I didn't want two large cakes. That would be completely overwhelming, so I decided to do cupcakes for my boy & a regular cake for my girl.
My boy turned 3 & he loves turtles so I found the cutest turtle cupcakes from pinterest via Sweetopia & knew I had to try them. I actually have never done royal icing before, EVER! Can you believe that? I guess it was something they didn't deem necessary at the college I went to. I read up about how to make & use royal icing. I was a bit nervous of everything drying out & what consistency to make it, but having no previous experience, I think I did alright.
I definitely could have kept the icing a little bit stiffer, & I forgot to shake out the bubbles on a few of them, but these were so FUN to make! I really think I could enjoy royal icing…a lot! I might just dabble in some cutout sugar cookies & try the royal icing again. After all, practice makes perfect & I love how neat & clean royal icing makes things look. If you want more information about royal icing here are some links I used when I was doing my research:
Cookie Decorating Tutorial

The recipe that I used for Royal Icing is in this tutorial. It made probably 4-5 cups of icing. I wish I had known that b/c I had to throw a lot out. After all I only made like 30 turtles as cupcake toppers.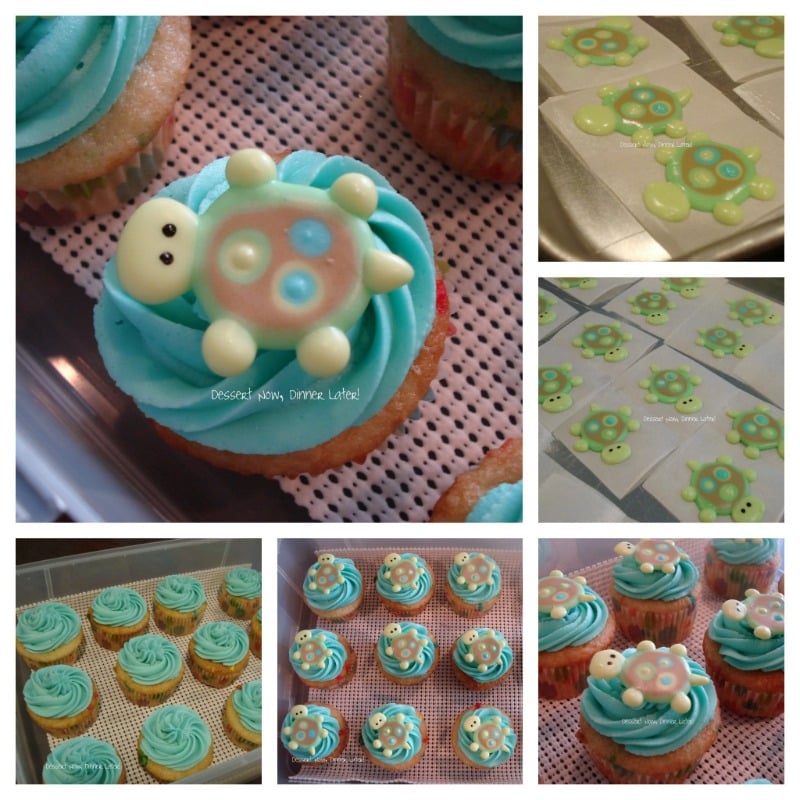 A few tips that I want to remember for myself in the future & share with you from my Royal Icing experience:
Mise en place (everything in it's place) is so important!

You want to have everything ready to mix separate colors (bowls, spatulas, colors, etc)
Bags & tips ready to fill (I liked using disposable clear bags to see what color was inside the bag)
Rubber bands to keep the icing in the bag moist
Glasses(cups) with damp paper towels in the bottom of the glass to keep your icing from hardening in the tip while you decorate (I liked my tall clear glass cups, again to see what icing was where)
Small parchment squares lightly greased with shortening using a paper towel to put the royal icing decoration on (I used the Reynold's Parchment on a roll, but I would rather get the flat sheets at a specialty store in the future b/c it was hard to get the paper to lay flat; decorating on the curve of the paper was difficult)
Mixer ready & damp towel to cover the bowl of icing while you mix each color & get it bagged up
Picture to mimic or drawn up design of your own
*24-hours to dry completely before using a food color pen for any additional designs
*One very important thing to know: If you are making toppers for cupcakes like I did, do NOT put them on the cupcakes until JUST BEFORE SERVING. They will absorb the moisture from the icing, go soft (can break), & possibly make the colors run into each other. I am glad I knew this before-hand, b/c even 2 hours after placing mine on they started to go soft & my black eyes started to run into the green of the turtles head.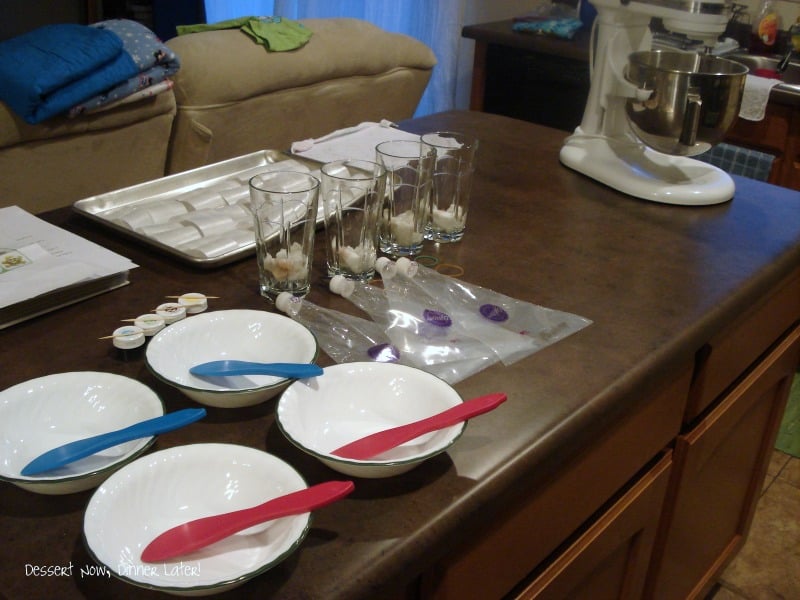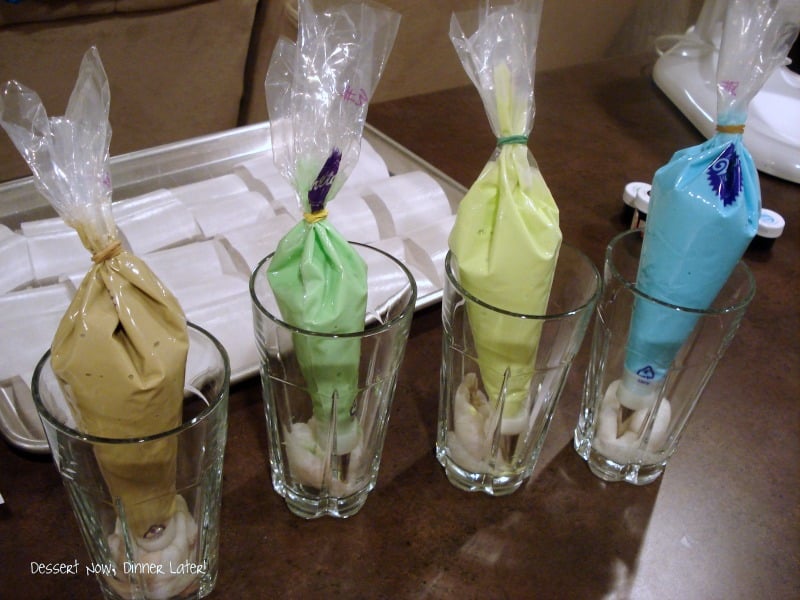 I was super worried about my icing drying out in the tips that my paper towels in the bottom of the glass were too moist at first. Wring them out enough that water doesn't pool in the bottom b/c that makes the icing get watery & will effect your design.After getting your items ready, things go so smoothly & you don't have to worry about anything drying out or running around the kitchen like a crazy person forgetting where you put something you needed.
My baby girl turned 1 and I knew I wanted to do a ladybug cake. I found LOTS of lady bug cakes. I like the color purple for my baby girl more than I like pink or red, so I made a purple ladybug cake, which I was hoping would resemble this cake.
Mine turned out all right. I made a strawberry cake with cream cheese frosting for the filling & outside. It was kind of plain, just using white, but it made all the fondant decorations stick so easily. My daughter's name was on the cake, but I photoshopped it out to protect my child's privacy, so that big white blank spot on the cake was filled with cute purple letters of her name.
A few things that I did:
The leaf was on a separate cardboard cutout so I could remove it easily for my daughter to eat the lady bug as her "smash" cake.
The antenna's are molded around toothpicks.
The head & body are both cupcakes.

The head is a mini cupcake
The body was 1 1/2 regular cupcakes pieced together (like a layered cake.)
I attached the head using a toothpick & had a ball of green fondant under the chin to help hold up the head.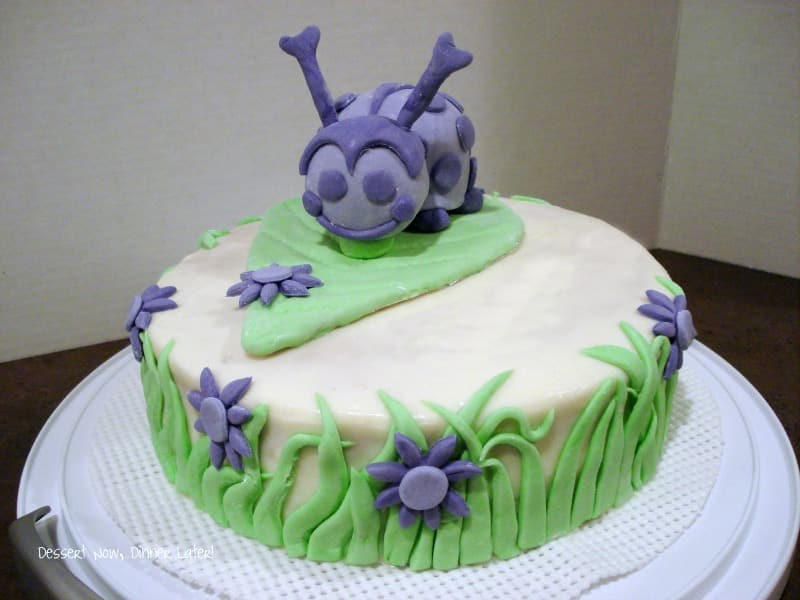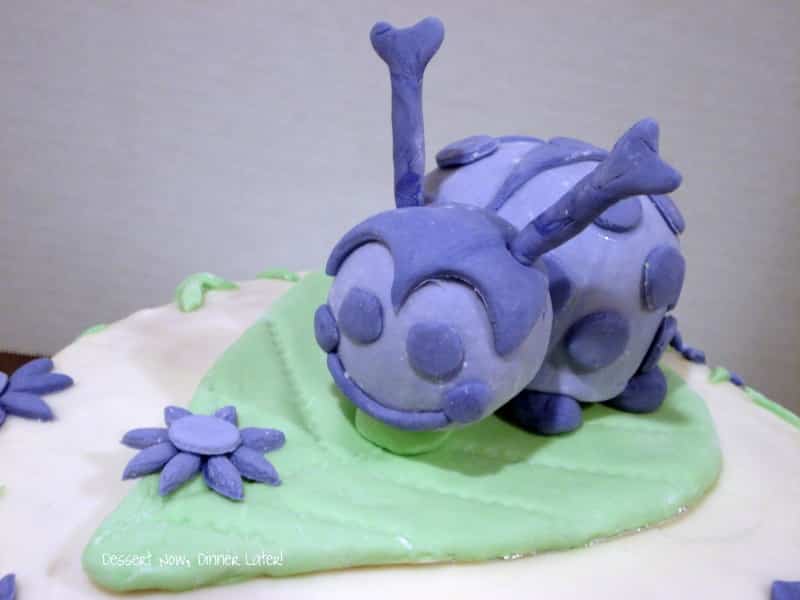 So a lot of people already know about this, but you can make your own fondant out of marshmallows. I learned that in school & it is awesome & cheap. Here is the recipe I use: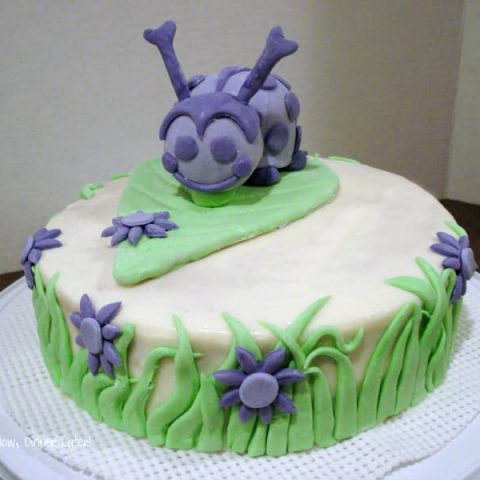 Marshmallow Fondant
Ingredients
16 oz. white mini-marshmallows*
*If using large marshmallows (add 1 tsp. more water. 100 small=10 Large)
2 Tbsp. water
Up to 2 lbs. confectioner's powdered sugar (approximately 8 cups)
Crisco shortening, as needed
Instructions
Grease a large microwave bowl with a paper towel & some shortening, pack in marshmallows & add the water. Microwave on high for 20-30 seconds at a time, just long enough for the marshmallows to soften & puff up. With a greased plastic or wooden spoon stir the marshmallow mixture after each 20-30 seconds. Continue until you reach a soupy texture.
Sift powdered sugar over the melted marshmallows, one or two cups at a time. Fold until all is incorporated & it is no longer sticky. (This can be done in a mixer with a bread-hook attachment, just grease bowl & hook before mixing.)
Take mixture out of the bowl when it gets to the point where most of the sugar is incorporated & it balls up/comes together. Dust the countertop with a little powdered sugar & dust some on your hands & knead the fondant by hand until it becomes quite stiff. This takes approximately 5-7 minutes by hand. Don't use too much powdered sugar or it can dry out. Form into a ball keep covered until ready to use.
Coat cake with a light coating of buttercream. Roll fondant on a powdered sugar dusted counter till about ⅛-inch thick & set over cake gently. Smooth surface with fondant smoother or your hands & cut below the cake board so when it shrinks, it will be the perfect length. To fix any tears, use a tiny bit of Crisco & rub with finger until it comes together. Be creative & have fun!
To color the fondant, add drops of food coloring & knead the fondant until it is all worked in. You can try adding food coloring after you melt the marshmallows, before adding the powdered sugar, but it is a little tricky if you divide the colors. If you have any part of the marshmallow mixture sitting in a bowl while you fix the other color(s) you will need to heat it up again before you add the food coloring & powdered sugar. I think this method takes just as long as kneading it into the prepared white fondant, but it's up to you which way you want to do it. I hope that makes sense.
*You can make this ahead of time. Store the fondant in an airtight container (Lasts about 5-7 days if stored properly.) I like to saran wrap mine (as long as it is not sticky) & then put it in a container. When you go to use it, take it out of the container/saran wrap & you can heat it up in the microwave on a plate for 5 seconds to warm it up enough to knead it easily. Do NOT heat it more than 5-10 seconds (at a time) b/c it will melt & can BURN your hand; plus you will have to add extra powdered sugar to make it not runny again. (I say all this from personal experience.)