Dark Chocolate Cookies & Cream Cookies
This post may contain affiliate links, meaning that I may receive a commission at no cost to you if you use a link provided. All opinions shared are my own. You can review my full disclosure policy here.
These Dark Chocolate Cookies & Cream Cookies are oh so chocolatey, with smooth white chocolate chips inside, and Cookies'n'Creme candy bar chunks on the outside.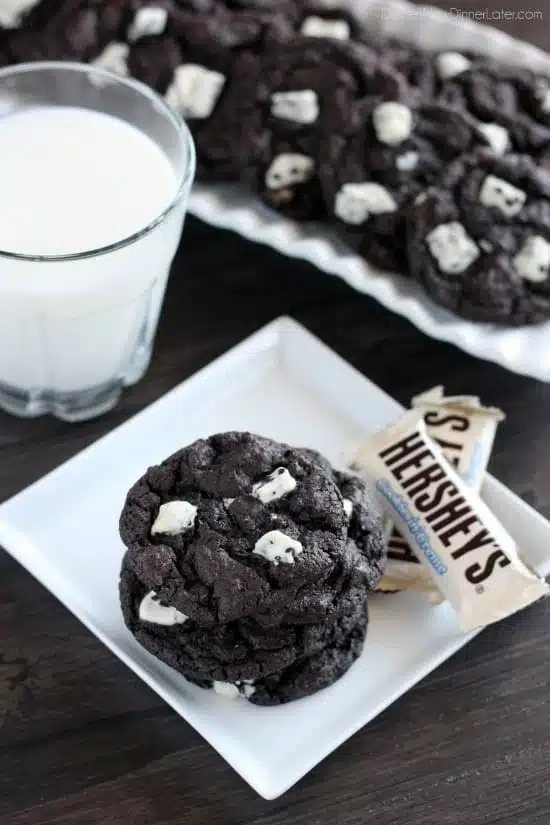 These cookies! I love, LoVe, LOVE them! I love dark chocolate and cookies & cream things though, but I'm sure some of you have similar tastes as I do. These Dark Chocolate Cookies & Cream Cookies are made with the base of my Dark Chocolate Caramel Cashew Cookies, which are also fantastic; the only difference is I put white chocolate chips on the inside and chopped up Cookies'n'Creme candy bars on the outside, instead of using caramel bits and cashews.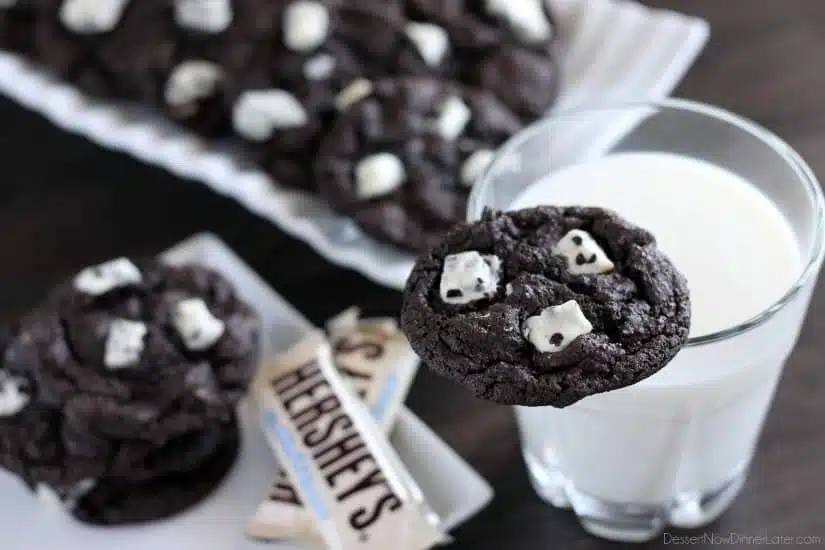 I actually made these for a blogger event I went to and I will be honest, I wasn't sure they would work, solely because some chocolate, especially white chocolate, doesn't do so well when heated in the oven. I was worried I would have a big melty mess, or that the white chocolate would brown. Well, neither of those things happened and I was so excited!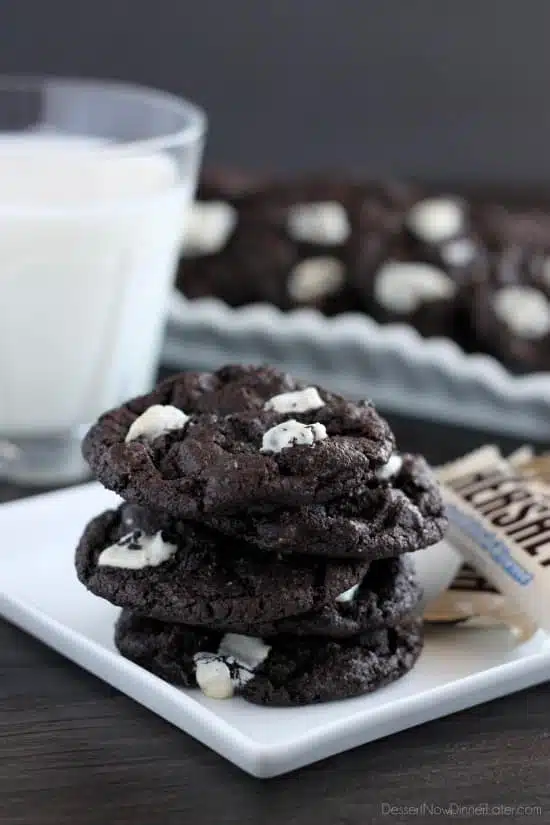 My husband told me he could eat the whole batch himself, which is 48 cookies; and with his freakishly fantastic metabolism he totally could and not even gain an ounce, but he knew I was taking these with me to a party with the girls, so he only got to taste a couple. I'm pretty sure the girls liked them too. 😉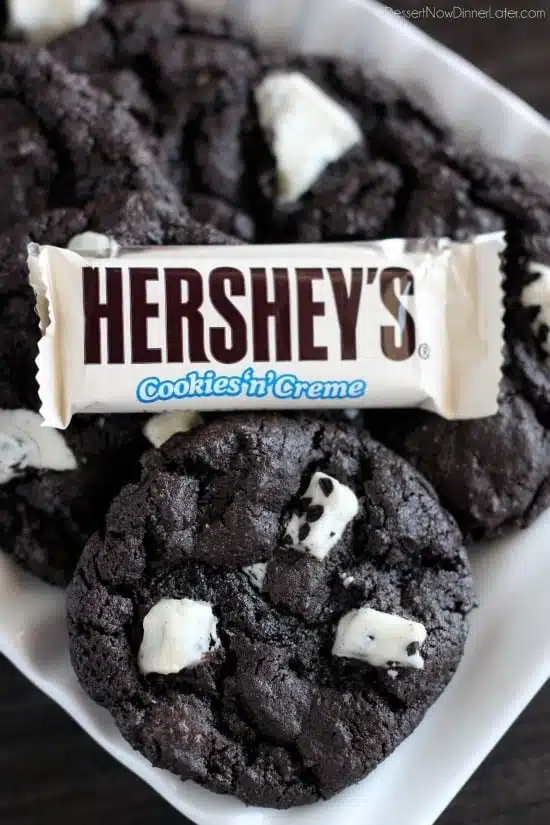 I will most definitely be frequenting this cookie recipe! The only problem I have when I make dark chocolate cookies in general, is that my Bosch is super fast at speed 1 and the dark cocoa powder always gets EVERYWHERE no matter how slow I add it to the bowl. Haha. It's quite "fun" to wipe up chocolate powder all over the place, but honestly that won't stop me from making these cookies. I love them and I hope you will too!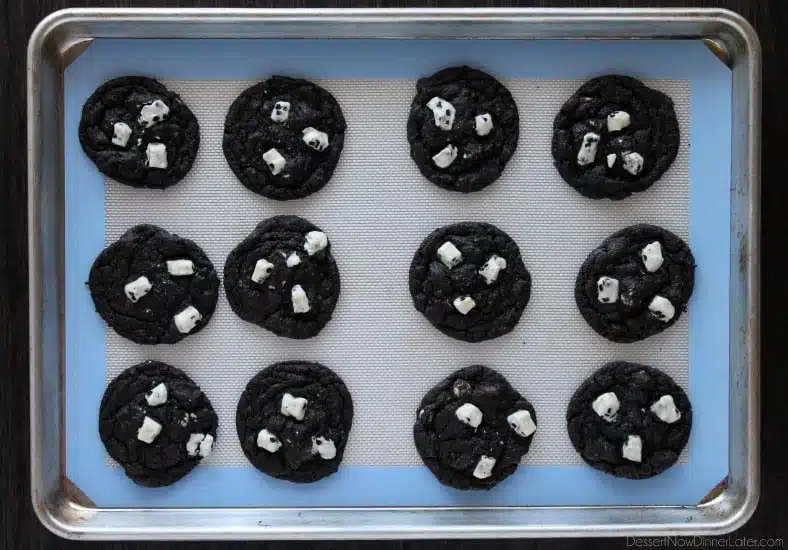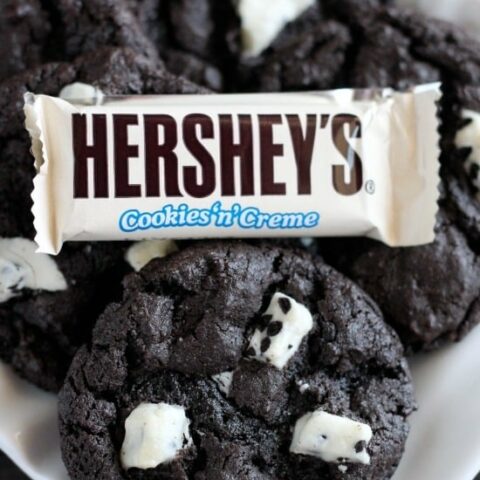 Dark Chocolate Cookies & Cream Cookies
Ingredients
1 cup unsalted butter, room temperature
1 cup sugar
1 cup brown sugar
2 eggs
2 tsp vanilla
2 cups flour
1 cup Hershey's Special Dark Cocoa
2 tsp baking soda
1 tsp salt
1 cup white chocolate chips
12 snack size Hershey's Cookies'n'Creme candy bars, roughly chopped
Instructions
In the bowl of a stand mixer with the paddle attachment, beat the butter and sugars. Add eggs, and vanilla. Blend well. Scrape bowl if needed.
In a separate bowl, whisk the flour, cocoa, baking soda, and salt. Gradually add the dry ingredients to the wet ingredients until incorporated.
Fold in the white chocolate chips.
Using a #50 cookie scoop (about 1½ TBSP), scoop the cookie dough balls onto a parchment lined baking sheet. Press a few pieces of chopped Cookies'n'Creme candy bar pieces on top.
Bake at 350 degrees Fahrenheit for 9 to 10 minutes. Allow cookies to rest on the baking sheet for 3 to 5 minutes before moving them to a cooling rack. Store cookies in an airtight container.
Nutrition Information:
Yield: 4
Amount Per Serving:
Unsaturated Fat: 0g