Eclair Icebox Cake
This post may contain affiliate links, meaning that I may receive a commission at no cost to you if you use a link provided. All opinions shared are my own. You can review my full disclosure policy here.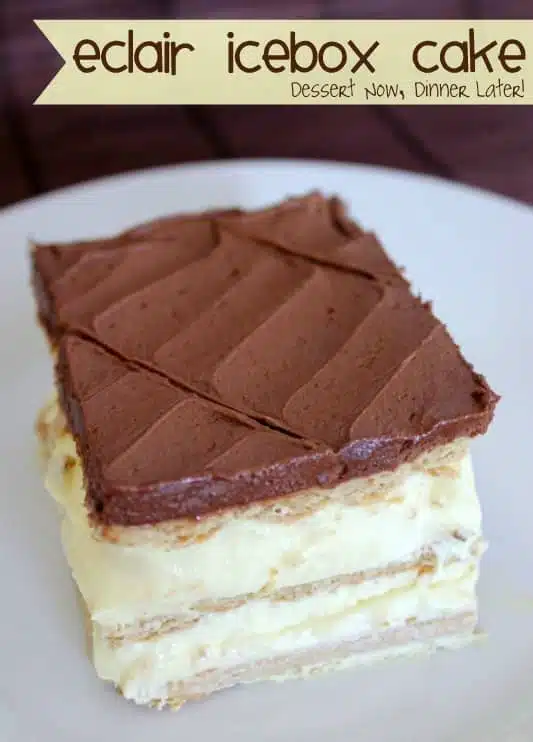 If you have not heard of this cake, you are crazy, & you need to make it NOW! I actually was one of those "crazy" people like a year ago who had never heard of this & tried it for the first time at a friend's house. The husband made it & I was laughing at him because I didn't think he was capable of fixing a dessert for us. That was until I took a bite & realized how good it is & how ridiculously simple it is to prepare that even a "husband" can do it.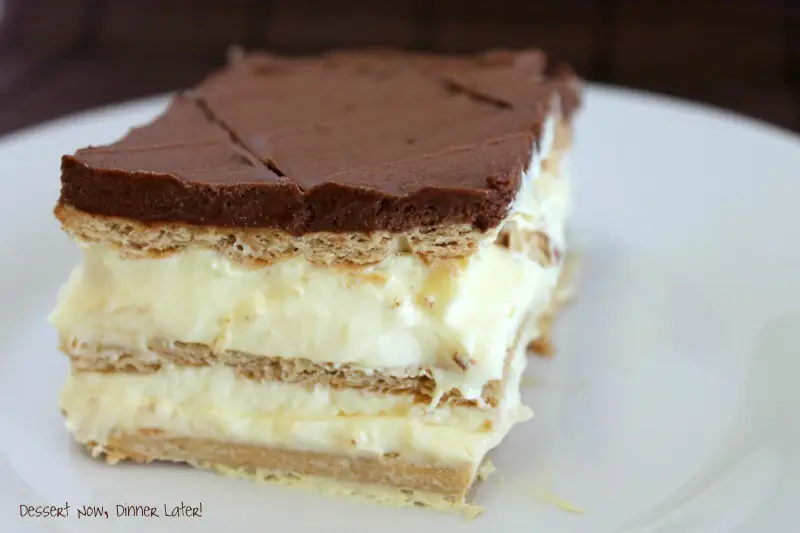 Not only is this a dessert that the most challenged cook, or even young child can prepare, it's a great summer dessert because it is a no-bake treat. I am not sure if it will melt at all in the sun though, but everyone will probably eat it rather quickly anyway. Oh and you can even use a tub of prepared chocolate frosting if you want to make it even that much easier.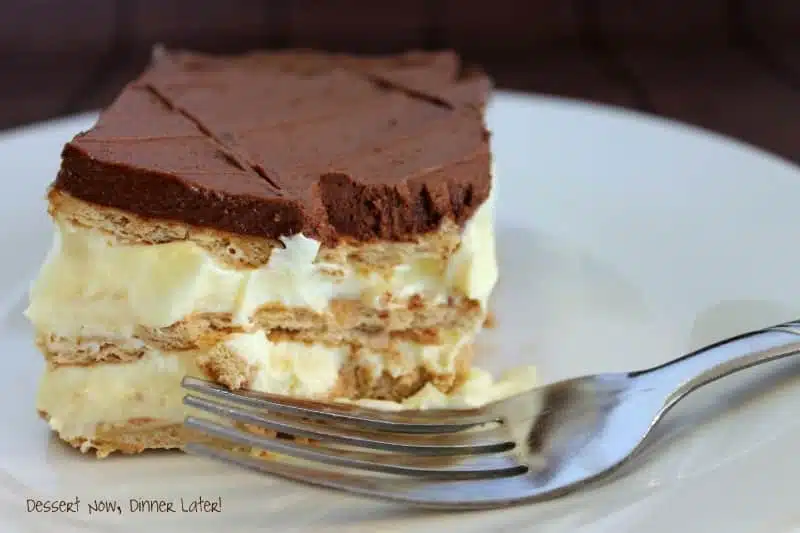 One last bit of news: I am off for vacation starting tomorrow so I have some great guest bloggers lined up for you all. My family & I are headed to California to play at Disneyland…I know, you all can be jealous now, but come see what my friends have to share!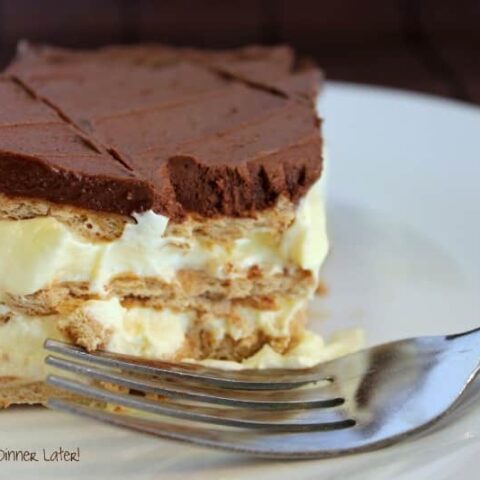 Eclair Icebox Cake
Ingredients
2 small (3.4oz) boxes of instant french vanilla pudding
3 cups cold milk
1 (8oz) tub cool whip
1 box (3 sleeves graham crackers)
6 Tbsp butter, room temperature
4 Tbsp milk
1 tsp vanilla
6 Tbsp unsweetened cocoa
1 1/2 cups powdered sugar
Instructions
In a large bowl whisk the pudding with the milk. Allow to set up for a couple minutes in the fridge. Then fold in the cool whip.
In a 13x9" pan layer graham crackers to cover the bottom of the pan. Then spread half the pudding mixture on top of the graham crackers.
Place a second layer of graham crackers on top of the pudding as tight fitting as you can. Then spread the second half of the pudding on top.
Place one last layer of graham crackers fitted on top of the pudding.
In a separate bowl beat the butter, milk & vanilla with a hand mixer. Add cocoa & powdered sugar. Mix on LOW until incorporated (you don't want the dry ingredients to fly out of the bowl at you.) Spread over the top of the graham crackers.
REFRIGERATE for at least 8 hours to overnight. Cut & serve cold.
Nutrition Information:
Yield: 16
Amount Per Serving:
Unsaturated Fat: 0g