Homemade English Muffins
This post may contain affiliate links, meaning that I may receive a commission at no cost to you if you use a link provided. All opinions shared are my own. You can review my full disclosure policy here.
*Disclaimer: I received a free bag of flour from King Arthur Flour as inspiration for this post. This post is written by me. All opinions are 100% mine. You can read my advertising & disclosure policy HERE.
I had heard of King Arthur Flour before. Mostly just in passing the bags of flour in the baking aisle at the store or seeing a recipe or two pinned on Pinterest. I have actually been inspired by a few King Arthur Flour recipes & had great success: Apple Slab Pie, Chocolate Roulade with Whipped Peanut Butter Filling, & Cinnamon Chip Bread.
When I participated in the "April Showers Bring May…Flour?" giveaway earlier this month, I was fortunate to receive a bag of flour for my own use in connection with the flour donated for the giveaway.
I was excited to give it a try. I always wondered if there was anything different about it because it is a little pricier than other brands of the same weight. I started reading the bag & was pleasantly surprised to find that King Arthur Flour is "always unbleached" & "never contains any unnecessary chemicals or additives." It's good to know that some companies care about the quality of the products they make for consumers. This flour is high quality! It's versatile for cookies, bread, cakes/cupcakes, & pastries. AND, King Arthur Flour backs their superior flour with resources from more than two centuries of baking experience:
KINGARTHURFLOUR.COM for trusted recipes, baking tips, online shopping, tutorials, videos etc. (Did you know King Arthur Flour sells way more than flour? I didn't! They have ingredients, pans, mixes, kitchen tools, gluten free & more!)
THE BAKING HOTLINE when you need advice you can call their staff of experienced bakers or chat live online. (That sounds like superior customer service to me!)
BAKING EDUCATION CENTER offers hands-on baking instruction in Norwich, VT. (How fun would that be?)
I might read my product labels more often now! Seems like it would be nice to support the companies that genuinely care so much about the buyers & want them to have success with their product. Just a thought…
Anyway, let's get to today's post! These English muffins are so easy to make AND my husband was surprised that they looked like they came right out of a bag from the store! The flour worked great & I don't know for sure or not, but I feel like I didn't need as much flour when rolling my dough out & mixing it together. It might be the elevation where I live, or it might be the quality of flour. If anything, King Arthur Flour is passionate about providing a product that gets great results & that is what I had with my english muffins. Soft, chewy, perfection! Check out some King Arthur Flour recipes, or shop online because they have lots of cool kitchen gadgets!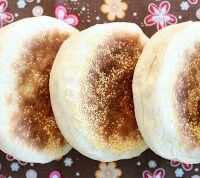 Homemade English Muffins
Ingredients
1/2 cup (2% )milk
2 Tbsp butter
1/2 cup warm water
1 1/4 tsp rapid rise yeast
1 1/2 Tbsp sugar
1 tsp salt
2 3/4 to 3 cups King Arthur Flour All-Purpose Flour
1-2 Tbsp cornmeal
Instructions
Heat milk & butter just long enough to melt butter (stovetop or microwave is fine.) Let rest in fridge until warm (no longer hot.)
Meanwhile, dissolve yeast & sugar into ½ cup warm water. Let sit 5 minutes until bubbling & frothy.
Combine milk & yeast mixtures. Add salt & just enough flour that when it's stirred, it balls up. Turn out onto a lightly floured surface. With oil greased hands, knead dough for 5 minutes until gluten has developed & is smooth & elastic. Cover with a towel & let rest for 10 minutes.
Place a piece of parchment on a baking sheet. Sprinkle with cornmeal. Roll out dough on a lightly floured surface until ½" thick. Cut circles (with a cookie/biscuit cutter) & place on the cornmeal sprinkled parchment paper. Roll & cut until all dough is used. Sprinkle the tops with extra cornmeal, cover with a towel & let rise for 45 minutes (double in size.)
Using a heavy, non-stick skillet or griddle (NO grease/cooking spray), cook muffins on low to medium-low for 6-8 minutes until browned on each side. Allow to cool, split & serve with desired spread. (I like to toast mine after it is split open.)
Nutrition Information:
Yield: 9
Amount Per Serving:
Unsaturated Fat: 0g
Recipe lightly altered from USMasala