Iced Oatmeal Cookies
This post may contain affiliate links, meaning that I may receive a commission at no cost to you if you use a link provided. All opinions shared are my own. You can review my full disclosure policy here.
Old fashioned Iced Oatmeal Cookies are crisp on the outside, soft and chewy on the inside, with warm spices, and a light glaze on top. Perfect with a cold glass of milk!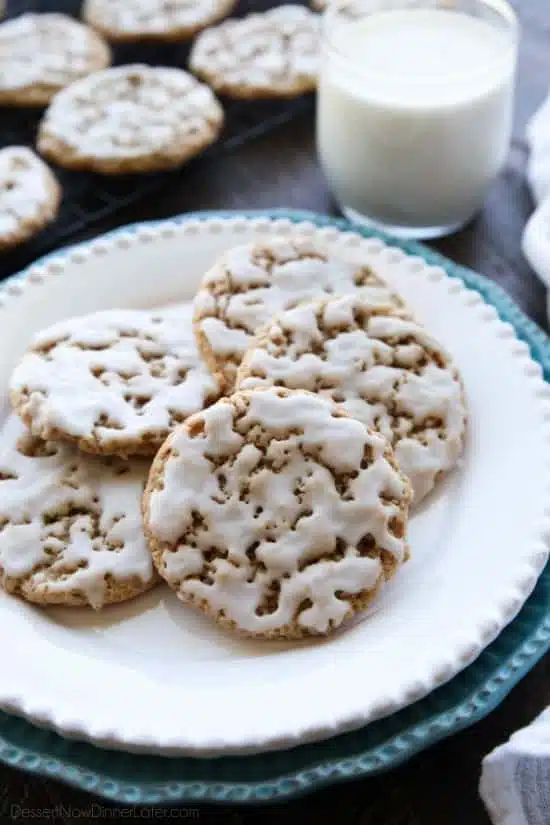 Fall baking makes me happy! And these iced oatmeal cookies are no exception! I love the texture oats give cookies, and the spices in these iced oatmeal cookies are warm and welcoming for the cooler fall weather we are having here in Utah.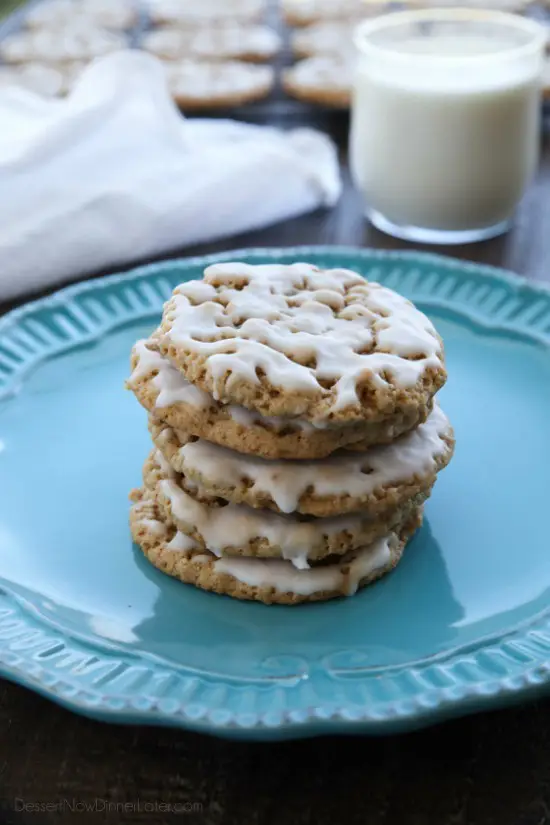 The icing on top is the perfect touch! It's thin and adds just the right amount of sweetness to the cookie. My two year old devoured several of these cookies. And because there's not a chocolate mess, that's a win for me!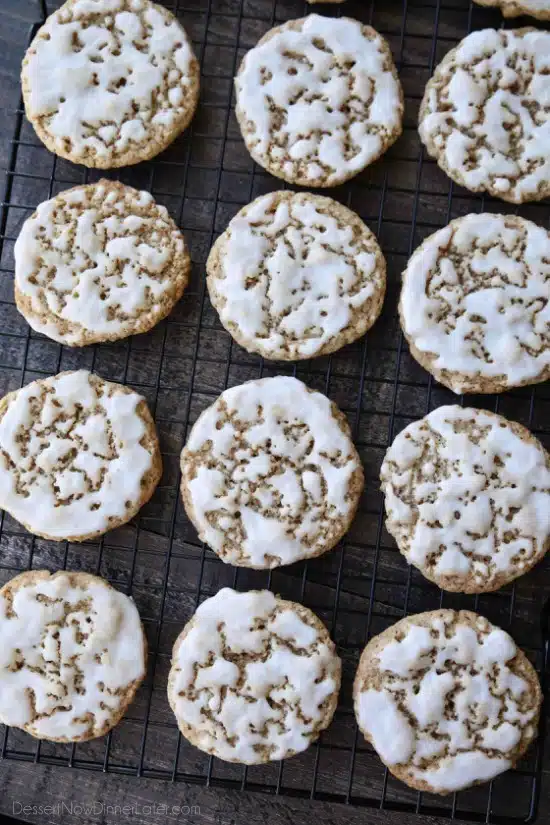 It's actually been a while since I've made anything for the blog. You probably didn't notice, because there's this magical thing about technology that allows me to work hard enough to get ahead and schedule things out, so there's no gap in the recipes that I offer you all.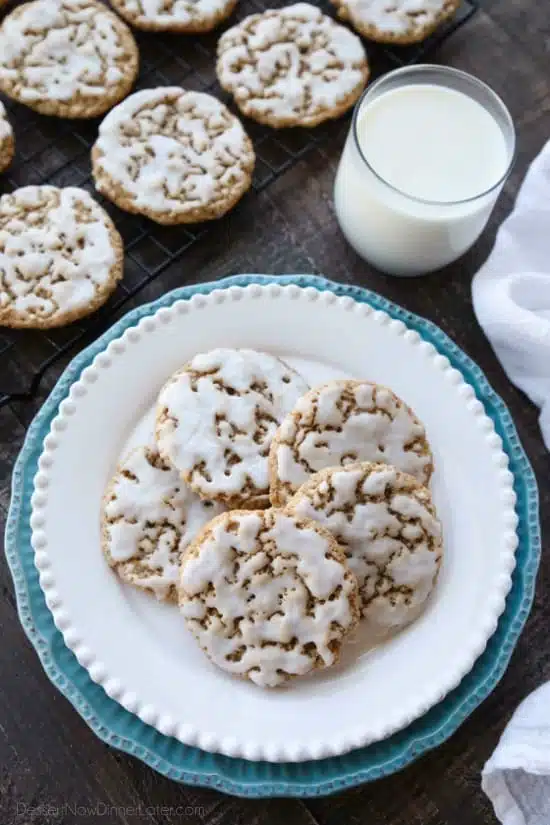 But let me tell you, it was rough getting ahead, but so worth it! My husband and I got to celebrate 10 years of marriage (a little early) on an 11 night cruise to Hawaii leaving from Vancouver, British Columbia. We ended and stayed a few extra days in Honolulu, O'ahu. I highly recommend the Polynesian Cultural Center. We did a tour, with a luau and the big night show! AMAZING!!! We also visited Pearl Harbor and the Dole Plantation while in Honolulu.
Our other excursions consisted of a waterfall hike/swim in Lahaina (Maui), zip-lining over waterfalls in Hilo (The Big Island), snorkeling at the Captain Cook Monument in Kona (The Big Island), and visiting the gorgeous Waimea Canyon in Nawiliwili (Kauai). I had to pinch myself the whole time. It was so beautiful, and the first real vacation we've taken without our kids in 8 years.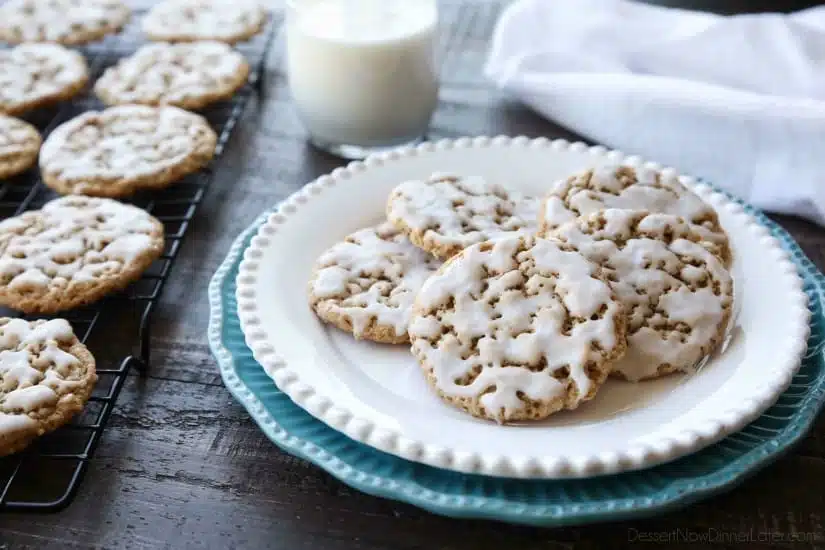 Coming back to work is kind of a downer, but it's fun work when you get to make and eat delicious treats. These iced oatmeal cookies are perfect for your fall cookie jar! I hope you get to try them soon!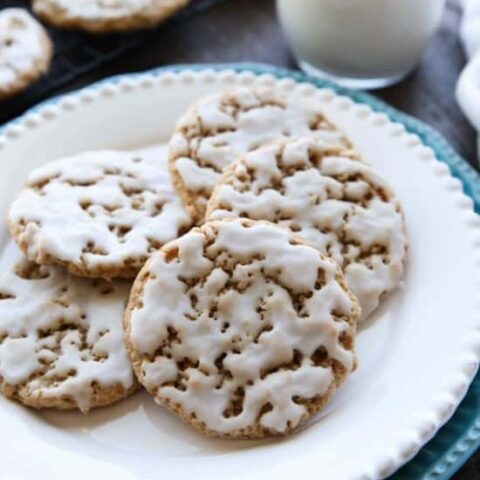 Iced Oatmeal Cookies
Prep Time: 15 minutes
Cook Time: 10 minutes
Total Time: 25 minutes
Yield: 46 small cookies or 30 large cookies
Ingredients
Cookies:
2 cups old-fashioned oats
2 cups all-purpose flour
1 Tbsp baking powder
1/2 tsp baking soda
1/2 tsp salt
2 tsp ground cinnamon
1/2 tsp ground nutmeg
1 cup (2 sticks) unsalted butter, room temperature
1 cup brown sugar, packed
1/2 cup granulated sugar
2 large eggs, room temperature
1 tsp vanilla extract
Glaze:
2 cups powdered sugar
1/4 tsp vanilla or almond extract
2-3 Tbsp milk or heavy cream
Instructions
Preheat oven to 350 degrees Fahrenheit. Prepare baking sheets with parchment paper, silicone baking mats, or cooking spray.
Place oats in a food processor or blender and pulse 3-5 times. Just enough to break up the oats for a variety of textures, but not so much it turns into ground oat flour.
In a large bowl combine the oats, flour, baking powder, baking soda, salt, cinnamon, and nutmeg. Stir and set aside.
In the bowl of a stand mixer fitted with the paddle attachment, cream the butter and sugars. Add the eggs and vanilla. Mix well. Scrape bowl. Add the dry ingredients and mix until incorporated.
Scoop cookie dough balls (about 2 Tbsp each) onto prepared baking sheets 3-inches apart (about 6-8 per tray depending on the size).
Bake at 350 degrees Fahrenheit for 9 to 10 minutes or until the bottoms and edges are just starting to brown. Remove cookies from oven and allow to rest for a few minutes. Then transfer to a cooling rack. Cool completely.
Prepare icing by whisking the powdered sugar and vanilla/almond extract in a bowl, while gradually adding the milk/heavy cream to a desired texture. You want it thick, but pourable.
Quickly drop the tops of the cooled cookies into the icing and IMMEDIATELY lift them straight back up. Allow excess icing to drip off, and place the cookies back onto the cooling rack until icing sets. You want to do this fast so you have the cracks peaking through the icing. Store in an airtight container at room temperature.
Nutrition Information:
Yield: 30
Amount Per Serving:
Unsaturated Fat: 0g