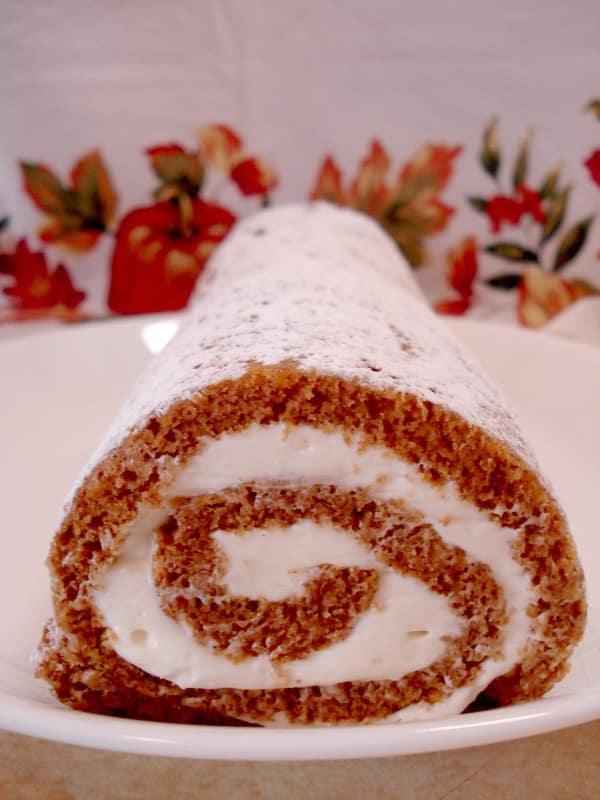 Everyone loves a good jelly roll! A pumpkin roll, in particular, is my favorite Thanksgiving dessert, because I will admit I am not a pumpkin pie kind of gal, but any other pumpkin treat, I usually love. This recipe is one my family uses the whole holiday season. I use LIBBY's recipe, with just a few alterations.
I prefer the flavor of pumpkin pie spice in the cake & my filling is slightly altered to make it a little lighter in texture (not calories) so after that big, heavy Thanksgiving or Christmas meal you can enjoy a treat without feeling like your dessert is sticking to your insides from a dense filling. Plus, this is such an easy dessert to make ahead of time & freezes really well too. I actually prefer to eat it slightly frozen (BONUS: it's easier to cut that way [frozen] too.)

This is a recipe worth altering, I promise! The flavors from the pumpkin pie spice come out a lot better than the cinnamon/cloves, & the filling is so light & refreshing making this pumpkin roll a great asset to top off your fabulous holiday meal (or any meal) with.