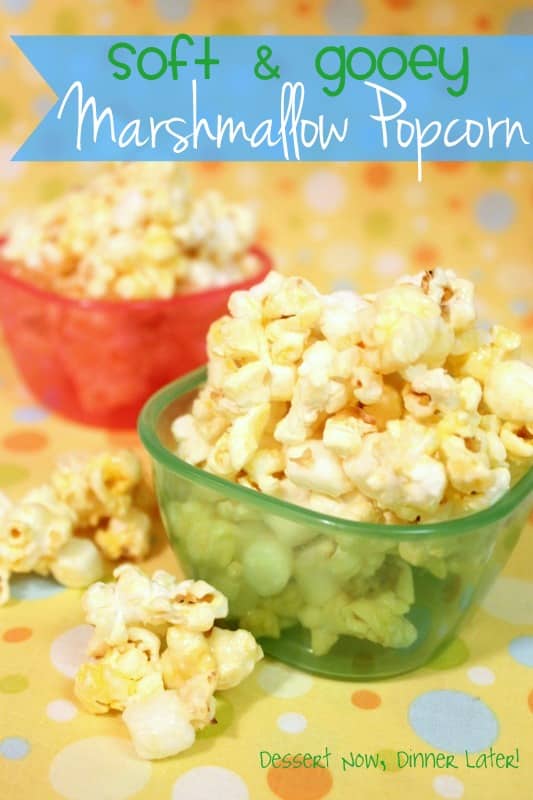 My friend Liz raved about this marshmallow popcorn that one of our other friends, Melanie, had the recipe for.  She said it was different than any other recipe you can find on the internet or Pinterest.  I was very interested so I asked Melanie for the recipe & we had it at a girls night party I had.
This popcorn is seriously amazing!  I don't usually like marshmallows (I guess that might make me weird) but this is absolutely "eat the whole bowl" delicious!  Really!  It is so hard to stop eating!!!
This recipe makes a RIDICULOUS amount of popcorn, so I would cut it in half if you are not having lots of friends helping you eat it.  Or you could make it & bring a large plate to your friends & neighbors.  Either way, it is definitely worth making & soon!  I can see this as the perfect snack to a late night summer movie outside with the projector.  Make this!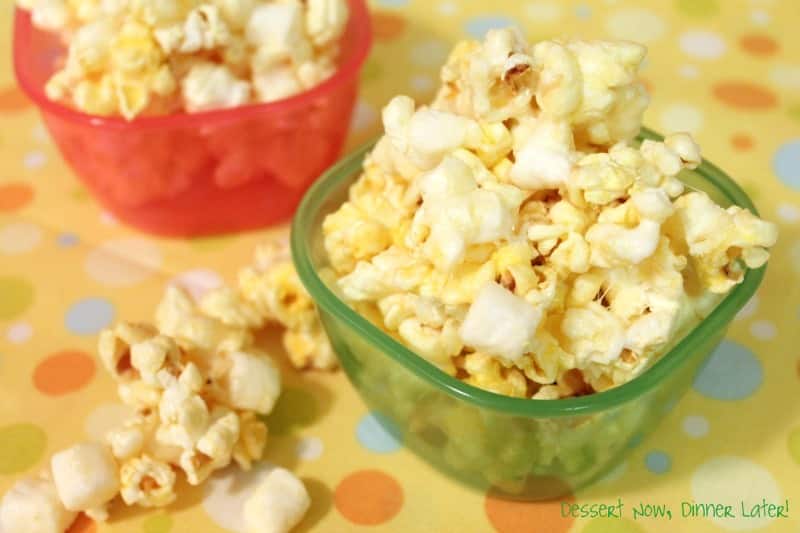 Soft & Gooey Marshmallow Popcorn

Ingredients

8 quarts popcorn (air popped or about 4 bags of butter flavored microwave popcorn)
1 (16oz) package mini marshmallows
1 cup butter (2 sticks--use salted if using air popped popcorn, or use unsalted if using butter flavored microwave popcorn)
1⅓ cup sugar
½ cup light corn syrup
1 tsp vanilla

Instructions

Pop corn & place in an EXTRA LARGE bowl; remove any un-popped kernels. Add marshmallows to popcorn. Toss lightly.
Bring the butter, sugar & corn syrup to a boil. Turn down the heat & let simmer for 3 minutes, stirring occasionally. Do NOT overcook or it will be hard instead of gooey & soft. Add vanilla (careful, it bubbles up.) Pour over popcorn/marshmallow mixture & stir well to coat. *Best served warm, but will stay soft even when cooled down. Keep leftovers covered.
*For extra gooey popcorn, you can leave the marshmallows on top of the popcorn before mixing, so when you pour the hot buttery mixture on top & then mix it in, more of the marshmallows will have melted. I like the chunks of mallows in the popcorn though. Just have fun with it!

Notes

© DESSERT NOW, DINNER LATER! All images & content are copyright protected. Please do not use my images without prior permission. If you want to republish this recipe, please re-write the recipe in your own words, or link back to this post for the recipe.


Recipe from Melanie Jeppsen