Brownie Stuffed Chocolate Chip Cookies
This post may contain affiliate links, meaning that I may receive a commission at no cost to you if you use a link provided. All opinions shared are my own. You can review my full disclosure policy here.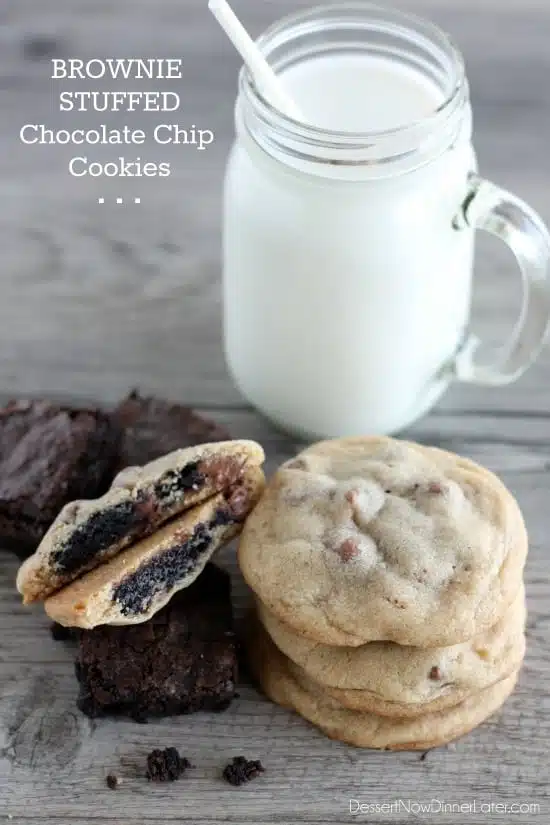 So at least once a year I will attend a blog conference where I get to learn more about the ins and outs of blogging. It's a ton of fun and I always come home full of knowledge. I attended my second year of Build Your Blog Conference in February and had one of my favorite weekends ever! It's just a whirlwind girl's weekend, that's for sure. For dinner Friday night I got to chat with some new friends, and one gal, Sheena asked me if I could recreate this brownie stuffed cookie that she gets at a favorite bakery of hers in Idaho. I told her I would research it and figure it out for her. Her cookie didn't have chocolate chips, but was dipped halfway in chocolate. Well, I am too lazy for that, so you are getting Brownie Stuffed Chocolate Chip Cookies instead, sorry Sheena.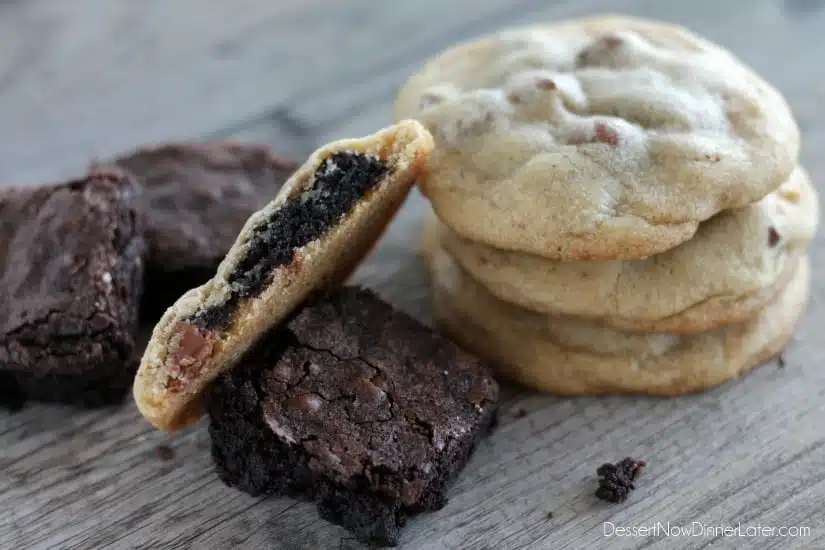 But I am not sorry about these cookies! My oh my are they delicious! I know I have seen "brookies" (brownie/cookies) all over Pinterest, but they have always been a bar cookie/brownie. These are actual cookies, with previously baked brownies stuffed inside of them. BROWNIE STUFFED COOKIES!!! Amazing right?! I finally discovered the method of how to do this from Picky Palate! I was going crazy trying to find a brownie cookie dough that was solid enough to place inside of regular chocolate chip cookie dough, so when I found out it was a baked brownie inside there, my life became so much easier!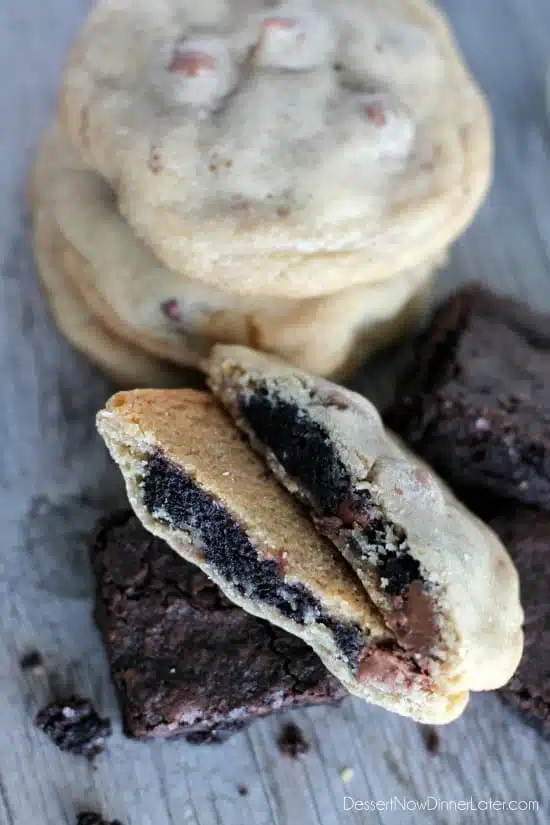 Believe me, these Brownie Stuffed Chocolate Chip Cookies are everything you dream them to be! The best of both worlds in my opinion! And if you have never tried Guittard Milk Chocolate Chips, flipping run to the store and buy them NOW! They are the only chocolate chips worth putting in your chocolate chip cookies, period! They are larger than typical chocolate chips, and creamy delicious! I cannot say enough good things about those chocolate chips!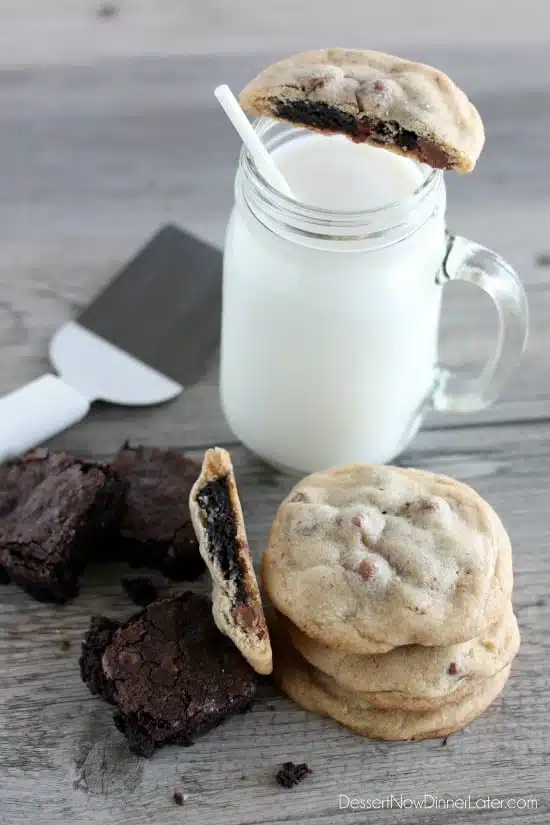 I also used Duncan Hines Dark Chocolate Fudge Brownies, which is another favorite of mine. Oh, in case you are wondering…NO, this is not a sponsored post! I am always honest when I do those, but these are my recommendations for this cookie. I personally buy and use Guittard Milk Chocolate Chips and Duncan Hines Dark Chocolate Fudge Brownies on a regular basis and highly recommend them.

Okay let's get to the recipe!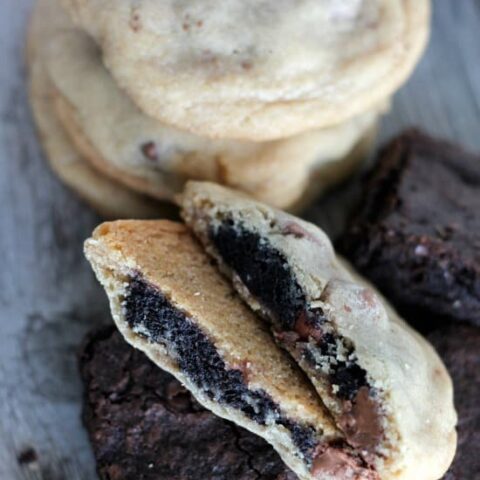 Brownie Stuffed Chocolate Chip Cookies
Ingredients
Brownies:
1 Family Size/13x9" box Duncan Hines Dark Chocolate Fudge Brownies
Ingredients for the brownies. I followed the ingredients on the box for cake-like brownies. With the amounts of eggs, oil, and water listed below.
2 eggs
1/3 cup oil
1/3 cup water
Cookies:
2 sticks (1 cup) unsalted butter, room temperature
3/4 cup sugar
3/4 cup brown sugar
1 tsp vanilla
2 large eggs
1 tsp baking soda
1 tsp salt
3 cups flour
2 cups (1 bag) Guittard Milk Chocolate Chips
Instructions
Make and bake brownies according to the directions on the package. Allow to cool. Cut the edges off, so when you cut squares they are all "middle" pieces. Cut 35 brownie squares (7 squares by 5 squares.)
Make cookie dough by creaming the butter and sugars together in a stand mixer. Add vanilla and eggs, incorporate well. Combine baking soda, salt, and flour. Add to butter mixture. Fold in chocolate chips.
Using a #50 scoop (about 1½ Tbsp) scoop two cookie dough balls. Flatten each cookie dough ball and place one brownie square in the middle. Pinch edges of cookie dough, sealing the brownie inside and place the cookie onto a lined baking sheet. Flatten again to about 1½ " thickness. Repeat with cookie dough and brownies. I put about 8 cookies per tray since they are bigger than normal cookies.
Bake at 350 degrees Fahrenheit for 12 to 13 minutes, or until golden brown on the edges. Enjoy! (*You might not use all of the brownies, but that's okay, just snack on the leftovers!)
Nutrition Information:
Yield: 24
Amount Per Serving:
Unsaturated Fat: 0g