Chocolate Mint Cream Cookie Sandwiches
This post may contain affiliate links, meaning that I may receive a commission at no cost to you if you use a link provided. All opinions shared are my own. You can review my full disclosure policy here.
These festive cookie sandwiches are so simple to prepare, yet they're so much fun to eat! A fresh minty coconut cream sandwiched between two double-chocolate cookies is a match made in heaven.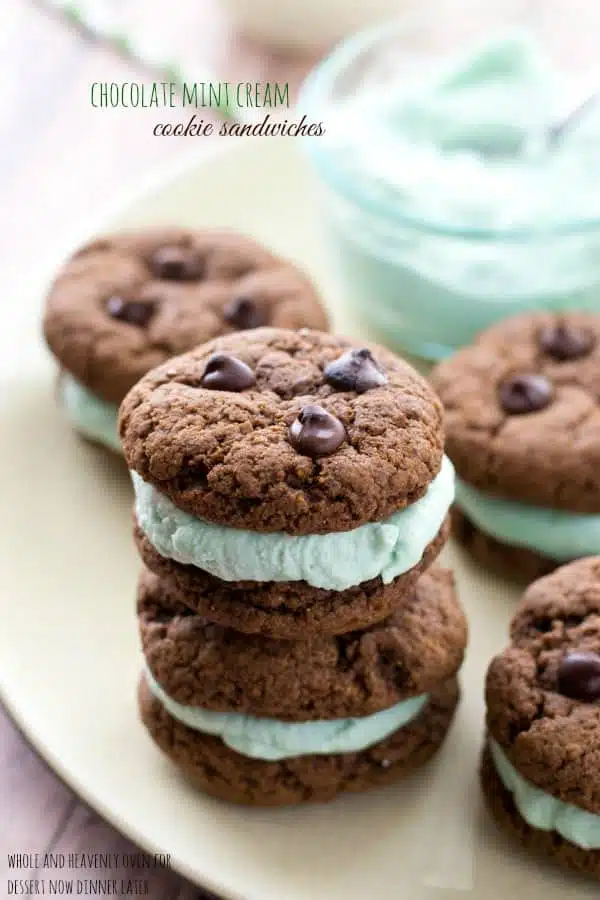 Hey there, friends! Sarah back again from Whole and Heavenly Oven. How's your weekend going so far?

Today, it is MY personal goal to take your weekend in the chocolate-y mint direction with these 'har Chocolate Mint Cream Cookie Sandwiches. Are you up for it? Things are fixin' to get ca-ca-ca-CRAZY delish around here in like 1.467 seconds.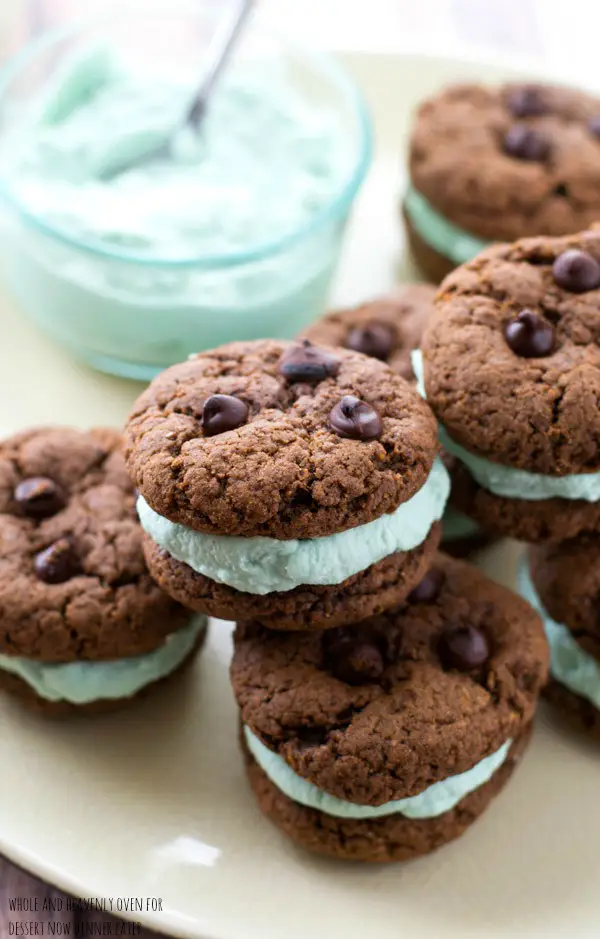 So are we all ready to step into Mint-Land? It is almost March after all and it is almost time for all things minty and green! And don't forget about the chocolate simply because where you've got mint, you've gotta have the chocolate too.
I'm pretty sure it's the law…. I'm probably breaking a major law right now myself by posting minty stuff in only the middle of February. YOU guys don't mind though, do you?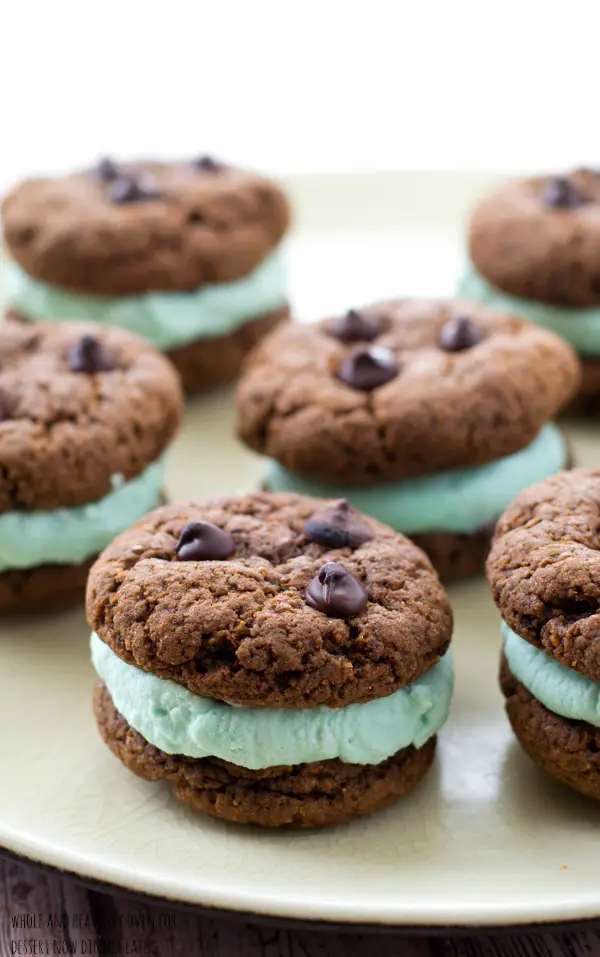 Don't answer that, because NOTHING is going to tear me away from my mint now.
Okay, so these cookie sandwiches are pretty much just the bomb-diggity. Aaaand I can't believe I just said those two ultra-nerdy words. What is happening to me?!
I think these cookie sandwiches happened to me and I'm losing all control of my brain. And come to think of it, I think I'm losing control of my SELF-control, judging from the way I just cannot.stop.eating.these.
Sidenote: Leftovers of these cookie sandwiches are now up FOR SALE! I need these things outta the house and away from me pronto.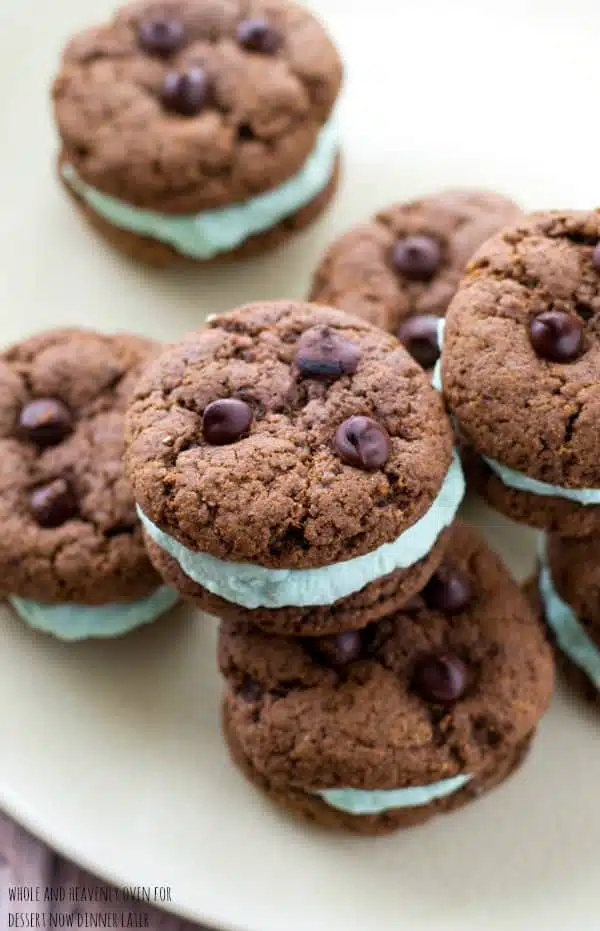 Annnnywho. Let's talk about the mad scientist-method behind these little cookie sandwiches from heaven. Really, all we've got going on here is….
1. A double chocolate chip cookie. (swoon)
2. A mint-y coconut cream filling. (eeee!)
3. Another double chocolate chip cookie to make a SANDWICH.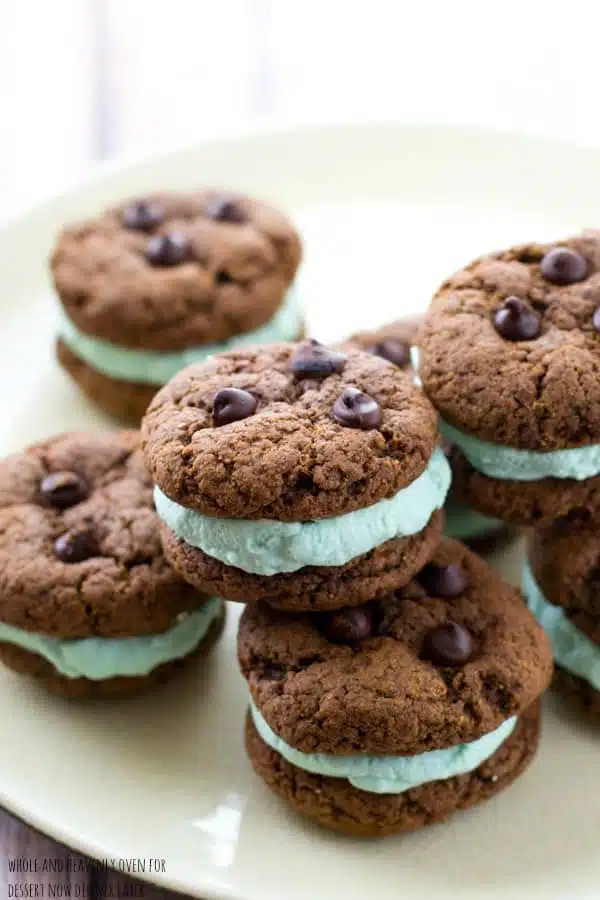 So simple, but so swoonworthy. Ker-plop. Down goes Sarah.
The cookie base we're going to be using for these sandwiches is my tried-and-true Bakery-Style Double Chocolate Cookies. This is seriously the BEST double-chocolate cookie you'll ever have in your life and I am pleased to report that it works as the PERFECT "bread" part in these sandwiches.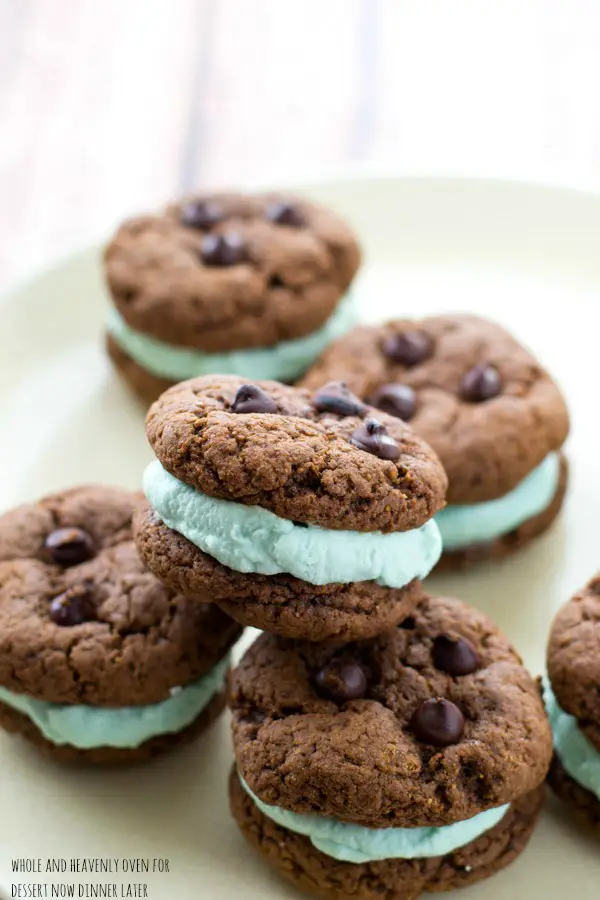 The filling? Oh. My. Gawsh. Just grab a spoon and go to town on all that coconut cream minty goodness. Any leftovers you can send on over my way, kthanks.
Combine the two in a ginormous sandwich, and I'm pretty sure you've got a piece of heaven at your fingertips. (or tastebuds) Seriously, I think heaven sent down these cookie sandwiches.
Grab that glass of milk, friends. It's MINT season!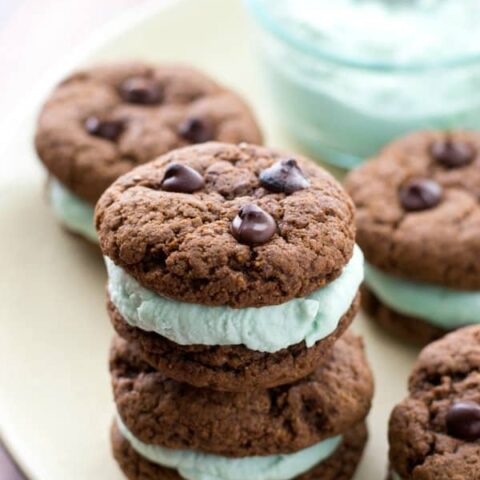 Chocolate Mint Cream Cookie Sandwiches
These festive cookie sandwiches are so simple to prepare, yet they're so much fun to eat! A fresh minty coconut cream sandwiched between two double-chocolate cookies is a match made in heaven.
Ingredients
COOKIES:
1/2 cup butter, softened
3/4 cup coconut sugar, or brown sugar
1 large egg
1 Tablespoon milk
1 teaspoon vanilla extract
1 1/2 cups white whole wheat flour
1/4 cup unsweetened cocoa powder
1 teaspoon baking soda
1/2 teaspoon salt
3/4 cup semisweet chocolate chips
FILLING:
1 can (13 oz) coconut milk, chilled
1/2 teaspoon mint extract
2 Tablespoons sugar
2 to 3 drops green food coloring
Instructions
Prepare the cookies: Preheat oven to 350 degrees Fahrenheit. Line a baking sheet with parchment paper. Set aside.
Place butter and sugar in a stand mixer. Beat on medium speed until creamy then mix in egg, milk, and vanilla. In a separate large bowl, combine flour, cocoa, baking soda, and salt. Mix into liquid mixture until a dough forms. Stir in chocolate chips.
Roll dough into 1-inch balls and place on prepared baking sheet. Bake cookies for 8 to 9 minutes (cookies will still seem soft in the middle---this is ok) Cool cookies on baking sheet 10 minutes, then transfer to a wire cooling rack to cool completely.
While cookies cool, prepare the filling: Remove chilled coconut milk from fridge and scoop cold coconut cream off of the top and place in a medium bowl. Add mint and sugar to mixture and with a handheld electric mixer, beat on medium speed until stiff peaks form. Tint filling with food coloring and gently fold until combined.
Assemble the cookie sandwiches: Divide filling between half of cooled cookies and gently place in center of upside-down cookie. Top with remaining cookies to form a sandwich. Store cookies in refrigerator until ready to serve.
Notes
Store cookie sandwiches in refrigerator up to 5 days.
Nutrition Information:
Yield: 7
Amount Per Serving:
Unsaturated Fat: 0g