Cinnamon Chip Bread
This post may contain affiliate links, meaning that I may receive a commission at no cost to you if you use a link provided. All opinions shared are my own. You can review my full disclosure policy here.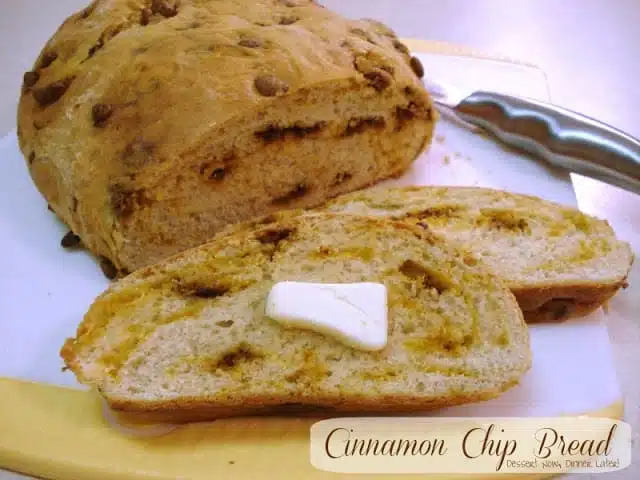 Hope you all had a wonderful holiday weekend! Today's post is one of my favorite breads at Great Harvest…their Cinnamon Chip Bread. I could eat slice after slice toasted with butter & be in complete heaven! Even not toasted with butter it's complete heaven. Heck, just plain it's wonderfully amazing!
I can't say this bread is an exact replica of the real deal, but it shares a lot of the same qualities. It's soft & sweet & full of cinnamon flavor. I am having a hard time not eating it all.
Anyway, I hadn't seen cinnamon chips in my local grocery stores (compared to specialty stores) until just barely & Walmart had them under the Hershey's brand. I am not sure how long they will stick around, or if they are just a holiday item, but I am glad they had them because I am enjoying my cinnamon chip creations!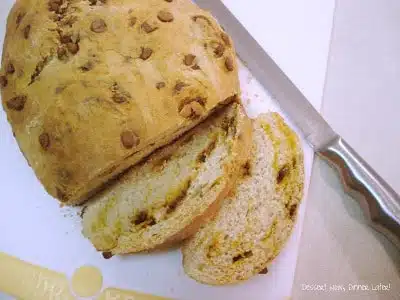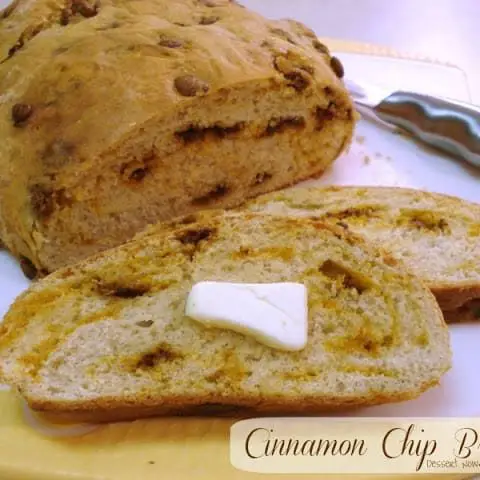 Cinnamon Chip Bread
Ingredients
2 Tbsp butter or margarine
1 scant cup WARM water
2 Tbsp dry powdered milk
2 1/2 tsp instant yeast
2 Tbsp sugar
1 egg
2 tsp vanilla
1 tsp cinnamon
1 1/4 tsp salt
1/2 tsp baking powder
3 cups all-purpose flour
3/4 - 1 cup cinnamon chips
Instructions
Melt butter in a small/custard bowl, covered to prevent splatters, in the microwave 15-30 seconds or until melted.
Measure WARM water in a large glass measure cup & add butter. Whisk in dry powdered milk until dissolved. Add yeast & sugar, stir, & wait until it bubbles, about 4-5 minutes.
In a large bowl, whisk the egg & vanilla. Add yeast mixture. In a separate bowl combine cinnamon, salt, baking powder & flour. Add dry ingredients to wet ingredients with a large spoon. Stir the mixture in the bowl until it comes together to form a ball. Work the dough on a floured surface for a few minutes.
Knead in cinnamon chips & then let the dough rest in a greased bowl, covered with a towel or saran wrap until double in size.
Punch dough down & shape as desired. Place on a greased cookie sheet or in a greased bread pan. Cover again with a towel or plastic wrap & let rise until double in size.
Bake at 350*F for 30 minutes. It should be nice & golden brown. Let cool before slicing & serving. Makes great french toast or just to eat plain.