Dragon Cupcakes Tutorial
This post may contain affiliate links, meaning that I may receive a commission at no cost to you if you use a link provided. All opinions shared are my own. You can review my full disclosure policy here.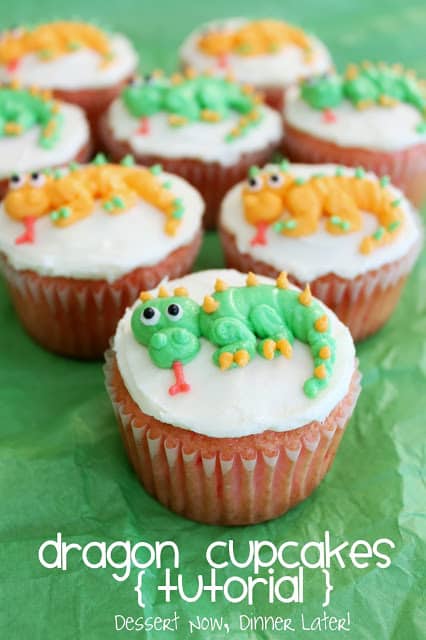 My little boy had his 4th birthday earlier this month. I usually let him pick what he wants his cake decorated as. This year, the request was for dragons. I don't know where he came up with that one. He does watch Jane & The Dragon occasionally on qubo, but not that frequently. (Sure little man, whatever you want!) I opted for cupcakes since his sister's birthday is 3 days after his, I do both of their cakes at the same time & cupcakes seem easier. So my next post is the tutorial for her cute cupcakes. Stay tuned for that… in the meantime, see how easy it is to make these dragon cupcakes for your little one's birthday.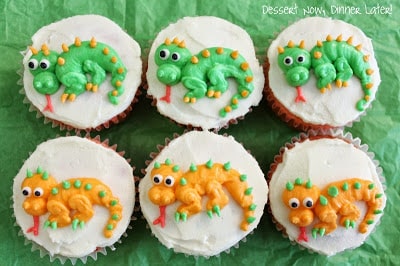 Dragon Cupcakes Tutorial
24 cupcakes
1 (3-cup) recipe buttercream icing (I usually just use Wilton's recipe)

Green, orange, red, white & black food coloring (for body, spikes, tongue, & eyes.)
Wilton #2 tip x 5 for spikes, eyes, & tongue
Wilton #10 or #12 for head, snout & body
Pastry bags & couplers
Bake cupcakes, cool & ice with a thin layer of prepared, white buttercream. Save a little bit of white for the eyes.
Color other buttercream & fill pastry bags.
Using the #10 (or #12 tip) pipe the head & snout. Then pipe the body.
Use the #2 tip to pipe to legs & the tip of the dragons tail. Smooth any rough parts with a light dab of water on your finger.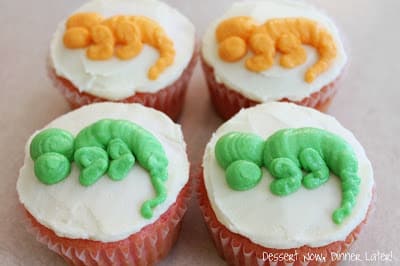 Using the opposite color, with the #2 tip, pipe spikes, & claws on the feet of the legs. Squeeze & pull up quickly to get a pointed effect.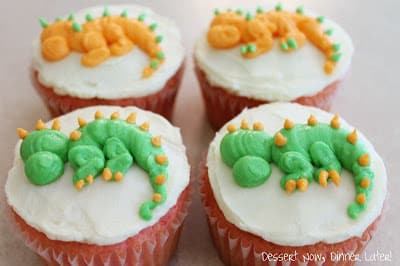 Pipe eyes, nostrils & tongue.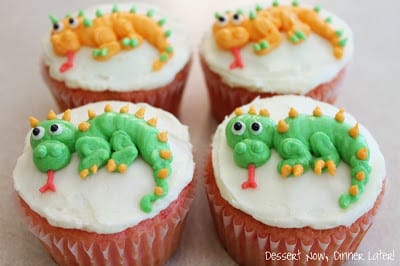 Done! Easy right?