Easy Garlic Hummus
This post may contain affiliate links, meaning that I may receive a commission at no cost to you if you use a link provided. All opinions shared are my own. You can review my full disclosure policy here.
This Easy Garlic Hummus blends up in less than 1 minute for a smooth and creamy homemade hummus that goes perfectly with vegetables and crackers!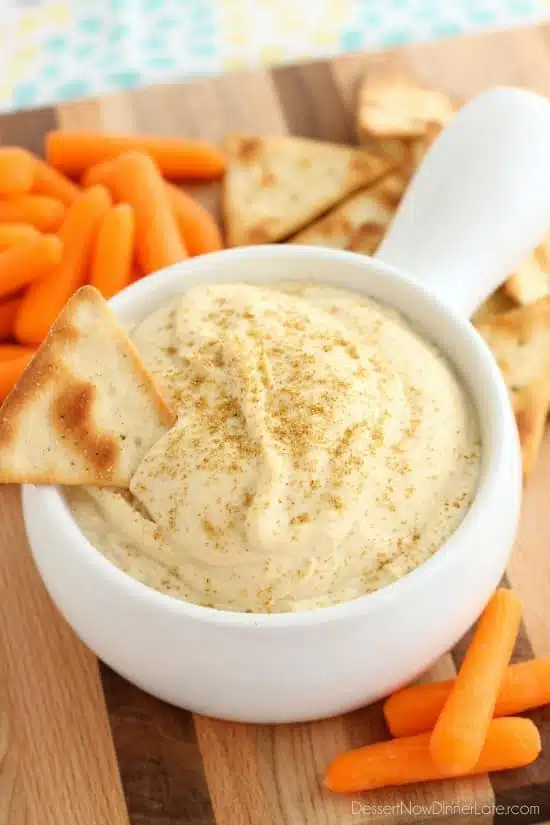 I go through spurts of healthy binges where all I want is cold, crisp, fruits and vegetables. Right now is one of those times, thankfully, because I've gained a little more weight this pregnancy than I had hoped, and I've got a little over 1 month left to go still!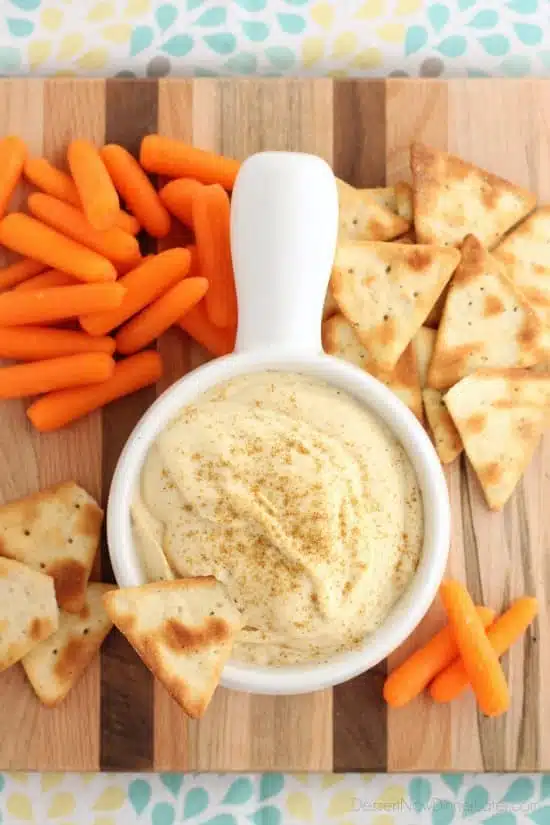 When I'm having a health binge, I love to make my own hummus to dip carrots in. The sweet, crisp carrots in the creamy hummus is a great snack! And this recipe, is super simple, and blends up quick for an incredibly creamy and easy garlic hummus!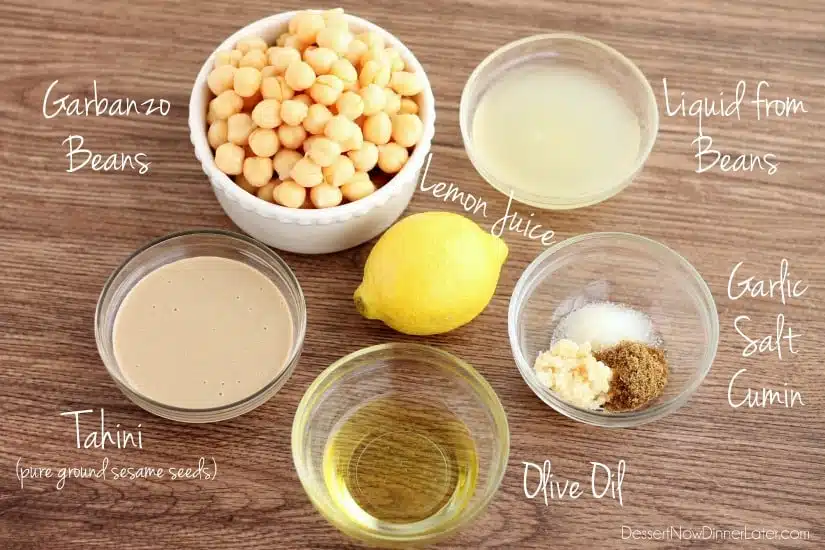 I totally use canned chickpeas (garbanzo beans) to make this recipe super fast to make, although you can cook up some chickpeas and add water in place of the liquid from the can of garbanzo beans. The Tahini (pure ground sesame seeds) is the most expensive ingredient in this recipe, but one container of Tahini lasts me several batches of hummus. I'm talking like 8 batches! Everything else (lemon juice, minced garlic, salt, cumin, and olive oil) I typically have on hand anyways, so it's a great snacking staple at our house.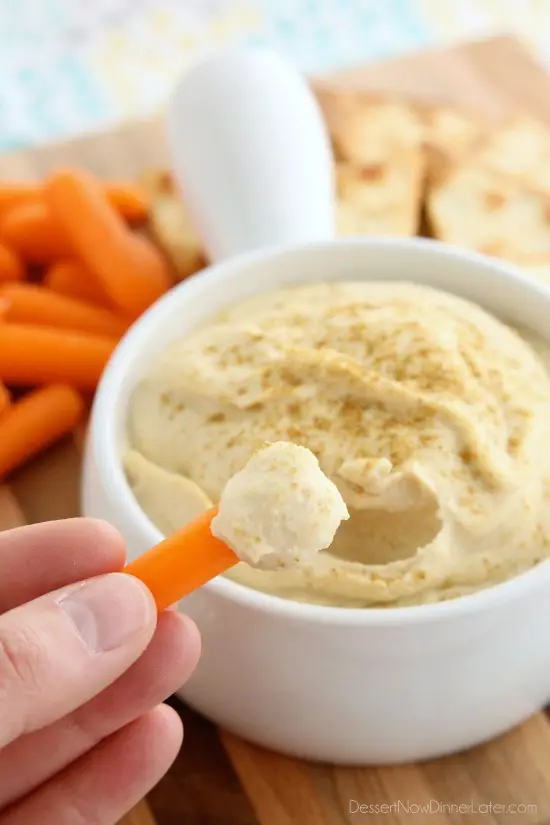 Like I said, my favorite way to eat hummus is with carrots. Plus, if you are eating a healthy dip, you should probably use a healthy dipper too, right?! You can most definitely use our second favorite dipper: pita chips! Other veggies like snap peas and bell peppers taste great with this easy garlic hummus too!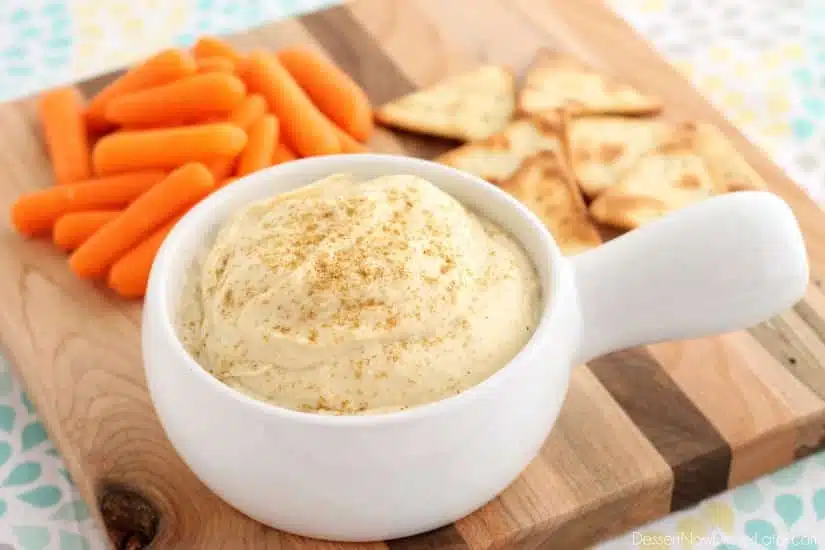 Have you ever made your own hummus? What's your favorite flavor? Happy healthy snacking!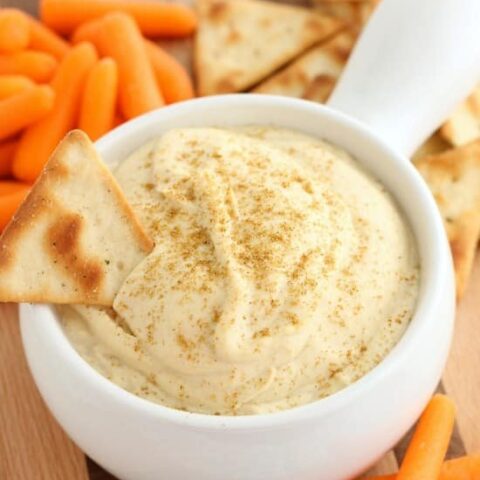 Easy Garlic Hummus
Ingredients
1 (15oz) can chickpeas (garbanzo beans), drained - reserve 1/4 cup liquid from can
1/2 Tbsp minced garlic
1 Tbsp olive oil
1/4 cup tahini (pure ground sesame seeds)
3 Tbsp lemon juice
1/4 cup liquid from can of chickpeas, or water
1/2 tsp salt, to taste
1/2 tsp cumin
Instructions
Place all ingredients into a food processor or blender.
Blend until smooth, about 1 minute, scraping the sides if needed.
Serve with carrots, pita chips, crackers, or other vegetables.
Nutrition Information:
Yield: 8
Amount Per Serving:
Unsaturated Fat: 0g