Freezer Vegetables
This post may contain affiliate links, meaning that I may receive a commission at no cost to you if you use a link provided. All opinions shared are my own. You can review my full disclosure policy here.
I am a soup gal. Some of you regular readers may have noticed that last year. If you are a new reader to my blog, you will start to take notice real soon since soup season is coming up. I am already whipping out soup recipes. I LOVE soup! Like, LoVe, LOVE soup! Soups can be super easy & comforting for the cool fall & winter weather coming up. Some of you may say, "Soup is not easy. Soup sucks to make because I am chopping vegetables all the time. And then the extra vegetables go bad & I have to throw them out."
If you are a soup person like me, then you will want to do this trick. You can even use these for pot pies, pot roasts, & casseroles. No need to throw out any vegetables. Freeze your vegetables! Then you will have most of the chopping done when it comes time to prepare your soups & other recipes. Most soups call for Mirepoix – which is basically an onion, celery, carrot mixture. In the cold weather months, I keep these three things in stock in my freezer, just because I know I make soups, pot pies, & other casseroles that use them. And there is never any waste.
You ready to learn how to do it? Ok. I will show you:
Rinse & dice celery. Sometimes it is good to put the celery in a bowl with a paper towel so you can pat off any water spots from rinsing. This helps it not clump so bad once it is frozen.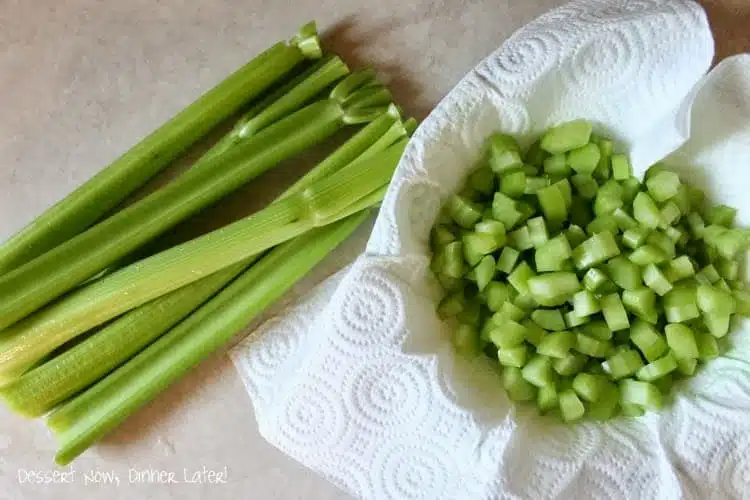 Place it into a labeled zip-top bag. Squeeze any air out & seal shut. Place into the freezer.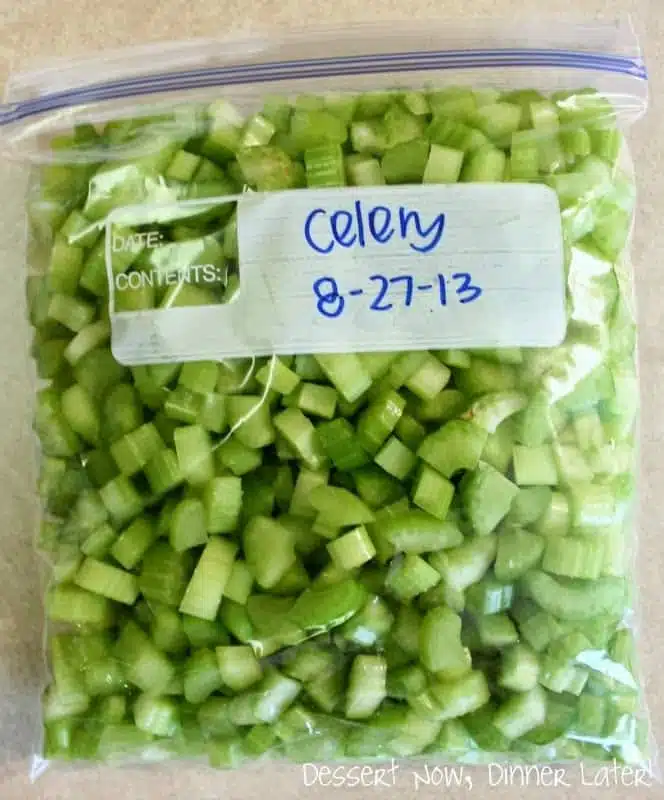 Dice an onion.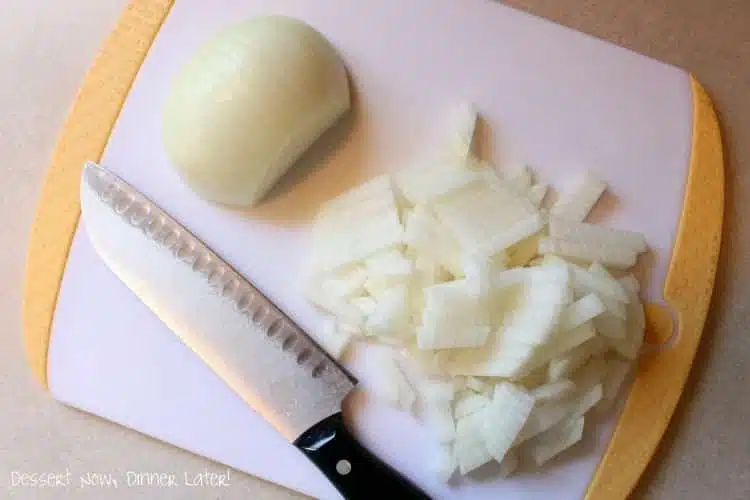 Place diced onion into a labeled zip-top bag. Squeeze out any air & seal shut. Place into the freezer. You may want to double bag this one because sometimes it stinks up your freezer depending on how strong the onion is. It also helps the smell if you don't touch the outside of the bag with onion hands.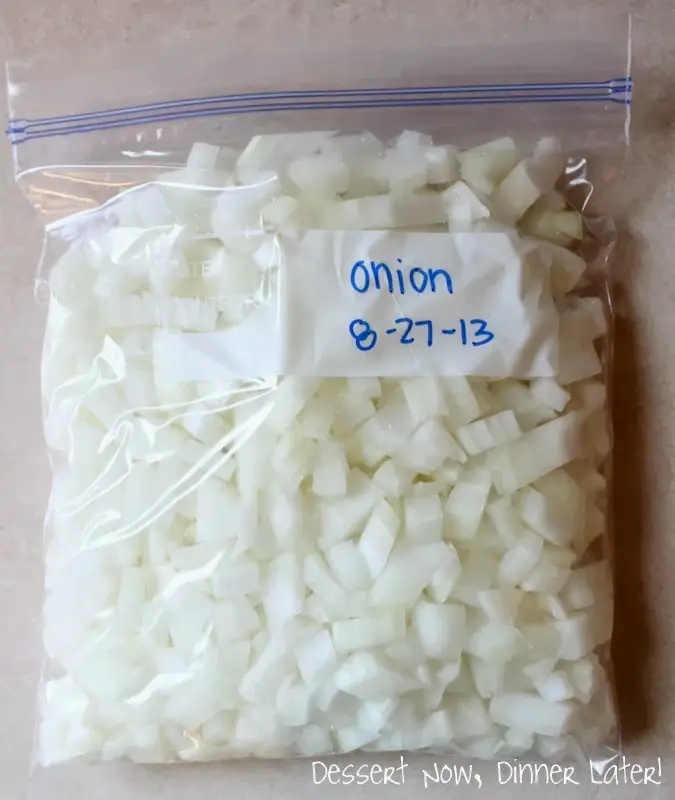 Rinse, peel & dice carrots.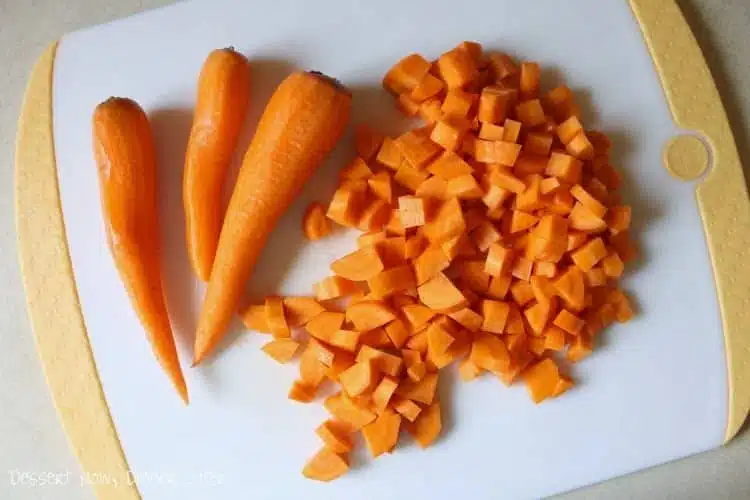 Place carrots into a zip-top bag, squeeze out any excess air & seal shut. Place into the freezer.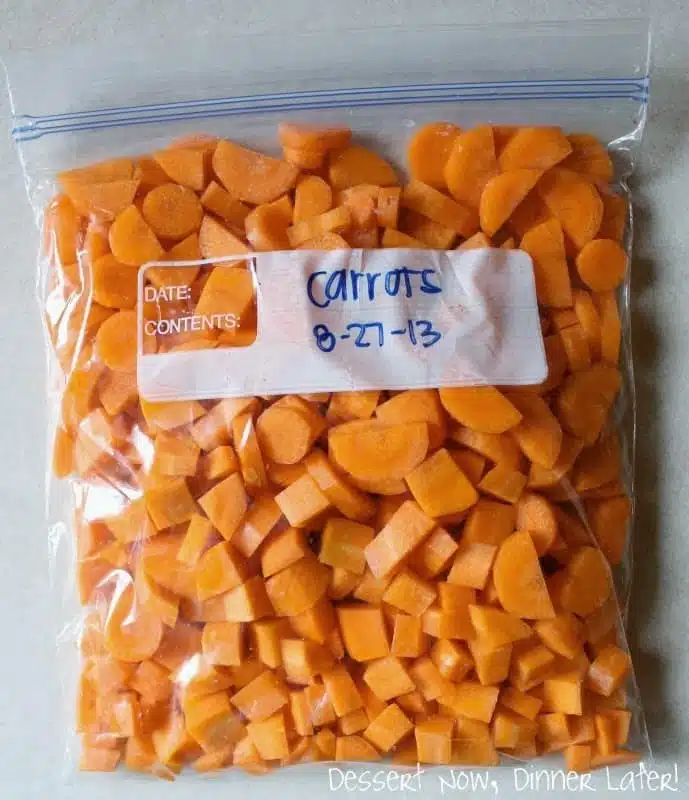 Voila! Your vegetables are ready for your recipes!
You may have to break up the dices in the bag before measuring them for recipes, but it's easy to do if you bang it on the edge of the counter.
IMPORTANT NOTE:
Freezing these vegetables does soften them, so they are good for recipes where you cook them anyway: Soups, Stews, Pot Roasts, Pot Pies, Casseroles, etc. The celery will not be crisp to use for chicken salads & things like that. Just FYI.