Freezing Cheese
This post may contain affiliate links, meaning that I may receive a commission at no cost to you if you use a link provided. All opinions shared are my own. You can review my full disclosure policy here.
Today's post is another educational post about how to save money on buying in bulk & freezing your food. This time I am talking all about CHEESE! We love cheese, but it's expensive, so I buy it in bulk & freeze mine. Or anytime I see a deal, like a 2lb block of cheese for $5 or less, it's stock up time! This is how I freeze my cheese to use later.
Basically, you need to get your cheese in the form you will be using it before you freeze it. Freezing the whole block of cheese won't work because the structure of the cheese changes when it freezes. So shredding & slicing cheese after it has been frozen, turns the cheese into a crumbly mess. I have frozen mozzarella, cheddar, colby jack & parmesan cheese with success, so I am fairly confident this works with any cheese. Here is how you do it: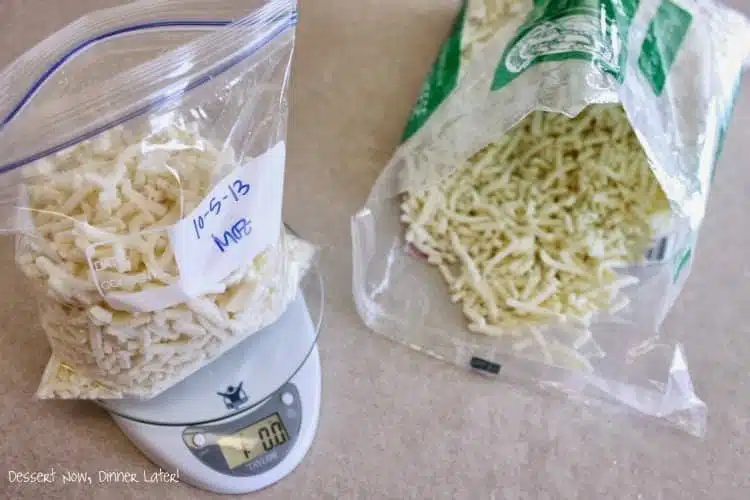 I buy some of my cheese already shredded. I actually prefer it that way because they put some kind of coating on the cheese so it doesn't stick. I buy the big 5lb bag at Sam's club for about $13. Then I use my trusty quart size baggies that have been labeled with that days date & the name of the cheese if I think I will forget. I don't use freezer bags, but I rotate the bags of cheese well. Then I scale each bag to weigh 1lb, squeeze as much air out as possible & then zip it shut. Weighing the bags is optional, you can eyeball it pretty easily. Just squeeze as much air out as you can before you zip it shut.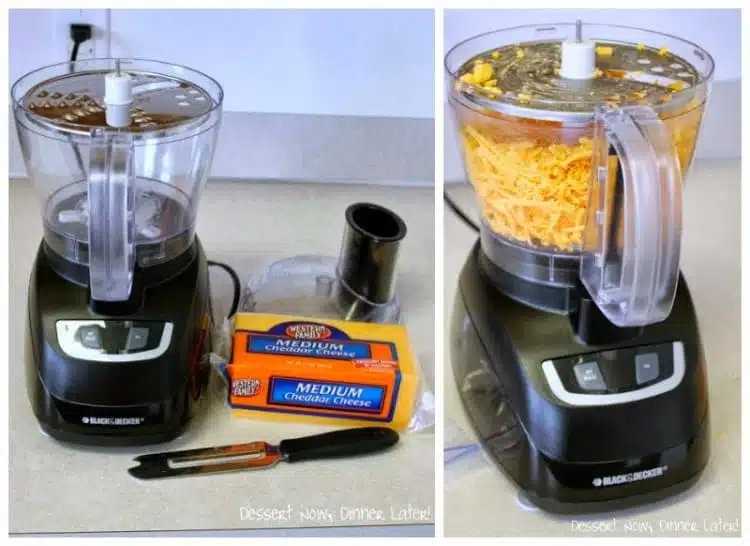 If you buy a block of cheese, which I like to buy the 2lb blocks when they go on sale for $5 or less, then you can shred that yourself as well. Just cut the block into manageable pieces, then shred it in a food processor or by hand if you don't have one. Don't shred it all at once or it will get packed into your machine & it will stick together. I will put a 2lb block into 3 quart sized bags. This also helps the cheese from getting packed down & stuck together. Stack bags of prepared shredded cheese flat on top of each other to freeze.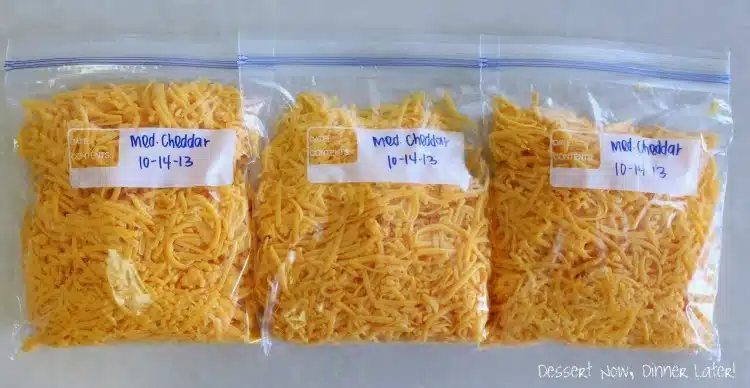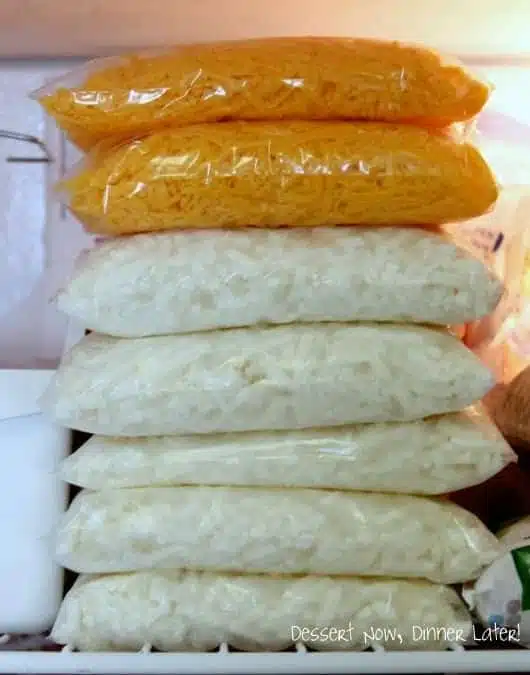 To slice the cheese for sandwiches, I absolutely LOVE my marble cheese slicer. It cuts so smooth & straight & I can get a lot more slices than any other knives or hand held slicers I have tried. Colby Jack comes apart the easiest, but the harder cheeses like cheddar do okay as well. When I stack mine, I stagger them. You might need the assistance of a butter knife to peel it apart when you go to use it, but it should stay in tact pretty well. You can also choose to cut little pieces of wax paper to place between the slices. To me that is more work & more stuff to buy, so I just stagger mine & use a butter knife to separate my slice from the stack. Again you will want to label your bags before filling them. I use plain old sandwich bags & I like to store the cheese slices in the side door of the freezer.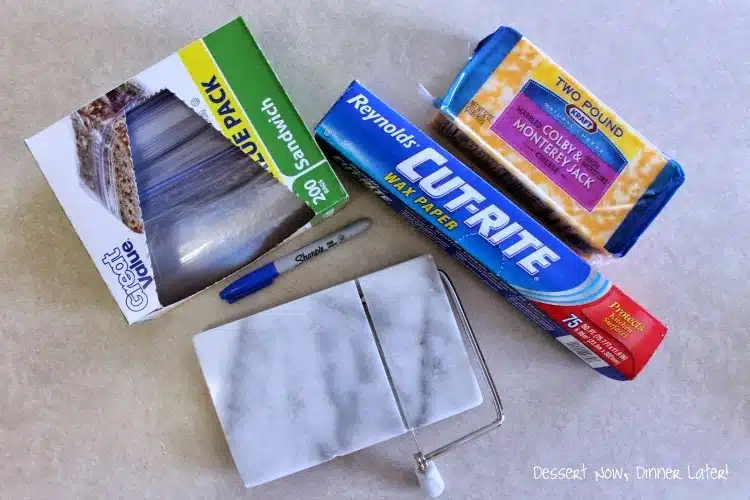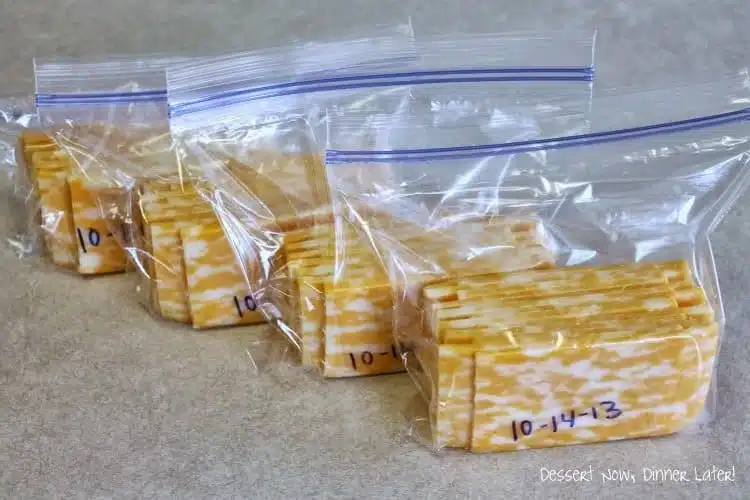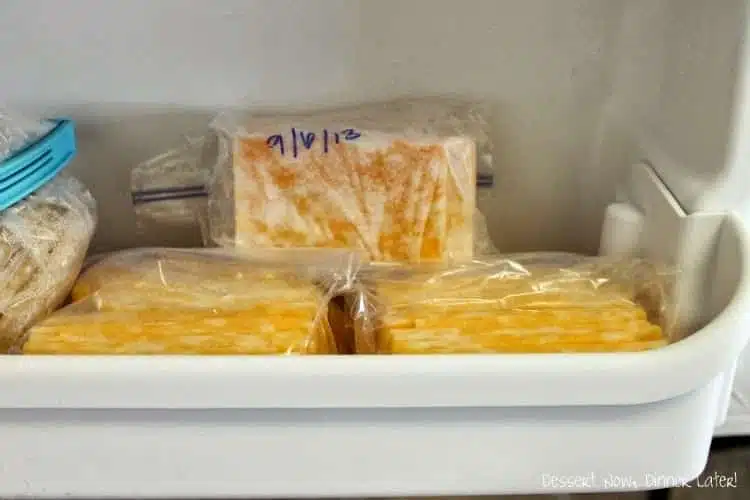 When you pull any of these cheeses from the freezer to use, you want to allow some time for it to thaw in the fridge for best food safety practices. That's it! Just remember to prepare your cheese, portion it out, & package it squeezing as much of the air out that you can! My cheese slices last about 2-3 months without any freezer burn & the shredded usually does better, about 4 months. You can try using freezer bags to help with freezer burn, but we usually use the cheese before it sees any effects from the freezer. Happy Freezing!