Ghost Pretzels + Video
This post may contain affiliate links, meaning that I may receive a commission at no cost to you if you use a link provided. All opinions shared are my own. You can review my full disclosure policy here.
Ghost Pretzels – White chocolate dipped pretzels are made into ghosts with candy eyes and a little bit of imagination.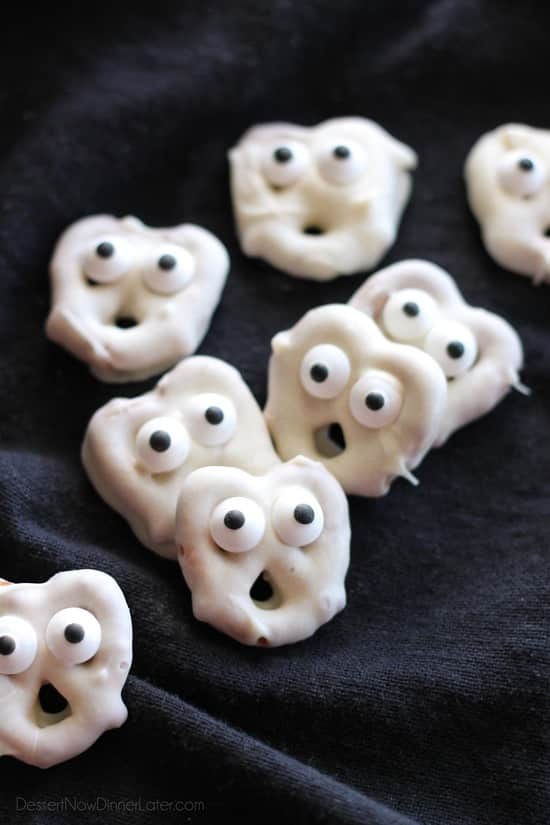 I love how my kids are giddy about the simplest things. I do a little something fun, and they think I'm the coolest mom EVER. These ghost pretzels were a huge hit with my kids and they are so flipping easy to make!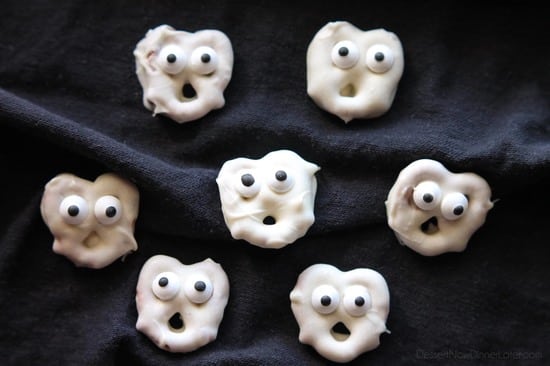 Side Note: If you love Halloween, get excited, because I am in a major Halloween mood! I've made four easy, fun halloween treats for you to whip up. These ghost pretzels are number one! The other three recipes will be up soon, so stay tuned!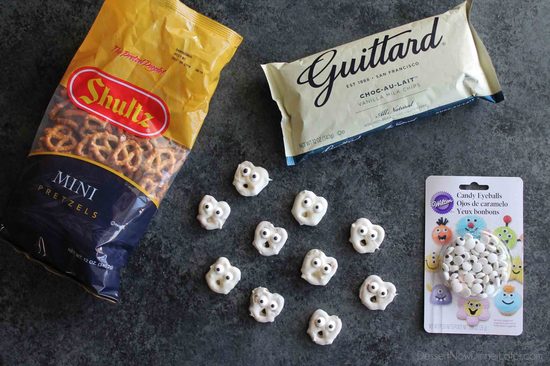 There are a few different ways you can coat these adorable ghost pretzels. You can do white chocolate (which is what I did), white candy melts, or white almond bark. I prefer white chocolate because it tastes the best. I always have a stash of my favorite Guittard chips on hand, so I just whipped out a bag of the vanilla milk chips and got to making these cute ghost pretzels.
The candy eyes are like $2.50 a bag at Walmart or you can order them on Amazon. I also use a little bit of coconut oil to thin my chocolate for a better dipping consistency. Make sure to tap off any excess chocolate, at least in the bottom hole, so it looks like the ghost's mouth is open — screaming!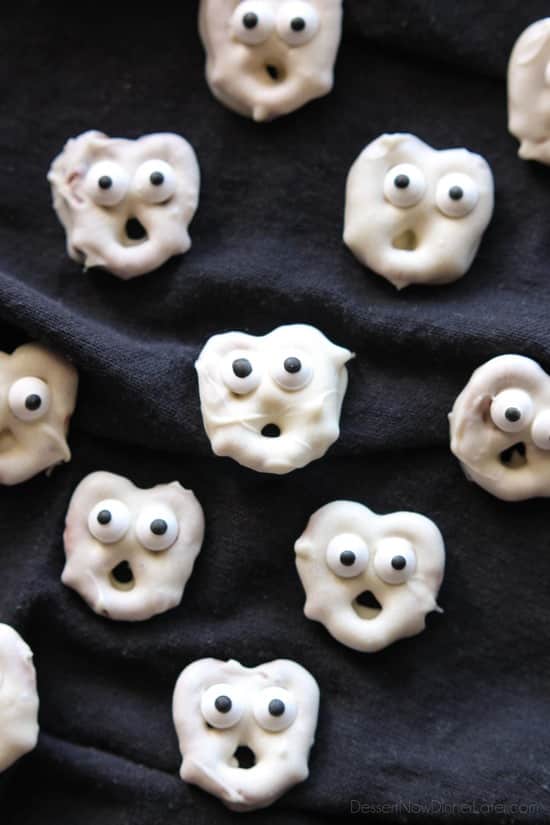 My daughter lit up when I showed her these ghost pretzels! They are as fun to eat as they are to look at, and you get major bonus mom points for making these things! They are the perfect, easy treat for a Halloween party!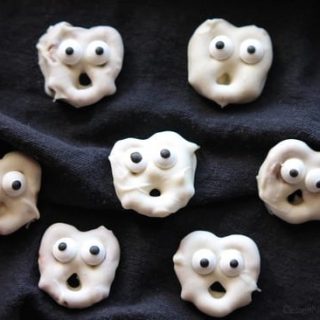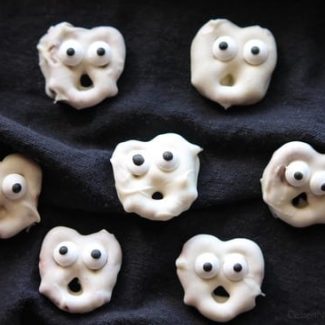 Ghost Pretzels
Prep Time: 30 minutes
Total Time: 30 minutes
Yield: 30 pretzels
White chocolate dipped pretzels are made into ghosts with candy eyes and a little bit of imagination.
Ingredients
30 mini pretzels (like Shultz or Snyder's)
1/2 (12oz) bag Guittard Vanilla Milk Chips (equal to 6oz or 1 cup)
1/2 tsp coconut oil or shortening, for thinning the chocolate
1 (.88oz/25g) pkg Wilton Candy Eyeballs
Instructions
Line a baking sheet with wax paper, parchment paper, or a silicone baking mat. Set aside.
Melt the white chocolate and coconut oil (or shortening) in a glass bowl in the microwave, for short 10-20 second bursts, until melted.
Immediately dip pretzels, one at a time, in the bowl, using a fork to turn the pretzel over. Shake off excess chocolate from the pretzel with the fork. Be sure to shake the chocolate out of the bottom hole, so it looks like an open mouth -- screaming. Place chocolate dipped pretzels on the prepared baking sheet.
Immediately press two eyeballs into the top two holes for eyes -- add a little extra chocolate if needed.
Repeat with remaining pretzels. Work quickly. Heating the chocolate again only once, if needed.
Allow pretzels to rest and harden. Place in freezer for 10 minutes to speed up the process. Peel pretzels off the baking sheet and enjoy!
Notes
*Coconut Oil is considered a tree nut by the FDA. If making for a child's school, use shortening instead.
Recommended Products
As an Amazon Associate and member of other affiliate programs, I earn from qualifying purchases.
Nutrition Information:
Yield: 30
Serving Size: 1
Amount Per Serving:
Calories: 52
Total Fat: 2g
Saturated Fat: 1.6g
Trans Fat: 0g
Cholesterol: 0mg
Sodium: 22.1mg
Carbohydrates: 8.7g
Fiber: 0.1g
Sugar: 6.5g
Protein: 1.7g
This data was provided and calculated by Nutritionix, and is an estimation only.